Shariah Compliance Expert Says Cryptocurrencies Are Legit Commodities
A shariah compliance expert, the current chairman of the Shariah Advisory Council at Malaysia's central bank and a shariah board member at many financial companies, says that cryptocurrency is a legit commodity that can be exchanged.
Cryptocurrency adoption and investments remain low in Muslim countries as people are still unsure of its compliance with Islamic law. At the SCxSC Fintech Conference 2020 last week, Datuk Dr. Mohd Daud Bakar, an expert in shariah compliance, said that investors need more time to understand cryptocurrency from the shariah perspective.
Bakar is currently the chairman of the Shariah Advisory Council at the central bank of Malaysia, Securities Commission of Malaysia (SC), and the Labuan Financial Services Authorities. He is also a shariah board member at a number of financial institutions, including the Accounting and Auditing Organisation for Islamic Financial Institutions, Morgan Stanley (Dubai), Bank of London and Middle East (London), Noor Islamic Bank (Dubai), Jadwa-Russell Islamic Fund (Saudi Arabia), and Salama Islamic Insurance.
In Malaysia, the SC Shariah Advisory Council has declared that it is permissible for Muslims to invest in and trade cryptocurrencies, including bitcoin, on government-registered crypto exchanges.
Bakar explained that cryptocurrency is not regarded as legal tender, but it is a legit commodity that can be exchanged within the market, as long as it is not backed by "ribawi items," like gold and silver, the Malaysian Reserve reported. The publication quoted him as saying:
It is a medium of exchange, and we cannot stop people to use commodities as medium of exchange. It is as good as buying an e-ticket or commodities in the market.
"This new development can open up so many interesting areas in Malaysia, in which crypto can be deemed as investment assets where people can buy and hold for trading," he elaborated.
Bakar added that the Securities Commission of Malaysia has also made it possible for companies to issue coins as a method of raising capital, subject to certain restrictions through its fatwa resolution.
"Moving forward, the potential of this currency is great as it comes with the growing digital economy of the world," he noted. "We can even develop our own stablecoin quite easily without any difficulty by the government and respective jurisdiction … We can have the coin backed by certain commodities, ventures or projects."
What do you think about cryptocurrency from the shariah perspective? Let us know in the comments section below.
Spot-markets for Bitcoin, Bitcoin Cash, Ripple, Litecoin and more. Start your trading here.
Disclaimer: This article is for informational purposes only. It is not a direct offer or solicitation of an offer to buy or sell, or a recommendation or endorsement of any products, services, or companies. Bitcoin.com does not provide investment, tax, legal, or accounting advice. Neither the company nor the author is responsible, directly or indirectly, for any damage or loss caused or alleged to be caused by or in connection with the use of or reliance on any content, goods or services mentioned in this article.
Source: news.bitcoin.com
Author: Regulation
by
Kevin Helms
What is the exchange rate of USD (US Dollar) / CNY (Chinese renminbi) on Thursday October 15, 2020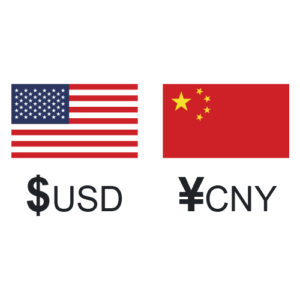 Get the latest mid-market rate for USD (US Dollar) / CNY (Chinese renminbi) for Thursday October 15, 2020 right here.
The latest rates for USD (US Dollar) / CNY (Chinese renminbi) are available below. As a leading finance news site the team at Born2Invest collates and analyses the latest Forex Market data to bring you live information to help you make the right forex trading decisions.
Thursday October 15, 2020 1 USD (US Dollar) is worth 6.731596 of CNY (Chinese renminbi) .
Remember to always trade with a reputable broker. It's also possible to apply forex concepts to cryptocurrency trading.
Forex trading is inherently risky and there are countless forex pairs to choose from. The only way to make a profit from forex trading is to understand how the market works. Luckily for you the Born2Invest forex team has collated some forex trading tips to get you started.
Forex trades are always made using currency pairs. Whenever you buy one currency you are selling another. In every pair there is a base currency, for example USD (US Dollar) and a quote currency, which would be CNY (Chinese renminbi).
The price of a currency pair represents the amount of quote currency, or CNY (Chinese renminbi), that you will need to spend in order to purchase a single unit of USD (US Dollar), the base currency. So using the current example you would need to spend 6.731596 of CNY (Chinese renminbi) in order to purchase 1 USD (US Dollar).
Forex pairs can be broadly separated into three categories; the majors, the commodity currencies, and the cross currencies:
Major currencies are the most traded currencies on the market. Which currencies make the cut will vary, but almost all lists will include EUR/USD, USD/JPY, GBP/USD, and USD/CHF
Commodity currencies are currency pairs where their value is closely tied to a commodity such as oil, coal, or iron ore. Examples include AUD/USD and USD/CAD
Cross currencies are currency pairs which don't include USD. Examples include EUR/GBP and EUR/JPY.
Cryptocurrency trading shares many similarities to forex trading. Specifically the concepts of currency pairs and high price volatility. That being said there are some key differences. Cryptocurrencies don't operate like fiat currency and many are tied to a project or product. The crypto market is also highly unregulated, which makes it inherently risky compared to trading forex.
Additionally most cryptocurrency trades happen on exchanges. These are generally unregulated and come with a certain degree of risk that many investors would find unacceptable. One alternative is to trade using a CFD broker which allows crypto pairings, but this means you will not directly own and cryptocurrency you buy.
Source: born2invest.com
Bitcoin on Way for Weekly Loss on Fading Stimulus Hopes
Bitcoin slipped on Friday as it looked sure to close the week at a loss in the remaining three days of trading.
The benchmark cryptocurrency was down $230, or 2 percent, to $11,279 per token by 0456 UTC. It lost 0.7 percent so far in the week. Its downside mood resurfaced as the US dollar surged and hopes of finalizing the second coronavirus deal before the presidential election faded.
The US dollar index was looking to post its first weekly gain in three.
A resumption of stimulus talks earlier this week had prompted the Bitcoin price to grow by up to $1,000. Another fundamental tailwind was institutions that increased their exposure in the cryptocurrency against their long-term inflationary outlook.
But after US Treasury Secretary Stephen Mnuchin proposed to limit the stimulus size to $1.8 trillion, the deal went into another deadlock. The Democrats demanded a $2.3 trillion relief for American households and businesses that suffered losses amid the coronavirus-induced recession.
The prospect of lesser dollar liquidity raised its demand among investors. As a result, they got rid of a part of their risky allocations, impacting Bitcoin, stocks, and even gold.
However, Bitcoin fell harder than its traditional peers on Friday. Part of the reason was OKEx, an Asian cryptocurrency exchange, that suspended withdrawals after landing itself into a police investigation.
What cryptocurrency will become the main one in a year?
The exchange explained that one of its private key holders – those who are responsible for validating capital outflows with an extra set of digital keys – is "currently cooperating with a public security bureau." That has limited OKEx's authorization over the clients' funds. The exchange assured that the capital remains safe and secure nonetheless.
Withdrawals of digital assets/cryptocurrencies @OKEx are currently suspended. Other functions are up and running. Your funds and assets are safe and not affected. Details: https://t.co/vMehdsZs1b
We sincerely apologize for any inconvenience. Further announcements will be made. pic.twitter.com/t14l7z0EUL
— OKEx (@OKEx) October 16, 2020
Colin Wu, a China-based reporter, tweeted that an over-the-counter trader mistakenly received $74.5K worth of Chinese Yuan from a group that the police were hunting for a money laundering case.
"The Chinese government is cracking down on money laundering using cryptocurrency for telecom fraud, and centralized exchanges are in a very dangerous state," Mr. Wu claimed.
The presence of OKEx around a supposed money laundering investigation panicked traders with low-risk appetites. Bitcoin fell by more than $300 within hours the news went to the wire.
"It is literally lesson #1 in #Crypto school," asserted Kevin Svenson, an independent market analyst. "Not your keys, not your crypto. Bitcoin begins selling off as a result of the news."
Nevertheless, some analysts ignored the short-term price shocks over a more optimistic long-term outlook. Crypto Youtuber Lark Davis stated that Bitcoin could still recover to new highs, citing institutions that poured $800 million into its market via spot and shares market (Grayscale).
Source: crytonow.com
Author: adminhttps://crytonow.com
Paxful To Present Fiat On-Ramps to Singaporean Crypto Alternate Bityard
P2P buying and selling platform Paxful not too long ago partnered with cryptocurrency alternate Bityard to supply fiat on-ramp providers in Singapore. It'll present customers entry to greater than 300 completely different fee choices.
Paxful's web-based Digital Bitcoin referred to as Kiosk might be accessible instantly to Bityard customers. It will likely be accessible to all new and present prospects of the platform. Paxful's peer-to-peer buying and selling community can be utilized to purchase Bitcoin with 160 completely different fiat currencies. With this integration, Paxful will act as a fiat-to-crypto on-ramp for Bityard prospects. It gives entry to greater than 300 completely different fee strategies for cryptocurrency purchases.
The characteristic will assist cryptocurrency exchanges in onboarding people who find themselves new to digital currencies by enabling the acquisition of supported cash utilizing native foreign money. The platform will assist home wire transfers, financial institution transfers, on-line wallets, reward playing cards, and so on. The platform will assist numerous fiat currencies like Canadian Greenback (CAD), Euro (EUR), British Pound (GBP), Russian Ruble (RUB), Mexican Peso (MXN), and Argentine Peso (ARS).
Although Bityard has different fiat-to-crypto on-ramps, it gives one of the various ranges of fee strategies, even in nations that observe restrictive banking guidelines. In such nations, individuals can use reward playing cards to purchase Bitcoins utilizing Paxful. Bityard additionally comes with a further functionality of permitting customers to purchase and promote crypto utilizing Tether through plenty of currencies like Bitcoin, Ethereum, and Litecoin.
The Digital Bitcoin Kiosk from Paxful lets customers match with sellers immediately in the event that they meet the factors of the buying and selling wants like fee methodology and foreign money. After its launch in 2015, the corporate has expanded its attain from Bitcoin and now comes with Tether (USDT) assist as properly. Regardless of its enlargement plans, Paxful not too long ago stopped servicing the Venezuela market, which is the most important within the Latin American area when it comes to volumes. The corporate apparently determined to drag off the market due to US sanctions on Venezuela.
Source: bitcoinflashnews.com
Author: By admin
Crypto mergers and acquisitions could hit $1.9BN in 2020
Mergers and acquisitions in the cryptocurrency sector this year could reach $1.9 billion despite Covid-19 affecting the global economy
A report by PricewaterhouseCoopers (PwC) published earlier today reveals that the mergers & acquisitions (M&A) in the cryptocurrency sector could reach $1.9 billion by the end of 2020, despite Coronavirus affecting the global economy.
According to the PwC report, $597 million was spent on 60 deals in the first half of the year. The figure has surpassed the $481 million spent in the entirety of 2019 (a total of 125 deals).
The PwC data obtained from M&A data firms Capital IQ, MergerMarket, Crunchbase and Pitchbook showed that the Binance acquisition of Coinmarketcap for $400 million was one of the largest in the history of the crypto market and the most significant this year.
"The total value of crypto M&A in the first six months of 2020 has already surpassed the total from 2019. The average deal size has increased from $19.2 million in 2019 to $45.9 million in 2020," the report added.
The largest share of deals were executed by crypto exchanges looking to expand their business. PwC reported that 74% of the acquisitions were by crypto exchanges who are leveraging M&As to expand their offering instead of relying solely on organic means of growing their business.
The trend is expected to continue. PwC expects further consolidation in the crypto sector, with some of the larger and more profitable companies continuing their M&A activities.
PwC also presented some interesting facts about the shifts within the cryptocurrency space. There is a geographic shift in terms of cryptocurrency deals. Crypto M&A deals continue to shift away from the Americas to other regions. 57% of deals in the first half of 2020 took place in Asia-Pacific (APAC) and Europe, the Middle East and Africa (EMEA) regions. This is up from the 51% recorded in 2019 and the 43% the year before.
The move away from the Americas is expected to continue for the remainder of the year. PwC stated that "We expect to see this trend continue for the rest of 2020, especially with large parts of APAC opening up again from COVID-19."
PwC believes that the industrialisation of the cryptocurrency sector will continue to expand over the coming years. The institutional interest in digital assets will continue to rise due to talks surrounding central bank digital currencies, Libra and increased regulatory clarity. For this reason, PwC predicts M&A deals and fundraising processes by industry players targeted at building solutions for institutional players.
The post Crypto mergers and acquisitions could hit $1.9BN in 2020 appeared first on BTC Ethereum Crypto Currency Blog.
Source: cryptomoneyteam.co
Author: By TeamMMG
Bitfinex Users Will Get Yields on Deposits Via Crypto Lender Celsius
Users of crypto exchange Bitfinex will now get yield over their deposits. The exchange recently partnered with the crypto borrowing and lending platform Celsius Network.
The Celsius Network integration will bring up to 6.25% APY on Bitcoin. Bitfinex is planning to engage more users with the integration which helps them generate annual returns on funds. Celsius has over 100,000 active users on its app and it provides Ethereum holders interest rates of up to 9.65%. The two companies said that Bitfinex customers now directly open a wallet with Celsius.
It can be managed within the Bitfinex platform, adding more convenience to the users. They can withdraw their funds from Celsius wallets at any time. There will be no lock-in periods for the users and the platform will not charge any fee on deposits and withdrawals.
Interest on the deposits will be accrued daily but they will be paid on a weekly basis. Users can auto-renew their deposits for additional periods if the initial term expires. Celsius CEO Alex Mashinsky commented on the integration and said it
"extends the mission and focus of both companies to bring the next 100 million people into the crypto community and do it while we do good before we all do well. Celsius's commitment to reward our users with 80% of the value we create is now available to all Bitfinex customers."
Celsius aims to add more liquidity to its platform. It currently lends digital assets to investment funds, miners, retail investors as well as digital asset companies. All loans are given 'on a guaranteed and collateralized basis.'
It gives its clients access to a number of services like instant depositing in digital assets on the Celsius wallet. It can also use digital assets as collaterals for availing fiat loans. At least 80% of the returns from the entities are passed on to the asset holders.
Source: www.cryptovibes.com
Previous
Next