Attack Wary Crypto Exchanges Keen to Adopt Robust Security Measures – TCR
Snapshot technology enables the platform to accurately detect the wallet balances at any particular instance
CSIRO Data 61 researchers have developed a blockchain protocol that will withstand the attacks from quantum computers
Blockchain, no matter how secure and. The cryptocurrency market, which is hosted over the blockchains, is valued at $325 billion, with $50 billion traded daily. With such huge amounts being traded, they are always prone to attack and risk of a substantial data breach by the quantum computers. This is due to the reason that the prevailing cryptocurrencies are either quantum-safe or privacy-preserving.
Big exchanges with the best in class security measures are also not secured from these attacks. Altsbit, an Italian Exchange, lost digital currencies worth $70,000, Upbit in November last year reportedly lost Ethereum worth a whopping $51 million, and most recently, in an attack, lost ERC20 tokens worth $150 million. The attack was orchestrated by compromising the hot wallets to newer ones and suspending all the withdrawal transactions and deposits on the platform.
The NOIA network, in a partnership with PARSIQ, a blockchain monitoring, and automation solution company, has created 'Snapshot.' This technology enables the platform to accurately detect the wallet balances at any particular instance. This helps the NOIA implement the hard fork for restoring the stolen tokens in case of an attack or theft.
Monash Blockchain Technology Centre, along with the Australian Commonwealth Scientific and Industrial Research Organization (CSIRO) Data 61 researchers, have developed a blockchain protocol that will withstand the attacks from quantum computers. The developed protocol is called MatRiCT, which is simply a set of rules that will govern the blockchain network's operations. The developed blockchain protocol is being said to protect the user's privacy and safeguarding the transactions.
As a respite to crypto users worldwide, Israel-based digital forensics firm Cellebrite recently announced the launch of its cryptocurrency and blockchain tracing tool powered by CipherTrace's crypto intelligence tool. To help investigators identify illicit transactions using digital currencies by allowing users to scour the blockchain for transactions, evaluate risk level and flag addresses are known to be associated with illegal activities. This will also enable law enforcement and corporate users to conduct a crypto fraud investigation.
No matter how crypto-savvy you are, criminals out there in the digital space can still outsmart you. Regardless of your confidence level concerning handling digital assets, the trick is never to let your guard down. Hard-forking can be one of the many possible solutions of the future that can invalidate the stolen tokens but at present, completely abandoning the hot wallets or the crypto exchanges isn't the solution to the problem.
Join The Coin Republic's Telegram Channel for more information related to CRYPTOCURRENCY NEWS and predication.
Download our App for getting faster updates at your fingertips.
Source: www.thecoinrepublic.com
Author: By Steve Anderrson
Mergers and acquisitions amongst top fundamental crypto price movers – Analytics platform
The effects of exchange listings on an asset's price aren't sustainable in the long-term.
Mergers and acquisitions tend to have a long-term positive impact on the cryptocurrency's valuation.
The Tie, a cryptocurrency analytics platform, took to Twitter to reveal the findings of their month-long study. The study's main subject matter was to analyze the effects of fundamental news on a cryptocurrency's price movement. According to their research, certain announcements tend to procure more responses than others. In the image below, the announcements are ordered left-to-right in increasing order of positive effect on price.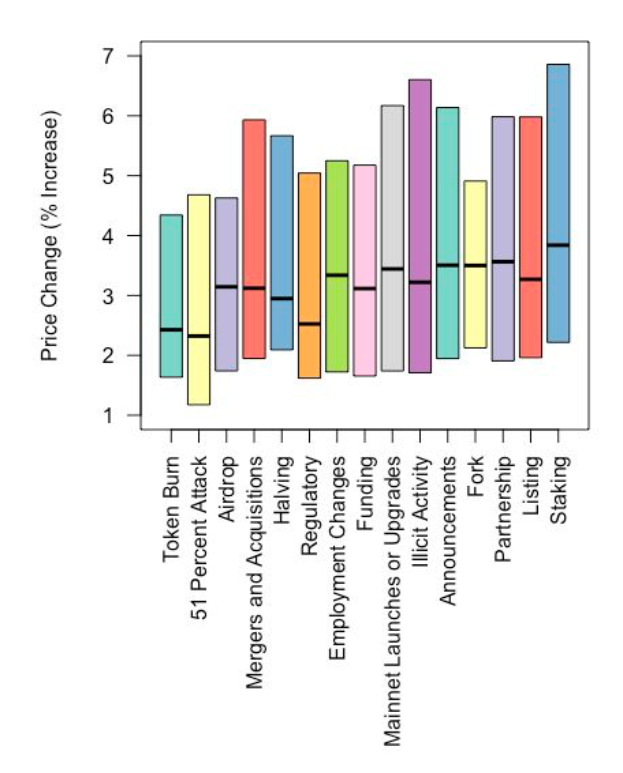 Logically, listings should have a positive effect on a digital asset's price since it increases demand. Although listing and partnerships have an immediate positive influence, it's not sustainable. According to The Tie's research, the effects of a Listing or Partnership tends to wear off within a week. However, Mergers and Acquisitions tend to have positive effects that extend well beyond.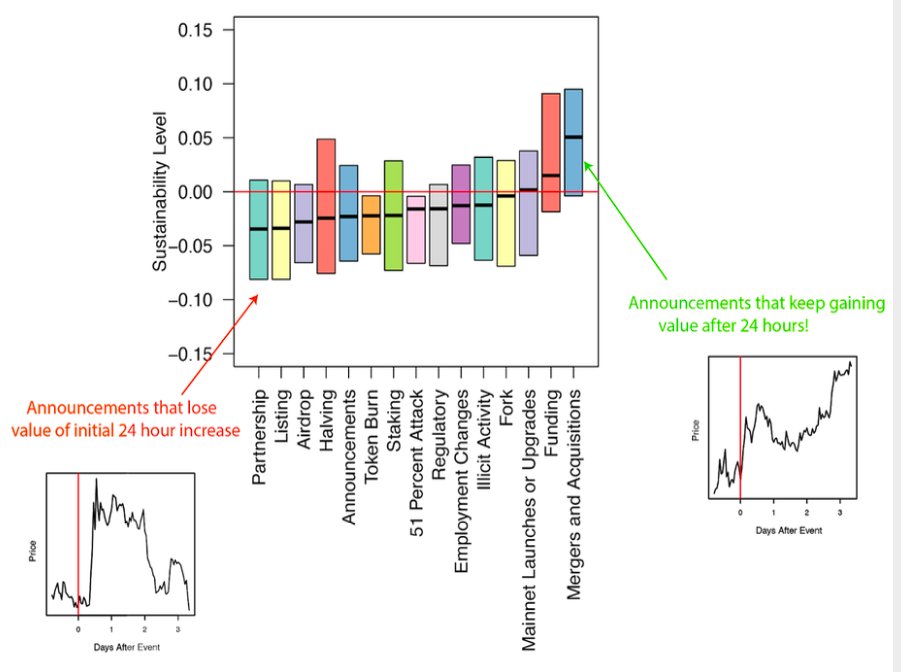 A new listing has a negligible impact on a cryptocurrency's price since it's already listed on several other exchanges. However, if that weren't the case and the asset gets listed on a large exchange, then there could be a short-term positive implication on the asset's price. To understand this, The Tie cites the example of Aragon (ANT).
On August 12, ANT was first listed on OKEx and rose from $4.34 to $5.38 in just two hours. Less than 24 hours later, ANT got listed on Huobi and Binance and shot up by 164% and reached a high of $11.45. However, three months later, ANT dropped below its pre-listing value.
On the other hand, mergers and acquisitions can have a long-term positive implication on the asset's price, showing a staggering 90% chance of positive return after a week. Such a high return likely occurs since mergers and acquisition-related news are often tightly guarded secrets and add a lot of value to the ecosystem. For example, FTX's acquisition of Blockfolio added a large number of users to FTX. Just a week after this acquisition, FTX's native token FTT rose by 33%.
Source: www.forexcrunch.com
Author: FX Street
Website
Proof-of-work vs Proof- of – stake – Cryptointeres
Consensus Algorithm Information:
Consensus could be a mechanism by which a gaggle can dynamically achieve a consensus without creating some conflict within the group. As such, it is a lot more constructive than mere voting, which does not take care of the opinions of the minority. a way that helps you to achieve a consensus is thought of as a "consensus algorithm. a number of the fundamental rules are defined for the consensus Algorithm which we require to own understanding regarding it.
* It's expected to supply a test.
* It must build a mood of cooperation.
* Participants must place the desires of the community above their individual needs.
* The votes of every participant should be equal in weight.
Proof of Work Methodology:
Proof of Work could be a prerequisite to spot an upscale computer computation, also called mining, that has to be distributed so as to determine a brand-new category of trustless transactions know as block on the blockchain
Transactions are packed during a block for miners to test the transactions within each block are legal. so as to try to so, miners must solve a mathematical puzzle called a controversy of proof-of – work. A cryptocurrency prize (reward) is given to the primary miner to resolve a block problem. Until verified, transactions are stored within the public blockchain. With this security is achieved not only because of the complex nature of the cryptographic functions being processed but also by the relatively high cost that it takes in terms of energy. This makes attacking the network expensive.
Proof of Stake Methodology:
Proof-of-stake, or PoS, gets eliminate miners altogether and instead has "validators." Validators don't use processing power to secure blocks, instead they literally "stake" their funds on the blocks that they believe are valid. A validator can generally be anyone willing to stake coins on the network, and an algorithm determines which validators are going to be chosen for every block. Whereas miners want to extend their chances of solving the complex math problem by throwing more processing power at it, validators increase their chances of being selected to validate a block by throwing extra money at it.
One of the critiques of Proof of state is that it also enables a sort of centralization.
PROOF of Work
PROOF OF STAKE
Comparison between Proof of labor and Proof of Stake by using various different platform
Security:
What future awaits cryptocurrencies?
Proof of Work:
These chains are more susceptible to DoS attacks and Sybil attacks than to PoS on the other hand PoW blockchains have the advantage of impartial consensus, while PoS uses subjective consensus. Objective Consensus enables new network nodes to see the role of the remainder of the network supported pre-programmed guidelines. Objective Consensus helps nodes to "discover everything on their own" so on talk. But subjective consensus includes calling for a trustworthy source while the node or validator is online for the first time.
Proof of Stake:
Bribe attacks cost but they are doing on PoW chains. A bribe attacker can effectively reverse a transaction by quickly building a fork of the blockchain that's longer than the chain that the attacker made an initial transaction on. Once the attacker broadcasts his new and longer chain to the network, it's accepted because the main chain
There is also plenty of criticism of PoS within the vanilla version of the protocol since there are little consequences for such types of poor behavior, like validating several blockchain forks at the identical time. A validator would want to validate multiple forks because it might minimize their total risk, so it's the obviously very rationale for these validators to try and do, And then they're actually noted as "reasonable" validators, and validators that just continue the initial blockchain are considered altruistic because they're "good".
Decentralization:
It is basically a system during which every individual has the proper to present his/her point of view everyone has access to the info and each person's opinion matters.
PROOF OF WORK:
Despite several efforts to undertake and keep Bitcoins mining as decentralized as possible by manipulating things just like the block size, it's become pseudo-centralized due to mining pools and mining hardware manufacturers who have a monopoly on the market.
The mining pool could be a bunch of individual miners close to merging their computing resources to assist locate the subsequent stone. Each miner shall be credited with a share of income reckoning on the number of power they need provided to the pooled network. The advantage of pooling is that they earn continuous revenue as critical mining.
PROOF OF STAKE:
So far for Proof of Stake blockchains, it appears that there's slightly less centralization Perhaps after widespread use, the constellation would change for a few reasons like staking pools favoring more centralization. Firstly staking pools are more discouraged than mining pools because it requires a better level of trust in a very third party service operating the pool since they might easily just steal deposits.
Another reason why it's thought an oversized scale implementation of PoS are going to be more decentralized is that it's not really tied to the number of computer processors you have got access to
SO in line with this, we understand that.
Conclusion:
In conclusion, it'll be not wrong to mention that both states have their own importance Proof of Work and Proof of Stake are two of the foremost prominent consensus mechanisms for decentralized blockchain networks. It is tough to create a comparison as both are unique in their own way and dealing. PoS is healthier for the lower energy consumption hence and it's emerging day by day many companies are moving towards it both have its own pros and cons.
Source: cryptointeres.com
Author: Sami Murtaza
Top Five Crypto Exchanges Hold Over 10% of Bitcoins.
Researchers from the Chain.info team found that just over 10% of the total Bitcoin market supply is in the hands of the five largest cryptocurrency exchanges.
Approximately 1.96 million BTC is controlled by the Coinbase, Binance, Huobi, OKEx and Kraken markets. Previously, the Coinbase exchange launched a service for storing cryptocurrencies. Analysts believe that thanks to the emergence of these types of services, 944,904 BTC were concentrated in the 4.39 million wallets of the platform.
The second place is held by the Huobi exchange, 901,600 unique wallets store 232,665 bitcoins on it. Binance closes the first three; On this platform, 2.7 million addresses store 289,961 BTC.
276,184 and 126,510 bitcoins are listed on the OKEx and Kraken exchanges, respectively. The volume of the cryptocurrency placed on the above trading platforms is 10.6% of the total supply of the Bitcoin market. 210,000 coins are listed on Bitflyer, BIttrex, Bitfinex, Poloniex, Coincheck, Gate.io and Bitstamp, Chain.info said in a report.
Keep in mind that in terms of bitcoin transaction volume, OKEx is the leader. For example, in June this year, clients of this platform made more than 8,000 large BTC transfers. The largest of them was 513.1 bitcoins.
Researchers assume that the actual volume of BTC held by the five largest exchanges may actually be greater than 10.6% as access to 3.7 million BTC is lost. These coins can also be stored on these same trading platforms.
Source: news.triunits.com
Author: Souvik Sarkarhttps://news.triunits.comCrypto Expert And Blogger .
3.5 Million ETH Locked in Uniswap as Total Liquidity Approaches $3 Billion
Uniswap has been the top DeFi protocol for more than a month now. According to the latest statistics, users have locked almost 3.5 million Ether (ETH) tokens on the decentralized exchange. Along with this, the total USD liquidity on Uniswap is nearing the $3 billion mark.
It's been a rollercoaster ride for the unicorn branded decentralized exchange since June this year. And with the DeFi train picking up steam with every passing day, Uniswap has stood to gain the most. It is the most popular protocol as per DeFi Pulse. And the latest statistics show that users have locked almost 3.5 million Ethereum (ETH) tokens worth $1.35 billion on Uniswap.
No doubt, Uniswap is getting most of its liquidity from ETH. Also, Ethereum on-chain data reveals that out of a daily transfer of $300 million (worth of ETH) to DeFi protocols, Uniswap is getting the lion's share.
On the Flipside: Is it time to take #DeFi seriously? #Ethereum's on-chain data reveals that:
– $300MM is sent to DeFi apps & DEXes vs. $156MM to CEXes
– 70% of that ($211MM) is going to @UniswapProtocol specifically https://t.co/tF1O0KUyFI pic.twitter.com/puh4PQ8PCL
— Flipside Crypto (@flipsidecrypto) October 13, 2020
Due to this massive inflow of funds, the total USD liquidity on Uniswap is about to touch $3 billion.
Should these numbers make Bitcoin maximalists take Uniswap and the DeFi space seriously? Cryptocurrency usage analysis firm Flipside Crypto thinks so.
In the latest article on DeFi, Flipside Crypto observed that bitcoin maximalists had left no stone unturned in denigrating Uniswap and the entire decentralized finance ecosystem.
There are certain individuals in the blockchain space who believe that Bitcoin will inevitably become a monopoly due to network effects, and that building any other project or cryptocurrency is not only futile, but unethical. This line of thought is known as Bitcoin Maximalism, and its adherents are the only ones still denying the value of DeFi applications.
The firm referred to Anthony Pompliano and Tone Vayes' recent comment on Uniswap, its founder Hayden Adams, and said that maximalists like them should take the DeFi space seriously. And why?
Because Bitcoin users and holders are slowly and gradually moving to the Ethereum blockchain to put their BTC stash to 'better' use. Data from Dune Analytics shows that around 137,000 tokenized bitcoins are now circulating on Ethereum. Going by the latest spot rates, this works out to be a supply worth $1.6 billion.
Also, the above data shows that traders/investors collectively transfer only $156 million in ETH to centralized crypto exchanges as opposed to a daily transfer of $300 million to DEXes and DeFi apps. Combining this with the rising 'Bitcoin on Ethereum' numbers, the firm suggests its time to take DeFi protocols like Uniswap seriously and not 'stay glued to the Bitcoin blockchain.
Binance Futures 50 USDT FREE Voucher: Use this link to register & get 10% off fees and 50 USDT when trading 500 USDT (limited offer).
Source: cryptopotato.com
Previous
Next