XRP on the Move After Job Listing Reveals New Exchange Platform
XRP has enjoyed a 10% rally in the past 40 hours.
The buying pressure behind it appears to be fuelled by speculation over a new job opening at Ripple.
Despite the recent gains posted, the cross-border remittances token faces a major obstacle ahead that may contain rising prices at bay.
Ripple's XRP token is back on the rise after a recent job opening at the company revealed insights into a new exchange platform.
The number of XRP-related posts on different social media networks skyrocketed by a whopping 120% over the last 48 hours. Data from LunarCRUSH reveals that roughly 7.2 million social engagements have been registered today.
More importantly, over 70% of all the social interactions have been bullish about the cross-border remittances token.
The rising chatter around this altcoin seems to be related to a new job opening at Ripple, which suggests the firm is working on building a new cryptocurrency exchange.
"We're looking for a senior software engineer [to] build an enterprise-grade, distributed trading platform that provides real-time access to crypto markets," reads the job listing.
Although it remains unclear what exactly the team is working on, or when such a platform will launch, the so-called "XRP army" has already given Ripple its vote of confidence.
Investors appear to have rushed to exchanges to buy the token, pushing prices up by nearly 10% in the past 40 hours.
Now, a technical pattern suggests that the international settlements altcoin sits at a pivotal point.
Despite the recent gains posted, XRP currently faces a stiff resistance cluster that may absorb any further buying pressure. This critical hurdle is represented by the upper boundary of a descending parallel channel forming since August and the 50-day moving average (MA).
Rejection from this crucial resistance level could result in a steep correction towards the channel's middle or lower boundary. But breaking through it could push XRP towards $0.31.
Given the ambiguous outlook that XRP presents, the 50 and the 100-day MA can be used as confirmation points. A daily candlestick close below support will add credibility to the pessimistic scenario while closing above resistance will signal further gains on the horizon.
A dose of patience will play an essential role in looking to benefit from this cryptocurrency's next significant price movement.
The information on or accessed through this website is obtained from independent sources we believe to be accurate and reliable, but Decentral Media, Inc. makes no representation or warranty as to the timeliness, completeness, or accuracy of any information on or accessed through this website. Decentral Media, Inc. is not an investment advisor. We do not give personalized investment advice or other financial advice. The information on this website is subject to change without notice. Some or all of the information on this website may become outdated, or it may be or become incomplete or inaccurate. We may, but are not obligated to, update any outdated, incomplete, or inaccurate information.
You should never make an investment decision on an ICO, IEO, or other investment based on the information on this website, and you should never interpret or otherwise rely on any of the information on this website as investment advice. We strongly recommend that you consult a licensed investment advisor or other qualified financial professional if you are seeking investment advice on an ICO, IEO, or other investment. We do not accept compensation in any form for analyzing or reporting on any ICO, IEO, cryptocurrency, currency, tokenized sales, securities, or commodities.
See full terms and conditions.
Source: cryptobriefing.com
Author: by
Ali Martinez
Crypto Long & Short: Coinbase's 'Apolitical' Stance Isn't Nearly as Simple as It Sounds
As if the ructions of the year aren't giving us enough cause to re-examine things we thought we understood, now we find ourselves questioning what a company is for, and what role it should occupy in society and in employees' lives.
Earlier this week, Coinbase co-founder and CEO Brian Armstrong published a post in which he stressed the company's focus on the mission of creating "an open financial system for the world," and asked that political issues be left out of workplace discourse.
The questions this raises are huge, and the timing fits right into tectonic shifts already underway in the role of capitalism in our evolving society.
Let's look at some of the questions, to which there are no clear answers.
Armstrong says Coinbase has "an apolitical culture." What does that even mean, in these times of growing polarization on practically everything? Even being apolitical can be taken as a political stance. What's more, when a company whose mission is to bring "economic freedom to people all over the world" requests that activism and politics be left at the door, you get a glimpse of how institutionalized the crypto ethos is becoming.
What is an employment contract? Some will answer that it is monetary compensation for certain output. Others will argue that you give up your time in exchange for payment. If the latter, can the organization paying you dictate what you do in that time?
Does a company have the right to define its own mission? The answer might seem like an obvious yes, but an extension of that is, does a company have the right to ignore topics its employees care about? Here the issue gets more divisive.
Related to the previous point, is a company's responsibility to its shareholders or its employees? Armstrong believes that focus is core to achieving the mission, and that is what shareholders have a right to expect. But the success of intelligence-based businesses largely rests on the employees. We're not talking about widget-producing factory floors here. This is an environment in which specialized talents and inspiration matter, and those are supplied by motivated people. So, some could argue that Armstrong's responsibility is to his employees, because that will make the company more profitable and the shareholders happy.
There are many more, but I'm aware of pixel constraints.
As if to drive home the point, this week IBM released the results of its annual executive survey. Here's an excerpt from the press release (my emphasis):
"Ongoing IBV [IBM's Institute for Business Value] consumer research has shown that the expectations employees have of their employers have shifted amidst the pandemic – employees now expect that their employers will take an active role in supporting their physical and emotional health as well as the skills they need to work in new ways."
This is at odds with a focus on the "mission," whatever that mission may be. And it highlights the crucial role that employees play in a firm's success. Also from the PR:
"Participating businesses are seeing more clearly the critical role people play in driving their ongoing transformation."
This doesn't come from some new-wave, millennial-driven, holistic social advocate. It comes from IBM, a standard bearer for legacy enterprise, and represents how much the concept of efficient management has changed.
Whether you agree or disagree with Armstrong's position, you have to admit he was brave to wade into this, especially given the rumors of a planned public listing later this year.
Armstrong's blog post is so much more than a corporate policy statement. It is likely to spark uncomfortable questions as employees seek clarification from companies struggling to navigate through issue-driven minefields. It could lead to a re-evaluation of the concept of a "social contract" between employer and employee, and whether the implicit understanding needs codifying. It could even end up being a trigger for a battle for the soul of corporations, and the meaning of value.
These are difficult times, in more ways than we can possibly realize. And the coming change in mores and expectations will be deeper than most anticipate.
The U.S. Commodity Futures Trading Commission (CFTC) and federal prosecutors have started the quarter off with a bang, charging crypto trading platform BitMEX with facilitating unregistered trading and other violations, and arresting co-founder Samuel Reed.
As recently as a couple of years ago, BitMEX was the largest derivatives exchange, and this week's news could have had a similar effect given the relatively high leverage in its contracts. Yet the BTC price initially fell almost 4% on the news, which is not insignificant, but nowhere near the systemic jolt many expected. It then recovered 1.5% before being blindsided by other market-shaking non-crypto-related news.
In other words, BitMEX's run-in with the law will have an impact, but it is unlikely to be material.
In recent months, BitMEX lost its dominant position to OKEx, Huobi and Binance, and now ranks fourth in terms of daily volume and second in terms of open interest. Even if BitMEX ends up closing, the market repercussions will be felt, but will not be systemically damaging, as there are alternative trading venues.
What's more, while the domain name could be seized and withdrawals impeded (the exchange requires three of the four authorized signatories to approve withdrawals, and so far one has been arrested), BitMEX is unlikely to close – at time of writing, withdrawals were proceeding without hitch, and were significant but not catastrophic for the exchange.
Even more importantly, this news does not change the fundamentals of bitcoin. It may affect trading volumes as positions are closed and reopened elsewhere. But the underlying technology and the potential use case remain intact.
And, rather than weaken confidence in crypto market infrastructure, this news is likely to enhance it. One of the reasons cited by the SEC for its rejection of all bitcoin ETF proposals so far is the lack of surveillance on significant offshore exchanges. This action by the CFTC feels like part of a "bring out the broom" initiative that will improve the rigor and oversight of market players, which should boost institutional confidence and product range. It could even be a tentative step towards a bitcoin ETF approval.
Perhaps you have already been following the DeFi space, because you are interested in unusual yield opportunities, or because you enjoy the wacky packaging some of these applications come in (many of which are named after food, don't ask). If not, and you'd like to start to get ahead of the curve, here's a good introduction.
3) Bitcoin's dominance of the crypto asset market has continued its decline. Five years ago, bitcoin was virtually all of the crypto asset market. Then came the 2017 ICO boom with a flood of new tokens surging in value, and bitcoin's dominance fell to a low of 36%. As the bubble burst, most of the new tokens fell in value, eventually restoring bitcoin's dominance to around 70%.
The dominance (as measured by TradingView's BTC Dominance Index) has been steadily falling since around May of this year, largely due to the surge in the market cap of stablecoins and to the growth in DeFi tokens, not all of which were spurious memes.
Note that the index is trending downwards in spite of the upward trend in prices, which speaks to the level of growth elsewhere in crypto markets.
In other words, this is less to do with weakness in bitcoin and more to do with the expansion of the industry overall. That, in turn, is positive for bitcoin which, for many, will be the gateway crypto asset, the one that investors try out first.
Bitcoin yet again exhibited its split personality this week. I had a chart all ready to share with you that showed that its correlation to gold had been heading up for most of the quarter – and then Trump's positive COVID test results sent gold higher while bitcoin headed lower. True, bitcoin had already had a shock earlier that day from the BitMEX indictment, and the slump could well have been continuing jitters from that. But it's not unreasonable to expect market-shaking news like the President of the United States possibly being seriously ill (as far as we know, he only has light symptoms so far) to spark a rush to safety. It seems that the market is not yet convinced that bitcoin is a "safe haven" like its analog comparison.
Trump's COVID test result seemed to have more of an impact on markets than Tuesday night's debate, which says a lot about the debate's inefficacy in moving the needle on divided allegiances. Zooming out, this is bewildering considering what its viciousness said about American democracy, and the importance of the election outcome. Unless, of course, the outcome of the election isn't important at all? Like I said, bewildering.
Bitcoin had a weak September (-8.4%) and has not exactly started off on a good foot in October. It did, however, achieve a positive record: it has closed above the $10,000 mark for its longest streak of 66 days and counting. This is significant inasmuch as this long a stretch above that psychological barrier hints that $10,000 has become the new price floor. Of course, floors have been broken before …
Cryptocurrency exchange Bitfinex has started trading perpetual contracts that track two European equity market indices and settle in the stablecoin tether. TAKEAWAY: You've often heard me talk about how I believe crypto assets will have a profound impact on traditional capital markets. Here is an example of how it will happen: We have a crypto exchange offering a derivative developed for the crypto markets to bet on movements in traditional indices. And to top it all off, it settles, not in fiat but in a fiat-backed stablecoin. Another notable aspect is the leverage – 100x is insanely risky, and is a feature largely limited to crypto exchanges. Few traders avail themselves of that much risk, however, as experienced market professionals know that it's not wise.
The spread between the six-month implied volatility (IV) for ether (ETH) and bitcoin (BTC), a measure of expected relative volatility between the two, fell to a 2.5-month low of 4% over the weekend, according to data source Skew. TAKEAWAY: This could mean that traders expect ETH to act more like BTC going forward. The ETH futures market is still immature, however, and the signals are not yet that reliable.
An amended filing with the Securities and Exchange Commission (SEC) last week showed that Bitwise's Bitcoin Fundhas raised just under $8.9 million, more than double the amount it had raised last year. TAKEAWAY: According to Bitwise's head of research, Matthew Hougan, this is largely because of growing concern over runaway inflation. Given the new Federal Reserve policy of allowing inflation to overshoot targets (the ECB this week hinted it will follow suit), these concerns are likely to intensify.
The Atari Group, the company behind such classic video games as Pac-Man and Pong, will begin publicly selling its Atari Token (ATRI) cryptocurrency in early November. TAKEAWAY: This ERC-20 token will be used in crypto casinos, blockchain-based games and the company's video game distribution platform. I'm not clear on the economics behind the token, but the combination of Atari, games and tokens does sound a bit like a door to a mainstream use case. But I'm not a gamer, so I might be wrong. (Speaking of which, anyone see the Netflix documentary series "High Score"? Excellent.)
Nasdaq-listed mining equipment manufacturer Ebang reported a revenue slump in 2020 H1 of over 50% from the same period in 2019. According to the company, this was largely due to pandemic-related supply chain disruptions. TAKEAWAY: Supply disruptions are no doubt part of it, but as my colleague Matt Yamamoto pointed out in this report, Ebang's product mix was inferior to that of its competitors anyway. You can't blame COVID-19 for everything.
CoinDesk Research has a new report out, authored by my colleague Matt Yamamoto, on Silvergate Bank, which looks at its financials and its business strategy in the light of growing competition.
Money Reimagined, with Michael Casey and Sheila Warren of the WEF – for the first episode, they talk to multimedia artist Nicky Enright and University of Virginia Media Studies Professor Lana Swartz
Borderless, with Nik De, Anna Baydakova and Danny Nelson, which covers trends impacting crypto adoption around the world
Source: otcpm24.com
Author: News Bureau
DeFi Needs Diversification for Sustainable Growth
Much of the hype surrounding DeFi right now is focused on yield farming, otherwise known as liquidity mining. This is a process that allows DeFi users to earn rewards from their cryptocurrency holdings, made possible through interacting with different protocols that distribute what is known as governance tokens (GTs).
While farming yield can be a profitable venture on its own, an added benefit is tokens that are farmed can also see a price surge because their supply is restricted by being locked up, leading to some of the recent insatiable gains we've seen in the DeFi space. However, DeFi is about so much more than just yield farming and should not be overly reliant on it.
The cryptocurrency space has seen DeFi explode over the last few months. At one point, over $9 billion in crypto assets were locked in its protocols. The growth seems to be related to the uptick in yield farming, a trend that was started by Compound, a major lending protocol, when it started distributing its COMP governance token, with other protocols quickly following suit.
For example, YFI, the governance token of Yearn.finance, a site that helps users find the best yields in DeFi protocols, has a token price worth more than BTC. Over the last 30 days, YFI is up more than 400%.
This is a very different situation from September 2019, when the DeFi space just had a little over $500 million locked in. However, it's not all about the rewards. What goes up must come down. And, as we have recently seen from large crashes in SUSHI and YAM, investors with too much capital locked into a protocol whose price is tanking stand to make significant losses. Chasing overnight gains throughout the history of investing has never proven sustainable. And DeFi needs diversification for sustainable growth.
There are many other ways to positively support the development of the DeFi space. More sustainable methods can allow users to gain exposure to the benefits of DeFi, all while minimizing the loss of money to hacking, software errors, or unexpected whale movements. This means following a diverse strategy, understanding the project they are investing in, using derivatives products to hedge their risks, and platforms like OKEx Earn to make a passive income with no lock-up period.
Not "putting all your eggs in one basket" will substantially help investors mitigate the risk from unexpected market moves, technical issues, or exit scams that could ruin an investor, all while still being in with a chance of discovering the next crypto unicorn early on.
Since every individual investor can choose their own DeFi portfolio, adequate research is necessary. For those investors who desire more DeFi exposure, OKEx is fast becoming a one-stop-shop for all their needs and now has a new DeFi category that allows them to access 35 different tokens. OKEx also offers sophisticated trading tools like margin and swap trade for a variety of DeFi tokens, thus allowing investors to execute strategies that maximize profits while hedging their trading risks.
With a combination of these different tools, traders and investors can take advantage of DeFi while optimizing their risk management and ensuring they have some protection in case the next crypto catastrophe strikes.
About the Author: Jay Hao is the CEO and Chief Customer Service Officer at OKEx, a leading crypto spot and derivatives trading platform.
What cryptocurrency will become the main one in a year?
Image by Free-Photos from Pixabay
Source link
Source: icryptodesk.com
Author: admin
SEC sues John McAfee over promoting cryptocurrency offerings on Twitter
John McAfee
Paula Bustamante | AFP | Getty Images
The U.S. Securities and Exchange Commission on Monday sued John McAfee, creator of the eponymous anti-virus software, alleging that he made over $23.1 million in undisclosed compensation from recommending seven cryptocurrency offerings on Twitter that were materially false and misleading.
The regulator, which is seeking a trial by jury, alleged that from at least November 2017 through February 2018, McAfee recommended cryptocurrencies that he was paid to promote, while falsely denying "he was being paid by the issuers."
"McAfee leveraged his fame to make more than $23.1 million in undisclosed compensation" by recommending at least seven initial coin offerings or ICOs to his Twitter followers, the SEC said.
McAfee's recommendations were "materially false and misleading," in that he tried to sell "virtually worthless" cryptocurrency tokens by encouraging investors to buy the securities without disclosing his own holdings, the SEC alleged.
The SEC is seeking to impose on McAfee a civil penalty as well as disgorgement of ill-gotten gains, with interest. The agency also wants to ban him permanently from serving as an officer or director of any listed company or any company that files reports to the agency.
The agency is pursuing charges against Jimmy Gale Watson, Jr., a bodyguard to McAfee, on charges he aided and abetted the sale of the digital currencies, among other allegations.
Source: www.cnbc.com
Crypto Roundup: October 5th, 2020
Bitcoin remains buoyant, and is now approaching $11k for the third time despite repeated waves of uncertainty crashing over the crypto market.
Last Thursday, U.S. regulators filed charges against the founders of crypto exchange BitMEX, who stand accused of failing to prevent money laundering.
Adding to the uncertainty, Ethereum founder Vitalik Buterin dropped another bombshell, claiming in a developer thread that the blockchain is currently "nearly unusable" for many types of apps, and that scaling solutions won't be ready for several years.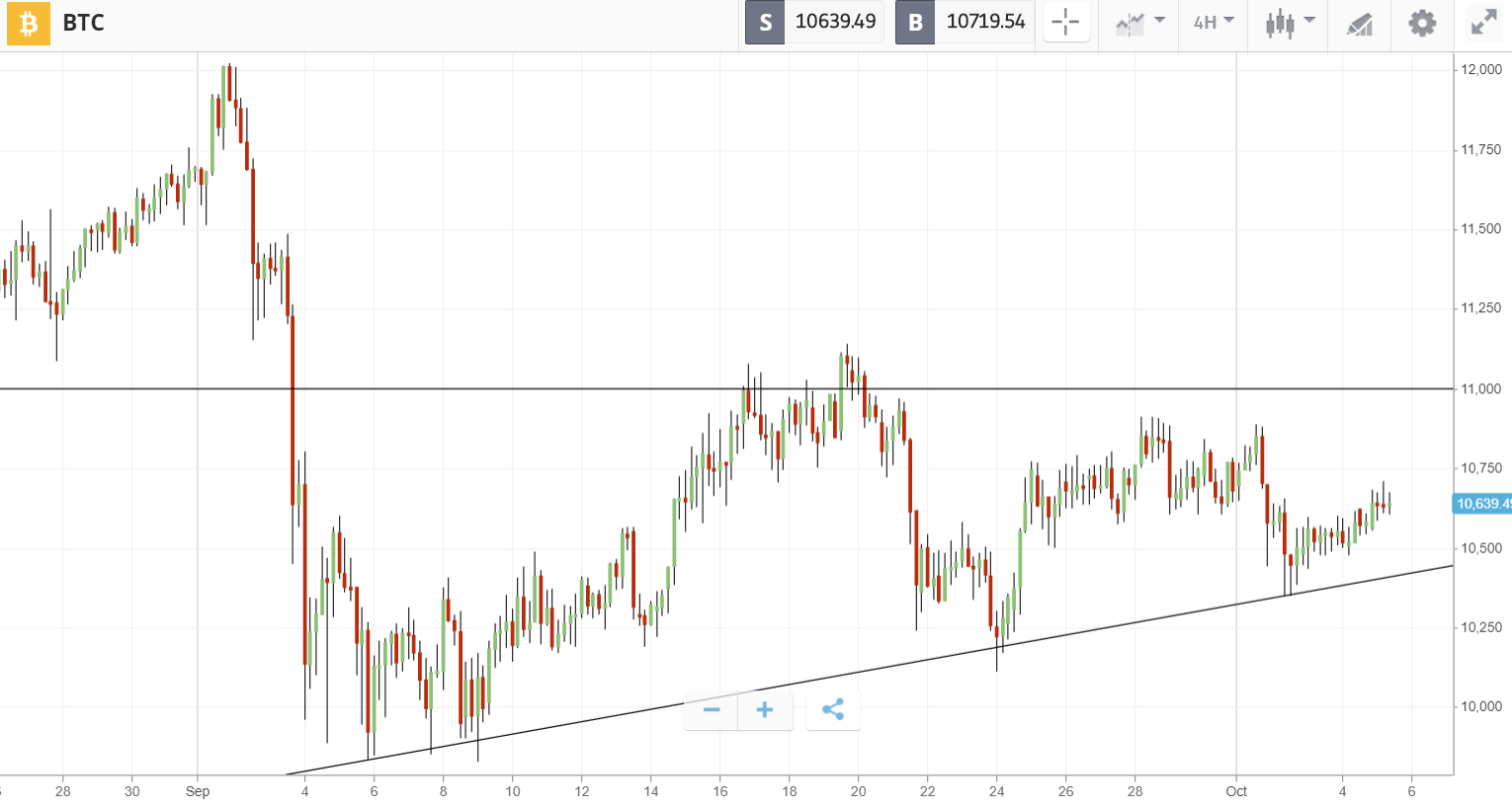 These events conspired against the market; sending Bitcoin on a brief detour to $10,300, before it bounced on Friday as Trump tested positive for Covid-19 following a fiery debate with presidential candidate Joe Biden.
This Week's Highlights
eToro Launches Staking for Cardano and TRON
BNB Gains From BitMEX's Loss
Zcash Surges on Shielded Transaction Adoption
eToro has launched a staking service for Cardano and Tron, becoming one of the first exchanges to support the staking of Cardano. This allows holders of supporting cryptocurrencies to earn as they HODL, without any of the hassle and complication of staking individually.
To get rewarded, users can simply buy and hold Cardano and Tron on eToro. They will then automatically receive more of the crypto asset each month, along with an email detailing the aggregated monthly yield and total reward given.
Learn more about staking Cardano and Tron.
Traders have fled the BitMEX exchange as the founders face charges of wrong-doing from U.S. authorities.
Yet while BitMEX is under scrutiny, Binance Coin is feeling the benefit. The native token of the Binance Chain has increased more than 8% over the past week and is now rapidly approaching $30. This rally puts the coin back in the top five cryptocurrencies as measured by market cap.
Privacy coin Zcash has made double-digit gains this week, as its signature shielded transactions feature garners increased adoption.
Shielded transactions grant selective privacy to senders and recipients, but the feature is not supported by the majority of exchanges due to concerns over regulatory compliance.
Since the Gemini exchange enabled shielded transactions last week, Zcash has seen a surge of transactions protected by the shielding technology. September saw a new record of 18,716 fully shielded transactions, representing 11% of all Zcash transactions.
As DeFi mania fades and the U.S. election comes into focus, we could see Bitcoin take center stage over the next few weeks.
The biggest factor influencing both cryptocurrency and global markets is likely to be President Donald Trump's illness, which is now threatening to impact the presidential election. Experts give the president a 95% chance of survival, but the uncertainty around his illness could still create volatility.
Nevertheless, with a new record of 70 days above $10K, Bitcoin's resilience in the face of turmoil bodes well for its ability to weather the coming storm.
Image by WorldSpectrum from Pixabay
Source: www.newsbtc.com
Author: Guest Author
UK Regulator Bans Cryptocurrency Derivatives for Retail Traders, Bitcoin Shrugs off the News
Talking points:
The Financial Conduct Authority banned today cryptocurrency derivatives for retail traders
Bitcoin remains a priority for regulators as BitMEX is charged by the CFTC and DOJ
The Financial Conduct Authority (FCA)banned today the sale of cryptocurrency derivatives to retail consumers in the United Kingdom following the proposal put forward back in October of 2019. The restrictions will come into effect on the 6th of January 2021. The regulatory body deems the products unsuitable to retail consumers due to the lack of a reliable basis for valuation, the prevalence of market abuse and financial crime in the secondary market, the volatile price movements, the inadequate understanding of the products by consumers, and the lack of legitimate investment need for retail consumers to invest in these products.
The announcement had little impact on the price of Bitcoin (BTC) as can be seen on the minute chart below. Users will need to trade cryptocurrencies on spot exchanges, as such, retail clients will not be able to have access to leverage nor short selling when trading cryptocurrencies. Many traders turned to cryptocurrencies due to its volatility and 24/7/365 trading, the reduction in the investment instruments available next year will most probably have a negative impact on the UK cryptocurrency market.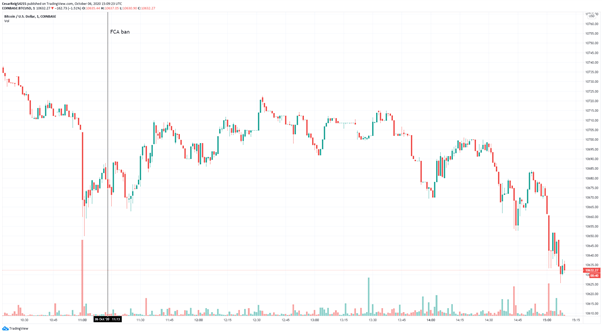 The ban will target the "sale, marketing and distribution" to retail investors of any derivative product that is linked to an unregulated underlying transferable crypto asset. These are considered by the FCA as "tokens that are not 'specified investments' or e-money, and can be traded, which includes well-known tokens such as Bitcoin, Ether or Ripple". The FCA estimates that consumers will save approximately 53 million pounds from the ban of cryptocurrency CFDs, futures, options and ETNs. The purchase of "physical" cryptocurrencies will still be available for retail clients, however the purchase of cryptocurrencies requires users to store them in personal wallets or turn to exchange's custody solutions which can prove cumbersome and still expose users to market abuse and financial crime.
Today's move by the FCA comes only days after the United States' Department of Justice (DOJ) and the Commodity Futures Trading Commission (CFTC) filed charges against the owners of BitMEX, the largest cryptocurrency exchange by daily volume. The owners are accused of operating an unregistered trading platform, as well as evading U.S anti-money laundering requirements and lacking know-your-customer procedures. BitMEX is incorporated in the Seychelles and restricts the access of U.S. based users through IP blocking, however the lack of Know-Your-Customer procedures and the attractiveness of its liquidity and products made many turn to VPNs to trade on the platform from the United States.
Following the announcement during the afternoon of the 1st of October, Bitcoin's price experienced a $300 drop (-2.83%), which it has since made up for. However, BitMEX has seen a massive outflow of assets from its platform, as traders and investors digested the news, the open interest (OI) on the exchange's most popular instrument fell by approximately 120 million dollars (-20%). This drop in OI was offset by increases in the OI of other cryptocurrency exchanges as users unwinded positions and transferred funds to other platforms.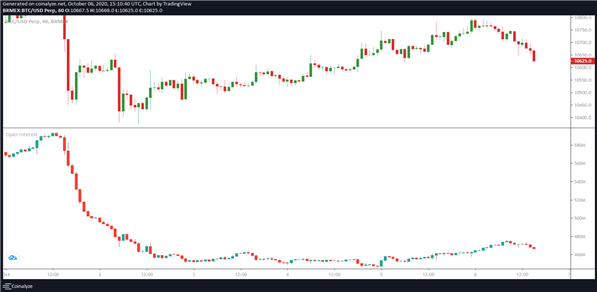 Cryptocurrencies will continue to be on financial regulators' radar as unregulated exchanges and potentially harmful instruments continue to haunt the space. Traders and investors will have to be on the lookout, as potential crack downs as well as acceptance from regulatory bodies could pave the path for the industry moving forward.
— Written by Cesar Reig, Market Analyst for DailyFX.com
Source: www.dailyfx.com
Author: Cesar Reig
Previous
Next