Yearn.finance (YFI) Nosedives 17% as DeFi Yields Dry Up
Yearn.finance (YFI) has faced a strong rejection in the past 24 hours. The leading cryptocurrency, based on Ethereum, has shed 17% in the past 24 hours. This makes it the worst performer in the top 100 cryptocurrencies, strongly underperforming Bitcoin's 0.5% gain in the past 24 hours.
The strong drop in the decentralized finance-focused coin comes amid a strong drop in the yields that users of Yearn.finance's Vault products can make. The yields are partially responsible for the drop as high yields allow holders of YFI to obtain more fees from user deposits.
While YFI may be under pressure in the short term, analysts are still optimistic about the project's long-term prospects.
Yearn.finance is down 17% in the past 24 hours, with the price of the leading DeFi coin reaching $17,000 for the first time in many weeks. In fact, the coin is currently trading at lows not seen since late August, just a few days prior to the strong early-September correction.
YFI's performance makes it the worst performer in the top 100 cryptocurrencies as aforementioned.
The coin is but one of many DeFi coins that have bled lower in the past 24 hours. SushiSwap's SUSHI is down 13.8% while UMA, Solana, Band Protocol, Uniswap, and others have all shed 5-10% in the past day.
Chart of YFI's price action over the past day from TradingView.com
Analysts remain optimistic about YFI's long-term outlook despite this extremely harrowing price performance in the near term.
Lou Kerner, a partner at CryptoOracle, recently commented on YFI's long-term outlook:
"Yearn is so impressive because it takes the massive opportunity and remarkable complexity of DeFi, makes it simple to use, while deeply integrating with leading DeFi protocols (e.g. Uniswap & Curve), and leveraging community as a powerful moat."
This optimism has been echoed by others like Andrew Kang of Mechanism Capital. The crypto-asset fund recently released a report in which it determined that over the long haul, YFI should end up trading at a price an order of magnitude higher than it is now.
"Our bullish DCF case yields prices of $241k and $315k, depending on whether a performance fee is applied to yToken revenue. A TVL of over $150 billion by the end of 2024 is certainly aggressive — that's almost 3x the current market cap of ETH! — but given the growth of stablecoins & vaults that we have already witnessed and the fact that we have only implemented a fraction of potential strategies that are planned we do not believe that this scenario is out of the question. We also don't want to forget that tokenized real world assets are beginning to enter DeFi."
Kang recently elaborated that Yearn.finance's utilization of other yield-farming strategies should drive protocol revenue much higher.
Source: www.newsbtc.com
Author: Nick Chong
Bitcoin, Not Left or Right Says Brian Armstrong
"Even if we all agree that something is a problem, we may not agree on how to actually go solve it."
So says Brian Armstrong of Coinbase as the newest shiny boy of Silicon Valley has clearly reached the stage of growth where some demand it virtue signals on all sorts of issues.
"It has become common for Silicon Valley companies to engage in a wide variety of social activism, even those unrelated to what the company does, and there are certainly employees who really want this in the company they work for. So why have we decided to take a different approach?
The reason is that while I think these efforts are well intentioned, they have the potential to destroy a lot of value at most companies, both by being a distraction, and by creating internal division. We've seen what internal strife at companies like Google and Facebook can do to productivity, and there are many smaller companies who have had their own challenges here."
So says Armstrong as he navigates the tricky matter of becoming a mainstream company while still keeping the roots and focus. He says:
"It would go against our principles of inclusion and belonging to be more of an activist company on issues outside of our core mission.
We have people with many different backgrounds and viewpoints at Coinbase, and even if we all agree that something is a problem, we may not agree on how to actually go solve it."
You'd think his argument is fairly persuasive with it boiling down to: bitcoin, not left or right. He effectively says as much:
"We are trying to create infrastructure for the cryptoeconomy, and that yes, this would create more equality of access for all people, but we aren't trying to solve all forms of inequality in the world…
I don't think companies can succeed trying to do everything. Creating an open financial system for the world is already a hugely ambitious mission, and we could easily spend the next decade or two trying to move the needle on global economic freedom."
He concludes by declaring Coinbase is apolitical, save for where it directly affects cryptos. Stating in effect what many have been stating in this space for years, bitcoin is politically neutral.
Coindesk however, which has an axe to grind, asks dismissively what does apolitical even mean? "Even being apolitical can be taken as a political stance," they say, which is true in some ways with their political stance being they want to focus on increasing global economic freedom through bitcoin, ethereum and other cryptos.
That such a simple matter should attract so much attention probably says a lot more about a certain pipeline bubble of power exertion that moves from Harvard, Yale and the like to the top companies and then is imposed on society in a brainwashing way that amounts to cultural control and imposition.
That Google could change the rankings based on political leanings for example is something we always new and warned against. But that they now actually do it is also generally known, yet not proven yet through some document leaks by a whistleblower.
Making Google the arbiter of information based on what Harvard or Yale thinks today, is extremely dangerous.
Making Coinbase the arbiter of what bitcoin is or who is it for or what party it supports and much of the rest, also has its dangers.
Yet others disagree and there are decent arguments against bitcoin being politically neutral, not that one has much choice there since it's like connecting a plus and minus cable to create energy.
The cables don't care who connects them or how, the connection always creates energy. But, Ben Weiss, the COO of the crypto ATM operator CoinFlip, says:
"Buying and owning Bitcoin is, and has always been, an inherently political act. Buying Bitcoin is a vote for an inclusive financial system, a vote for human rights, and a vote for a better future.
It is a vote against authoritarianism, a vote against legacy systems riddled with racism and discrimination, and a vote against an economic system that has left too many people behind. Therefore, we cannot exist in this space without being political."
That's a lot of very general statements which need books to shades of grey, but bitcoin is a choice, an alternative for global value transfers.
It's outside the current system in some ways, but not that outside since you generally have to go through centralized fiat exchanges.
It's inclusive if you can afford the fees and if you have a sufficiently lucky timing where price goes up rather than down.
Bitcoin is an opt out, but it can't really do much about racism any more than any other tool we use can do about it.
And where the economic system is concerned, well the world has never operated on such hard money as bitcoin so we have no clue based on data as to what it would be like.
There are however plenty of things bitcoin can do especially where international trade is concerned or quickly transporting savings or storing them or gaining some efficiencies in value transfers.
But bitcoin is not going to solve racism, or sophisticated corruption in the political system, or the general lack of accountability in the three branches system that is nearing its third century of being ancient.
So focusing on what bitcoin can solve may well be better for a bitcoin and ethereum focused company instead of falling to easy temptations which have now given Google the nickname of gulag.
Source: www.trustnodes.com
Ethereum, Ontology, Maker Price Analysis: 04 October
Bearish sentiment continued to be the norm across the crypto-market, at the time of writing. While Ethereum appeared likely to face further losses on the charts after forming multiple bearish patterns, Ontology continued to slump too. On the contrary, Maker flipped a level of resistance to support and was likely to see more gains in the next few days.
Ethereum formed an ascending broadening wedge (orange), a bearish reversal pattern, right beneath the trendline resistance (white). This indicated that ETH was poised for a drop, following which, Ethereum dropped to as low as $334.
However, ETH did rise to $350 in the next few trading sessions and at press time, was trading at $346.
The white descending trendline was part of a descending triangle pattern, a formation that generally means a breakout by the asset to the downside.
The 200 SMA (purple) and 100 SMA (pink) also formed a bearish crossover on the charts. After ETH surged above the resistance at $363, the selling volume was significant and suggested that traders were happy to take the profit.
In conclusion, Ethereum seemed set for another drop that could take it as low as $260.
In other news, Vitalik Buterin addressed the issues of scalability on the Ethereum network recently and stated that several non-financial dApps were forced to shut down due to high ETH gas fees.
Ontology faced resistance at the $0.68-level, with the crypto slowly sliding down the charts over the past week. The crypto-asset also formed a bear flag, with the orange flagpole and subsequent ascending channel.
What cryptocurrency will become the main one in a year?
This pattern projected a target of $0.49 for the crypto-asset after breaking out to the lower side of the flag.
In the near-term, the Parabolic SAR generated a sell signal while the MACD was in bearish territory, but underlined a lack of momentum.
Taken together, a bounce is possible at $0.54, but it is likely that any bounce would be a selling opportunity for traders.
In related news, the Wing DAO community received an update on the progress made so far from Jun Li, Founder of Ontology.
MKR formed a symmetrical triangle, a continuation pattern that highlighted the possibility of a prior uptrend continuing. In fact, MKR went on to make an attempt at the resistance level around the $573-mark again.
While the resistance level hadn't flipped, at the time of writing, the price registered higher lows, showing buyers' pressure closer to the resistance while indicting that the price could soon flip the level.
The RSI also registered bullish momentum recently, with the indicator staying largely above the neutral 50 zone over the past couple of weeks. This corroborated the uptrend on the charts.
Source: cryptotimeless.com
Author: by admin
Ethereum DeFi's Aave (LEND) Gains 5% Amid Crucial Technical Change
Leading decentralized finance (DeFi) coin LEND, the native token of the Aave protocol, is up 5% in the past 24 hours. Its performance comes as the prices of both Bitcoin and Ethereum have stagnated.
LEND's outperformance seems to stem from a crucial technical change to the Aave protocol and the cryptocurrency itself. This technical change should imbue LEND with more intrinsic value, which should in turn drive prices higher.
The DeFi coin is down due to a marketwide correction that began at the start of this month. Even up 5% in the past 24 hours, trading for a price of $0.55, it is a few dozen percent below its all-time high price set in August.
Announced just a week ago, LEND is being transformed into a new cryptocurrency called AAVE. AAVE is the governance token of the Aave protocol that will allow users to dictate in what direction the DeFi app heads.
AAVE has more intrinsic value than LEND because it can be used as a voting mechanism and it can be staked to allow DeFi users to earn rewards over time. As the Aave Improvement Proposal outlining this change explains:
"This AIP, if accepted by the community, will slowly deprecate the LEND asset in favour of the AAVE asset. As stated in the Aavenomics, this token upgrade will also create the Ecosystem Reserve (ER), the Safety Module (SM), and start the Safety Incentive (SI) rewards distribution. The Safety Module is designed as an additional line of defense for Aave liquidity providers and as a way for AAVE holders to "stake" their assets in exchange for a range of rewards."
Adding to the strength in the value of the DeFi coin, top venture capitalists in the space have pledged their support for Aave.
Spencer Noon, head of DTC Capital, commented that the fact the Aave protocol has nearly $2 billion in assets in its contracts despite liquidity mining goes to show the project's value:
"One of the best signals of PMF in #DeFi is if a project can succeed w/o extra incentives (liquidity mining). @AaveAave doesn't have LM yet it's still one of the biggest beneficiaries of new yield farming activity. At $1.26B TVL and only $759M mcap—the fundamentals are so strong."
This optimism was echoed by other top DeFi investors.
Source link
Source: icryptodesk.com
Author: admin
Cardano DeFi Development is in Full Swing – Crypto Money Daily
The market dip has hit DeFi tokens particularly hard. @cryptopigmedia noted that the biggest loser to date is Curve Finance, whose CRV token has dropped 93% since its peak.
"DeFi darling" Yearn Finance hasn't faired much better, with the YFI token losing 61% from its $44,183 high.
Defi Death Mission pic.twitter.com/UvGP8OcLqu
— Cryptopig (@cryptopigmedia) October 4, 2020
Despite that, and the subsequent fall in yields, Nicolás Arqueros, CTO at EMURGO, believes this is a temporary setback. Drawing on the example of the tech bubble at the turn of the century, he sees DeFi recovering.
"most of the technologies, sometimes they can start like… they can be too hot and turn into a bubble. But, for example, we have the bubble in the 2000s with all the tech companies, and we saw that Amazon was a bubble at that point. Yes, at that point it was a bubble, but now the value and the price in the stock market even higher."
With that in mind, EMURGO is continuing unphased in its development of DeFi on the Cardano chain.
Ethereum, as the biggest provider of DeFi services, is the platform every blockchain wants to emulate.
But Arqueros states that EMURGO has examined what Ethereum does and built a smart contract framework which he believes is superior.
UTXOs refers to a transaction output that can be used as input in a new transaction. Under this model, the UTXO defines where each blockchain transaction starts and finishes. This contrasts with the account/balance model employed by Ethereum.
Arqueros expands on how the UTXO model will run on Cardano by saying:
"we're avoiding most of the unncessary operations on the chain. For example, you no longer have to interact with that many smart contracts. Instead what you can do is verify that information was signed by some specific private key after the usage of its public key."
He also mentions that scalability is much easier to achieve on Cardano, due to the parallel UTXO architecture employed. The upshot of this is cheaper and faster transactions.
"UTXO is like a better way to play nice with other technologies that we see as required for a blockchain to scale up."
Not only that, but during the interview, Arqueros also spoke of cheaper on-ramping into stablecoins, developing a network of oracle providers, and perhaps most pertinently, encouraging decentralized exchanges.
"[on decentralized exchanges] definately we want to have a few on Cardano, and we multiple organizations working on multiple proposals… you can expect to see most of the same applications that you see on Ethereum and other blockchains."
Given the frustrations of using the Ethereum blockchain, some projects are looking to port over to Cardano. SingularityNET was the first big name to action a move away from Ethereum.
But the question is, will developments at Cardano see a mass exodus from Ethereum?
Arqueros said that Cardano has been in contact with a number of developers looking to port over. However, he remained tight-lipped on specific names.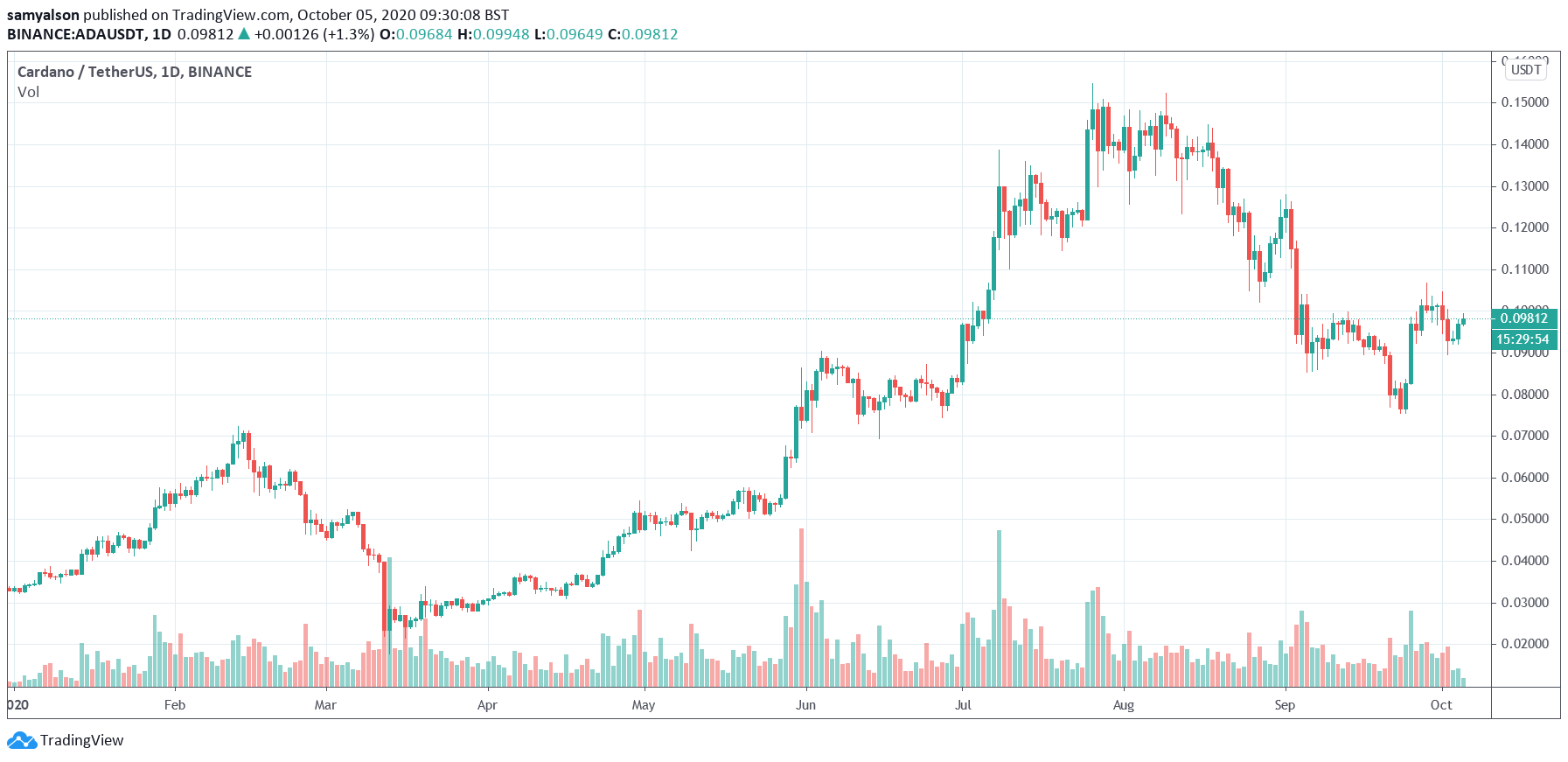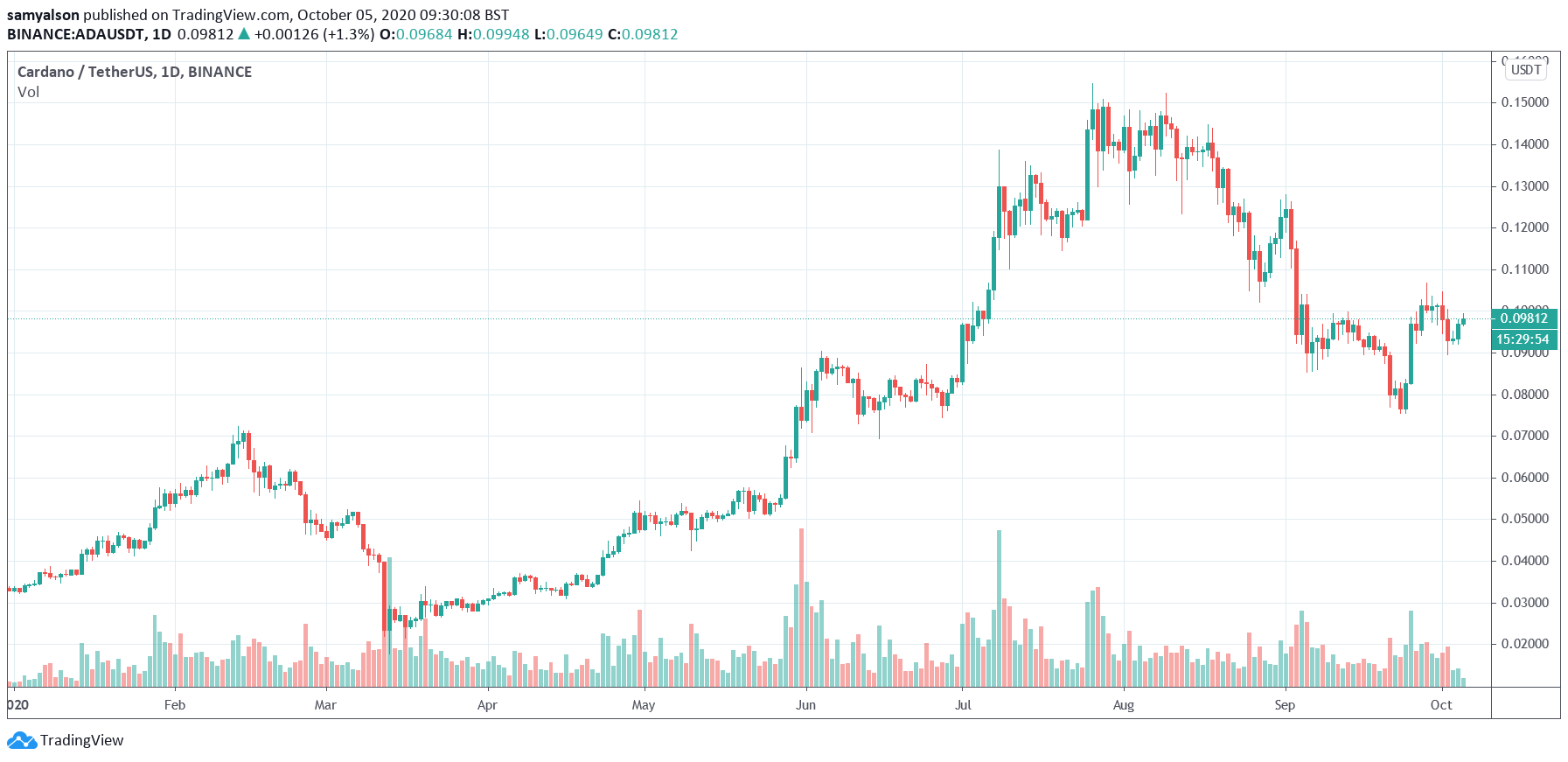 Cardano ADA daily chart YTD with volume. (Source: tradingview.com)
Source: cryptomoneydaily.com
Ethereum Classic Price Reaches $5.16 on Exchanges (ETC)
Ethereum Classic (CURRENCY:ETC) traded 0.8% lower against the US dollar during the 24 hour period ending at 17:00 PM E.T. on October 4th. Ethereum Classic has a total market capitalization of $600.02 million and approximately $734.61 million worth of Ethereum Classic was traded on exchanges in the last 24 hours. During the last seven days, Ethereum Classic has traded 4.6% lower against the US dollar. One Ethereum Classic coin can now be purchased for approximately $5.16 or 0.00048437 BTC on popular cryptocurrency exchanges including Kraken, BTC-Alpha, Bitsane and Bittrex.
Here's how other cryptocurrencies have performed during the last 24 hours:
Ethereum (ETH) traded 0.4% higher against the dollar and now trades at $352.15 or 0.03306425 BTC.
Super Zero Protocol (SERO) traded down 0.5% against the dollar and now trades at $0.10 or 0.00000960 BTC.
Callisto Network (CLO) traded up 5.7% against the dollar and now trades at $0.0006 or 0.00000006 BTC.
Musicoin (MUSIC) traded flat against the dollar and now trades at $0.0002 or 0.00000002 BTC.
Ether Zero (ETZ) traded 5.2% lower against the dollar and now trades at $0.0015 or 0.00000014 BTC.
Bowhead (AHT) traded flat against the dollar and now trades at $0.0244 or 0.00000377 BTC.
Money Plant Token (MPT) traded 5% higher against the dollar and now trades at $0.0489 or 0.00000459 BTC.
DaxxCoin (DAXX) traded flat against the dollar and now trades at $0.0001 or 0.00000003 BTC.
Ellaism (ELLA) traded 6.3% higher against the dollar and now trades at $0.0020 or 0.00000019 BTC.
Elementrem (ELE) traded 0.7% higher against the dollar and now trades at $0.0009 or 0.00000008 BTC.
About Ethereum Classic
Ethereum Classic (CRYPTO:ETC) is a proof-of-work (PoW) coin that uses the Ethash hashing algorithm. It was first traded on July 23rd, 2016. Ethereum Classic's total supply is 116,313,299 coins. The official message board for Ethereum Classic is forum.ethereumclassic.org. The Reddit community for Ethereum Classic is /r/EthereumClassic and the currency's Github account can be viewed here. Ethereum Classic's official Twitter account is @eth_classic and its Facebook page is accessible here. The official website for Ethereum Classic is ethereumclassic.org.
Ethereum Classic Coin Trading
Ethereum Classic can be bought or sold on these cryptocurrency exchanges: LBank, BTC Markets, Coinone, LiteBit.eu, CoinBene, Upbit, ABCC, BitForex, Bit-Z, ChaoEX, C-CEX, Liquid, Instant Bitex, Bitbns, Stocks.Exchange, Bittrex, Gate.io, Cryptomate, Kraken, Coinnest, Crex24, OKEx, Bitfinex, Exrates, BCEX, Korbit, Gatehub, HitBTC, Huobi, Koineks, YoBit, Exmo, Binance, CoinTiger, CoinEx, RightBTC, Coinhub, Coinroom, Kucoin, Cryptopia, Poloniex, Indodax, BTC Trade UA, Coinbase Pro, Bithumb, FCoin, HBUS, Ovis, CoinEgg, Coinsuper, QBTC, BigONE, C2CX, BtcTrade.im, Bibox, CoinExchange, ZB.COM, Bitsane, Coinut, CPDAX, OKCoin International, EXX and BTC-Alpha. It is usually not possible to purchase alternative cryptocurrencies such as Ethereum Classic directly using US dollars. Investors seeking to acquire Ethereum Classic should first purchase Bitcoin or Ethereum using an exchange that deals in US dollars such as Coinbase, Gemini or Changelly. Investors can then use their newly-acquired Bitcoin or Ethereum to purchase Ethereum Classic using one of the aforementioned exchanges.
Receive News & Updates for Ethereum Classic Daily – Enter your email address below to receive a concise daily summary of the latest news and updates for Ethereum Classic and related cryptocurrencies with MarketBeat.com's FREE CryptoBeat newsletter.
Source: www.wkrb13.com
Author: Lisa Pomrenke
Previous
Next