Bad crypto news of the week
Bitcoin ends the week about 6 percent up, still beneath $11,000 but having set a record of 63 days above $10,000. Some traders are starting to find the digital coin's stability boring. They're looking for more excitement in altcoins and DeFi tokens. OMG network recently jumped more than 25 percent.
Maybe the decline in mining will inject some excitement back into the coin. ChartBTC has pointed out that only 2.5 million coins remain for mining; half will be mined in the next four years.
Jack Dorsey, at least, still finds Bitcoin exciting. He sees a role for the coin and its blockchain technology in securing Twitter's content. Decentralization, he argues, could ensure that content lasts forever. He'll have to explain that move to Twitter's users though. A survey has found big gaps in mainstream understanding of the cryptocurrency industry.
But plenty of people do get it. IoTeX, a connectivity company, has partnered with camera manufacturer Tenvis Technology to make an indoor security camera powered by the blockchain. Ucam uses a decentralized system with a private key to let users control all their own data.
In Congress, the House of Representatives has passed an updated Consumer Safety Technology Act. The act includes regulations that define digital terms and require the Federal Trade Commission to report on the blockchain's role in consumer protection. In Europe, the European Commission has taken another move towards giving its cryptocurrency industry a stronger legal foundation. The EC adopted a new digital finance package that includes its first legislation on crypto assets.
If you're looking to cash in on that progress, you can do worse than follow Tim Draper. The venture capitalist has described his crypto-portfolio. He holds Bitcoin Cash, Ripple, Tezos, and Aragon.
He didn't mention whether he was holding any of the tokens on Kucoin. Analysts have now estimated that hackers might have taken almost $280 million during that hack. About $129 million worth of ERC20 tokens though, are now considered safe.
And if you've been wondering what happened to Didi Taihuttu and his Bitcoin family, they're still doing fine, traveling the world and living on cryptocurrencies. That's certainly not boring.
Finally, we chat with Ido Sadeh, Sögur's, Founder and Chairman of the Board. Sögur is a digital coin built to provide a self-sustaining, democratic and global currency. It is modeled to incorporate the volatility crypto markets seek, while also using stabilization mechanisms to temper volatility risk when market conditions are fast-changing and unpredictable.
Check out the audio version here:
Joel Comm is an internet pioneer, New York Times best-selling author, futurist speaker and co-host of The Bad Crypto Podcast. That's a fancy way of saying he writes words, says things and loves to play with cryptos.
The views, thoughts and opinions expressed here are the author's alone and do not necessarily reflect or represent the views and opinions of Cointelegraph.
Source: www.bit-cointalk.com
Gold Is Poised to Retake a Crucial Support—and That's Bullish for Bitcoin
Bitcoin has seen muted price action over the past few days after plunging from the $10,900 weekly highs as a result of negative new regarding BitMEX. Gold may soon be primed to retake a crucial support level on a medium-term scale, which may help to boost BTC after the aforementioned correction.
One top cryptocurrency trader recently shared this chart below, which shows that the price of gold is primed to retake a crucial support level. The level held as support on three distinct occasions over the past two months.
Gold retaking this level would likely help Bitcoin as the two markets have been quite correlated over recent months. The analyst thinks that gold retaking the aforementioned support at $1,900 will trigger an uptrend to $2,000. The last time gold traded above $2,000, BTC was trading above $11,000 and near $12,000.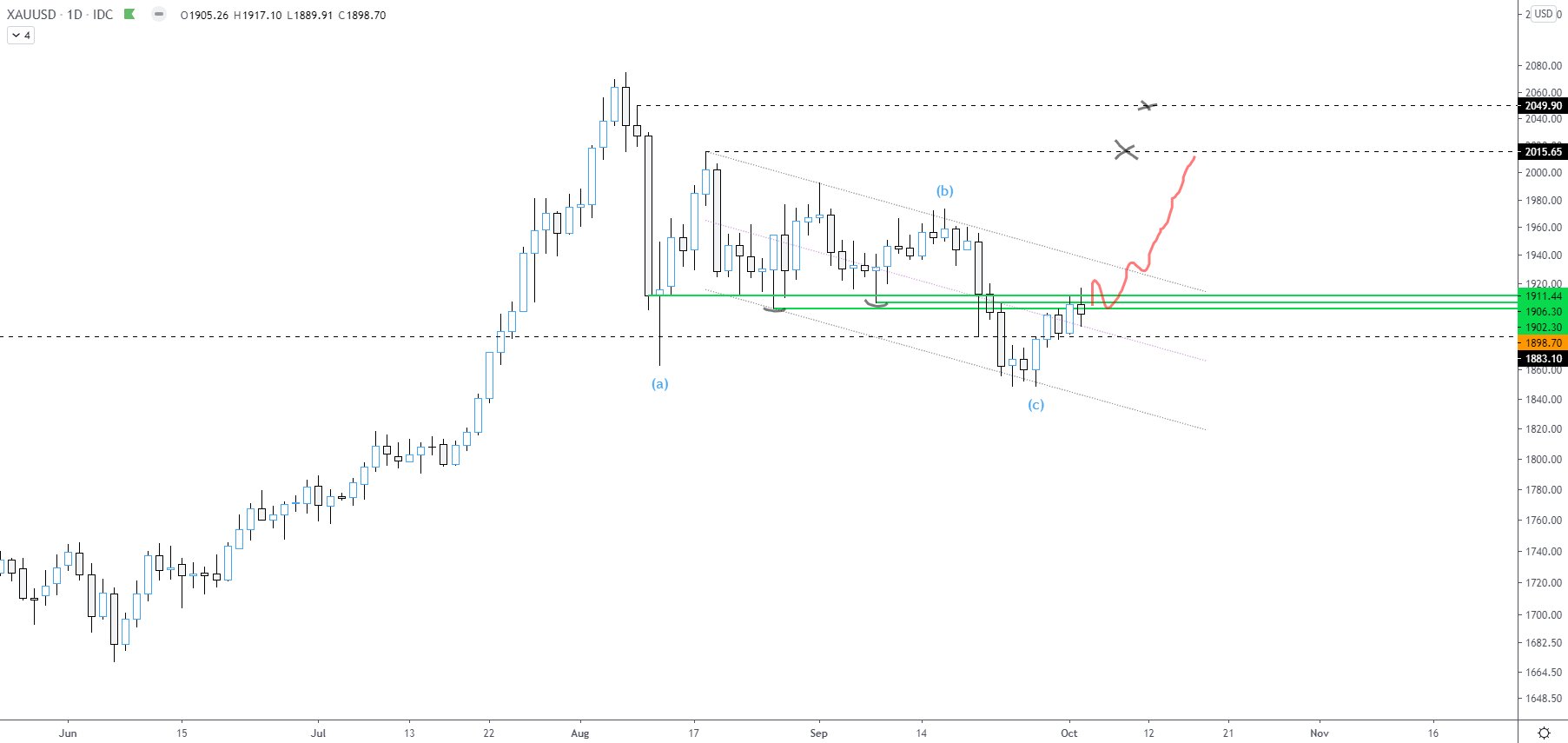 Chart of gold's price action over the past few months with analysis by crypto trader Bitcoin Jack (@BTC_JackSparrow on Twitter). Chart from TradingView.com
Bolstering the positive technical trends that these assets may have, there are fundamental trends that are primed to drive both Bitcoin and gold higher.
Dan Tapiero, the co-founder of DTAP Capital and Gold Bullion International, recently remarked that structural deflation in Europe could drive Bitcoin higher. His thought was that this deflation will drive real rates in the European Union higher relative to other markets, thus driving the relative value of the U.S. dollar lower. As Bitcoin and gold both act as a hedge against declines in the U.S. dollar, this trend could boost these alternative assets:
"Massive structural deflation in Europe supports Bitcoin. Causes European Union real interest rates to geo up even as nominal rates are negative. Crushes legacy European Union banks. European Central Bank drags feet and maybe [its] hands [are] tied. Dollar falls as real rates rise faster in the European Union than in the US."
Massive structural deflation in Europe supports #Bitcoin
Causes Eu real interest rates to go up even as nominal rates are negative.
Crushes legacy EU banks
Ecb drags feet and maybe hands tied.#Dollar falls as real rates rise faster in Eu than in US.
Supports gold and #btc. pic.twitter.com/KrpNfMIhxp
— Dan Tapiero (@DTAPCAP) October 3, 2020
Other trends that could boost the two assets, Bitcoin and gold, include the commitment to continued monetary stimulus.
Jerome Powell, Chair of the Federal Reserve, recently doubled down on commitment to 2% inflation. To do so, he said that interest rates will be kept low.
Both Bitcoin and gold stand to benefit as they are assets whose opportunity cost to hold goes down in a world with baseline or even negative interest rates.
Source: icryptodesk.com
Author: admin
Emerging technologies can change the African financial landscape
Africa is the home to 1.2 billion people and what has been described as the world's largest trade area — the African Continental Free Trade Area. Africa is forging a new path to driving development, and access to financial services will play a significant role in its economic growth. The need to provide improved systems for poverty reduction, if not alleviation, is further accentuated when one considers that 416 million Africans live in extreme poverty, and access to financial services is right at the heart of the solution.
In a review of the impact of financial inclusion on economic growth, the World Bank argues that "such services must be provided responsibly and safely to the consumer, and sustainably to the provider." Construed appropriately, financial inclusion has the potential to reduce poverty and inequality by helping disadvantaged groups to benefit from opportunities that otherwise would not have been available.
Related: Financial inclusion, cryptocurrency and the developing world
Innovation in financial services through time has expanded access to and improved financial inclusion globally. Traditionally, these have been in the form of the proliferation of banks and other financial institutions, decongesting banking services, and the development of microfinance, microcredit, microsavings, microinsurance, among other such services. Despite this expansion, regions such as Africa lag behind in financial inclusion, with implications for financial intermediation, value creation and, ultimately, economic growth. Data from the 2017 global financial access database shows that the number of adults in Africa with bank accounts is way below the median mark of 50%.
The brick-and-mortar model of banking and financial services provision will not change the dynamics for Africa within the foreseeable future; however, emerging technologies will. Fintech must be contextualized within the existing socio-economic constructs to determine factors that underlie their adoption and utilization, which, in turn, will bring to the forefront the most effective fintech solutions capable of supporting the growth and development agenda of the continent.
Related: Unpacking the potential of blockchain and infrastructure in Africa
In the last 20 years, China has been providing a template around which Africa could model its fintech solutions. By understanding the importance of credit and payment infrastructure and the creation of new types of financial service providers such as peer-to-peer lending, online microcredit and finance, and consumer finance, Chinese policymakers have recognized the need to expand financial services access to rural consumers.
What cryptocurrency will become the main one in a year?
It is, therefore, unsurprising that new digital financial products have emerged largely due to the network effect: the use of online social media and e-commerce platforms. These network-based business models have integrated financial services into existing platforms that have ultimately led to millions of Chinese exiting the poverty trap.
The Chinese approach has been successful due to its homogeneity — central management and policy planning, which, incidentally, also act as a headwind for further expansion to last-mile service consumers. There is room to explore big data and cross-subsidization opportunities to ensure the ultimate goal of universal financial access is reached.
Internet penetration and identity management systems are key game components in the Chinese experience. Africa lags behind in this regard, with internet penetration less than the global average (currently at 39%), and it has a fragmented policy planning and administration due to the heterogenous political systems.
The cost of mobile data plans is the highest on the continent compared to other regions of the world, with some prices reaching almost 9% of people's income. Zimbabwe, for instance, had costs that were 289 times that of India at the close of 2017 for a gigabyte of data.
High levels of illiteracy and the complexities around the use of smartphones also impact their use and, ultimately, the use of internet-based applications. The World Bank estimates that access to electricity is at about 43% for the continent and that this has significant implications for modern economic activities, limiting technology adoption and internet use.
This is where alternative technologies such as the use of Unstructured Supplementary Service Data, or USSD, by telecommunication service providers and distributed ledger systems as seen in various applications of blockchain technology come into play. The expansion mobile money service by actors such as M-Pesa, MTN, Bharti Airtel, Orange and other GSM service providers across sub-Saharan Africa has provided access to receipts, payment and credit to economic agents that, hitherto, would have no access to these services from mainstream banking. This unique service provision, at a very basic level, allows mobile phone owners to receive and transfer funds using USSD-based systems for mobile network operators. Interoperability of the service among network operators in Ghana, Nigeria and Kenya, for instance, has increased their speed and volume of transactions between borders — far in excess of that provided by the mainstream banking institutions.
The ability to operate without internet connectivity is quickly expanding the usage of mobile money services, with opportunities for derivative service provision in loans, credit and insurance.
Mobile money transfer systems also contribute to bridging another important inequity in access to financial services — gender. Socio-cultural traits of most countries on the continent have left women without access to land, landed property and other items of identification necessary for Know Your Customer requirements by financial sector regulators and commercial banks.
As more governments on the continent make biometric identification systems mandatory and provide available access to telecommunication services, this gap could further be breached with the opportunity for female entrepreneurs to gain profit from mobile money services. China and India have taken the lead in this regard, and Africa can consider short-circuiting the KYC requirements by using this technology to expand financial service access.
Other fintech solutions built on distributed ledger systems like blockchain will also be relevant going forward for Africa. Once we construe access to financial services or financial inclusion as a means to an end, it will be imperative that considerations for smart contracts without the burden of an elaborate and bureaucratic trust system be mainstreamed to support the vast informal sector of the African economy.
Initiatives such as the use of security token platforms to digitizing African real estate, stocks, commodities and fine art spearheaded by the African Union and African Development Bank, will provide the backbone for driving intra-African trade — an agenda key to the implementation of the continental free trade area, given their borderless features.
In 2019, Nigeria, for instance, topped the world in Google searches for Bitcoin (BTC), with similar trends observed in Ghana, Kenya and South Africa. As internet penetration increases across the youthful continent (nearly three-quarters of the African population is below 35 years old, according to data from the United Nations), these services must become ubiquitous and level the playing field for opportunity and prosperity for all Africans.
With young entrepreneurs finding bridges across traditional value chains of the African economy and connecting innovative fintech solutions to gain profit, granted that the right environment is curated, Africa will see not only an expansion in access to financial services but an inclusive design to possibly lead the world in non-internet-based solutions to addressing economic development and growth.
This article was co-authored by Mario Egie and Aly Madhavji.
The views, thoughts and opinions expressed here are the authors' alone and do not necessarily reflect or represent the views and opinions of Cointelegraph.
Mario Egie is the CEO of Kite Financial. Mario has a first degree in physics and has been working as a software developer for more than 4 years. He is the winner of the Tony Elumelu–U.S. Consulate entrepreneurship award of 2019. With a keen interest in African capitalism, Mario founded Kite Financial — a Nigerian blockchain-cryptocurrency startup that is ushering a new financial infrastructure, which will provide the youthful continent financial access, inclusion and freedom.
Aly Madhavji is the managing partner at Blockchain Founders Fund, which invests in and builds top-tier venture startups. He is a limited partner at Loyal VC. Aly consults organizations on emerging technologies, such as INSEAD and the United Nations, on solutions to help alleviate poverty. He is a senior blockchain fellow at INSEAD and was recognized as a "Blockchain 100" Global Leaders of 2019 by Lattice80. Aly has served on various advisory boards, including the University of Toronto's Governing Council.
Source: www.bit-cointalk.com
Influential Crypto Analyst Says Bitcoin Could Reach $5 Million – But Most Traders Will Lose Money
A well-known Bitcoin influencer and analyst just gave one of the most bullish Bitcoin predictions on record, saying the top cryptocurrency could skyrocket to $5 million.
The pseudonymous analyst, known in the industry as Carl the Moon, has a collective following of 170,000 on Twitter and YouTube. In a new interview with Coin Post, he says the bold prediction depends on the future of fiat currency.
"If you look at the currency supply of the world, it is currently valued at $100 trillion. If Bitcoin takes over this whole pool of liquidity, this fiat money pool, then this means that Bitcoin could potentially take over this market cap and that would put Bitcoin at approximately $5 million per Bitcoin."
Carl says he believes the current global economic landscape is favorable for the number one cryptocurrency.
"I think it's obvious that Bitcoin is eventually going to break $20,000. We're seeing central banks printing currency like never before. And what we're seeing is [an] historical amount of currency printing, this is the exact scenario that Bitcoin was created for. Fundamentally, Bitcoin is looking extremely bullish, much more bullish than on a technical level."
While the pseudonymous analyst is bullish on Bitcoin, he says that most traders will likely lose money trying to time BTC's price action.
"I think that people that hold Bitcoin will be the biggest winners in the world because Bitcoin has been the best performing asset of the previous decade. It will continue to be the best performing asset of this decade in my opinion.
Traders can make more money than holders if they actively trade and if they know what they're doing. But people that are not experienced tend to lose money when trading. Approximately, 80 to 90% of people that trade actually lose money over time."
In the short-term, the analyst says Bitcoin just needs to break $14,000 in order to start the big uptrend.
"I believe Bitcoin is currently in a bull market but I'm not so sure that we have started the big Bitcoin bull run just yet… The big question is will Bitcoin be able to break this previous high. There was a high at approximatey $14,000 back here in June – July 2019. I think that when we break this level, then I can say for sure we are guaranteed in a bull market."
Carl, who, says Bitcoin must stay above a crucial technical indicator to have a chance to breach key resistance of $14,000 and then move on to $20,000.
"For us to reach $20,000 obviously we're going to have to reach $14,000 first, but more importantly we have to break it. If we get rejected here, then that would be a bad sign…
If Bitcoin can hold above this 20-weekly moving average here, then the 20-weekly might look something like this and we will see the Bitcoin price maybe do something like this. In that case, maybe we could see Bitcoin break above $14,000 before April 2021. When we break the $14,000, then I think we're going to see a huge candle. We're going to see a massive move up to $20,000."

I
Source: dailyhodl.com
Bitcoin Still Around $10,500: The Calm Before The Storm Following Trump's Hospitalization?
Following the recent price decreases after the BitMEX and Donald Trump COVID19 news, Bitcoin has calmed and trades above $10,500. The situation with the altcoins is somewhat different as most continue struggling.
As reported yesterday, Bitcoin tumbled from $10,900 to about $10,450 in a matter of hours. The drop came after news broke that the US CFTC charged the owners of the large cryptocurrency derivatives exchange BitMEX for illegally operating the platform and anti-money laundering violations.
Soon after, most markets, including Bitcoin, took another hit. US President Donald Trump said on Twitter that he and his wife Melania Trump tested positive for COVID-19. Although the price dip this time was not that vigorous, BTC still bottomed beneath $10,400.
In the following hours, however, the primary cryptocurrency started its gradual recovery. Bitcoin price accelerated towards $10,500 and even broke above it. As of now, BTC trades at just shy $10,550.
However, it's worth noting that President Trump was hospitalized at the Walter Reed National Military Medical Center and has begun receiving an anti-viral drug. The hospitalization took place just minutes after Wall Street futures finished trading for the weekend.
We should expect the futures' reaction to Trump's condition on Sunday's afternoon US-timezone, and Bitcoin is likely to trade accordingly, as we have learned from the past months.
White House physician has reassured the public that the President is doing "very well." Nevertheless, such news of uncertainty with the POTUS could easily impact BTC's price.
With this latest price performance, Bitcoin correlated with the US stock market indexes as they all closed Friday's trading session in the red. The Dow Jones Industrial Average went down by 0.5%, the S&P 500 by 1%, while Nasdaq had it worst with a 2.2% drop.
The altcoin market also felt the adverse effects of the news mentioned above with some notable price dips. In the past 24 hours, some of them have managed to seize the drops, including Ethereum. The second-largest digital asset has remained around $350.
Ripple has also stayed at a similar level as yesterday and trades above $0.23. However, Polkadot (-2.5%), Chainlink (-1.5%), Crypto.com Coin (-0.5%), and Bitcoin SV (-1.5%) are all in the red from the top 10.
The only exception comes from Binance Coin. BNB has jumped by 2.5% since yesterday and nears $28.
The most impressive gainer in the top 100 is a newcomer – PumaPay. The native cryptocurrency PMA has skyrocketed by 220% to $0.0012.
Ampleforth has jumped by 20% to $0.9. Terra (6.5%), Celsius (6.5%), and TRON (6%) are next.
In contrast, DFI.Money (YFII) has lost the most value – 10%. Uniswap's governance token UNI follows (-9%). Further losses are evident from HedgeTrade (-7.5%), SushiSwap (-7%), and OMG Network (-5%).
Binance Futures 50 USDT FREE Voucher: Use this link to register & get 10% off fees and 50 USDT when trading 500 USDT (limited offer).
Disclaimer: Information found on CryptoPotato is those of writers quoted. It does not represent the opinions of CryptoPotato on whether to buy, sell, or hold any investments. You are advised to conduct your own research before making any investment decisions. Use provided information at your own risk. See Disclaimer for more information.
Cryptocurrency charts by TradingView.
Source: cryptopotato.com
Previous
Next