Ethereum Bears Hold Strong At $360: Indicators Show Risk of Downside Break
Ethereum Bears Hold Strong At $360: Indicators Show Risk of Downside Break
Ethereum is struggling to clear the $360 and $365 resistance levels against the US Dollar. ETH price is showing bearish signs and it could dive below $350 and $345.
Ethereum is still facing a heavy resistance near the $360 and $365 levels.
The price is currently stuck near the $355 support and the 100 hourly simple moving average.
There is a new connecting bullish trend line forming with support near $352 on the hourly chart of ETH/USD (data feed via Kraken).
The pair is likely to continue lower if it breaks the $352 and $350 support levels.
Ethereum remained stable above the $350 support level, but it is still facing a heavy resistance near the $360 and $365 levels. ETH started an upward move from the $350 low and climbed above the 100 hourly simple moving average.
There was a break above the 23.6% Fib retracement level of the downward move from the $369 high to $350 low. However, the $360 resistance and the broken bullish trend line seems to be acting as a strong resistance for the bulls.
The 50% Fib retracement level of the downward move from the $369 high to $350 low is also acting as a resistance. Ether price is currently declining and trading near the $355 support level.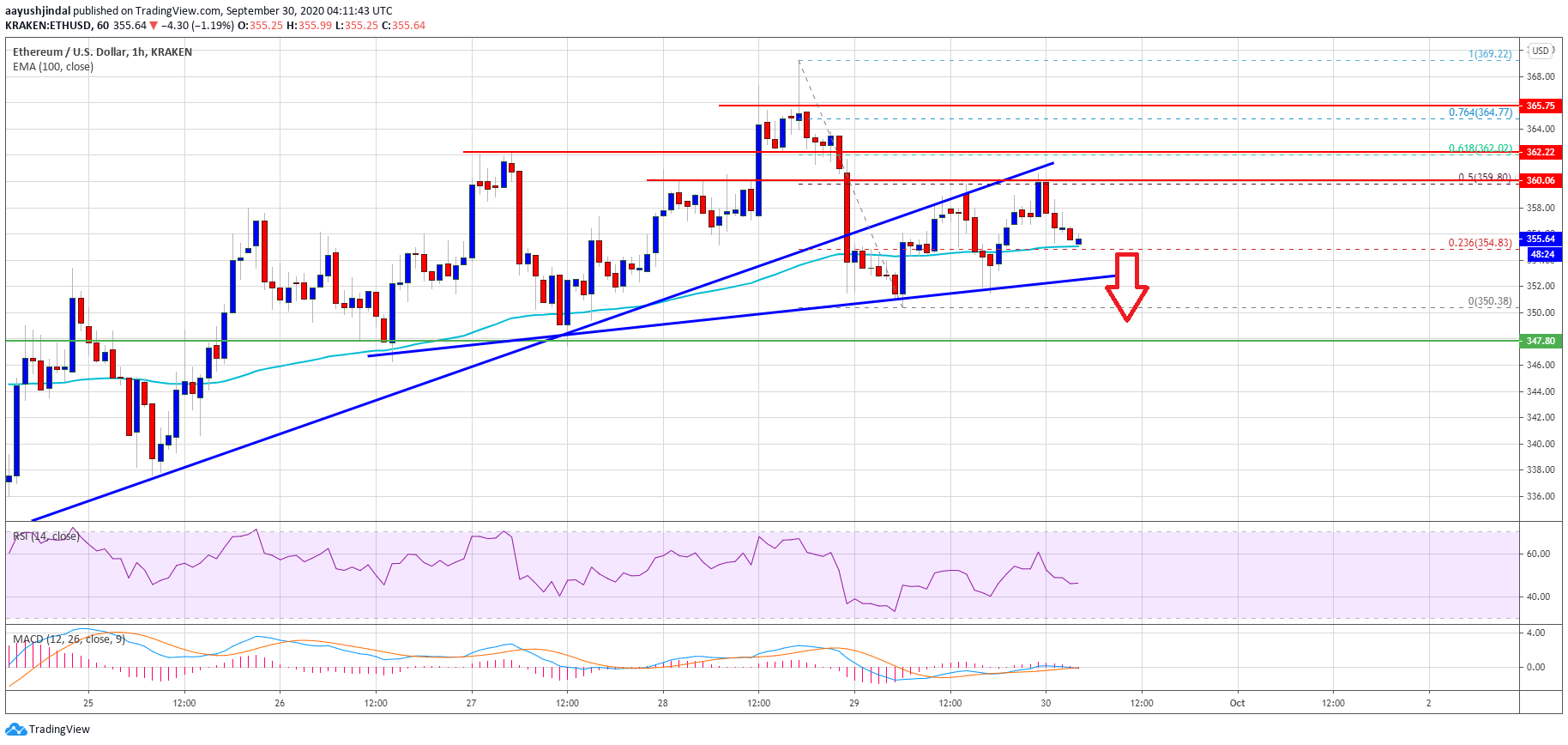 Ethereum price trades below $360. Source: TradingView.com
It seems like there is a new connecting bullish trend line forming with support near $352 on the hourly chart of ETH/USD. If ether continues to move down and breaks the trend line support at $352, there is a risk of a bearish break.
The next major support is near the $350 and $348 levels, below which the bears are likely to aim a larger decline towards the $335 support level in the near term.
If Ethereum manages to stay above the $352 and $350 support levels, there are chances of an upside break. An initial resistance is near the $360 level.
The first key resistance could be near the $362 level, above which the bulls might aim a clear break above the $365 resistance level. The next major resistance is near the $375 zone.
Technical Indicators
Hourly MACD – The MACD for ETH/USD is slowly moving back into the bearish zone.
Hourly RSI – The RSI for ETH/USD is currently declining and it is well below the 50 level.
Major Support Level – $350
Major Resistance Level – $360
Source: inula.org
Author: About The Author
admin
Ethereum Will Touch $1000 ? Ethereum 2.0 News ? Ethereum Latest News and Updates | Ethereum Future
Be part of Telegram – https://t.me/mlmamantelegram
Ethereum 2.Zero is just not a joke its a greatest revolution in crypto business. Really with the assistance of ethereum 2.Zero we will enhance the scalability, transaction pace, belief, transparency and lots of extra. Its a brand new blockchain pockets Biacon Blockchain. Its a really quick and extremely demanding blockchain.
Ethereum 2.Zero is a really advanced and troublesome activity however ethereum workforce will full this for ethereum foremost stream. After the primary part Ethereum shifted from POW to POS.
In POW, for ethereum mining now we have to purchase expansive graphics playing cards for computing energy and separate area for all this setup and low temperature space and expansive electrical energy, however in ethereum 2.Zero now we have to only maintain 32 atheneums and we will develop into ethereum validator and might earn additional earnings yearly.
For extra info should watch above video. Should you like this video should subscribe my channel and hit like button.
Source: gentlecrypto.com
Ethereum Holds Key Support Level and Could See Further Gains, ADA, OMG, EURO
Cryptocurrencies shrug off $150m KuCoin exchange hack as ETH holds key support. ADA higher after United Nations partnership news.
Ethereum rallied on the week after the market dipped to test the $320 level on the week but found buyers. There was talk of large options contracts expiring on Friday and the price was volatile due to this. The coin has since rallied to a price of $364 and has a chance to test the 50-day moving average and the $400 price level. This will be the key obstacle to a retest of the recent highs at $480.
The rally in ETH was more impressive as the coin was able to decouple from the recent dollar-led losses as the U.S. currency rallied again, bringing the price of gold lower. Traders also shrugged off a $150 million hack of the KuCoin exchange, where the hacker was said to be selling ERC-20 tokens, including BTC and ETH, on the decentralized exchange Uniswap. These transactions can be traced using Etherscan so it is hoped that the addresses can be frozen. KuCoin's CEO said they were in contact with other major exchanges and security exchanges
Ethereum's transaction fees have fallen to the lowest price since early-August and this will be a boost for DeFi projects that have been using the blockchain but have been struggling with higher fees. The average fee fell to around $2.25 according to BitInfoCharts and this is much lower than the costs of over $10 seen recently.
Cardano's ADA coin was higher by 13% on the week after IOHK announced a partnership with the United Nations. The project aims to promote the use of blockchain to support the UN's sustainable development goals (SDG) on poverty, inequality, and the environment. The two organizations will offer a $10,000 bounty to developers who can help to achieve those goals.
Charles Hoskinson said:
At IOHK, our mantra has always been to create environments where quiet brilliance can get loud and with that in mind getting involved in this project was a no-brainer.
Developer submissions will be judged by a joint panel of IOHK and UN personnel via the IOHK blockchain voting system, Catalyst. The winning project will receive the $10,000 paid in ADA tokens.
Cardano currently has a market cap of $3.2 billion and is listed at number 9 in the list of major coins. The coin went through a hard fork in July to begin the Shelley upgrade to full decentralization. The upgrade was done to create a platform for the introduction of smart contracts on Cardano.
ADA currently trades above the key resistance level of $0.1000 and support here could see the coin rally further, with the recent highs at $0.1500 being the first target.
What future awaits cryptocurrencies?
OMG was one of the best-performing coins in the last week with a gain of 35% and the coin now has a market cap of $550 million with a ranking of 39 in the list of coins.
OMG has been seeing new interest after the coin rebranded to Layer-2 scaling solution for transferring value on Ethereum. This has seen DeFi projects utilize the Ethereum-level security offered at a "third of the price".
OMG Network announced in August that users were now able to withdraw and deposit USDt to Bitfinex via OMG Network. This is another development that reduces Ethereum congestion and provides lower gas fees with faster transactions.
OMG rallied to a price of $4.00 after a recent dip below the $3.00 level and the 50-day moving average. Resistance for the coin comes in at $6.00 and 7.00. The coin saw a price spike to all-time highs of $10.00 on the USDt news and this would be the target for further gains.
European Central Bank President Christine Lagarde is the latest global finance head to discuss the need for digital currency. Lagarde suggested that a digital Euro should not be seen as a replacement, but rather a complement to cash. She added that moving to a digital euro could serve as an alternative to private digital currencies:
We are also exploring the benefits, risks, and operational challenges of introducing a digital euro. A digital euro could be a complement to, not a substitute for, cash; it could provide an alternative to private digital currencies and ensure that sovereign money remains at the core of European payment systems.
I have long said that the global central banks and governments would push to hold on to their control of the financial system. This is why it would be wise to have ownership of coins in some projects that do not challenge the current transactional system and cross-border payments networks.
Disclaimer: information contained herein is provided without considering your personal circumstances, therefore should not be construed as financial advice, investment recommendation or an offer of, or solicitation for, any transactions in cryptocurrencies.
We value your privacy, your email address is safe with us.
Source: otcpm24.com
Author: News Bureau
Previous
Next