Cardano Rejects at Pivotal Resistance After 30% Surge: The ADA Bear Case
Cardano (ADA) has undergone a strong surge to the upside over recent days. Per data from TradingView.com, the coin is up around 30% since it bottomed just two days ago.
Unfortunately, technical signs show that the cryptocurrency is primed to reverse lower after the rally. This is in line with some analysts that expect Bitcoin's ongoing recovery to taper off as it faces resistance in the $10,800-11,200 region.
Cardano is primed to correct to the downside after undergoing the aforementioned surge that came as Bitcoin saw a strong recovery.
An analyst shared the ADA chart seen below on September 25th.
It shows that Cardano's recent price action has formed a textbook bearish divergence between its trend and a crucial trend indicator. This divergence suggests a loss of momentum in the uptrend, increasing the chance the cryptocurrency reverses lower. Adding to this, ADA is now flirting with the upper band of a range indicator, indicating it may be overbought on a short-term time frame.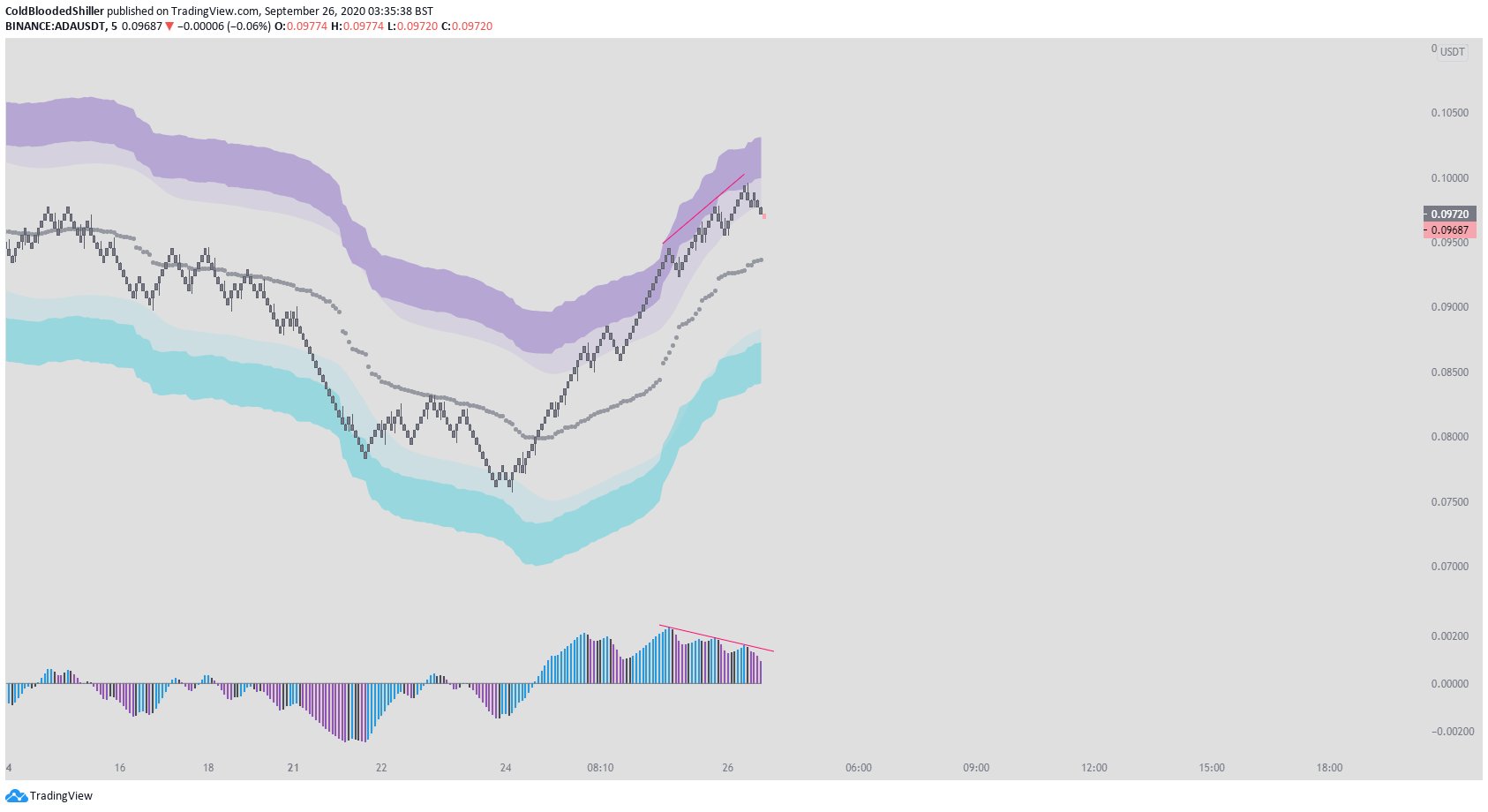 Chart of ADA's price action over the past few weeks with analysis by crypto trader Cold Blooded Shiller (Coldbloodshill handle on Twitter). Chart from TradingView.com
Another trader echoed the assertion that Cardano could be reaching a top in the near term. This trader's analysis showed that ADA has entered a short-term downtrend as it fails to retake the highs at $0.098 per coin.
Cardano shifting towards decentralized finance could help ADA catch a bid, similar to how DeFi has boosted Ethereum over recent months.
Charles Hoskinson, the founder of the blockchain, announced in August that he is obsessed with DeFi. He said he's been poring over "hundreds of pages of reports, lots of interviews and discussions" because he sees value in some of the most popular trends in decentralized finance.
Should Cardano developers move to capture some of the DeFi market share as Ethereum faces high transaction fees, ADA could begin to gain more traction.
Especially with the current iteration of DeFi applications, where users often need a blockchain's native currency to act as a collateral or reserve asset, ADA will benefit if DeFi takes off on Cardano.
Source: www.newsbtc.com
Author: Nick Chong
Millions in Bitcoin, Ethereum, & Tokens Hacked From KuCoin Will Be "Covered"
On Friday afternoon, a variety of Twitter users started to discover big withdrawals of Ethereum and ERC-20 tokens from Kucoin's designated addresses. In the period of about half an hour, about $150m worth of ETH tokens left the wallets marked "Kucoin" and "Kucoin 2" on Etherscan.
As the coins that were withdrawn were essentially all the capital that remained in these addresses, lots of fasted to assert that it was a hack. However for hours, there was silence on Kucoin's end, with the exchange's mediators sharing little info about what had actually taken place.
A few hours after these suspicious withdrawals, admins of Kucoin's social media channels asserted that users' deposits were safe.
While this is true in that users will be compensated, Kucoin just confirmed that the withdrawals were made by a malicious actor as opposed to the company.
Just minutes ago, approximately seven hours after the Ethereum withdrawals, Kucoin revealed that it had actually undergone a "security iandncident."
The company's internal security auditing team found that "part of Bitcoin, ERC-20, and other tokens in KuCoin's hot wallets were transferred out of the exchange." The funds that were withdrawn from the exchange comprised a "few parts of our total assets holdings."
No clarifications were given to the exact specifics of the cryptocurrency stolen, but independent analyses that over $10 million worth of Bitcoin was taken from Kucoin-owned addresses. The $150 million worth of Ethereum and ERC-20 tokens — most of which are in Alchemy, Tether's USDT, Ampleforth, and Ocean Token — withdrawn seems to be related to the attack. It cannot be properly ascertained of this is the case, though, at least not until a follow-up report from Kucoin.
The funds stolen from Kucoin's addresses were funds stored in the exchange's hot wallets as opposed to its cold wallets, which remain "safe and unharmed."
All users affected by the incident will be compensated by Kucoin and the firm's insurance fund:
"We are locating the reason for the incident, and will keep you updated once it is verified. Please rest assured that if any user fund is impacted by this event, it will be covered completely by KuCoin and our insurance coverage fund.
Kucoin Shares (KCS), the exchange's Ethereum-based token, is down 11.2% on the news of the hack. It was reasonably steady previous to this newest news.
While the implications of the hack are still pending, experts have actually fasted to state that this emphasizes DeFi's worth proposal.
With decentralized exchanges like Uniswap, users constantly have custody of their own funds, prohibiting such massive hacks from occurring.
Source: dailyresearchcorrespondent.com
Ethereum Surpassed Bitcoin In User Activity.
Transactional activity on Ethereum has confidently started to increase this summer. A key driver of the network's growth has been the expansion of the decentralized financial marketplace DeFi.
Despite the fears of some skeptics, this ecosystem continues to evolve, attracting more and more users.
Ethereum is significantly ahead of Bitcoin in terms of the number of daily transactions. According to the Etherscan service, during the last 24 hours, the network processed 1.087 million transactions. During the same time period, users made 316,415 transactions on the BTC blockchain (BitinfoCharts data).
At its peak on September 17, Ethereum processed more than 1.4 million transactions. Recall that on this day the UniSwap token was launched, which became the opening of the season.
The CoinMetrics team drew attention to the fact that in September the network processed at least 1 million daily transactions.
On a weekly basis, the cost of Ethereum transactions significantly exceeds Bitcoin's fees. Only in the second half of this month did ETH fees begin to decline. Now the cost of a trade is about 110 Gwei ($0.78).
As a reminder, in mid-September, users were paying record fees to send funds. For example, UNI token holders had to pay up to $50 per transaction.
On the bitcoin network, the average transaction processing fee is now $2.7.
Source: news.triunits.com
Author: Souvik Sarkarhttps://news.triunits.comCrypto Expert And Blogger .
Previous
Next