Ethereum's Market Dominance is Poised to Surge; Here's How Uniswap May Fuel It
Ethereum has been at the center of some of the largest developments within the crypto market throughout the past several weeks and months.
Nearly the entire DeFi ecosystem is built upon the Ethereum blockchain, which has driven massive demand for blockspace on the network. This has caused gas fees to rocket to all-time highs, with the trend showing few signs of slowing down anytime soon.
Despite the massive amount of capital that has flooded the DeFi ecosystem, it is imperative to note that this has not been fully reflected in ETH's price action, as the cryptocurrency has remained somewhat stagnant as of late.
This may soon change, as one analyst is noting that he is expecting the cryptocurrency to see a massive surge in its dominance over the market in the near-term. He specifically believes it may rally as high as 17-18%.
There's a possibility that Uniswap's token launch will help fuel this.
Ethereum's price has been stagnant below $400 throughout the past few weeks, with buyers being unable to break back above this key level.
It is important to note that the selling pressure found around this key price region has catalyzed multiple harsh rejections, although ETH is finally beginning to garner some sustainable upwards momentum.
Whether or not it is able to hold above $380 could be the factor that determines its near-term outlook.
One trader believes that Ethereum will gain against the rest of the market, potentially rallying enough to cause its market dominance to hit 18%.
"ETH dominance is heading to 17-18% and there is nothing you can do to stop it," he said while pointing to the chart seen below.
Image Courtesy of Wolf. Chart via TradingView.
Demand for Ethereum may be disproportionate to that of Bitcoin and other cryptocurrencies in the near-term.
This could be due to liquidity providers looking to earn UNI tokens buying ETH to stake it in the four pools offering Uniswap token incentives.
Each of these four pools requires Ethereum as one of the pairs, which means investors must have, or acquire, ETH to become an LP.
Already these pools have a collective total value locked of nearly $1 billion, which amounts to $500 million worth of ETH.
As this number grows, it could place further buy-side demand on Ethereum, and there's a decent chance that the vast majority of this ETH will be held onto for the next two months while the UNI incentives remain intact.
Source: icryptodesk.com
Author: admin
These 5 Technical Trends Show Bitcoin Could Drop After Passing $11k
Bitcoin has pushed above $11,000 after consolidating under that pivotal resistance for a number of days. The leading cryptocurrency now trades for $11,070, pushing slightly higher after legacy markets closed on Friday evening.
While Bitcoin retaking $11,000 is a bullish sign, a historically accurate trader thinks that a bearish reversal here is likely.
The trader in question predicted towards the end of August that Bitcoin would drop to $9,700. He was proven right just days later when BTC was rejected at $12,000, then subsequently sunk to a low of $9,800 in the week that followed.
Should his call be accurate once again, there's a high likelihood Bitcoin's recovery from the $9,800 lows to these $11,100 highs will soon end.
Bitcoin is primed to undergo a rejection at the $11,000 highs because there is a confluence of technical resistances in that range.
The aforementioned trader who called the ongoing correction noted these resistances in a recent tweet. They are as follows:
$11,100 is the 61.8% Fibonnaci Retracement of the recent highs near $12,000 and the lows, making it a likely reversal level.
There is the four-hour 200 simple moving average and 360 simple moving average at around $11,000.
BTC printed a strong wick above the $11,000 resistance but has yet to hold above that level, potentially marking a support-resistance flip to favor bears.
This is a weekend pump, meaning a CME futures gap has been created. Most CME futures gaps revert in the span of a week for Bitcoin.
There is decreasing volume on this move higher, suggesting Bitcoin's upward momentum is rapidly losing steam.
Bearish divergences have formed between BTC's price action and the four-hour RSI.
These six factors working on tandem will mean that Bitcoin soon corrects from these highs, then drops back to the downside.
Bitcoin could benefit from a rally in the legacy markets, though.
That's to say, if the stock market opens green on Monday, Bitcoin could continue its ascent.
Source: www.newsbtc.com
Author: Nick Chong
The Key Reason Why Ethereum Could Move Even Higher After 20% Bounce
While legacy markets and Bitcoin have rejected from local highs, Ethereum has been holding up well. Since the launch of Uniswap's UNI token, the price of the leading cryptocurrency has surged around 6-7%.
From the lows set earlier this month, the coin is up in excess of 20%, shocking some commentators who thought this market was on the verge of a bear trend.
Ethereum is primed to move even higher in the days ahead.
Ethereum is primed to continue its ascent in the days ahead as on-chain statistics favor bulls, blockchain analytics firm Santiment reported on September 17th.
According to their data, there is a divergence forming between ETH's price action and the daily active address count on the Ethereum network. The last time such a divergence was seen was prior to a strong 20% uptrend in August/Early-September. This is also the first positive divergence since August, suggesting that bulls may soon reassert control over ETH's price action:
"$ETH has separated from $BTC on a bullish Thursday, as our DAA Divergence Model indicates it has room for more growth on a refreshing +7% price surge. On the day, #Ethereum is on pace for 456k active addresses, which would be its highest output since 8/8."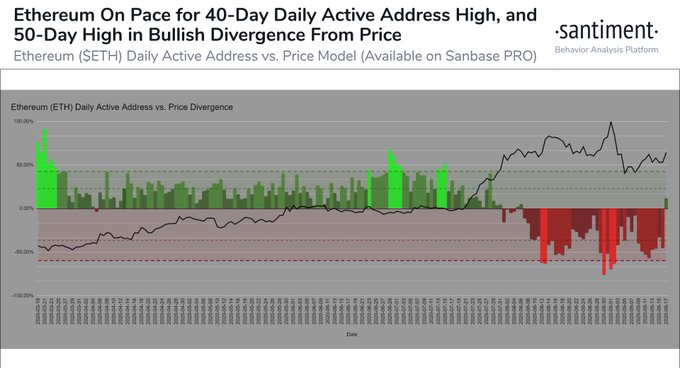 What future awaits cryptocurrencies?
Chart of ETH's price action over the past few months with analysis of Ethereum's daily active addresses (and its divergence to price) by crypto and blockchain data firm Santiment (@SantimentFeed on Twitter).
ETH's long-term fundamentals remain in a good state despite the recent price action.
Chris Burniske, a partner at Placeholder Capital, recently commented on Ethereum's prospects in this market cycle:
"Meanwhile, to the mainstream $ETH will be the new kid on the block — expect a frenzy to go with that realization. Given $ETH's outperformance of $BTC over its lifetime (chart below again), not to mention smaller network value and strong on-chain economies, I see every reason for $ETHBTC to surpass ATHs."
This was echoed by Joseph Todaro of Blocktown Capital.
He said that DeFi will do more to drive Ethereum higher than ICOs last cycle:
"In 2017 ICOs aided in moving ETH beyond $100 billion marketcap. In this next cycle, Defi will likely help push ETH to $1 trillion marketcap."
Ethereum may run into short-term concerns, though, with transaction fees hitting notable highs.
Source: www.newsbtc.com
Author: Nick Chong
Previous
Next