Ethereum Price Analysis: ETH/USD pares majority of weekly gains, trades near $370
September 20, 20200 Comments
Ethereum is down more than 4% on a daily basis on Sunday.
ETH/USD is still up modestly for the week.
Daily RSI dropped below 50 with Sunday's slump.
Ethereum (ETH/USD) fluctuated in a relatively tight range on Saturday and came in under strong selling pressure on Sunday. As of writing, the ETH/USD pair was down 4.15% on a daily basis at $369.35.
Earlier in the week, Ethereum staged a decisive rally but failed to climb above critical $400. The fact that sellers have been gaining traction sinde that move on Thursday suggests that the downward correction could extend to $350 (Fibonacci 23.6% retracement of early-September drop). If the pair breaks below that level and confirms it as a resistance, it could target the 100-day SMA near $325 next.
On the upside, $375 (Fibonacci 38.2% retracement) aligns as the initial resistance ahead of $400 (psychological level/Fibonacci 50% retracement).
Meanwhile, the RSI indicator on the daily chart dropped below 50, suggesting that there is more room on the downside before the next led up.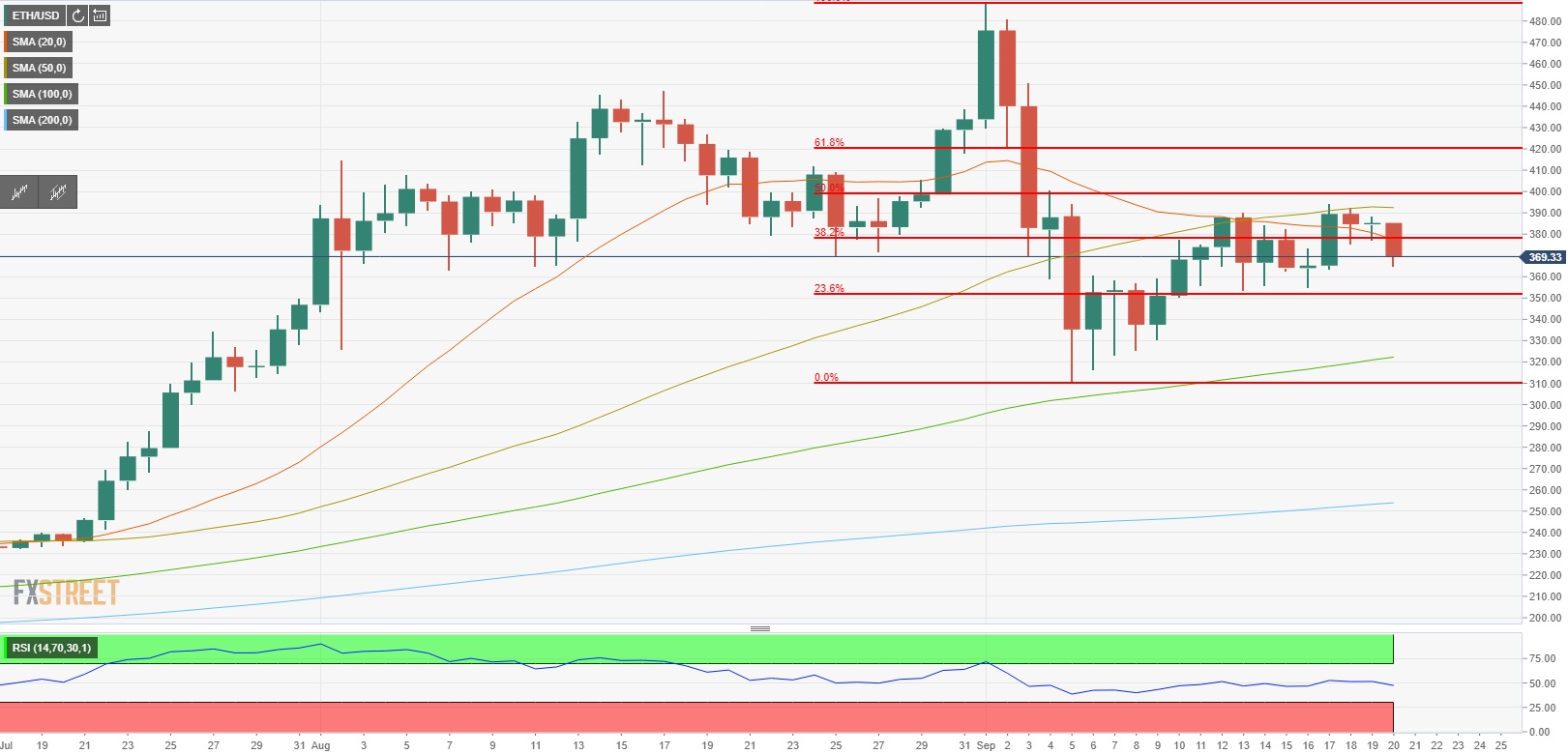 Source: forexstage.com
Author: by admin
Bitcoin Maxis Harass Andreas Antonopoulos Over Ethereum 2.0 Announcement
Andreas Antonopoulos has caught the ire of numerous bitcoin maximalists following an announcement he is to hold a livestream on ethereum 2.0.
"More than 1500 people voted for me to answer questions about ETH2.0 this month. Thanks for the simple, non-controversial subject," Antonopoulos said, further adding:
"I'll be answering questions about POS, sharding, epocs, phases, & more" at 5PM UTC later today.
That's all it took to trigger whatever pretend bitcoin maxis are left, with Pierre Rochard stating "let's be clear about who started this: Andreas."
Apparently talking about ethereum 2.0 is "attempting to bring down maximalists" with Antonopoulos stating:
"I've had my book co-authors told to stop working with me to avoid negative affects on their career… it is a very real campaign of harassment from where I stand."
None other than Adam Back, the el presidente das Blockstream, replied to implicitly threaten with the divorce papers, stating:
"If I do something inadvisable I want people to tell me to think and stop. Critique is good."
Critique. Apparently Mastering Ethereum was a "bad idea" because it somehow amounts to shilling.
"Not sure it's an attack to say you were shilling eth, it did kinda look that way," Back said, to then slightly backtrack but still scolding: "I don't expect you directly shilled it, but legitimising is indirect."
Antonopoulos and maxis never really quite got along, but the latter like his generally over the top statements on bitcoin, yet also know Antonopoulos is kind of reliant on maxis, although he says otherwise:
"The only reason I can speak my mind is because I am self-employed and independently financed by donations. Otherwise, they'd be after my employer or sponsors to cancel me, just like they tried with my book co-authors."
Financed by donations is a bit of a fragile revenue source, with such 'donations' very publicly raised once on r/bitcoin.
That sub as you may know is probably under the control of Blockstream, so Adam Back showing his face might be making Antonopoulos squirm a bit.
As you may know, back when the general mood was for more bitcoin capacity through increasing the blocksize, Antonopoulos kind of came out in favor of it.
As it happened, all the other actors in the bitcoin ecosystem didn't have as much a vital interest in bitcoin's blocksize as Blockstream. So these other actors made a statement here and there, while Blockstream hired a marketing team and flew across the world to speak one on one with many of these actors.
So Antonopoulos changed his tune in regards to capacity and effectively adopted the Blockstream book.
There, the other side didn't quite have a Blockstream or control over many social media outlets and eventually didn't gain as big and as an experienced coding team as Blockstream which hired many of the bitcoin coders. So for someone like Antonopoulos, there probably wasn't much of a choice.
Ethereum however started off with numerous very skilled coders who ended up inventing something quite new, smart contracts, which are now bringing to reality all the things we've talked about for years.
It is also a fairly rich ecosystem, with its own maxis, and attracts its own audience even outside of bitcoin.
So the eth ecosystem might be very tempting for someone like Antonopoulos who gets paid to talk at conferences about how great bitcoin is or, if he manages to withstand the bitcoin maxis, how great eth is.
People like Antonopoulos is however all bitcoin maxis have left in some ways, hence why they made an example of Tuur Demeester.
Both these two have a mainly bitcoin audience, so could potentially introduce some of their audience to eth, but as shown by the $1 billion bitcoin running on eth, it's not very clear whether there are many bitcoiners left, or new cryptonians, who don't know eth.
That said the name ethereum is still almost completely unknown down the street while nowadays it sounds like there isn't a person on earth who has not heard the word bitcoin.
So you can't blame the maxis too much for trying to keep in line the few talking heads, but obviously it's a sign of which way things are going.
Source: www.trustnodes.com
A Rejection At This Level Could Result in Bitcoin Falling to $8,000
Bitcoin is pushing higher as it has normally done over past weekends. The price of the leading cryptocurrency currently is above $11,000 — a pivotal resistance level for BTC.
While this is positive for the cryptocurrency in the short term, analysts are still fearful that Bitcoin is subject to a steep retracement.
One analyst commented that BTC breaking below $10,600 on a weekly time frame could trigger one such retracement. $10,600 is important to Bitcoin as prices in that general vicinity have marked three previous tops to medium-term rallies.
Bitcoin must hold the $10,600 support on a weekly time frame or risk a retracement under $10,000, then towards $8,000 according to a cryptocurrency trader.
The individual shared the chart seen below on September 18th, which shows that Bitcoin should maintain the support of $10,600 moving forward to maintain its bullish bias:
"No matter how good (or bad) the low timeframes look, the $10.6k area is still one of the most important areas on the chart. This week closes below it? I'll assume top is in and we'll trade towards $8k. We close above it? I'll close shorts and see what happens next."
What future awaits cryptocurrencies?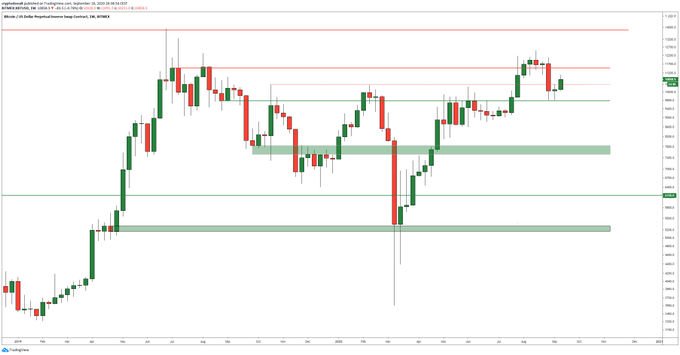 Chart of BTC's price action since the setart of 2019 with a range analysis by crypto trader DonAlt (@CryptoDonAlt on Twitter). Chart from TradingView.com
On a shorter-term time frame, the same trader is also bearish, pointing to clear technical pressure around the $11,000 range.
He wrote on recent price action:
"Closed the rest of my adds for an avg. gain of $150, I wanted to see a strong breakdown, doesn't look like I'm going to get it and I'll be out tonight, so can't monitor. Looks like there will either be better opportunities later or safer opportunities lower down."
Othres have also noted that theres' a good likelihood that Bitcoin tops in the current range due to it acting as a point of historical support in August.
For instance, the number of corrections that took place throughout August all ended in the $11,000-11,300 band. Bitcoin failing to reclaim that level may confirm expectations of a bearish retracement back towards range lows at $10,000.
Source: icryptodesk.com
Author: admin
Ethereum Classic partners with ChainSafe and OpenRelay to prevent more 51% attacks
Home / Ethereum / Ethereum Classic partners with ChainSafe and OpenRelay to prevent more 51% attacks
The quest to protect Ethereum Classic continues.
Source link
Tags ad Attacks ChainSafe Classic Ethereum OpenRelay Partners Prevent
Previous Bitcoin is About to Tap a "Do or Die" Level; Will Bulls Break It?
Next These 5 Technical Trends Show Bitcoin Could Drop After Passing $11k
2 hours ago
6 hours ago
8 hours ago
Like other altcoins, Chainlink (LINK) has been subject to a strong correction over recent weeks. …
Your email address will not be published. Required fields are marked *
Comment
Name *
Email *
Website
Save my name, email, and website in this browser for the next time I comment.
Source: icryptodesk.com
Author: admin
Party at Vitalik's House? For DeFi, it's Do-or-Die
Ethereum gas prices have set new records, with single DeFi transactions costing over $10 in fees. High fees are the result of congestion, as users pay ever higher fees to ensure their transaction gets into a block. As DeFi takes off, the price of gas on Ethereum threatens its future. Or does it?
Gas on Ethereum can be seen as "block space rent" and many are saying the rent is too damn high. That depends on who you ask, though. Even a $10 fee is a small fraction of many DeFi trades, as speculators are by definition those who have "money to burn." For the moment at least, DeFi is a market that exists on Ethereum. If you have profitable trades to make on DeFi, then gas is simply another cost of doing business, since there is no other way to make the trade.
This is why high gas prices don't cause Ethereum leaders and boosters to lose sleep: the very fact of high gas prices only serves to amplify the message that Ethereum is the only game in town. It's certainly true for DeFi today, but it can also translate to the perception of Ethereum as the only platform for smart contracts. Why go anywhere else when gas prices prove that the party is at Vitalik's house?
Gas prices go up as Ethereum gets more congested, and while the current rate is eye-poppingly high, congestion on Ethereum is nothing new. In late 2017, CryptoKitties was a collectibles game new to Ethereum that exploded in popularity and instantly caused the entire network to slow to a crawl. Non-CryptoKitties transactions such as entire ICOs went from minutes to hours and even days for completion.
For dApp developers and projects this was, and still is, extremely worrisome. If gas prices are block rent, immediacy — the ability to transact in some predictable amount of time — is an arbitrary popularity contest. If you are the developer of an application that provides a time-sensitive service to a minority of Ethereum users, you can find yourself waiting behind a deluge of transactions to serve the latest craze, simply because it is attracting more users than your app. It doesn't matter that those users represent an entirely different market: your app will still lose based on numbers alone.
This is compounded by the fact that not all applications are designed to net their users hundreds or thousands of dollars with every transaction, like the transactions of your average DeFi speculator. For a non-DeFi application, high gas prices exact an arbitrary drain on their ability to deliver value. Like high rents on commercial real estate, it can drive these efforts "out of business" if the mere cost of executing a transaction exceeds whatever revenue could ever be made in that transaction. High gas prices make blockchain a "playground of the wealthy."
While Ethereum's high gas prices seem to only cement Ethereum's network value, it also inescapably damages Ethereum's utility as a smart contract platform for delivering decentralized and world-changing applications to the larger population. Instead, expensive gas fees serve to limit the market to rich speculators. This is not to disparage DeFi, as decentralized finance itself opens up markets to non-traditional participants. That said, the promise of smart contracts on a decentralized platform goes well beyond financial engineering.
Also, it is worth noting that major DeFi participants are actively planning moves onto other platforms, with USDT (Tether) just announcing another alternative platform partner. So while Ethereum is the main game in town, many projects are seeing the writing on the wall that something has to change as Ethereum is clearly bursting at its seams. Why now? If this problem dates back to CryptoKitties, where any application is at the mercy of the most popular dApp destroying the network's ability to function properly, what has changed?
For a long time, Ethereum has been pointing to a future where the blockchain changes to Proof of Stake. In the last few years, the focus has been on Ethereum 2.0, which intends to deliver a sharded solution to solve congestion problems. The combination of Proof of Stake and sharding sounds perfect, and has served to reassure Ethereum projects that the current congestion problems and high gas prices will soon be a thing of the past.
The problem is that the Ethereum gang has proven themselves incapable of shipping promised improvements on any kind of reliable schedule, with a production Ethereum 2.0 sharded network always staying 1 or 2 years away. 2020 has been the year that faith in Ethereum 2.0 finally cracked, creating opportunities for alternative platforms that can actually deliver a scalable solution. Now, leading projects are actively working with blockchain platforms like Cosmos, Polkadot and others to build "exit ramps" off Ethereum, even as DeFi hits new highs.
For DeFi, the future looks bright. Even as high gas prices lead to questions about the promise of blockchain, DeFi is forcing the ecosystem to consider new participants who can deliver where Ethereum 2.0 has failed. There are scalable blockchain platforms today that offer solutions where high traffic doesn't mean high gas prices, where an application that is popular with one set of users doesn't threaten the viability of another that is delivering critical services to a minority. We are at the start of a major transition in smart contract blockchains. What lies ahead is a future where blockchain technology moves beyond speculation to solve real problems.
Written by Stuart Popejoy
Stuart Popejoy is Founder and President of Kadena with 15 years experience in building trading systems and exchange backbones for the financial industry. Prior to starting the company with co-founder Will Martino, Stuart worked at J.P. Morgan in the Blockchain Center of Excellence, where he led and developed their first blockchain, Juno. Stuart also wrote the algorithmic trading scripts for JPMorgan, which informed his creation of Kadena's simple smart contract language with Formal Verification, Pact.
This is OP-ed. The opinions expressed in this article are the author's own. Bitcoin.com is not responsible for or liable for any content, accuracy or quality within the Op-ed article. Readers should do their own due diligence before taking any actions related to the content. Bitcoin.com is not responsible, directly or indirectly, for any damage or loss caused or alleged to be caused by or in connection with the use of or reliance on any information in this Op-ed article.
Bitcoin, Blockchain, Crypto, Cryptocurrency, CryptoKitties, DeFi, Ethereum, ICO, Smart Contracts, Stuart Popejoy, Vitalik, Vitalik Buterin
Disclaimer: This article is for informational purposes only. It is not a direct offer or solicitation of an offer to buy or sell, or a recommendation or endorsement of any products, services, or companies. Bitcoin.com does not provide investment, tax, legal, or accounting advice. Neither the company nor the author is responsible, directly or indirectly, for any damage or loss caused or alleged to be caused by or in connection with the use of or reliance on any content, goods or services mentioned in this article.
Read disclaimer
Source: www.bitcoindoorway.com
Author: by admin
Previous
Next