OKEx Is First Exchange to Offer a Full Suite of Trading Products for Uniswap's UNI
VALLETTA, Malta, Sept. 18, 2020 /PRNewswire/ — OKEx (www.okex.com), a world-leading cryptocurrency spot and derivatives exchange, has announced the listing of UNI, the governance token of popular DeFi protocol Uniswap. Not only has OKEx added support for spot trading of UNI, but it is also providing its users with the most comprehensive range of trading products for this hot DeFi token, including margin, swap trading, coin-margined perpetual swap and Savings, making OKEx the first exchange to offer UNI derivatives.
Deposits of UNI went live at 2:00 am UTC on Sept. 17, and withdrawals were available beginning at 8:30 am UTC on Sept. 17. UNI spot trading against USDT began at 2:30 am UTC on Sept. 17, while trading pairs against ETH and BTC were made available at 3:30 am UTC on Sept. 17.
The coin-margined perpetual swap for UNI was listed at 11:00 am UTC on Sept. 17, 2020. In order to avoid unreasonable charges when the new contract launches and the premium is unstable, the upper limit of the funding rate before 8:00 am UTC on Sept. 18 has been reduced to 0.03%.
To celebrate the listing of UNI, and being the first exchange in the world to offer UNI derivatives, OKEx will offer zero transaction fees in UNIUSD perpetual trading, for both the taker and maker.
"We are very pleased to be one of the earliest exchanges to list UNI, and the first to provide a complete set of trading tools including margin, swaps and savings for it. As one of the largest decentralized exchanges today, Uniswap has made outstanding contributions to the current development of DeFi, which we very much appreciate," commented OKEx CEO Jay Hao, adding:
"We continue to collaborate with participants in the DeFi space to grow this industry together. CEX or DEX, CeFi or DeFi is not a simple single-choice question. The goal of blockchain and DeFi has never been to replace CeFi, but to use its own characteristics of trustlessness, low friction and low costs to make up for the deficiencies of the existing financial system."
As a decentralized exchange in the form of two smart contracts hosted on the Ethereum blockchain, as well as a public, open-source front-end client, to a certain extent, Uniswap has marked the starting point of a recent DeFi trend. Uniswap is a 100% on-chain market maker allowing the swapping of ERC-20 tokens, as well as ETH to ERC-20 and vice-versa. Today, Uniswap is not just a DEX, but a platform where emerging DeFi projects can often earn their initial reputation.
Yet, DeFi is not without its limitations, and the advantages of top CEXs in terms of efficiency and operational capabilities also attract a large number of DeFi tokens. In addition, the customer service system established by investing a lot of manpower and material resources have made great contributions to industry popularity, user education and onboarding.
In a nutshell, CeFi and DeFi complement each other. The best way to push the blockchain and crypto industry forward is to combine these two powers and play to both their respective advantages.
About OKEx
A world-leading cryptocurrency spot and derivatives exchange, OKEx offers the most diverse marketplace where global crypto traders, miners and institutional investors come to manage crypto assets, enhance investment opportunities and hedge risks. We provide spot and derivatives trading — including futures, perpetual swap and options — of major cryptocurrencies, offering investors flexibility in formulating their strategies to maximize gains and mitigate risks.
Photo – https://photos.prnasia.com/prnh/20200526/2813046-1-LOGO
SOURCE OKEx
Source: www.yahoo.com
SPExchange: Ultimate Crypto-exchange for Blockchain Startups
SEOUL, KOREA / ACCESSWIRE / September 18, 2020 / SPExchange is the world's first FREE service cryptocurrency exchange, combined with a diverse ecosystem including peachex.com, which was successfully launched on September 5, 2020. This is a Trading Option exchange with many outstanding advantages.
View photos
SPExchange is slated to be released on QI / 2021. They are the pioneer in providing free exchange services. They are about to change the initial concept of the functions and duties of cryptocurrency exchanges. If in the past, funding for listing coins/tokens and market maker services was an issue that was always a difficulty for blockchain startups, SPExchange's task was to solve these problems and expand the creative spaces for potential blockchain projects.
Over years, cryptocurrency exchanges have emerged as one of the industries that have benefited the most from the Cryptocurrency craze despite the volatility of bitcoin and altcoins. Thousands of new Cryptocurrency exchanges are constantly being launched, but the achievement of promoting application and development of blockchain technology is still very limited, because the majority of exchanges is currently focusing on profits rather than support for blockchain projects.
SPExchange's solution is to provide the full cost of free listing service for new blockchain projects, potential blockchain startups when it passes the project approval round. Based on this idea, SPExchange aims to build a new Amazon in the blockchain industry that is now on trending.
SPExchange CMO, Adam Nguyen said: "With our premium services, we are here to shape emerging technology ideas, support and motivate blockchain startups to thrive by connecting them with the global blockchain community ". In addition, we also waive all transaction fees for organizations, funds and individuals to participate in transactions on our platform when they hold SPCoin (SPC) – the token of SPExchange.
With the technology and the operation team from Korea, a leading country in the development of crypto currency exchanges with more than 200 exchanges are in operation up to now, SPExchange offers pleasant experiences and services for all users and developers.
About SPExchange
SPExchange is a cryptocurrency exchange based in South Korea. With its special free fee mechanism, SPExchange aims to provide the best services for global users and creates opportunities for potential blockchain startups to develop confidently without worrying about listing and services fees.
Media Contact
SOURCE: SPExchange
View photos
Source: finance.yahoo.com
Rubic's Unique Solutions Improving The P2P Market
A P2P market (from the English Peer-to-peer) is a crypto-trading platform where two people (a buyer and a seller) interact directly with each other to buy and sell cryptocurrencies.
For this type of trading, buyers and sellers register on a P2P market (also known as a P2P exchange or P2P platform) and post advertisements to buy or sell cryptocurrencies at a specific price or within a specific price range with a predetermined location.
The purchase of cryptocurrencies is still out of reach for many people – there are still over 2 billion people in the world without a bank account and the necessary documents to pass verification on centralized exchanges.
It is almost impossible to trade using different payment methods on centralized exchanges. People don't have a say and don't know how centralized exchanges work.
Centralized exchanges have cumbersome verification procedures and withdrawal restrictions. Governments often block bank accounts linked to centralized exchanges.
But they cannot do this on P2P trading platforms, since all payments are made directly between users, and not through the platform.
What cryptocurrency will become the main one in a year?
Exchanges require users to send photos of their personal documents to companies with hidden business structures, seriously risking identity theft and fraud.
Rubic is a decentralized p2p platform. Rubic helps users to make deals on their terms, share, and generate income.
Rubic provides a full list of the services needed for users, who would like to manage crypto assets on the most popular blockchains and p2p exchanging services in a decentralized and open way. Users can make an instant swap, limit order or p2p trade, participate in pools – almost everything needed for trading (except margin trading).
Rubic organizes DeFi services so that the project can create, manage, and trade tokens in a decentralized way in one place. All operations and transactions in Rubic are secure and transparent.
Rubic's goal is to add multi-chain p2p deals to existing services and develop other products such as liquidity pools. The platform makes them simple and convenient.
In 2020, the DeFi sphere of decentralized finance (DeFi) is rapidly gaining popularity in the cryptocurrency market. The number of assets blocked in DeFi protocols exceeded $ 7 billion, according to the DeFi Pulse analytical resource, which is an absolute record.
The Rubic product is already operational and available to users. Rubic ideas have already been implemented!
Anyone who wants to create and manage tokens can use the Rubic platform, as well as anyone who has a cryptocurrency and would like to exchange it.
Option to lock liquidity until the trade is closed
Uniswap / curve integration (in progress)
No volume limits
Ability to make crowdsales
Public/Private deals
Truly decentralized OTC platform
No need to list token
% of platform revenue can be regulated
Broker's support
Stops scams and rug pulls from happening
Rubic's goal is to add multi-chain p2p trades to existing services and develop other products such as liquidity pools. And make it simple and user friendly.
Rubic is a project with great potential, created by a team of experienced developers with a strong background.
Join Rubic now to earn more in the future: https://rubic.finance
Source: cryptomoneyteam.co
Author: By TeamMMG
How To Withdraw From Binance To Coinbase Or Any Other Exchange
How to withdraw from Binance to Coinbase or any other exchange is an effortless task.
Follow our steps to withdraw from Binance to any exchange.
It can be performed in minutes by pro traders but new to cryptocurrencies should be very cautious when withdrawing funds from one exchange to another.
Binance without reservation a top crypto exchange at this time of writing. Numerous transactions are going on at each second on Binance and you don't up to waste your money by commanding a wrong transaction.
If you transfer your funds on the wrong address, Binance or no other exchange will be capable to retrieve it for you.
Your funds will be lost permanently.
Therefore new users need to exercise the utmost caution when withdrawing funds from Binance to Coinbase.
Coming right to the point, In our example, we will transfer BTC from Binance to Coinbase.
Login to your Coinbase account.
As you are withdrawing from Binance exchange and depositing in Coinbase, Go to Coinbase deposits.
On the Coinbase deposit page select the coin that you want to deposit. Suppose BTC, ETH, etc
Copy the address of your coin.
Remember you can only deposit those coins on Coinbase that are listed and supported by Coinbase. Assume if you want to deposit Binance coin (BNB) on Coinbase it will not occur as Coinbase does not support BNB.
After getting the deposit address of your coin from Coinbase:
Log on to the Binance exchange.
Go straight to the Binance Spot wallet.
From your spot wallet go to Withdrawl Section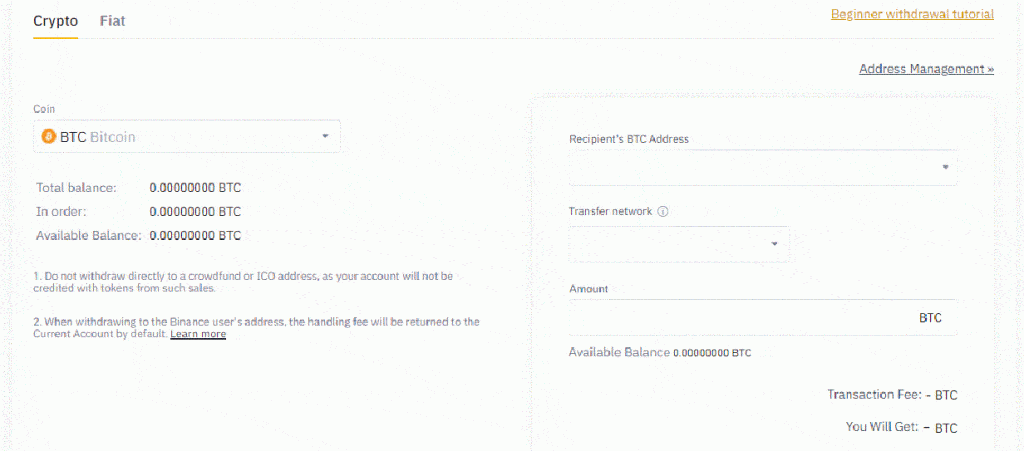 A window as shown above will open.
First of all, select the coin that you want to withdraw from Binance to Coinbase. The coin should be the same that you are depositing on Coinbase.
Again the point to remember is that the coin should be present on both exchanges for successful withdrawal from Binance to Coinbase.
Now on the "Recipient's BTC Adress" section, enter the BTC address that you get from your Coinbase deposit page.
In the "Amount" section, enter the amount of BTC (or any coin you are withdrawing).
That Recipient's Adress lead Binance and miners to transfer your desired amount to that address.
After you enter the amount, the system will let you know the transaction fee and what BTC you will get after deducting the fees.
Now click on "Submit".
Your withdrawal request will not be completed by simply clicking on the Submit button.
Binance will ask you to enter your 2FA code.
If you haven't enabled 2FA security on Binane then you have to before completing any withdrawal request.
After entering all 2FA security codes successfully, you may be asked to verify your withdrawal request from your email linked with your Binance account.
By verifying your withdrawal request from your email, your withdrawal will start showing in "Recent Withdrawal History" and will be concluded in some time.
2FA codes and email verification appears a lot but are greatly important for the protection of users' funds.
The submission of a withdrawal request takes no more than five minutes.
When withdrawing funds, you need to concentrate on some details.
If you pick BTC to transfer from Binance. You must select BTC as a depositing currency on Coinbase (or any Other exchange you are sending funds). If you select ETH from Coinbase and send BTC from Binance, your BTC funds will be lost forever. BTC and ETH have different blockchains. Sending BTC to ETH address or ETH to BTC address will result in loss of funds and no one will be able to recover those funds for you.
In simple words never send any coin to another coin address.
When you copy the coin address from Coinbase and enter it in Binance Recipient address, always double-check your address. You must thoroughly match each character of your address, but if you see it hard, then you need to match the first four and the last four characters of your coin address to guarantee that you have successfully copied the precise address.
Don't be too hasty, It is the matter of your funds.
Some coins are present on multiple exchanges like Tether (USDT). Tether is present on seven blockchains Ethereum, Tron Algorand, EOS, Liquid Network, Omni, and OMG Network.
When a coin is available on so multiple blockchains you require to be highly accurate when transferring Tether from Binance to Coinbase.
When you insert the recipient address, normally the Binance system automatically matches the network for you. But you should be sure by yourself that you are entering the correct network.
In simple words, if Coinbase support Tether on ETH and TRON blockchain, then to withdraw Tether from Binance, Binance must also be supporting Tether on any one of those blockchains.
When withdrawing or depositing funds from Binance to Coinbase there are some obligations.
In Coinbase Know Your Customer (KYC) is an obligation and you cannot move on with any operation on Coinbase without verifying yourself.
Binance permits you to trade, deposit, and withdraw within limits without verification.
Your daily withdrawal limit is 2 BTC every day if you are a nonverified member of Binance.
It is easy to transfer Xlm from Binance to Coinbase.
Go to your Coinbase deposit page and pick XLM.
Copy the Adress of XLM.
Go to Binance exchange, Go to your spot wallet, and then to the Binance withdrawal page.
Choose XLM from the coin list.
Enter the XLM address in the Binance "Recipient XLM Adress" that you copied from Coinbase.
Enter the amount of XLM you want to transfer.
Click on "submit"
Enter your 2FA codes and verify your transaction from your email.
Wait for the completion of the withdrawal request.
After some time XLM coin will start showing in your Coinbase wallet.
Merely go to the Coinbase deposit page and select Chainlink. Copy the address of Chainlink and follow the above steps for the successful transfer of chainlink from Binance to Coinbase.
At the time of writing, you cannot transfer TRX from Binance to Coinbase.
https://www.coinbase.com/price/tron
The reason is that Coinbase does not support TRX. You cannot trade or deposit TRX on Coinbase as it is not listed on Coinbase yet.
In the future, Coinbase may add support for TRX, and then you will be able to transfer TRX from Binance to Coinbase by copying the above steps.
That is a pretty general question. A precise timeline cannot be given in fund transferring.
A general idea is that it ordinarily takes 15 minutes to 2 hours.
In normal cases whenever Binance receives a withdrawal request, they approve it instantly.
Once they pass it, the real transferring of funds from Binance to Coinbase (or any other exchange) is done by miners.
If a blockchain network is overloaded with a lot of fund movements on that blockchain, transferring funds will take a lot longer.
A particularly obvious example these days is Ethereum Blockchain. Because of the Defi coins craze (As the majority of Defi tokens are based on Ethereum), the ETH network is extremely busy. The gas fees are pretty high.
So any users who transfer Ethereum from Binance to Coinbase will pay more fees and ought to wait longer for their withdrawal to complete, because of the busy ETH network.
If you have any questions please let us know in the comments.
In-Depth Binance Review
Binance Funding in Top 6 Defi Tokens-Complete Details
How To Set A Stop Loss On Binance And OCO Orders
How To Set A Stop Loss On Binance Futures
What is Yearn Finance (YFI) and Yearn Finance 2 (YFII)-How To Earn YFI And YFII
What is Curve Finance (CRV)-How To Earn CRV By Providing Liquidity
1inch Exchange Review And Tutorial
Uniswap Review-Complete Guide & Tutorial on Swapping & Pools
Best 9 Upcoming Defi Tokens Backed By Top Investors
What is Uptrennd Coin (1UP)-What Makes Uptrennd Special?
Phemex Review-Exchange With Ten Times Fast Trading Engines And Zero Spot Trading Fees
7 Best Alternative To Coinbase For Trading Cryptocurrencies
How To Trade Cryptocurrency-Best Cryptocurrency Trading Strategies
what are the Top 9 Best Cryptocurrency To Invest In 2020
Best 12 Profitable Staking coins List and Exchanges
Are Trading Bots Legal? Why Use Trading Bots? Are They Profitable?
Gunbot Review-A Bot Especially Designed To Trade BTC Pairs
34 Most Recent Vechain Partnerships
Buy Bitcoin With Walmart Gift Card-How And Where?
3Commas Review-Best Crypto Trading Bot
Dogecoin Cloud Mining And Dogecoin Mining-How To Do Them Properly
Cryptohopper Trading Bot Review
What is cryptocurrency staking
What Is Cryptocurrency Mining?
What is Ethereum-How Does it Work
What is Bitcoin and How Does it Work?
How to Buy Bitcoin Cryptocurrency?
Key Points when selecting cryptocurrency exchanges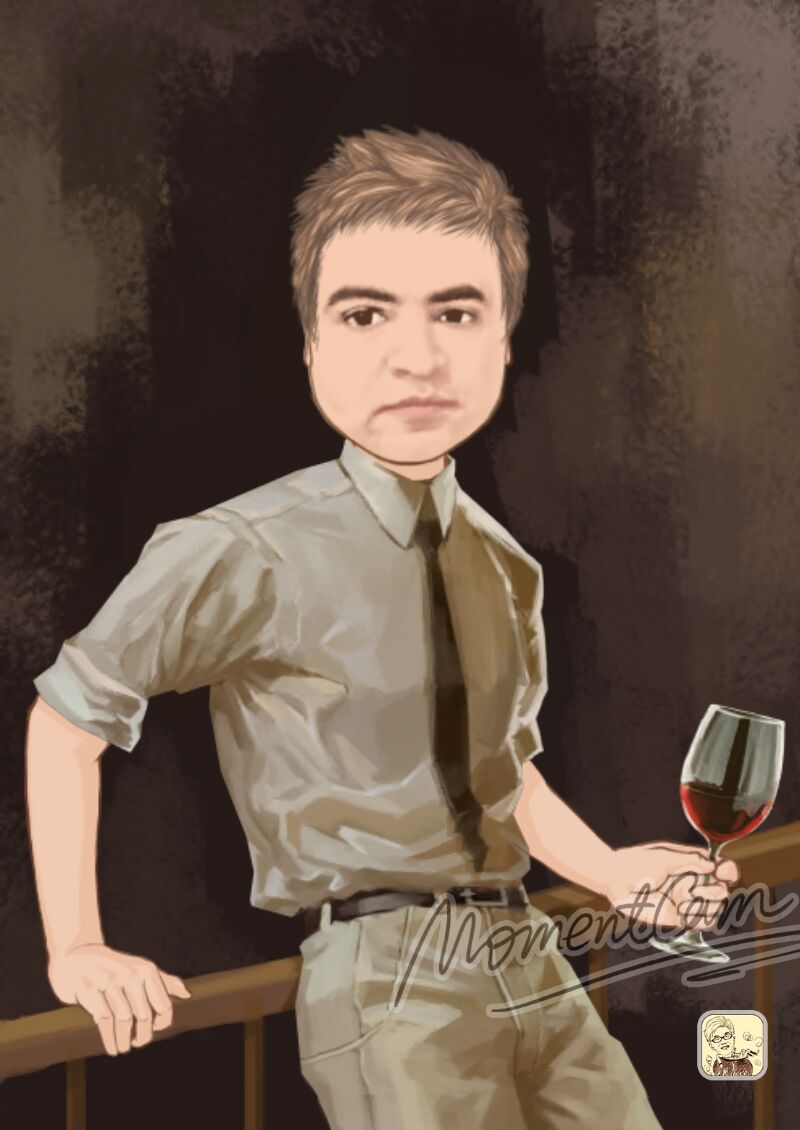 Involved in cryptocurrencies for more than five years, Love to trade, and write on cryptocurrencies. My basic aim is to provide genuine information to cryptocurrencies readers because crypto is filled with frauds and scams. True information is very rare to get. So I will be providing accurate information about cryptocurrencies topics, that users can trust.
Source: thecryptobasic.com
Author: Jakkk
Previous
Next