Ethereum scalability issues exposed as high gas fees stall DeFi boom
The crypto market has been on the receiving end of a market downturn during the past week, with many cryptocurrencies facing drops in valuation almost overnight, raising concerns that a bear market has commenced.
Furthermore, in the wake of this market turmoil, Ethereum network transaction fees have surged, recently achieving an all-time high, thanks in part to the influx of many new on-chain transactions initiated by various decentralized finance protocols that have made their way into the crypto domain in recent months.
And while DeFi has provided investors with financial products through decentralized exchanges by way of various lending protocols that reward liquidity providers, this very facet of the technology has resulted in the creation of an undesirable environment of high transaction fees that, in turn, has gravely affected the value of many tokens.
Technically speaking, Ethereum's existing gas prices respond to the relatively limited number of transactions that one can facilitate using a single block. Miners, in such a scenario, can choose the highest-priced transactions as their priority, so the result is an increase in effective gas prices.
That being said, there are several secondary reasons that have exacerbated the current situation, forcing Ethereum "core devs" to hold a virtual meeting on Sept. 4, with gas tokens becoming the main focus of the discussion.
In the most basic sense, gas tokens like Chi Gastoken (CHI) and Gas Token (GST) make use of a mechanism that refunds gas when storage space is freed on the Ethereum Virtual Machine. In the case of gas tokens, burning them destroys dummy "sub-smart contracts," which some people believe may be more efficient than erasing data directly. To simplify the issue even further, gas tokens tend to designate a certain storage space within the Ethereum chain for minting rights at a later stage.
Essentially, users can spend a small amount of Ether (ETH) at current gas prices to secure gas that can be used later without the risk of the price going up, as the gas price at which the token was minted will be the gas price used. On the subject, Jordan Earls, co-founder and lead developer of Qtum — a decentralized blockchain platform — told Cointelegraph:
"This effectively causes the network to not respond properly to an increase in gas prices like we see today, as some people with access to these tokens can use this cheap gas now, but also get their transaction highly prioritized without actually spending any ETH."
One of the most obvious solutions to mitigate the current gas prices could be to reduce the demand for Ethereum transactions. This can include the use of zk-Rollups and other layer-two scaling technologies. Another potential solution could be to make the blockchain and the smart contracts running on the network more efficient. However, such solutions are difficult to pull off on demand.
Jagdeep Sidhu, lead developer for blockchain platform Syscoin, told Cointelegraph that much of the traffic on the Ethereum network can quite easily be offloaded without requiring users to abandon the platform or seek out other alternatives: "Simple value transfers are more efficiently served by sidechains that are accessible to ERC-20 owners via a two-way bridge." He added that layer-two solutions can provide a cheaper way to engage with different smart contracts, adding: "Using these services would create a balancing effect and lead to improved usability for the Ethereum mainchain."
However, Mike Toutonghi, lead developer at Verus — a zero-knowledge, privacy-oriented blockchain platform — believes that Ethereum's core design may be at odds with the platform's ability to regulate its gas prices, especially as consumer interest in ETH, or its various associated offerings, continues to spike. Toutonghi added:
"The complete lack of awareness of the lower level blockchain protocols of the financial incentives operating in contracts above them can result in perverse incentives, which have nothing to do with efficient blockchain function, and in some cases can result in unintended consequences, such as skyrocketing gas fees."
He then went on to state that if network congestion is not the only reason for this unprecedented rise in transaction fees, then the only way to get around the problem would be by either allowing multiple fee markets or creating a new fee pricing structure that could reconcile DeFi systems with network mining and/or staking functions.
A new Ethereum Improvement Proposal, EIP 2929, was introduced by the platform's core developers to help bring resolution to the issue. Technically speaking, EIP 2929, if implemented, should reduce the processing time of a block under DoS-attack conditions in order to make high gas limits safer.
In Earls' opinion, the proposal is a step in the right direction and will make users more confident about any gas-related problems they may potentially face. In his view, the current issues should be viewed as growing pains that every nascent project has to go through at some point in its lifecycle, adding:
"EIP 2929, despite raising the price of some operation codes (opcodes), will really only make those opcodes more in-line with other opcode costs. By having these opcode costs artificially low, they are effectively being subsidized by users and transactions that do not need them. This stops this subsidizing and makes it so that specific contracts that use no storage or even minimal storage will effectively become cheaper to use while storage-heavy smart contracts will be more expensive, as they should be."
However, Sidhu believes that even though the proposal is important, EIP 2929 still fails to address a whole host of more acute issues that relate directly to the DeFi sector.
One of the main concerns to emerge is the question of how such high transaction fees impact network usability. For starters, the high-fee environment has priced out smaller investors and decentralized application users from the network while still spurring on certain niche markets, such as nonfungible tokens, in a tangible way.
Also, it's entirely possible that if the prevailing conditions linger on, the long-term implications for the platform could be negative, especially because casual crypto enthusiasts could become hesitant to use Ethereum due to its various service issues.
That being said, most experts are fairly certain that the recent circumstances will not result in any major change in Ethereum's mainstream viability, even though the platform's public perception has definitely been tested with the current gas price problem — especially since for most people, the argument for crypto has traditionally been that it costs next to nothing to process transfers when compared with traditional avenues such as PayPal, SWIFT, etc.
However, an increasing number of people are waking up to the fact that Ethereum and smart contracts are technological foundations that can be used for things beyond payments and money transfers.
Source: www.bit-cointalk.com
Bitcoin Above 100 SMA Could Start Fresh Rally Towards $12,500
Bitcoin is recovering and it recently broke the $11,500 resistance area against the US Dollar. BTC must climb above the 100 SMA (H4) to continue higher in the near term.
Bitcoin is slowly recovering and it surpassed the key $11,500 and $11,550 resistance levels.
The price is now facing another hurdle near the 100 simple moving average (4-hours) and $11,800.
There was a break above a major bearish trend line with resistance near $11,450 on the 4-hours chart of the BTC/USD pair (data feed from Kraken).
The pair is likely to accelerate higher above $12,000 once it clears the 100 simple moving average (4-hours).
After forming a double bottom near $11,140, bitcoin started a strong recovery wave against the US Dollar. BTC broke the $11,400 and $11,500 resistance levels to move into a positive zone.
It even surpassed the 23.6% Fib retracement level of the downward move from the $12,479 high to $11,129 low. More importantly, there was a break above a major bearish trend line with resistance near $11,450 on the 4-hours chart of the BTC/USD pair.
Bitcoin is now trading nicely above the $11,500 and $11,550 resistance levels. It also helped Ethereum and ripple in climbing above $400 and $0.2750 respectively.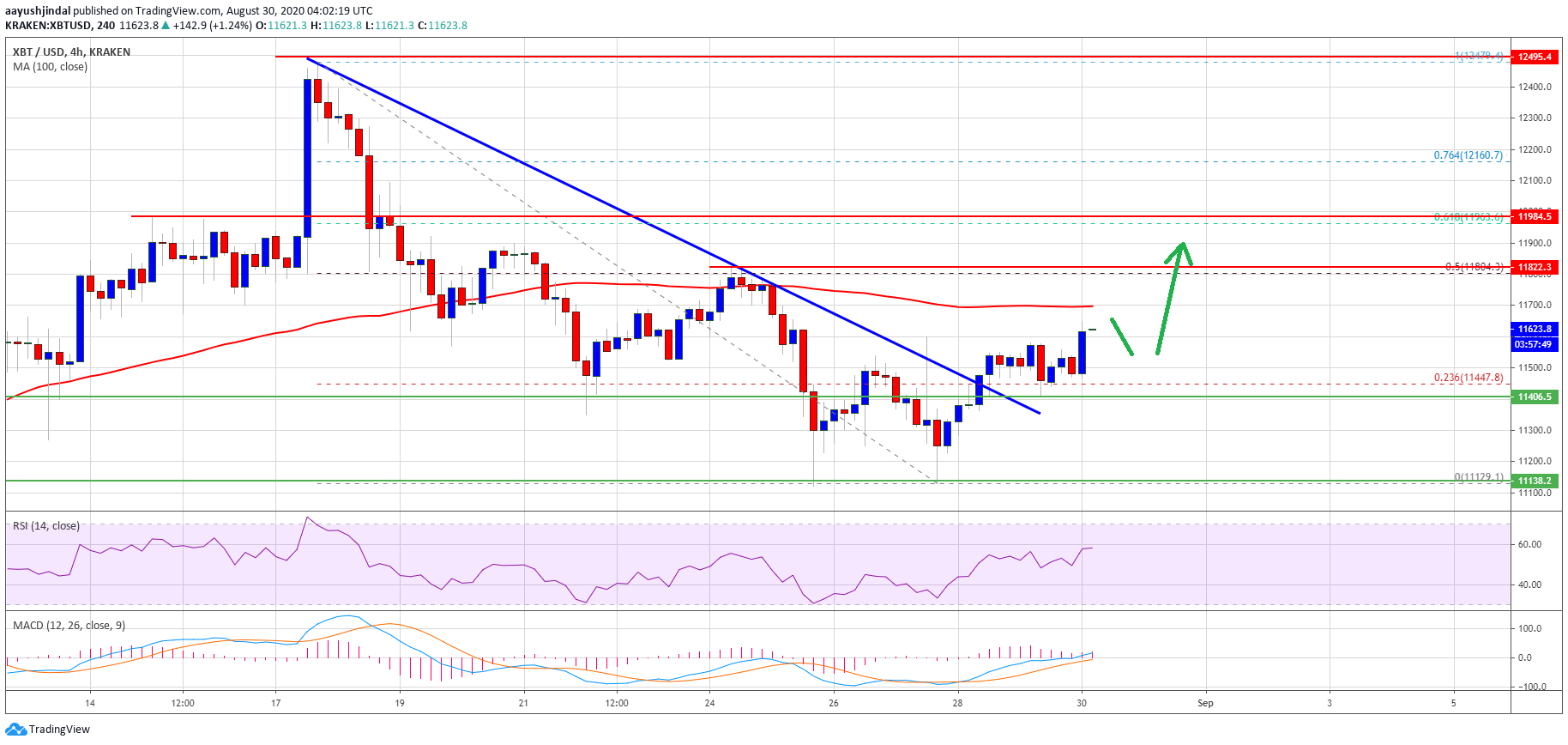 Bitcoin price breaks $11,500. Source: TradingView.com
An immediate resistance for the bulls is now seen near the $11,700 level or the 100 simple moving average (4-hours). The next major resistance is near the $11,800 level (the last key breakdown zone). It is also close to the 50% Fib retracement level of the downward move from the $12,479 high to $11,129 low.
Therefore, a clear break above the $11,700 and $11,800 resistance levels could start a larger upward move. In the mentioned case, the price might continue to rise towards the $12,000 and $12,200 levels. The next major hurdle for the bulls is near the $12,500 level.
If bitcoin struggles to climb above the 100 SMA or the $11800 resistance, there could be a downside correction. An initial support on the downside is near the $11,500 level.
The first major support is near the $11,400 level, below which the bears are likely to aim a retest the main $11,100 support region in the near term.
Technical indicators
4 hours MACD – The MACD for BTC/USD is slowly moving into the bullish zone.
4 hours RSI (Relative Strength Index) – The RSI for BTC/USD is now well below the 50 level.
Major Support Level – $11,400
Major Resistance Level – $11,700
Source link
Source: icryptodesk.com
admin
What is blockchain? In a Nutshell… – Blockchain News, Opinion, TV and Jobs
With the rise of Bitcoin in the past decade, blockchain has become one of the most prominent emerging technologies in the world. Despite its surge in popularity, many still don't fully understand what blockchain is and what sets it apart from the existing technology.
So, what is blockchain?
Blockchain, in its simplest form, is a decentralized and distributed ledger, containing blocks of transaction data. These blocks are linked to each other in a time stamped chain, hence 'blockchain.' Every record on the blockchain is authorized by the digital signature of the originator and is broadcast to all the nodes on the network. Upon confirmation by all the network nodes, the record becomes immutable, making data tampering on a blockchain network impossible.
While blockchain has become almost synonymous with Bitcoin as a payment method, it can be used to store any type of data. This has made it popular in many industries, from healthcare and banking, to insurance and supply chain management.
A blockchain network is fully reliant on its nodes, which form a critical component of its infrastructure. Nodes enforce the rules of the blockchain protocol and store a copy of the chronological blocks of data that make up the blockchain, similar to what servers do in a centralized network.
What future awaits cryptocurrencies?
All the nodes in a blockchain network are interconnected, allowing them to 'communicate' with each other. The nodes validate or reject any transaction that is broadcast to the network. If a node accepts a transaction, it broadcasts to the other nodes which update their record of the blockchain to include the new transaction.
Nodes receive, store and broadcast all the transactions on a blockchain network. Nodes add new blocks of transactions to a blockchain. They do this by solving complex mathematical computations in a competitive process known as proof of work. Upon solving the computations and getting other nodes to accept they solved the puzzle first, they get to earn a block reward subsidy. This is why it is important for nodes to be interconnected with other nodes. For the Bitcoin blockchain, the reward currently stands at 6.25 BSV, halving every four years. In the next halving, which will take place in 2024, the block reward will be cut to 3.125 BSV.
Blockchain has several advantages over existing technology, which is why despite being quite young, it's causing ripples in every other industry. Of these, its immutability stands out. Once a transaction has been recorded on the blockchain, it can't be altered or tampered with. This is done through a cryptographic hash function that assigns a digital signature to data.
Source: otcpm24.com
Author: Staff Writer posting jobs and sponsored content
The adjusted on-chain volume of Bitcoin and Ethereum hit a 30-month high in August
The total adjusted on-chain volume of Bitcoin and Ethereum reached a 30-month high during the month of August.
Source: Coin Metrics, The Block Research
Combined, the total adjusted on-chain volume for the two networks grew 38.3% month-over-month, as noted in a by-the-numbers breakdown for August produced by The Block Research.
© 2020 The Block Crypto, Inc. All Rights Reserved. This article is provided for informational purposes only. It is not offered or intended to be used as legal, tax, investment, financial, or other advice.
Source: finance.yahoo.com
Author: Momina Khan
Ethereum Classic Labs joins forces with Storj Labs » CryptoNinjas
Running an Ethereum Classic node requires downloading and syncing an entire copy of the blockchain. One of the most demanding requirements to support a copy of the blockchain is storage, and scaling that storage since the blockchain is a continuously growing database. Syncing a new mainnet node can take a few hours, days, or weeks (depending on your setup of course). In the event of a client bug or network incident, recycling a node from scratch could be expensive downtime.
In collaboration with Storj Labs, the ETC Labs team has demonstrated how it can massively increase the syncing performance of an Ethereum Classic node in a trustless manner with Core-geth's Freezer feature and the Storj decentralized cloud.
"Blockchains are breaking into more mainstream use cases, and enabling the simple and scalable growth of networks is critical in driving this adoption. Decentralized cloud storage solutions, like Tardigrade, offer the ability to store state history in a way that is secure, decentralized, and highly resilient to common attacks. We're excited to be working with ETC Labs and its community of miners to store state history on the decentralized cloud—making it easier and faster to spin up new nodes, greatly reducing the expense of downtime," said John Gleeson, Storj Labs VP of Operations.
James Wo, Founder and Chairman of ETC Labs added, "incorporating Tardigrade decentralized cloud storage into the process for GETH has allowed us to accelerate sync times, making it much more efficient to spin up new mining nodes around the world. This helps miners avoid expensive downtime, create a more diverse set of endpoints, and contribute to a larger, more secure blockchain."
"This partnership with Storj, is great way forward for clients to take ownership of their data that serves their usage needs. Using Storj for long-term data storage helps developers and infrastructure providers keep productivity high and down time minimal," said Zane, Member of the ETC Core development team.
Use-cases
Data-recovery: If you lose your chain data, then you can sync from the latest block height of the remote ancient store.
Sync speed: The ancient-store data basically acts as a backup of the blockchain. If the ancient-store contains x amount of history, then that's x amount of history you don't need to download and sync from scratch. Theoretically, days of syncing can be done in hours.
Resources
https://blog.ethereum.org/2019/07/10/geth-v1-9-0/
https://github.com/etclabscore/core-geth/releases
https://github.com/etclabscore/ancient-store-storj
Source link
Source: otcpm24.com
Author: News Bureau
Previous
Next