Bitcoin and Ethereum Show Signs of Recovery Despite Recent Correction
Bitcoin dropped below the $10,000 support level for the first time in over a month.
Meanwhile, Ethereum crashed to $307, representing a 37% correction from the recent yearly highs.
Despite the significance of the downturn, these cryptocurrencies could be abETHout to make a come back.
Bitcoin and Ethereum incurred significant losses over the past few days, dropping to crucial support levels. While market participants continue to put out fires due to the recent downturn, different technical metrics suggest everything's not lost.
On Sept. 2, on-chain data analytics provider CryptoQuant registered a significant spike in the number of Bitcoin being transferred to different cryptocurrency exchanges.
The company affirmed that the large exchange deposits originated from addresses related to various mining pools, including Pooling, Slush, and HaoBTC.
The sudden spike in the number of BTC moved to exchanges was quite unusual, and it suggested that these mining companies were preparing to sell their tokens, according to CryptoQuant.
Indeed, an essential number of sell orders were placed across different exchanges after the flagship cryptocurrency was rejected from the $12,000 resistance level. The rising selling pressure led to a 19% correction that saw Bitcoin drop below the $10,000 support level.
BTC went as low as $9,813, which is the lowest price point it has been since late June.
The downswing allowed Bitcoin to retest the multi-year trendline that was previously acting as resistance and rejecting any upward price action since late December 2017. Given the strength that this trendline showed over the last three years, it is reasonable to assume that it will now serve as strong support.
Bounding off this crucial hurdle can be seen as an extremely bullish sign that may help the uptrend to continue.
The TD sequential indicator adds credence to an optimistic outlook. This technical index is currently presenting a buy signal in the form of a red nine candlestick on BTC's 12-hour chart. The bullish formation suggests that the bellwether cryptocurrency is bound for a one to four 12-hour candlestick upswing or the beginning of a new upward countdown.
Based on historical data, the TD index has been incredibly accurate at predicting Bitcoin's local tops and bottoms. It even presented a sell signal on Aug. 31, just before prices dropped nearly 19%.
For this reason, the current forecast must be taken seriously despite the high levels of skepticism in the cryptocurrency market.
In the event of an upswing, IntoTheBlock's "In/Out of the Money Around Price" (IOMAP) model suggests that Bitcoin could face stiff resistance between $11,500 and $11,800.
Based on this on-chain metric, approximately 2 million addresses bought over 1.2 million BTC around this price level.
Such a massive supply wall could absorb some of the buying pressure. Holders within this price range will likely try to break even in their long positions. But if demand for the pioneer cryptocurrency is significant enough, it may slice through this resistance barrier and take another aim at the $12,000 hurdle.
On the flip side, the IOMAP cohorts reveal that one of the most significant support levels underneath Bitcoin lies between $9,640 and $9,950. Here, nearly 900,000 addresses are holding over 700,000 BTC.
As long as prices remain trading above this level, the bullish outlook will prevail. Otherwise, the flagship cryptocurrency could plummet towards $9,000.
When looking at Ethereum from a high time frame, such as its 3-day chart, the price action of the past two years created a double bottom pattern. This technical formation suggests that Ether's trend changed from bearish to bullish the moment it broke above late June 2019's high of $360.
Based on the "W" pattern, ETH is on its way up to $800 or higher.
Regardless, the recent correction seen across most digital assets within the cryptocurrency market also affected the smart contracts giant.
As roughly $40 billion were erased from the total crypto market capitalization, Ethereum took a 37% nosedive. The downswing allowed it to test the neckline of the W pattern previously mentioned.
Usually, assets tend to retrace to this support level when they form a double bottom pattern. Therefore, the recent pullback could help maintain Ether's uptrend healthy. If Ethereum can rebound from this hurdle that sits between $340 and $300, it would likely continue surging towards $800.
Large investors seem to be aware of the high probability of a further advance.
Santiment's holder distribution chart shows that as prices were falling, there was a significant spike in the number of addresses with millions of dollars in Ether, colloquially known as "whales."
The behavioral analytics firm recorded a 1% jump in the number of addresses holding 1,000 to 10,000 ETH. Roughly 68 new whales have joined the network in the past three days.
Such an increase in the number of large investors behind Etherum may seem insignificant at first glance. But when considering these whales hold between $350,000 and $3.5 million in Ether, the sudden spike in buying pressure can translate into millions of dollars.
If the buying spree continues, ETH may have the ability to rebound and reach the target presented by the double bottom pattern.
Nonetheless, IntoTheBlock's IOMAP model suggests that the bulls may have a difficult time pushing prices up.
Based on this fundamental indicator, around 1 million addresses bought nearly 8 million ETH between $388 and $398. This massive supply barrier must be turned into support to add credence to the bullish outlook. Until then, Ethereum could pull back and retest the recent lows.
It is worth noting that there isn't any significant support wall underneath Ehtereum based on the IOMAP cohorts.
Thus, another spike in selling pressure that sends the digital asset below $300 may have the strength to invalidate the bullish outlook. Under such circumstances, ETH could fall to $260.
The recent downswing seen across the entire cryptocurrency market wiped out a significant number of overleveraged traders. Data reveals that more than $2.3 billion worth of leveraged positions were liquidated in the past four days.
The massive sum of reported losses sent investors into fear for the first time in the last two months, according to the Crypto Fear and Greed Index (CGIF).
Fear, however, can be perceived as a positive sign. The last time the CFGI was this low the total cryptocurrency market capitalization surged over 37%. Now, a dose of patience could help determine whether a similar scenario could be about to take place.
The information on or accessed through this website is obtained from independent sources we believe to be accurate and reliable, but Decentral Media, Inc. makes no representation or warranty as to the timeliness, completeness, or accuracy of any information on or accessed through this website. Decentral Media, Inc. is not an investment advisor. We do not give personalized investment advice or other financial advice. The information on this website is subject to change without notice. Some or all of the information on this website may become outdated, or it may be or become incomplete or inaccurate. We may, but are not obligated to, update any outdated, incomplete, or inaccurate information.
You should never make an investment decision on an ICO, IEO, or other investment based on the information on this website, and you should never interpret or otherwise rely on any of the information on this website as investment advice. We strongly recommend that you consult a licensed investment advisor or other qualified financial professional if you are seeking investment advice on an ICO, IEO, or other investment. We do not accept compensation in any form for analyzing or reporting on any ICO, IEO, cryptocurrency, currency, tokenized sales, securities, or commodities.
See full terms and conditions.
Source: polishmedia.eu
Ethereum Reaches a "Do or Die" Level as It Flips Key $400 Resistance
Ethereum has firmly surmounted its $400 for the first time in a few weeks, with buyers now attempting flip this level into support.
The crypto's latest upswing has allowed it to outperform both Bitcoin and most other major altcoins significantly
Analysts are widely noting that the cryptocurrency is reaching a decision point, with its near-term trend likely being determined by how it reacts to the resistance that sits at $405.
That being said, a support-resistance flip of $380 could be enough to send it flying significantly higher, with one analyst noting that this could lead to an influx of buying pressure.
At the time of writing, Ethereum is trading up roughly 2% at its current price of $403. This is around the upper boundary of the trading range that the crypto has been caught within in recent weeks.
It is important to note that while the cryptocurrency has struggled to gain a foothold above $400 on multiple occasions in recent weeks, the strong reaction to its $380 support level seems to have reinvigorated ETH's bulls.
One analyst is now noting that he is closely watching for $400 to be confirmed as support, as a flip of this level from resistance to support could be all that it needs to see significantly further upwards momentum.
"ETH / USD: Seems as though our support level at $380 was once again supported and buyers continue to step in heavily, even though we did bounce back above $400 for a brief minute, $400 still is acting as resistance for now… Expecting pullback to $390 then S/R flip at $400," he noted.
Image Courtesy of Cactus. Chart via TradingView.
Another analyst explained that $405 is a significant near-term resistance level for Ethereum.
He believes that a failure for it to surmount this level could cause it to see some significant near-term downside, potentially guiding it as low as $320.
"Good movement on ETH right up into $405. Somewhere around here is the major decision point for me. Narrative based but I don't particularly like that this move has been pulled at the weekend, fits into my bias," he explained.
Image Courtesy of Cold Blooded Shiller. Chart via TradingView.
Because of the critical nature of this level, how Ethereum trades in the coming few hours are vital for understanding its mid-term outlook.
Source: otcpm24.com
News Bureau
How to Leverage Uniswap – Ethereum's Noncustodial Defi Trading Platform
In 2020 decentralized exchanges (dex) have grown quite mature compared to just a few years ago. One specific dex gathering a lot of steam this year in the defi world is Uniswap, a trading platform that held $1.3 billion locked in value and dominated most defi applications by over 18% Friday evening. The following review is a detailed explainer of what Uniswap is and how to leverage the dex using an Ethereum wallet like Metamask.
**Price quotes, TVL, and defi dominance percentages from this Uniswap review were recorded on Friday evening, September 4, 2020.
Decentralized finance (defi) has been all the rage and one feature the economy has amplified is the use of decentralized exchanges. News.Bitcoin.com recently reported on the massive dex trade volumes that have been taking place recently, and this week has been no different.
On Friday evening, stats from Dune Analytics indicate that dex platforms have continued to surge in volume with seven-day growth at 178%. During the last week, dex platforms have surpassed $7.1 billion in global swaps and $968 million in the last 24 hours.
The dex protocol Uniswap is the most dominant trading platform. Uniswap eclipses most of the dex contenders with 71.9% of the aggregate dex trade volume globally. Over 91,000 traders were active on Uniswap on Friday evening. Defipulse.com stats show Uniswap also dominated by more than 18% of the defi economy with $1.3 billion total-value locked (TVL) at its height. In recent days, Uniswap's trading volume outpaced the centralized exchange Coinbase Pro as well.
Uniswap's creator Hayden Adams developed the dex after being inspired by an Ethereum Research post written by Vitalik Buterin. Essentially Uniswap is an Ethereum exchange built by leveraging smart contracts and liquidity pools, in contrast to a traditional centralized exchange's order book. In the past, older crypto dex platforms had liquidity issues, but Uniswap's liquidity pool model changed the game. The web portal Ethhub.io also offers a comprehensive "Graphical Guide for Understanding Uniswap," which shows a visual representation of how the app works.
With a decent Ethereum wallet, users can simply connect to Uniswap's application and trustlessly swap ERC20 tokens in an effortless manner. The application allows users to not only swap the coins, but they can also create any type of ERC20 pool or provide an existing pool with liquidity and earn funds. Uniswap allows anyone from anywhere to swap coins in a permissionless fashion without needing an ID or going through a cumbersome KYC process.
Accessing Uniswap is easy and relatively simple to understand. If one already knows the very basics of leveraging ethereum (ETH) and wallets like Metamask, then Uniswap is fairly intuitive. Essentially the first thing to do is make sure you have an Ethereum wallet and one that can interact with ETH smart contracts. Metamask works well for most defi applications with its Chrome browser extension, but it also launched a new mobile wallet this week.
Uniswap's two features allow people to either add liquidity to a pool or trade ERC20s for ETH or other ERC20 tokens. So if you want to use the dex, it's also a good idea to have some ETH-based tokens or just ether deposited into your Metamask wallet.
What future awaits cryptocurrencies?
From here simply head over to Uniswap and connect your wallet to the Version 2 (V2) application. Metamask will ask you to accept the permissions in order to tether the wallet to the Uniswap application. Simply confirm with Metamask and you can now see your balance of ETH or tokens in the app's user interface window. Throughout every action, Metamask makes sure the owner of the funds authorizes all the Uniswap transactions.
If you choose the "Swap" feature, the application asks you to choose from a list of tokens tethered to applications like Aave or Compound in the V2 software.
"Uniswap now supports token lists," the software will tell you. "You can add your own custom list via IPFS, HTTPS, and ENS." From here you can "choose a list" like the "Aave Token List" or others like "CMC Defi." After choosing a list, you can then choose the type of token you want to trade and the token you want to leverage to buy it.
If you have ETH in your Metamask wallet simply choose the crypto asset in the "from" section and Uniswap will show the balance. Then you can choose which type of token you want to obtain, as the list of tokens is quite extensive. Uniswap supports any ETH-based token and perusing through the list you will notice popular assets like DAI, WBTC, BAT, USDT, USDC, LEND, MANA, MKR, TUSD, and many more. In the "to" selection, select the token you want and Uniswap will explain the exchange rate.
For instance, I had a balance of 0.120333 ETH and selected the stablecoin DAI for my trade. I press "max" (using my entire Metamask balance of ETH) and Uniswap will tell me the price of the trade. Selecting DAI for my 0.120333 ETH ($42 on 9/5/20) will get me 38.3549 DAI and that doesn't include the network fee to swap.
At the time of writing ETH fees are between 450 to 550 gwei or $3.36 to $4.11 per transaction. Metamask will explain to you how much the gas fee will be when executing the Uniswap trade. Following the network confirmations, the coins purchased will be deposited into your Metamask wallet.
With the other feature called "Pool" you can add liquidity to certain pools in the Uniswap ecosystem and earn a percentage of trading fees for supplying funds to the pool. Simply press "add liquidity," choose a token input and Uniswap will explain the prices pool shares.
For instance, if I add an ETH input and 26.86 MANA, Uniswap details the price of ETH per MANA and the pool share which is 0.01%. Of course, those who add massive amounts of liquidity get a much larger pool share of trading fees than those who only add small fractions of funds.
Just like most of the defi applications out there today, the very basics of Uniswap's features are pretty easy to use. However, gas fees at $3-4 per transaction make the experience less pleasant and ETH fees were even higher just a few days ago.
Besides the obvious ETH fee issue, Uniswap allows for quick trades in a noncustodial fashion and removes the horrid KYC processes depressing the crypto industry today. This privacy is the most refreshing benefit of the experience. For some more perspective, the video below created by the Youtuber, "Every Bit Helps," also gives individuals a visual step-by-step on how to leverage the Uniswap protocol.
**Price quotes from this Uniswap review were recorded on Friday, September 4, 2020.
What do you think about Uniswap? Have you ever tried the dex application? Let us know in the comments section below.
The post How to Leverage Uniswap – Ethereum's Noncustodial Defi Trading Platform appeared first on Bitcoin News.
Source: cryptomoneyteam.co
Author: By TeamMMG
This Textbook Signal Predicts Ethereum Has Room to Drop After 35% Correction
Ethereum has faced a strong correction over the past few days that easily overshadows Bitcoin's move. From the local highs near $490 to the local lows, the cryptocurrency fell by over 35%, shocking most investors as they were bullish just days before.
ETH has already bounced since falling as low as $315, undergoing a rapid 14% rally to $360 on Sunday morning.
While key supports in the low-$300s were held due to this bounce, more technical signals suggest that Ethereum has room to slide.
Ethereum is prepared to move lower after already correcting by over 35% in the span of four days.
A Telegram channel tracking the Tom Demark Sequential reported on Sunday that the leading cryptocurrency has formed a bearish signal on its weekly chart. The signal is a Tom Demark Sequential "Quasi Sell 9" candle, which is a candle type often seen when an asset has reached a bearish inflection point in its trend.
Chart of ETH's price action over the past year with a Tom Demark Sequential analysis by a Telegram group tracking the indicator. Chart from TradingView.com
Prior to the ongoing correction, one trader said that simple technical analysis indicates Ethereum was primed to fall to $290 after losing the support around $370:
"#Ethereum has formed a broadening formation that normally has no preferred direction of a breakout. The bottom of the formation matches a long-term S/R level. If it is broken, the next potential target is at ~290$ – the second support and a 50% Fibonacci retracement."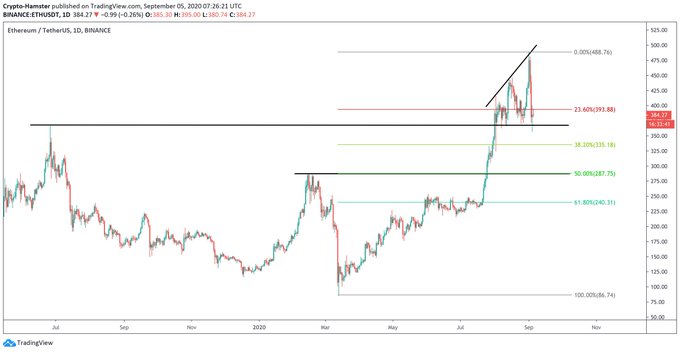 Other analysts have noted that there is little historical support until $290, which sits 18% below the current market price of Ethereum.
Altcoins aside from Ethereum printed the exact same Tom Demark Sequential signal as the one aforementioned.
According to the Telegram channel that first spotted this signal, the same signal has appeared on the charts of Band Protocol (BAND), Cosmos's ATOM, and many other coins.
Source link
Source: icryptodesk.com
Author: admin
Previous
Next