Major Crypto Exchange Binance Joins European Blockchain Industry Group
LONDON — Major cryptocurrency exchange Binance said on Thursday it was joining a European blockchain industry group, a move that comes as policymakers look at how to oversee the emerging digital ledger technology.
In a statement, Binance said it would join Blockchain for Europe, a Brussels-based association whose members include major U.S. blockchain payments firm Ripple. Blockchain for Europe advocates for "balanced policy and regulatory governance" for the distributed ledger technology, Binance said.
The European Union is looking at creating a set of rules for cryptocurrencies such as bitcoin, and related technologies such as blockchain-based digital contracts.
At present, the EU has no specific regulations on cryptocurrencies. Until Facebook unveiled plans for the Libra digital currency last year, digital coins had been seen as a marginal issue in Brussels because only a fraction are converted into euros.
Binance has also recently also joined cryptocurrency and fintech associations in Britain and Australia. According to industry site CryptoCompare, Binance in July saw the largest trading volume among major exchanges, at $68.4 billion.
(Reporting by Tom Wilson; Editing by MarkPotter)
Source: www.nytimes.com
Author: Reuters
Major crypto exchange Binance joins European blockchain industry group
Source: cryptosmartcoin.com
Author: Crypto Smart Coinhttps://cryptosmartcoin.com
Crypto.com Debuts French Version of App and Exchange
More Languages Coming Soon
HONG KONG, Sept. 4, 2020 /PRNewswire/ — Today, Crypto.com introduced the French version of the Crypto.com App and Crypto.com Exchange, advancing the company's mission of accelerating the world's transition to cryptocurrency.
Since rolling out the Crypto.com Card to 31 European markets in April of this year, Crypto.com has seen strong user growth throughout the continent. The Crypto.com App has reached top 50 in the Finance category in France, Italy, Spain and the UK where its popularity continues to grow thanks to unrivaled benefits: competitive rates, unprecedented cashback rewards when shopping with the Crypto.com card, and the ability to purchase Gift Cards using crypto for top brands throughout Europe. The team has bolstered its regulatory compliance within the complex payments and crypto ecosystem and launched local Telegram communities supporting most EU languages for better access to instant feedback and support.
Eric Anziani, COO of Crypto.com, said, "We're excited to launch the first local-language version of our App and Exchange in French, bringing us one step closer to fulfilling our vision of accelerating the world's transition to cryptocurrency. There's a vibrant Francophone crypto community, especially in the fast-growing DeFi space; France is also home to great innovators and partners like Ledger. Expect to see more local language versions of our App and Exchange soon, as we work to put cryptocurrency in every wallet."
French language versions of both the Crypto.com App and Crypto.com Exchange will be available immediately. Crypto.com will provide community support via its dedicated French-language Telegram channel: https://t.me/Cryptocom_FR
About Crypto.com
What future awaits cryptocurrencies?
Crypto.com was founded in 2016 on a simple belief: it's a basic human right for everyone to control their money, data and identity. With over 3 million users on its platform today, Crypto.com provides a powerful alternative to traditional financial services, turning its vision of "cryptocurrency in every wallet" into reality, one customer at a time. Crypto.com is built on a solid foundation of security, privacy and compliance and is the first cryptocurrency company in the world to have ISO/IEC 27701:2019, CCSS Level 3, ISO27001:2013 and PCI:DSS 3.2.1, Level 1 compliance. Crypto.com is headquartered in Hong Kong with a 500+ strong team. For more information, please visit www.crypto.com.
Logo : https://mma.prnewswire.com/media/888271/Crypto_Logo.jpg
Photo: https://mma.prnewswire.com/media/1249069/Crypto_French_App.jpg
Source: news.yahoo.com
India Plans Bitcoin Ban Even as Its Banking System Gradually Collapses
The Indian government is planning to introduce a law that would effectively ban Bitcoin.
Local media reports that the Ministry of Finance has moved the proposal for inter-ministerial consultation.
India's decision to ban cryptocurrencies surface even as it faces one of its worst credit and banking crisis.
The Indian government may ban Bitcoin.
According to a report by Economic Times, the country's finance ministry has sent the proposal for inter-ministerial consultation. The department then expects to forward the plan to its top cabinet, which operates directly under Prime Minister Narendra Modi. The move further allows the motion to be tabled as a bill in the parliament.
The news comes months after the Supreme Court of India reversed a de-facto bitcoin ban imposed by the country's central bank. In its ruling, the apex judiciary had said:
"While we have recognised… the power of Reserve Bank of India to take preemptive action, we are testing in this part of the order the proportionality of such measure, for the determination of which RBI needs to show at least some semblance of any damage suffered by its regulated entities. But there is none."
Nevertheless, a draft proposed by an interministerial committee in 2019 had noted Bitcoin's role in money laundering and terrorist financing activities. A senior government official told ET that the Finance Ministry is now looking to have a "more effective" and irreversible policy to contain such risks.
The government needs to stop this madness of deciding whether they want to ban crypto or not. Either do it so we can fight it or come up with better regulations instead of throwing a news byte every few days creating panic in public.
Aadmi kare to kya kare?
— Naimish Sanghvi (@ThatNaimish) June 12, 2020
India's proposal to ban bitcoin surfaced at a time when the country is facing one of its biggest economic crisis.
As Asia's third-largest economy undergoes its slowest growth in more than ten years, rating agency Moody has downgraded its status to Baa3. Other agencies, such as Fitch and S&P, too, have kept India one position above junk.
Analysts blame the global pandemic, but, in reality, the country's root economic problems existed before the virus. One pivotal weakness is the credit crisis: a long history of bad loans that threatens its entire banking system.
The concerns escalated back in 2018 when IL&FS, a top financier, nearly collapsed and left a trail of bad debts. Meanwhile, Dewan Housing Finance, an informal bank, went bankrupt over similar issues. In March 2020, private banking firm Yes Bank had to be bailed out by the Modi government.
With cash-flow strapped, the crisis now looms over India's ability to recover from the pandemic.
Escapist investors have started looking at alternatives to reduce their exposure from the Indian market. With expected slow growth leading to lower returns across the bond and equity markets, many have moved into Bitcoin as their hedge.
Data released by bitcoin marketplaces Paxful and LocalBitcoin showed a decent surge in the cryptocurrency trading in India. While LocalBitcoins hosted trades worth $14.5 million since March 2020, while coins traded via Paxful amounted to $15.36 million worth of deals.
The surge in demand has also led significant firms to choose India as their next crypto destination. Binance, the world's largest crypto exchange by volume, earlier this year, acquired a regional p2p crypto marketplace WazirX.
The latter's CEO, Nischal Shetty, called the Indian crypto market "a sleeping giant," noting that the court's bitcoin ban reversal would help create "hundreds of startups" in the country.
But with the latest ban report, Mr. Sherry expressed his disappointment with the Modi government, stating that they "do not understand" the technology.
Source: crytonow.com
Author: adminhttps://crytonow.com
Singapore Exchange to Bring Regulated Bitcoin and Ethereum Cryptocurrency Indices to Asia
Singapore Exchange Ltd (SGX) has announced plans to launch two new cryptocurrency indices.
The iEdge Bitcoin Index, and the iEdge Ethereum Index, will bring certified price referencing to the Asia region.
Head of Index Services at SGX, Simon Karaban said the lack of transparency in the cryptocurrency space has left a huge gap in the marketplace. He believes the Bitcoin and Ethereum indices will go some way towards plugging that gap.
What's more, Karaban emphasized the positive effect this will have on the industry as a whole. After all, regulators will be much more open to cryptocurrency derivative products if they operate on a regulated exchange.
"It's important to bring transparency to this segment of the market. In addition, regulators in Asia are more receptive to creation of derivatives products if they're on regulated exchanges."
SGX have enlisted the help of UK-based cryptocurrency market data specialists CryptoCompare in this venture.
Using data provided by CryptoCompare, the iEdge indices will calculate an aggregated price for Bitcoin and Ethereum against the USD.
By using an Exchange Benchmark rating system, the iEdge indices derive price data only from exchanges rated AA and A. In addition, a weighting system gives more emphasis to the top AA-rated exchanges.
"The Benchmark adoptsan innovative ranking methodology that utilises a combination of qualitative and quantitative metrics and assigns a AA -F grade to help identify the lowest risk venues in the industry. iEdge Cryptocurrency Indices use prices from top rated (AA and A) exchanges only."
On the partnership with SGX, CryptoCompare Commercial Director James Harris reiterated the importance of bringing transparency to the market by using trusted data and sound methodology.
"Our mission is to bring greater transparency to the digital asset class by providing high-quality, trusted data and indices."
What's more, the opportunity for Asian cryptocurrency indices is promising. Research conducted by CryptoCompare shows huge growth potential for the iEdge indices.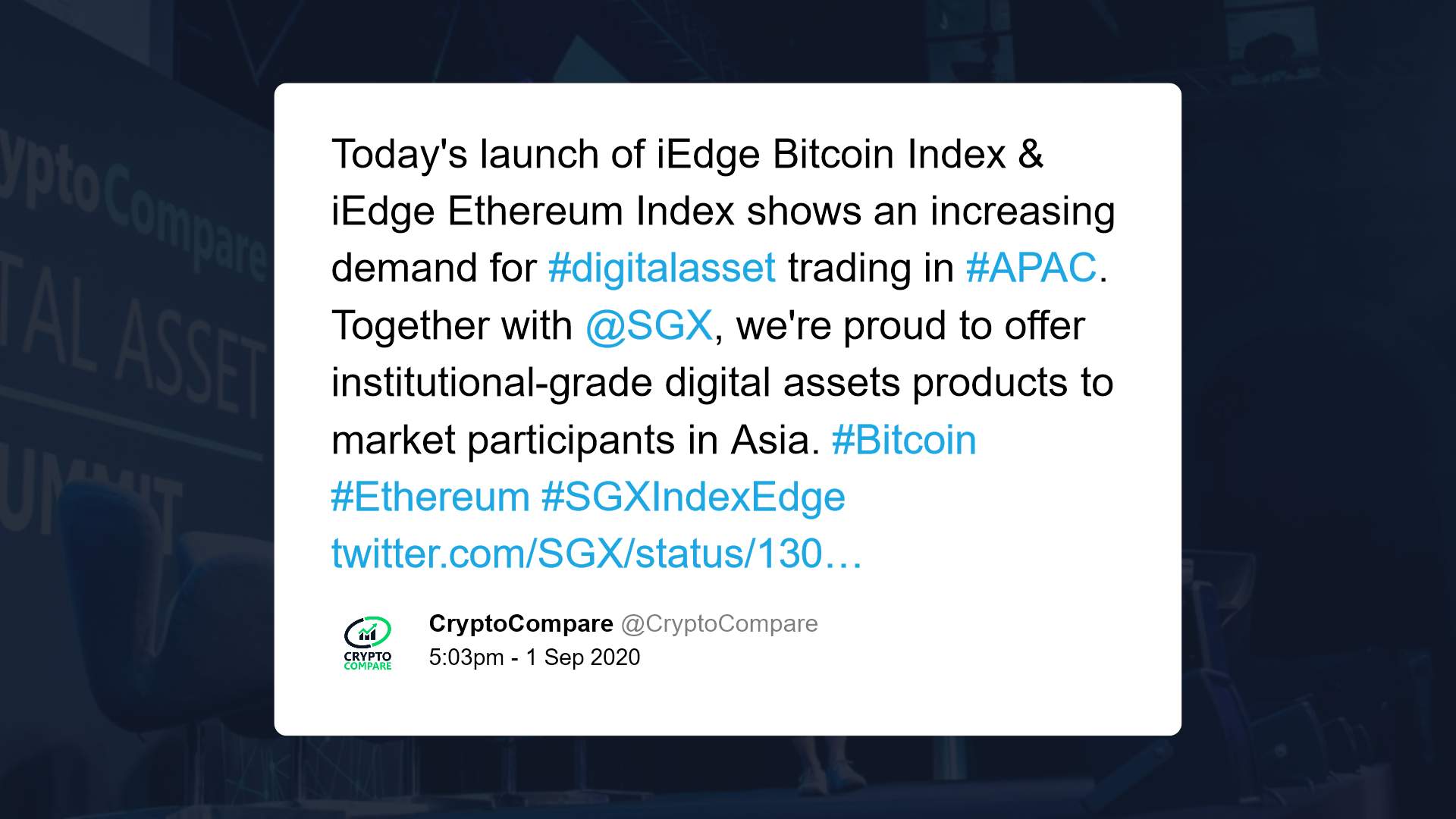 Source: twitter.com
In March 2017, global cryptocurrency tracker funds had total assets under management of $220 million. But by June 2020, this figure had risen to $4.5 billion.
This represents a compounded growth rate of just under 150% per year.
"While much of the AUM is currently captured by asset managers based in the United States and the Europe, Middle East and Africa (EMEA) region, Asia is well-positioned to raise its share of this global AUM given that Asian fiat-crypto trading pairs now account for 43 per cent of total global spot volumes."
As emphasized by CryptoCompare, only a small proportion of this expansion came from Asia, meaning the scope for further expansion in the region is massive.
Industry observers consider SGX to be one of Asia's top exchanges.
The latest market stats show there were 716 companies listed on the SGX with a combined market cap of $814 billion.
Source: www.newsbtc.com
Author: Samuel Wan
Previous
Next