Government Think Tank Niti Aayog Identifies Key Blockchain Use Cases for India | Regulation Bitcoin News
The policy think tank for the government of India, Niti Aayog, has published a strategy document identifying a number of key areas blockchain technology can significantly benefit the country. "By empowering citizens through features of transparency, decentralization and accountability, blockchain would help in improving ease of living," explained Niti Aayog.
Also read: Regulatory Roundup — New US Crypto Tax Bill, Central Banks Join Forces on Digital Currencies
The National Institution for Transforming India, also called Niti Aayog, is the Indian government's premier policy think tank. Its current chairman is Prime Minister Narendra Modi. The institute published a draft discussion paper last week entitled "Blockchain: The India Strategy — Towards Enabling Ease of Business, Ease of Living and Ease of Governance." The 59-page policy paper is part one of two. It discusses the basics of blockchain technology, its framework, the implementation challenges and lessons from Niti Aayog's experiences, its use cases, and recommendations for India's blockchain strategy.
Niti Aayog CEO Amitabh Kant commented:
Governance in India faces unique challenges given the scale, diversity and complexity of processes involved for delivery of varied public services. Blockchain offers unique possibilities of addressing issues relating to improving governance.
"By empowering citizens through features of transparency, decentralization and accountability, blockchain would help in improving ease of living," he added.
"This strategy document is targeted at all stakeholders such as government, enterprise leaders, and citizens, with the aim to demystify the concepts surrounding this technology, identify areas where it can be utilized for more transparent and open models of cooperation between entities and recommend the next steps towards achieving this goal," the paper explains.
The report then outlines a number of areas blockchain technology can help India, such as "better contract management and procurement, greater accountability and quality control across supply chains and decentralization of authority in decision making."
Niti Aayog specifically described several use cases for which it had been experimenting on using blockchain technology. The first was using a blockchain to create a new system to manage land records. The second was using it for the pharmaceutical drugs supply chain, the institute detailed, noting:
It was found that blockchain technology has the potential to improve transparency, efficiency and reliability of transactions in a heavily regulated pharmaceutical industry.
The third was using blockchain technology for educational certificates to fight fraud. Other use cases the institute mentioned include the immunization supply chain, chit funds, insurance such as medical and automotive, EV battery swapping, organic farming, and energy trading.
Stressing the importance of understanding the mechanism of decentralization behind peer-to-peer (P2P) exchange, Niti Aayog asserted: "Networks completely regulated by governments can be decentralized and feature peer-to-peer exchange and, totally centralized systems can also be unregulated and operate beyond the bounds of law. Decentralized networks do not necessarily mean they aren't regulated." The report also discusses permissioned and permissionless systems. Niti Aayog recommends:
Governments should pay special attention to decentralised networks where peer-to-peer transactions can create more socio-economic value.
The strategy document additionally suggests that "Sectors of governmental intermediation where a state entity is involved just for ledger maintenance or collecting state dues but is not adding value to the transaction can be relooked to assess how government's role can be redefined in those sectors."
Niti Aayog believes that "India has a unique strategy for the government to take the lead in creating public digital infrastructure and allowing private sector innovation to leverage it for further development." Some examples of digital infrastructure built by the Indian government are Aadhaar, UPI, e-sign, Digilocker, and digitally enabled tax governance or health coverage networks. The think tank detailed:
From an India use case perspective, blockchain solutions are both appropriately suited for addressing several challenges and will also benefit from the infrastructure created already.
At the end of the document, Niti Aayog highlighted a number of recommendations it will discuss in the second part of the strategy report, expected to be released in the coming weeks. It will cover specific recommendations that can enable the growth of India's blockchain ecosystem, including regulatory and policy considerations and the creation of Indiachain, a national infrastructure for the deployment of blockchain solutions. Moreover, a strategy for India to become a blockchain hub for research and development and workforce training will be discussed, along with the procurement process for government agencies to adopt blockchain solutions and an Indian rupee-pegged stablecoin.
Niti Aayog's paper followed a publication by the National Institute for Smart Government (NISG) on India's National Strategy on Blockchain, which was tasked with preparing the policy by the National e-Governance Division, under the Ministry of Electronics and Information Technology (MeitY).
What do you think of Niti Aayog's recommendations? Let us know in the comments section below.
Disclaimer: This article is for informational purposes only. It is not an offer or solicitation of an offer to buy or sell, or a recommendation, endorsement, or sponsorship of any products, services, or companies. Bitcoin.com does not provide investment, tax, legal, or accounting advice. Neither the company nor the author is responsible, directly or indirectly, for any damage or loss caused or alleged to be caused by or in connection with the use of or reliance on any content, goods or services mentioned in this article.
Did you know you can buy and sell BCH privately using our noncustodial, peer-to-peer Local Bitcoin Cash trading platform? The local.Bitcoin.com marketplace has thousands of participants from all around the world trading BCH right now. And if you need a bitcoin wallet to securely store your coins, you can download one from us here.
Bitcoin, Blockchain solutions, BTC, Cryptocurrency, Digital Currency, India, Indian, Niti Aayog, Recommendations, Stablecoin, use cases, Virtual Currency
Spot-markets for Bitcoin, Bitcoin Cash, Ripple, Litecoin and more. Start your trading here.
Source: news.bitcoin.com
Author: Regulation by Kevin Helms
Bitcoin Miner Is Scoring 700% Profits Selling Energy to Grid

Photographer: Eddie Seal/Bloomberg
Photographer: Eddie Seal/Bloomberg
On a sweltering summer afternoon in West Texas, a cryptocurrency miner backed by billionaire Peter Thiel powered down its data-processing centers for about 30 minutes. During that short window, the company made money not from Bitcoin, but from selling electricity.
On hot days without wind, the company, Layer1, can sell its contracted power supplies back into the grid for a profit. Recently, when power prices in Texas topped $200 a megawatt-hour, Layer1 reaped returns of more than 700%, according to its founder and chief executive officer, Alexander Liegl. At night, as power prices drop to zero or lower due to the oversupply of wind energy, it can throttle up operations as much as the circuit boards can handle.
When that happens, "we're getting paid to produce Bitcoins," Liegl said.
The strategy is part of a trend that's revolutionizing how big electricity users interact with the grid. Instead of just passively consuming, tech giants and others are adjusting their operations hour by hour to access the cheapest, and in some cases cleanest, power. The move isn't just profitable — it's key to using more renewable energy. Currently, grids rely on natural gas and other fossil fuels to ramp up when demand peaks. When big users adjust consumption, wind and solar can handle more of the load.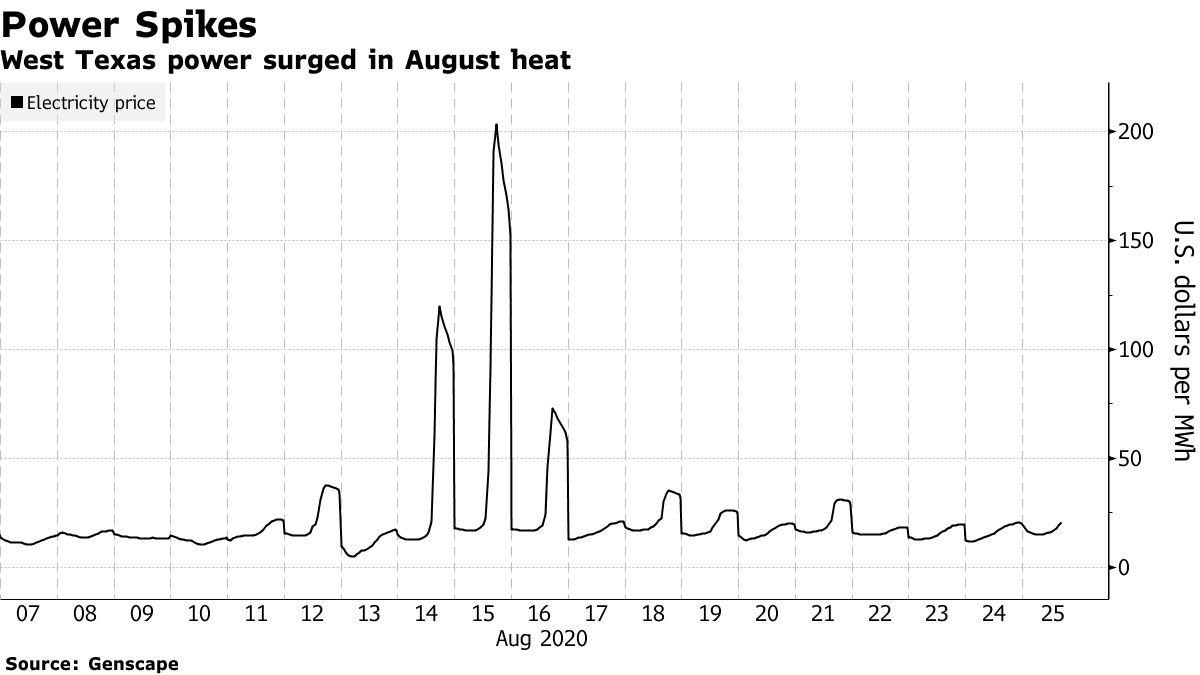 "Flexible loads and devices are the key to getting beyond 50% renewables," said Brian Janous, general manager of energy and sustainability at Microsoft, which is working to ramp data centers up and down depending how much wind and solar are on the grid at a given moment. "It's a necessity. To get to 70%, 80% or 100% penetration you need to orchestrate everything attached to the grid."
Barriers remain. They include utility monopolies that restrict how consumers get their energy in order to protect their own revenues. And in the states that have opened utilities to competition—mostly the Northeast, California and Texas—the customer usage and grid data that could help develop new markets is tightly regulated.
But batteries, smart meters and artificial intelligence software that help companies respond to market price signals in real time are all helping to accelerate the trend toward renewables. Self-contained microgrids—once a costly way to keep the lights on during blackouts for college campuses and hospitals—can now make money by supplying utility grids with power when they need it most.
Regulators have taken notice and are cautiously changing the way they value these services to the grid.
Google, which buys power directly from wind and solar farms near its operations, is now looking at ways it can time its usage to absorb excess supplies and release energy when output stalls, said Michael Terrell, head of energy market strategy at Google.
"Demand is a very important part of the equation," Terrell said. "We've moved tasks to different times of day. Our plan is to shift loads between locations and times. We're now adapting machines to be ready for that. We're still in the early stages."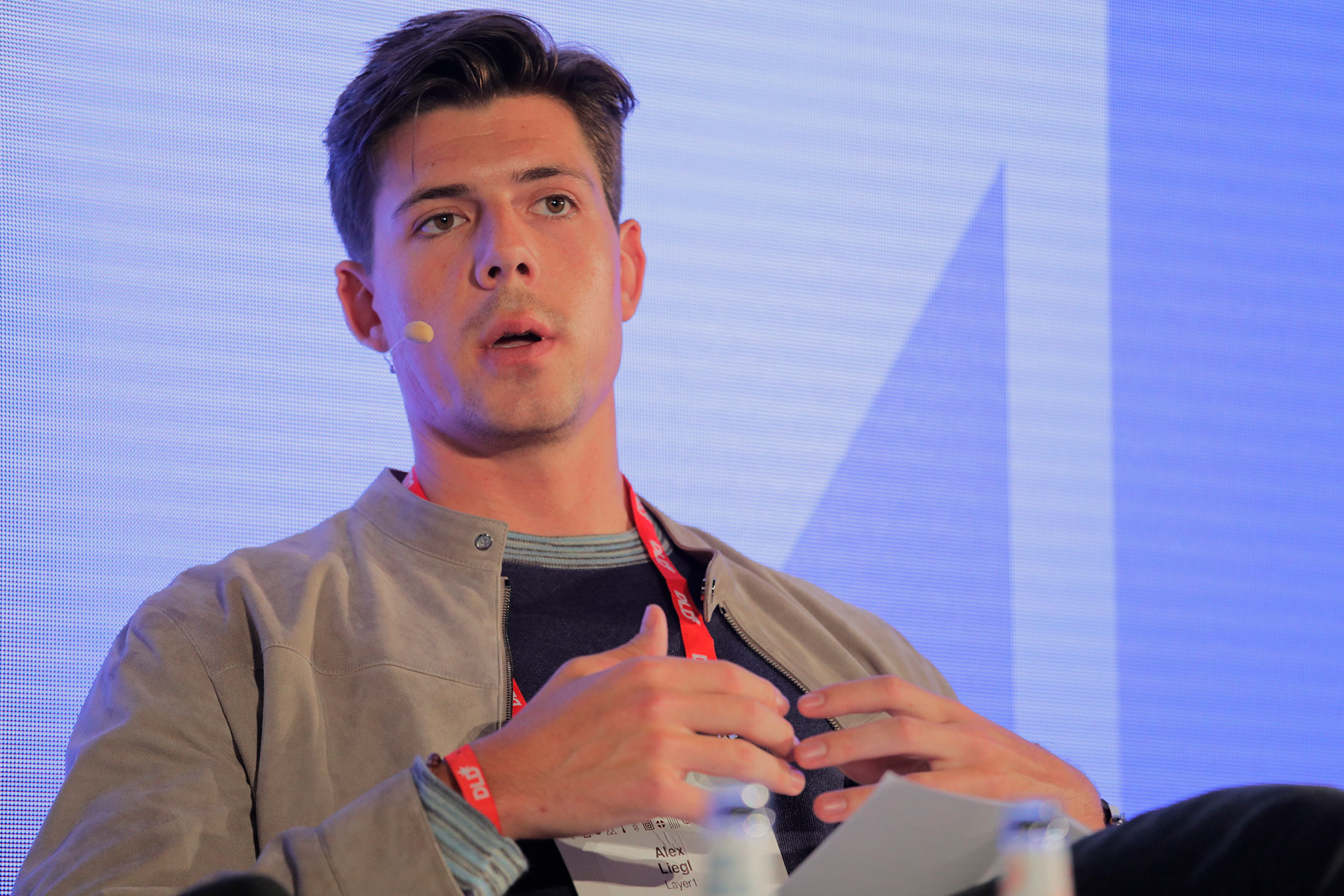 Alexander Liegl
Photographer: Picture Alliance for DLD/Hubert Burda Media/dpa via AP
Bitcoin mining isn't a naturally green endeavor. It requires vast amounts of electricity, often from fossil fuels.
Layer1 has mitigated that, to some extent, by setting up shop on a power grid that has more wind energy than anywhere else in the U.S. The company is essentially able to act as a power plant – ramping up and down according to the grid's needs. That means energy-intensive businesses like it could theoretically eliminate the need for back-up gas generation in some areas. Placing data centers near wind farms would further enable them to supplement, or take advantage of, that energy source.
Layer1 in June became the first company to become qualified as what the Electric Reliability Council of Texas calls a "controllable load resource," meaning they are paid to cut their use when needed.
Texas hasn't had wild price spikes this year like it did last summer. But under one grid program, Layer1's flexibility is still saving it money. The company, which has a long-term contract in place to buy power, estimates it will save as much as $6.7 million on its annual power bill by cutting production for a half-hour during each of the hottest days in June, July, August and September, Liegl said.
By this spring, he expects to install 50 cryptocurrency mining containers on his 30-acre campus west of Midland, Texas, that will consume as much as 100 megawatts of electricity. At that rate, he says they can produce about 27 Bitcoins a day, worth about $310,000 at recent prices. When he's not making money off that, at least there's an electricity market to trade.
"The more capacity, the bigger the size, the more money," Liegl said.
Source: www.bloomberg.com
Author: By
Chris Martin
WARNING: Next Bitcoin Move! Prepare Yourself!! (Cryptocurrency News + Trading Price Analysis)
BITCOIN TODAY: In this video, I will do an analysis on the price of Bitcoin BTC as well as look at some of the biggest news. There are 2 scenarios I am watching out for in the bitcoin price. I want to be in the perfect position so no matter what happens, I make money. This BTC news & analysis can be inspiration for your own Bitcoin trading or investing, but is NOT financial advice.
👌 SUBSCRIBE: https://goo.gl/f1mwE1
**DISCLAIMER**: I am not a financial advisor nor am I giving financial advice. I am sharing my biased opinion based off speculation. You should not take my opinion as financial advice. You should always do your research before making any investment. You should also understand the risks of investing. This is all speculative based investing.
#XRP #cryptocurrency #bitcoin #blockchain #crypto #btc #bitcoincash #bch #bsv #ethereum #eth #ripple #xrp #binance #bnb #quantnetwork #qnt #bancor #bnt #iota #miota #cardano #ada $BTC $ETH $XRP #INT $INT
Source: bitcoinslate.com
Author: admin
Bitcoin and Ethereum Weekly Technical Analysis – August 31st, 2020
Bitcoin rose by 0.57% in the week ending 30th August. Following a 2.19% slide from the previous week, Bitcoin ended the week at $11,730.0.
It was a bullish start to the week. Bitcoin rose to a Monday intraweek high $11,847.0 before hitting reverse.
Falling short of the first major resistance level at $12,305 Bitcoin slid to a Tuesday intraweek low $11,137.0.
Bitcoin fell through the first major support level at $11,205, Bitcoin a moving back through to $11,700 levels on Sunday.
4 days in the green that included a 2.07% gain on Sunday delivered the upside for the week.
Bitcoin would need to avoid a fall through $11,571 pivot to support a run the first major resistance level at $12,006.
Support from the broader market would be needed for Bitcoin to break out from last week's high $11,847.
Barring an extended crypto rally, the first major resistance level and last week's high would likely cap any upside.
In the event of a breakout, Bitcoin could test the second major resistance level at $12,281. Expect plenty of resistance at $12,000, however.
Failure to avoid a fall through the $11,571 pivot would bring the first major support level at $11,296 into play.
Barring an extended sell-off, Bitcoin should avoid sub-$11,000 and the second major support level at $10,861.
In the event of a sell-off, expect support at $10,500 to be tested in the week.
At the time of writing, Bitcoin was down by 0.02% to $11,727.2. A mixed start to the week saw Bitcoin fall to an early Monday morning low $11,713.0 before rising to a high $11,744.0.
Bitcoin left the major support and resistance levels untested at the start of the week.
View photos
Ethereum rose by 9.73% in the week ending 30th August. Reversing a 9.87% slide from the previous week, Ethereum ended the week at $428.94.
A bullish start to the week saw Ethereum rise to a Monday high $411.97 hitting reverse.
Falling well short of the first major resistance level at $432.00, Ethereum slid to Tuesday intraweek low $369.36.
Ethereum steered clear of the 23.6% FIB of $367 and the first major support level at $364 in the pullback.
Finding support in the latter part of the week, Ethereum struck a Sunday intraweek high $429.90 before easing back. In spite of the rally, Ethereum came up short of the first major resistance level at $432.
5 days in the green that included a 4.31% gain on Monday and 7.62% rally on Sunday delivered the upside.
A 5.99% slide on Tuesday limited the upside for the week, however.
Ethereum would need to avoid a fall through the $409 pivot to support a run at the first major resistance level at $449.
Support from the broader market would be needed, however, for Ethereum to break out from an early Monday high $430.55.
Barring an extended crypto rally, the first major resistance level would likely cap any upside.
In the event of another breakout, Ethereum could test the second major resistance level at $470.
Failure to avoid a fall through the $409 pivot would bring the first major support level at $389 into play.
Barring an extended broader-market sell-off, however, Ethereum should steer well clear of the 38.2% FIB of $367. The second major support level sits at $349.
At the time of writing, Ethereum was down by 0.42% to $427.14. A mixed start to the day saw Ethereum rise to an early Monday morning high $430.55 before falling to a low $424.11.
Source: finance.yahoo.com
Author: Bob Mason
Previous
Next