Bitcoin Hesitates, But Break Above 100 SMA Could Trigger A Sharp Rise – Crypto Money Daily
Bitcoin price is currently recovering and trading above $11,500 against the US Dollar. BTC is likely to accelerate higher once it clears the $11,700 resistance and the 100 hourly SMA.
Bitcoin is showing a few positive signs and trading above the $11,500 level.
The price is testing a major resistance near $11,700 and the 100 hourly simple moving average.
There is a major bearish trend line forming with resistance near $11,690 on the hourly chart of the BTC/USD pair (data feed from Kraken).
The pair must settle above the $11,800 level to move into a positive zone in the near term.
Bitcoin price formed a decent support base above the $11,350 level and recently started a recovery wave against the US Dollar. BTC broke a couple of key hurdles near the $11,500 and $11,600 levels.
There was also a break above the 50% Fib retracement level of the downward move from the $11,900 swing high to $11,350 swing low. The price is now trading above $11,650, but it is facing a major resistance near $11,700 and the 100 hourly simple moving average.
There is also a major bearish trend line forming with resistance near $11,690 on the hourly chart of the BTC/USD pair. The trend line is close to the 61.8% Fib retracement level of the downward move from the $11,900 swing high to $11,350 swing low.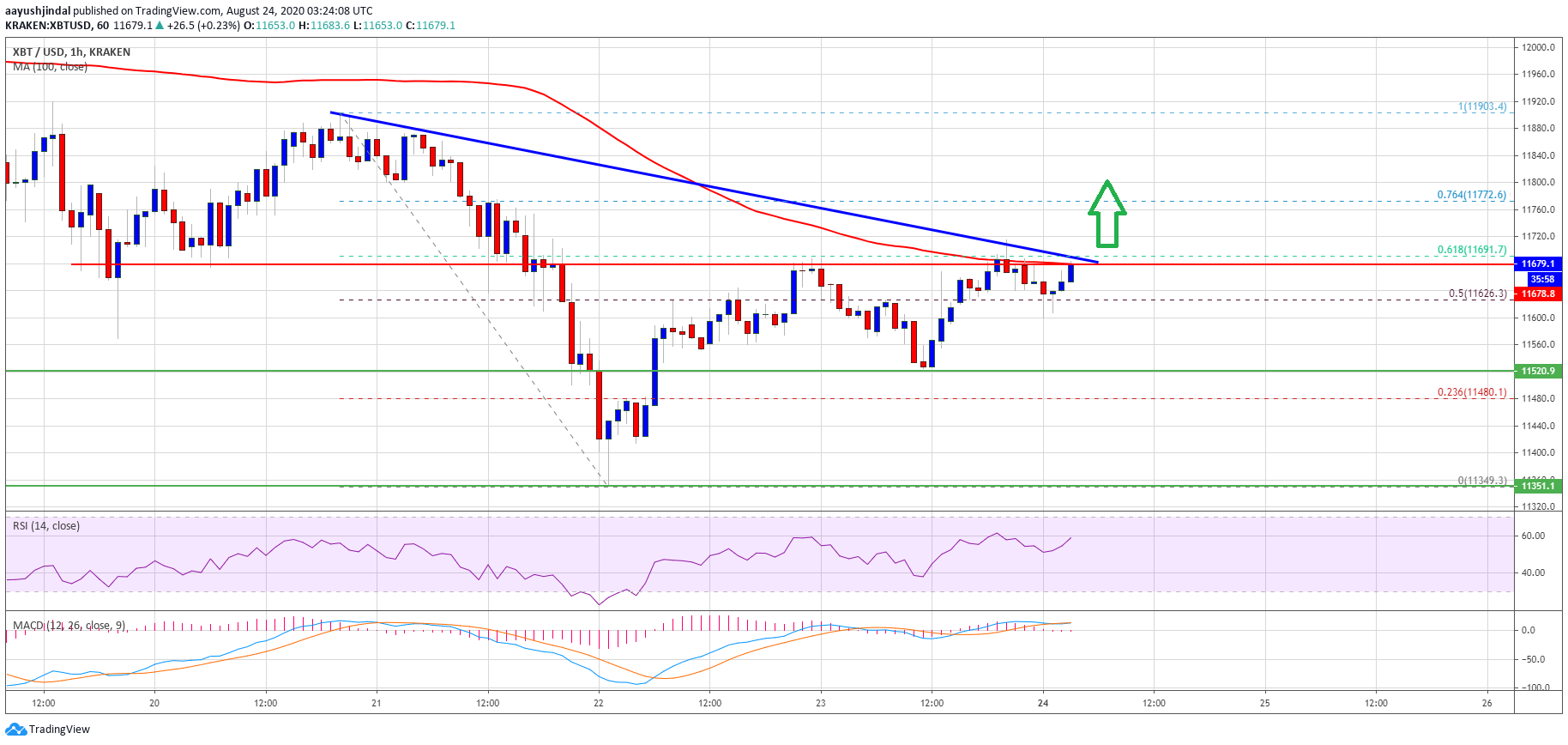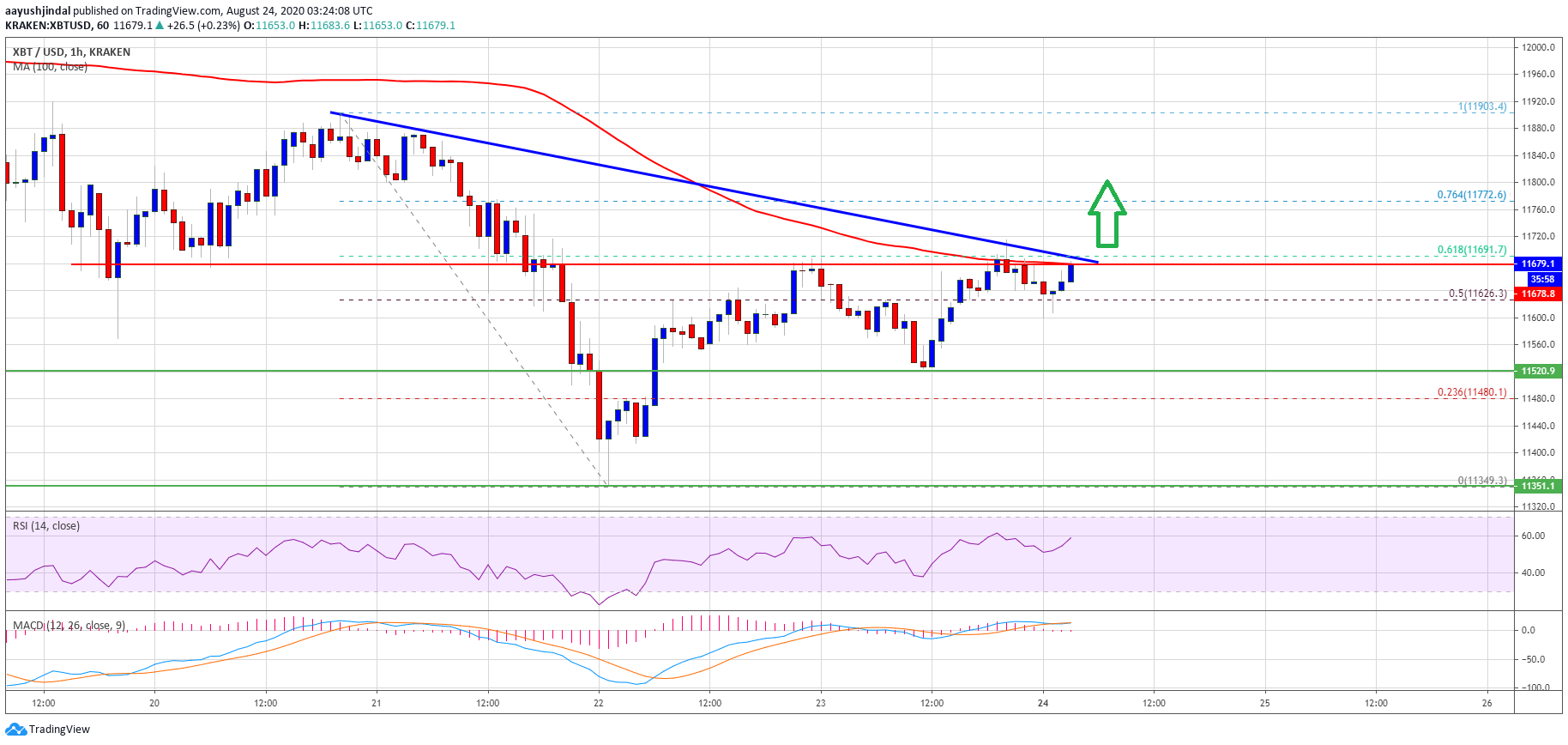 Bitcoin price trades above $11,650. Source: TradingView.com
A successful break above the trend line resistance, $11,700, and the 100 hourly SMA could lead the price towards the $11,800 resistance. A successful close above the $11,800 level might lead the price towards the $12,000 barrier in the coming sessions.
In the mentioned bullish case, the bulls are likely to gain strength and there are chances of a drift towards the $12,500 level.
If bitcoin fails to continue higher above the 100 hourly SMA or the $11,700 resistance, there could be a fresh rejection and a bearish reaction.
An initial support on the downside is near the $11,600 level. The first major support is near the $11,520 level, below which the price might dive towards the $11,350 support level in the near term.
Technical indicators:
Hourly MACD – The MACD is slowly losing momentum in the bullish zone.
Hourly RSI (Relative Strength Index) – The RSI for BTC/USD is now well above the 50 level, with a bullish angle.
Major Support Levels – $11,600, followed by $11,520.
Major Resistance Levels – $11,700, $11,800 and $12,000.
Source: cryptomoneydaily.com
Top Trader Analyzes Odds of Ethereum and XRP Moonshots, Says Bitcoin and Four Altcoins Heating Up
Top trader and crypto strategist Michaël van de Poppe is sizing up the opportunities in Ethereum (ETH) and XRP as both coins show strong bullish potential.
In a new YouTube video, the analyst also known as Crypto Michaël says that Ethereum is in the early stages of a bull market.
"We have broken a one-year accumulation range, and we are acting above the 100-day and 200-day [moving average], not only on the daily timeframe but also on the weekly timeframe, which essentially is a bull territory case."
Van de Poppe explains that while ETH is poised to correct, getting the ideal entry is unlikely as market participants tend to front-run each other in a bull market. He suggests hopping on the train on the next pullback as he expects Ethereum to explode after a brief dip.
"The essential strategy you want to have in this case is just [to] buy the dip. Once the next dip comes, which essentially could be towards $300, could be towards $360… That dip you would want to get as the next rally should most likely bring us towards $700."
Crypto Michaël is also bullish on XRP as he believes that Ripple's native token has the potential to reclaim $1.00 in the long haul. In the meantime, he predicts that the third-largest cryptocurrency will continue to consolidate in the near term before launching the next bull cycle.
"You want to see some compression here, sideways movements. Then, you're going to break through this high and make a new higher high, which essentially should lead towards $0.40 or even $0.50. Then, you can start defining the levels from the expansion we have here in which a rally towards even $0.61, or in this case, the block around $0.68 is very likely to occur."
As for Bitcoin, the crypto strategist tells his 69,000 Twitter followers that he expects BTC to correct and drop below $10,500 before resuming its climb. He says his thesis would be invalidated if the crypto king manages to convert $12,000 resistance into support.
Van de Poppe is also keeping close tabs on four other altcoins. He says Litecoin (LTC) can potentially ascend to $75 if bulls manage to breach a key resistance. But the trader notes that Ontology (ONT), NEO, and EOS have a better market structure than LTC.
l
Source: dailyhodl.com
Satoshi Nakaboto: 'Bitcoin hovering above $10,000 for second-longest time ever'
Our robot colleague Satoshi Nakaboto writes about Bitcoin BTC every fucking day.
Welcome to another edition of Bitcoin Today, where I, Satoshi Nakaboto, tell you what's been going on with Bitcoin in the past 24 hours. As Albert Einstein used to say: Fight the power!
We closed the day, August 23 2020, at a price of $11,664. That's a minor 0.12 percent decline in 24 hours, or -$14.85. It was the lowest closing price in one day.
We're still 41 percent below Bitcoin's all-time high of $20,089 (December 17 2017).
Bitcoin's market cap ended the day at $215,439,967,321. It now commands 61 percent of the total crypto market.
Yesterday's volume of $18,482,062,658 was the lowest in thirteen days, 18 percent below last year's average, and 75 percent below last year's high. That means that yesterday, the Bitcoin network shifted the equivalent of 295 tons of gold.
A total of 288,571 transactions were conducted yesterday, which is 9 percent below last year's average and 36 percent below last year's high.
Yesterday's average transaction fee concerned $0.65. That's $3.25 below last year's high of $3.91.
What future awaits cryptocurrencies?
As of now, there are 18,923 Bitcoin millionaires, or addresses containing more than $1 million worth of Bitcoin.
Furthermore, the top 10 Bitcoin addresses house 4.9 percent of the total supply, the top 100 14.2 percent, and the top 1000 34.8 percent.
With a market capitalization of $216 billion, Bank of America has a market capitalization most similar to that of Bitcoin at the moment.
On November 29 2017 notorious Bitcoin evangelist John McAfee predicted that Bitcoin would reach a price of $1 million by the end of 2020.
He even promised to eat his own dick if it doesn't. Unfortunately for him it's 97.8 percent behind being on track. Bitcoin's price should have been $533,761 by now, according to dickline.info.
On a yearly basis Bitcoin now uses an estimated 67 terawatt hour of electricity. That's the equivalent of Czech Republic's energy consumption.
Yesterday 28,557 fresh tweets about Bitcoin were sent out into the world. That's 39.6 percent above last year's average. The maximum amount of tweets per day last year about Bitcoin was 82,838.
This was yesterday's most upvoted Reddit post about Bitcoin:
The price of Bitcoin has now stayed above $10,000 for the third-longest time in its history from r/CryptoCurrency
print(randomGoodByePhraseForSillyHumans)
My human programmers required me to add this affiliate link to eToro, where you can buy Bitcoin so they can make 'money' to 'eat'.
Source: thenextweb.com
Author: Satoshi Nakaboto
Why the Bitcoin vs. Ethereum 'Rivalry' Advantages Each Tokens
The bitcoin (BTC)-ethereum (ETH) rivalry is hotting up. For years bitcoin has loved a dominant share of the crypto sector, but with decentralized finance (DeFi) now gaining astronomical recognition and ETH rising by 231% over the course of the previous 12 months, it appears as if BTC's as soon as unassailable place on the high of the stack is now coming below risk.
A small but important variety of Bitcoiners is turning into nervous about ethereum's sturdy 2020. Some are fearful that ethereum's stronger current efficiency might influence confidence in Bitcoin or divert capital and adoption away from the world's largest cryptocurrency.
Nevertheless, a variety of business figures and consultants have advised Cryptonews.com that the "rivalry" between bitcoin and ethereum considerably overstated. Most imagine that every token performs a distinct function and occupies its personal area of interest inside the crypto ecosystem. And plenty of opine that collectively the 2 cash will as a substitute complement one another – and assist the entire crypto sector develop.
A lot of ethereum's stronger development this yr stems from DeFi, which has risen by round 580% (when it comes to worth locked in) over the yr thus far, per DeFiPulse information. On condition that ethereum-based platforms account for the overwhelming majority of the DeFi sector, DeFi's development instantly feeds the Ethereum community's development.
This has nervous a small variety of Bitcoin supporters. Standard commentator 'CobraBitcoin' not too long ago tweeted, "Ethereum ****ing scares me."
Whereas most individuals inside crypto agree that DeFi has been the primary driver of ethereum's stronger relative development, they suppose the enlargement of DeFi will, in truth, be constructive for bitcoin, or at worse impartial.
Matt Luongo, the CEO of Thesis, which develops the bitcoin rewards app Fold, says,
"The current development in ethereum, and DeFi particularly, affords alternatives to bitcoin holders to take part in thrilling new platforms for borrowing, lending, derivatives and different monetary actions."
Luongo tells Cryptonews.com that DeFi firms are growing new merchandise that meet wants that haven't been addressed earlier than in finance. He provides,
"There's nearly limitless room for development for each blockchain networks, and rising cross-chain performance will act as a multiplier, spurring elevated adoption of each ethereum and bitcoin."
CryptoCompare CEO and co-founder Charles Hayter additionally believes that DeFi and ethereum are positives for bitcoin.
He tells Cryptonews.com,
"It's seemingly that DeFi and ethereum's development and the eye it has drawn has impacted positively on bitcoin's worth and the ecosystem at massive."
Different commentators – significantly these extra skeptical of DeFi and its sustainability (or in any other case) – recommend that there have been some downsides for bitcoin.
"The expansion of DeFi is each constructive and unfavorable for bitcoin (and the crypto area)," says Tone Vays, a crypto analyst and organizer of The Monetary Summit.
Vays states,
"On the one hand it's producing buzz in our ecosystem, whereas on the opposite, it's creating an unsustainable bubble in vaporware similar to the 2017 preliminary coin providing (ICO) bubble."
If DeFi is a bubble, the fear is that it could scale back confidence in bitcoin when it pops, which might additional delay adoption and funding.
Wanting on the longer-term image, and assuming that DeFi has a sustainable core, opinion is extra blended as to how the bitcoin vs ethereum rivalry will play out.
"My private perception is that DeFi will proceed to develop from right here," says Synthetix communications supervisor Garth Travers. "To the place it is going to develop nobody can say, however there's nonetheless lots of capital allotted to legacy initiatives which might be undertaking nothing of worth."
Once more, even when DeFi continues to develop in the long run, most individuals don't suppose this can damage bitcoin in any existential method.
Luongo opines,
"The important thing subject right here is just not ethereum vs bitcoin however the truth that we're establishing a brand new decentralized economic system to step over the rigged, closed techniques which were mismanaged by earlier generations."
He notes that bitcoin and ethereum each "mirror a view of cash centered on private autonomy and the concept entry to finance ought to be freed from the controlling affect of highly effective middlemen."
To some extent, consultants say, bitcoin's place is protected against ethereum by the truth that it serves a really completely different objective.
Hayter argues,
"Ethereum and DeFi intention to harness the advantages of decentralized protocols to revolutionize the way in which a bunch of industries comparable to finance, lending, insurance coverage, and buying and selling are performed, whereas bitcoin is establishing itself as an inflation-beating 'digital gold' which is proving engaging to retail and institutional buyers alike."
Hayter believes that "DeFi can be a major constituent of the crypto marketplace for years to return." Nevertheless, extra pro-bitcoin commentators comparable to Vays imagine nearly the other is true.
He says,
"There's nothing sustainable about DeFi, particularly yield farming. In case you really analysis what's going on, it is clear that it is dumber than the ICO increase of 2017."
The launch of Ethereum 2.Zero will seemingly present a lift for each DeFi and ETH, however many suppose it is going to additionally assist bitcoin.
Luongo explains,
"When (and if) Ethereum 2.Zero launches efficiently, it ought to have a serious constructive influence in attracting extra individuals to each Ethereum and DeFi. It will in the end be a constructive for Bitcoin as nicely; there's nonetheless an infinite quantity of blue sky for each blockchains to develop and to be the premise for a brand new, decentralized monetary system."
Ethereum 2.Zero might nicely lead to bitcoin's market dominance being decreased even additional, however its absolute measurement ought to proceed to develop. This, in flip, will assist the Ethereum community and ETH – and the whole crypto universe might even stand to profit.
Source: bitcoinflashnews.com
Author: By admin
Previous
Next