Five Years Since Launch, Is Ethereum Creating a New Boom?
The Ethereum network has just turned five years old. Although the project was first announced at the North American Bitcoin Conference in January 2014, its genesis block was only mined on July 30, 2015. Since then, Ether (ETH) has become the dominating altcoin in market capitalization, popularity and network value settlement, having even surpassed Bitcoin in the latter.
Ethereum was created with myriad possibilities in sight, allowing for smart contracts, powerful tokenization, complex decentralized applications and decentralized fundraising campaigns. The latter of these became extremely popular in 2017, as initial coin offerings took over the crypto space and amassed incredible gains for participants.
Ether became the primary funding mechanism for ICO projects. As said projects and their underlying ERC-20 tokens left the ICO stage, speculation for their tokens grew, and so did the price of Ether, whose price reached an all-time high of $1,412 on Jan. 10, 2018. Although currently far from that number, ETH's price reached a 2020 record of almost $357 on Aug. 1.
Although ICOs helped take the cryptosphere to new heights, the hype was short-lived, and the entire crypto market came crashing down at the start of 2018. Shortly before, the United States Securities and Exchange Commission had announced that ICOs were considered security offerings and began a crackdown to protect investors.
Now, some worry that Ethereum is heading down a similar path like in 2018 with the growth of DeFi. While regulatory oversight has pushed for improvements in the crypto ecosystem, in the short-term, it can have devastating consequences like the loss of funds for investors and lawsuits for the project operators.
While price speculation seems to be rampant, it's largely known that decentralized finance's actual financial impact and liquidity are rather insignificant. With Ethereum recently becoming the biggest blockchain in terms value settled, how much of this activity in Ether can actually be attributed to DeFi?
ConsenSys estimates that DeFi protocols collectively hit an all-time high of 3.3 million Ether locked in protocols in the second quarter of 2020. Messari has suggested that the Ethereum blockchain settles around $2.5 billion every day. When comparing DeFi to the actual crypto market, it's also easy to see that DeFi is still but a drop in the ocean, smaller than the market cap of XRP and Bitcoin Cash (BCH), and it makes up only 1.5% of the entire cryptocurrency market.
DeFi sector vs. BCH and XRP – Market capitalization. Source: Messari
While funding rates for DeFi protocols are dwarfed by the 2017-era ICO-based funding campaigns, it could be concerning that a handful of DeFi tokens have rallied thousands of percent in a short period of time. For example, Aave (LEND) rose 7,300% from $0.0046 to $0.344, and Compound's (COMP) price quadrupled in its first week of trading in June. In fact, more than 10 other DeFi-related tokens have rallied by over 100% in 2020. While impressive, this still pales in comparison to the return on investment provided by ICOs in 2017.
While DeFi has reached milestones, such as $4 billion in locked funds, the sheer size of investment obtained by DeFi protocols is way smaller than what ICOs gathered. Still, Ethereum co-founder Vitalik Buterin seems worried that people may be underestimating the risks associated with these protocols, which have been exploited by hackers in the past.
While another bubble is not ideal, it may be an inevitable part of the current crypto innovation cycle. Projects and concepts are prone to be hyped out of proportion before more organic adoption and investment comes in. This is exactly what happened with ICOs, security token offerings, Bitcoin and altcoins. As the DeFi sector continues to rapidly expand, its biggest challenge may come in the form of future regulation, much like it did with ICOs.
While only time will tell if DeFi is seeing a bubble phase, there are certainly other reasons for why Ether is outperforming Bitcoin, like becoming the basis for stablecoin transfers. According to ETH Gas Station, Tether (USDT) is the biggest gas spender on the network and continues to grow. While Ethereum did overtake Bitcoin in network activity, it was mostly due to stablecoin transfers, which were themselves overwhelmingly fueled by inter-exchange settlements.
This year, positive steps like the issuance of real-life securities within the blockchain and $1 billion in Ether futures volume were also reached. These factors contributed to Ethereum's growing adoption in these last five years, but they also point to a looming dead end when it comes to scalability and congestion. However, Ethereum 2.0 staking has finally begun testing, and this brings hope for a new and improved network.
Related: Ethereum 2.0 Likely to Affect DeFi and DApps With PoS Introduction
As time goes on, it's likely that DeFi will continue to grow even if it does suffer some setbacks in the short term. This means that the Ethereum network will likely continue to ride on the back of that success.
News source
Source: elevenews.com
Author: Published 18 hours ago
Chainlink (LINK) Rips 10% Higher: Why Analysts Say More Upside Is Likely
Bitcoin and Ethereum faced strong liquidation events just 12 hours ago. Even still, Chainlink (LINK) has continued to push higher, basically disregarding what was seen as the worst cryptocurrency crash since "Black Thursday."
As can be seen in the Trading View chart below, the popular altcoin has gained just less than 10% in the past 24 hours. That performance makes Chainlink one of the best-performing cryptocurrencies of the past day.
Chart of LINK's price action over the past few days from TradingView.com. Per the chart, LINK is up 8.67% in the past 24 hours, though gained much more from the capitulation lows to the recent highs.
Analysts say that the asset is poised to move even higher despite relative weakness in the market leader, Bitcoin. Here's more on why.
Although LINK has not yet set a new all-time high against the U.S. dollar, it may be poised to print a bullish continuation pattern on its chart. That's according to one cryptocurrency trader, who argued on August 2nd that now is a "good spot" for Chainlink to continue higher:
"$LINK (USDT) daily chart – As price re-tests the all time high area, this is a good spot for a cup and handle continuation, or ascending triangle continuation patterns to form."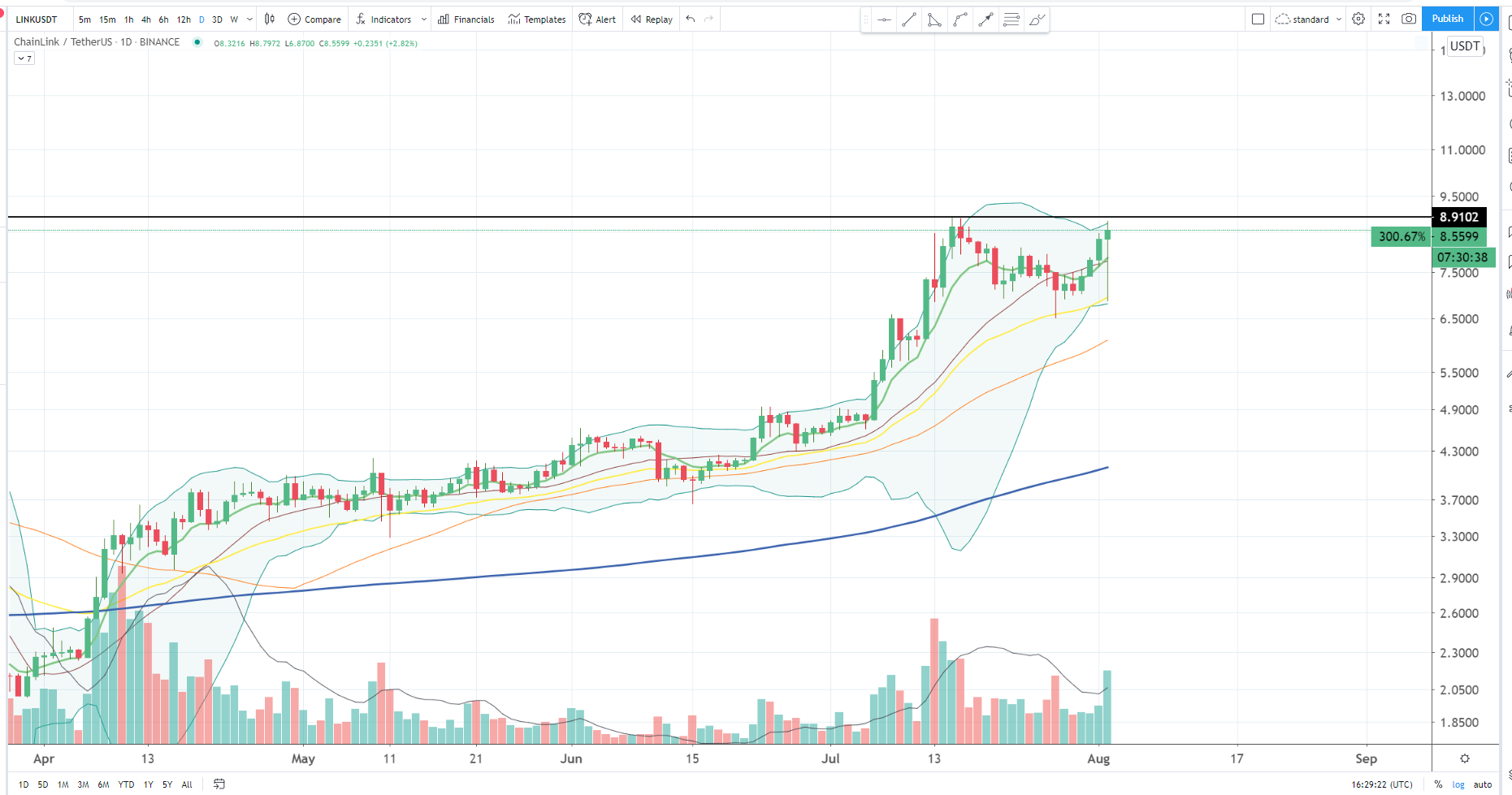 Chart of LINK against Tether's USDT over the past few months by trader "Big Cheds." Chart from TradingView.com
The cryptocurrency has not yet established this pattern, but it moving past its $8.91 all-time high should set the stage for further gains.
This optimism about Chainlink was echoed by Michael Van de Poppe, a trader at the Amsterdam Stock Exchange. The commentator said that he expects capital to flow from Bitcoin and Ethereum to altcoins in the coming "week/weeks."
Chainlink will likely benefit from this, he argued, going as far as to say that LINK will soon test its all-time high against BTC. This will mean that it rallies by at least 20% from current levels.
LINK's recent price action comes in spite of the propagation of a report from one "Zeus Capital" that says Chainlink will fall by 99% over time. The report, which was shared on Twitter and to the email addresses of many in the industry, says Chainlink is a scam:
"Behind the shiny facade of the multibillion dollar project we have exposed signs of absolute lack of interest in building the technology, team that is incapable on delivering what is currently reflected in token's market capitalziation and a series of market manipulations and plain lies targeting naive investors."
With LINK rallying close to new all-time highs, though, it appears that the crypto market is rejection Zeus Capital's assertions.
Source: www.newsbtc.com
Author: Nick Chong
Ethereum Nosedives From $415, But Technicals Suggest Uptrend Isn't Over Yet
Ethereum rallied more than 5% and broke the $400 resistance against the US Dollar. ETH price retreated sharply from $415, but technicals suggest uptrend remains intact above $340.
ETH price surged above the $380 and $400 resistance levels against the US Dollar.
There was a strong bearish reaction from the $415 level and the price dumped more than $50.
There are two key bullish trend lines forming with support near $365 and $340 on the 4-hours chart of ETH/USD (data feed via Kraken).
The pair is likely to recover and rise above $380 as long as it is trading above $340.
In the past few days, there was a strong increase in Ethereum above the $300 and $320 levels against the US Dollar. ETH price even broke the $350 resistance and settled well above the 100 simple moving average (4-hours).
What cryptocurrency will become the main one in a year?
The upward move was strong and ether surged above the $380 and $400 levels. The price traded to a new multi-moth high near the $415 level and it is currently correcting lower. There was a sharp bearish reaction from the $415 swing high and the price dropped more than $50.
There was a huge spike below the $350 support level. The price even dumped below the 50% Fib retracement level of the recent surge from the $316 swing low to $415 high. However, ether remained well bid near the $300 support level and the 100 simple moving average (4-hours).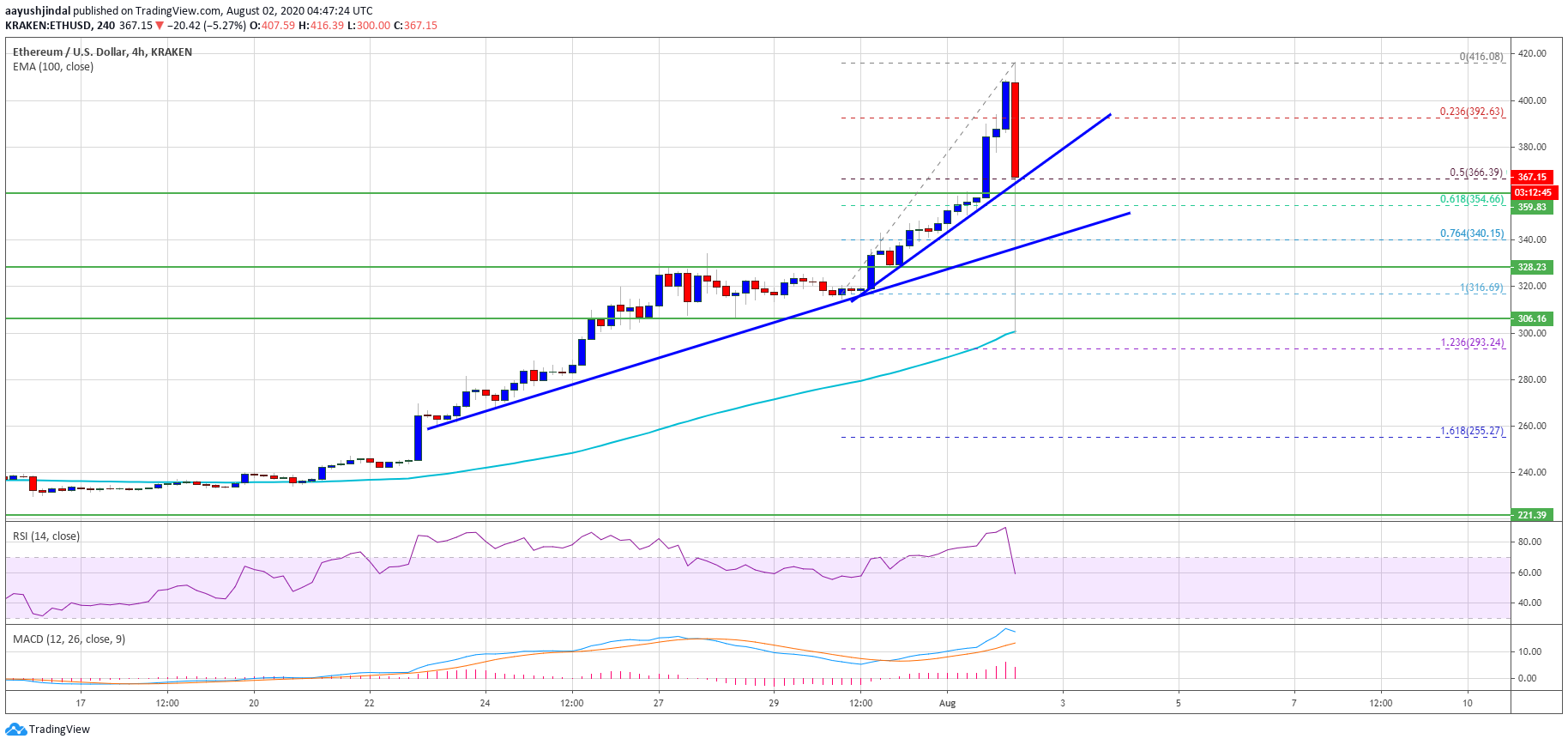 Ethereum price trades above $400. Source: TradingView.com
It traded close to the 1.236 Fib extension level of the recent surge from the $316 swing low to $415 high. More importantly, there are two key bullish trend lines forming with support near $365 and $340 on the 4-hours chart of ETH/USD.
The pair is currently recovering and it is back above the $350 level. An initial resistance is near the $380 level, above which the bulls may perhaps push the price above $400. A daily close above the $400 level could lead the price towards the $420 and $432 levels in the coming days.
If Ethereum remains below the $400 and $380 resistance levels, there could be more downsides. The first major support is near the $340 level, below which the price might struggle in the short term.
The next major support is near the $305 and $300 levels (the recent breakout zone), below which the bears are likely to target an extended correction towards the $280 support level.
Technical Indicators
4 hours MACD – The MACD for ETH/USD is losing momentum in the bullish zone.
4 hours RSI – The RSI for ETH/USD is still above the 50 level.
Major Support Level – $340
Major Resistance Level – $380
Source: www.newsbtc.com
Author: Aayush Jindal
Previous
Next