Bitcoin News Roundup for July 31, 2020
Today's Bitcoin News:
Disclosure
Source: www.coindesk.com
Author: Zack Voell
BItcoin's Sudden Drop to $9k Coincides With Fed's Balance Sheet Contraction
Bitcoin plunged back towards $9,000 despite showing signs of upside correction in the early Friday session.
The latest price correction coincided with the Federal Reserve's balance sheet contraction that strengthened the US dollar.
S&P 500 remained closed on Friday for the Independence Day holiday.
The past 24 hours saw Bitcoin breaking its short-term positive correlation with the S&P 500.
The benchmark cryptocurrency plunged to $9,068, down 2.44 percent from its weekly top established during the Thursday trading session. Its latest decline partially came because of high profit-taking sentiment near the local high. Meanwhile, the downside also took cues from a stronger US dollar.
According to data fetched by TradingView.com, the US dollar index is on a two-day winning spree. It has climbed 0.56 percent from its weekly low. Meanwhile, the index's rise almost coincides with the fall in the Bitcoin price.
Bitcoin's latest plunge surfaced as the US dollar rose against a basket of foreign currencies. Source: TradingView.com
Demand for the US dollar rose as the California, Texas, and Florida reported a daily resurgence in COVID cases by tens of thousands. Investors preferred to move back into the greenback, fearing extended lockdown periods and a potential fall in the US stock market.
Nevertheless, the S&P 500 offset those concerns and closed Thursday 0.45 percent higher. The benchmark index rose on optimistic jobs report by the Department of Labor. It showed that the unemployment rate from 13. percent in May to 11.1 percent in June.
Despite its rise, the S&P 500 risks falling back on a multitude of macroeconomic concerns. The most important among them all is the Federal Reserve's contracting balance sheet.
Bitcoin and every small and big index on Wall Street recovered from their March 2020 nadir only after the US central bank announced an unprecedented monetary aid. It injected more than $2 trillion into the economy via the purchase of government and corporate bonds.
But it now appears that the Fed has slowed down it's spending. Official data shows that the central bank's balance sheet has contracted by 2.3 percent in the last three weeks. Since June 17, the Fed has reduced its purchasing by as much as $160 billion.
Fed balance sheet against the US dollar and SPX. Source: Federal Reserve
It is the same period that has seen Bitcoin trapped inside a narrow trading range. The cryptocurrency failed to secure a breakout above $9,500 and below $9,000.
The Fed's stimulus policy will expire at the end of July.
Source link
Spread the love
Source: www.cryptobitnews.co.uk
Federal Agents Arrest Suspected 17-Year-Old Twitter Hack 'Mastermind' in Florida
News.Bitcoin.com Lead Writer Jamie Redman Named One of the Best Crypto Bloggers
South Korea to Charge 20% Tax on Bitcoin Profits Under New Law
US Regulator Green-Lights Banks for Cryptocurrency Custody Services
What future awaits cryptocurrencies?
How Billion-Dollar Crypto Scams Lure Victims
Us Federal Court Ruling — Bitcoin Is a Form of Money
Leadership Feud at Bitmain: 10,000 Antminers Go Missing in Inner Mongolia
Hyperinflation Hits Lebanon: Food Prices Soar 200%, Biggest Crisis Since Civil War
Live-Streaming Service Twitch Gives Subscribers 10% Discount if They Pay With Cryptocurrency
Cyclebit Empowers Retailers to Accept Crypto Payments In-Store, Online and On-The-Go
29 Cryptocurrencies Delisted on Liquid Exchange to Comply With Singapore's FATF Crypto Regulation
Americans to Buy Bitcoin With Their Second Stimulus Checks After Initial Investment Turned in 50% Profit
Bitcoin Fees Skyrocket 590% Since Mid-June – Supporters Think Mempool Size Is 'Bullish'
Hackers Transfer $28 Million Worth of Bitcoin from 2016 Bitfinex Breach
Ignorance and Greed Sustain Cryptocurrency Scams in Nigeria
Goldman Sachs Warns US Dollar Risks Losing World Reserve Currency Status, Gold and Bitcoin Soar
Swiss Exchange SIX Lists Actively Managed Bitcoin Exchange-Traded Product
Coinbase Sees More Institutional Investors Buying Bitcoin in H1
Bakkt Futures Volume Hits $122 million, as Bitcoin Reached New 11-Month High
Bitcoin's Current Breakout Sets It up for $28,000, Headed for Six Figures – Max Keiser
Crypto Hardware Wallet Firm Ledger Hacked, One Million Customer Emails Exposed
Power Plants in Iran Now Authorized to Mine Bitcoin
93% of Bitcoin's Supply Profitable at $11K, 'Realized Price' Recovers from Black Thursday
Ethereum Price Creates GPU Shortage, Some Manufacturers Blame Nvidia
Novogratz: Global 'Liquidity Pump' Will Keep Bitcoin Rising, Price to Hit $20K This Year
The Onecoin Debacle: Indictments Unsealed, 2 Dead in Mexico, Story Gets 'Darker'
Bitcoin Tops $11,000 Reigniting Interest in India
Privacy-Enhancing Protocol Cashfusion Completes Security Analysis
Zero Collateral: $138 Million in Defi Flash Loans Issued in 24 Hours
Tether Prints $300 Million, While XRP Reclaims Third Spot
Bybit presents World Series of Trading (WSOT) – 200 BTC Prize Pool up for Grabs
'Huge Demand in India' Spurs Zebpay to Launch OTC Bitcoin Trading Desk
Major Investment Bank Oppenheimer Bullish on Bitcoin, Highlights Instead of Gold
Source: bitcoinrecent.com
Author: by admin
July ends with a bitcoin rally and the U.S. dollar's worst month in 10 years
The U.S. dollar suffered its worst month since 2010 as digital assets like bitcoin and ether ended July sharply higher.
As reported by The Financial Times, the dollar index — which measures the U.S. dollar's performance against six other government-issued currencies — fell by 4.3% in July, the largest monthly sell-off since September 2010. Against the euro, the U.S. dollar is down more than 4.6% this month, whereas the dollar fell by more than 3% against Japanese yen.
Underpinning the precipitous fall of greenbacks is a sustained period of mounting political and economic uncertainty. As The Block previously reported, earlier this week investment bank Goldman Sachs outlined emerging concerns that could jeopardize the U.S. dollar's reserve status.
"Combined with a record level of debt accumulation by the U.S. government, real concerns around the longevity of the U.S. dollar as a reserve currency have started to emerge," the bank explained in a research note to clients.
Furthermore, The Commerce Department reported U.S. GDP, at an annual rate, plunged by more than 32% in the second quarter, among the most severe contractions in its history. Meanwhile, Treasury bond yields have approached a record low following a statement by Federal Reserve chair Jerome Powell that reaffirmed its aggressive monetary policy stance against the crisis. As noted by The Wall Street Journal, the announcement pushed the 10-year yield to its third-lowest close of 2020.
Meanwhile, bitcoin continues to surge higher. Over the last month, the cryptocurrency gained more than 21%, propelled mostly by a rally that kicked off last week. Ether is up more than 48% since the beginning of July.
© 2020 The Block Crypto, Inc. All Rights Reserved. This article is provided for informational purposes only. It is not offered or intended to be used as legal, tax, investment, financial, or other advice.
Source: finance.yahoo.com
Author: Frank Chaparro
Bitcoin Just Broke Past $11,500—and That's Huge For Bulls
Bitcoin is ripping higher once again. In the past few hours, the leading cryptocurrency has begun to test the year-to-date highs at $11,500. And just minutes ago, BTC reached a local high of $11,700 after an influx of buying pressure.
It is unclear if this rally is sustainable yet: Bitcoin has yet to close above $11,500 on any longer-term time frames like the 4-hour, 12-hour, or one-day charts.
Analysts say that Bitcoin breaking past $11,500 increases the potential for the asset to surge even higher in the weeks ahead. This is largely due to the fact that $11,500 was a pivotal macro level during early 2018 — after the $20,000 peak in December 2017.
Bitcoin decisively surging above $11,500 is setting the stage for an even greater move to the upside, say analysts.
A cryptocurrency trader shared the chart below on July 31st. It indicates that BTC retaking $11,500 — or $11,463 to be more specific — on a weekly and monthly time frame will send leave Bitcoin with little resistance until the $20,000 all-time high.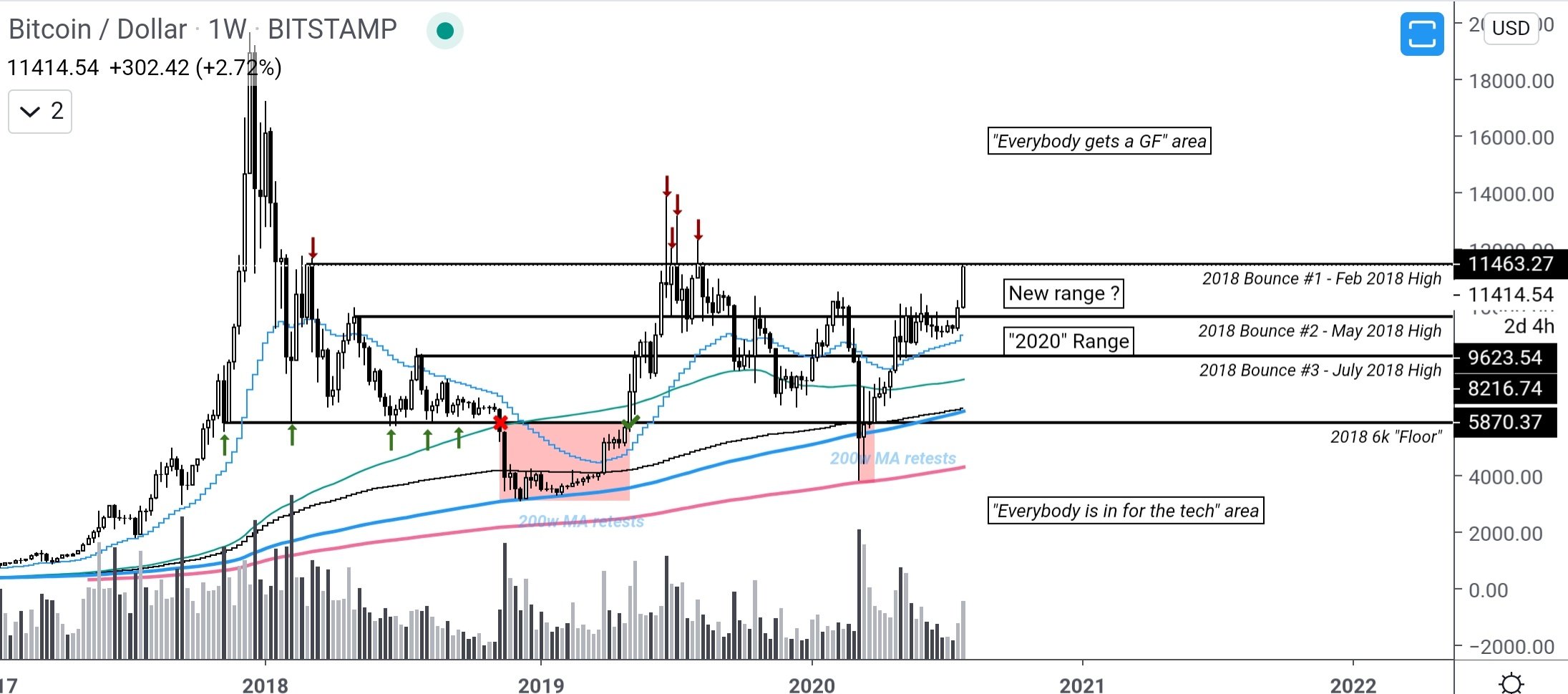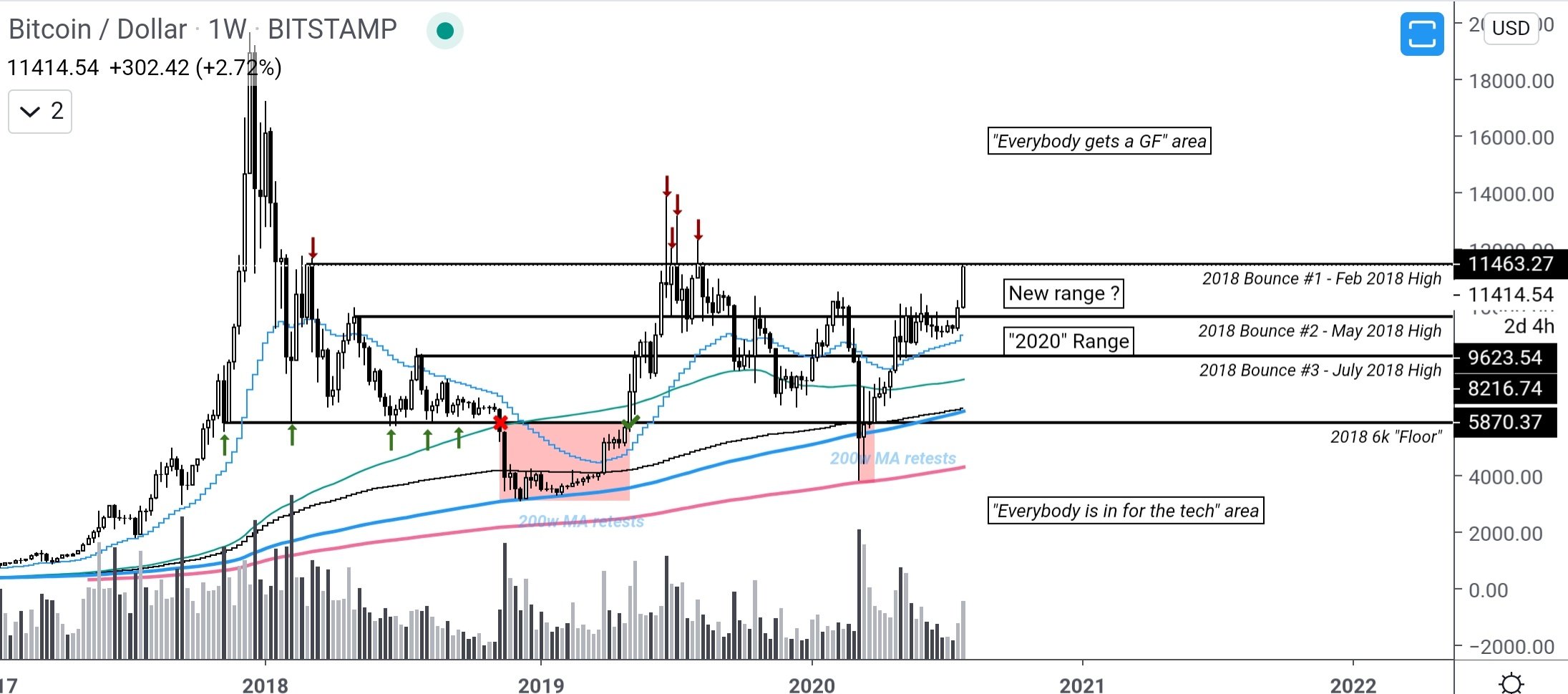 The importance of $11,500 to the long-term Bitcoin bull case has been echoed by a ryptocurrency chartist. The chartist indicated that per a "structural fractal" that takes inputs from all of BTC's previous bull cycles, Bitcoin breaking past $11,500 will lead to a full-blown bull market: c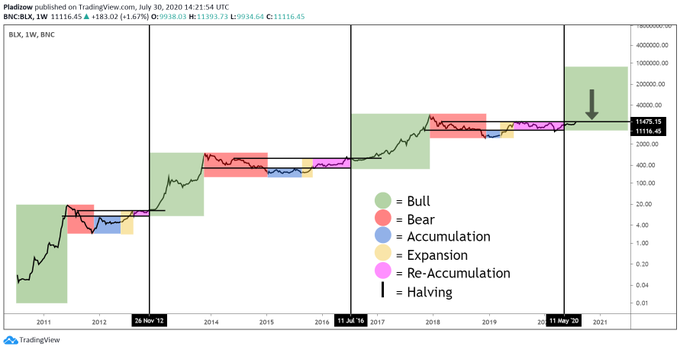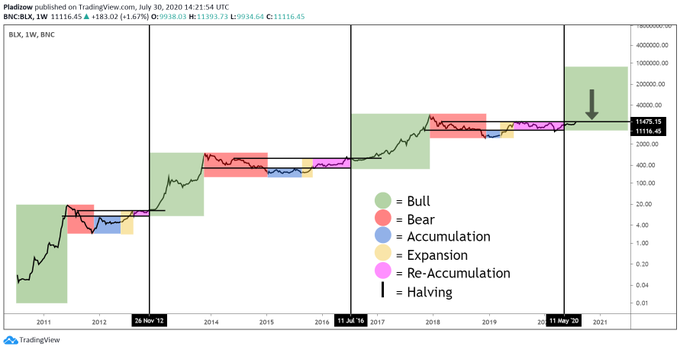 Derivatives data suggests that Bitcoin's ongoing move higher is likely sustainable — or at least more so than the surge past $10,000, then $10,500, then $11,000 on Monday.
The above table is Bitcoin's funding rates across leading margin exchanges. Funding rates are currently moving towards 0%, indicating that buyers are not overextended and have room to push BTC higher.
This post was originally published on www.newsbtc.com
Source: www.cryptoalphanews.com
Author: cm_team
Bitcoin News Roundup for July 31, 2020
Disclosure
Source: www.lastcryptocurrency.com
Author: The Last Cryptocurency
Previous
Next