Bitcoin Must Hold $10,800 to Maintain Bullish Bias—But Will It?
Bitcoin has seen a tumultuous past few days after reaching as high as $11,500 on Monday. In the past 48 hours alone, the asset has whipsawed between $10,600 and $11,400, with bulls and bears attempting to catalyze a range breakout.
Both sides have failed thus far; as of the time of this article's writing, BTC remains in the middle of the local range at $11,000.
It may seem that BTC is in no man's land, but a trader has argued that as long as $10,800 is held, a bullish bias can be held.
According to analyst Edward "Teddy" Cleps, Bitcoin holding $10,800 on the four-hour chart will confirm the short-term bull case.
Cleps cites his custom Secret EMA Cloud, which indicates important technical levels and trends. The indicator accurately predicted the surge from $9,400 to $11,500 last week when BTC broke above the cloud, causing it to flip green.
Bitcoin holding the cloud's upper boundary in the days ahead should confirm that the uptrend is intact.
The cloud's upper boundary, denoted by the black line on the chart below, should continue to move towards BTC's current price as it is an exponential moving average.
Chart of BTC's recent price action with a custom cloud indicator by Edward "Teddy" Cleps (@Teddycleps on Twitter). Chart from TradingView.com
Another level of importance that traders are watching is $10,500.
$10,500 is a level of macro importance for Bitcoin. It marked the top of a BTC rally on three separate occasions: once in October 2019, once in February 2020, and once in June 2020.
To some commentators, BTC must hold above $10,500 when the one-month candle closes in approximately 20 hours after this article's publishing time.
With the uptrend still intact, analysts are trying to postulate what comes next for BTC.
According to the pseudonymous trader who predicted Bitcoin would bottom 2018's bear market at $3,200, a move to $12,000 is likely. As reported by NewsBTC previously, this trader wrote in reference to the chart below:
"$btc consolidating above a pretty key breakout level. price contracting, volume declining, seems bullish, continuation soon."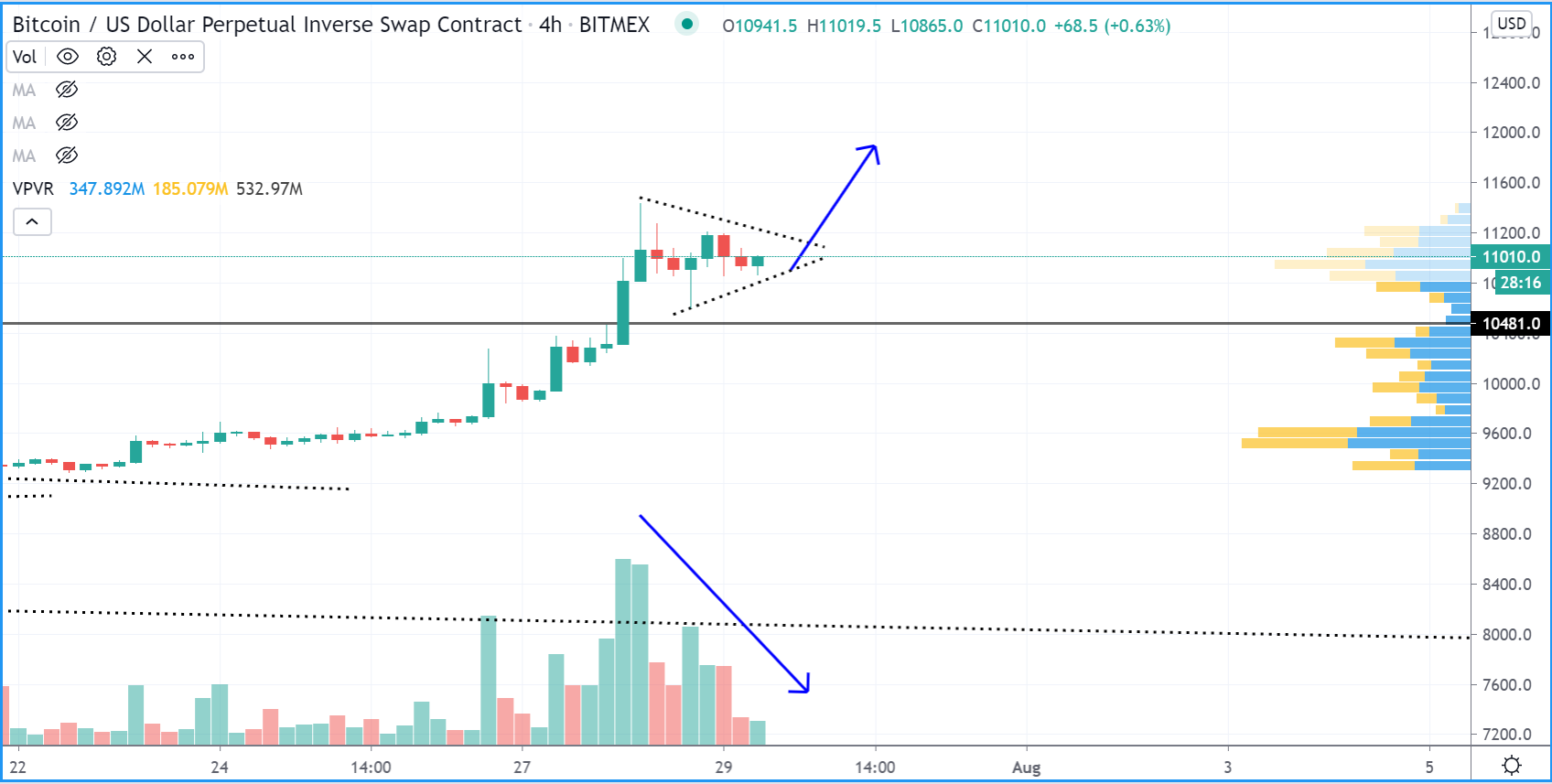 Chart of BTC's recent price action by trader SmartContracter (Twitter handle). Chart from TradingView.com
What investors do have to watch out for, though, is the high funding rates of Bitcoin and crypto perpetual swaps.
Perpetual swaps are a type of futures contract that is popular in the cryptocurrency industry. Funding is the fee that long positions pay short positions to keep the price of the future close to the price of the underlying asset.
High funding rates often suggest that buyers of perpetual swaps are overextended, leading to short-term corrections where the funding rate normalizes.
Source: www.cryptobitnews.co.uk
A Crypto Derivatives Exchange Is Getting a Nasdaq Listing in Q3
Disclosure
Source: www.bit-cointalk.com
Zeus Capital Reportedly Offers Influencers 5 BTC for LINK FUD
Multiple users of Crypto Twitter, with thousands of followers, received offers from Zeus Capital to post information on Chainlink.
Zeus Capital is reportedly offering prominent members of Crypto Twitter payment to spread unfavourable news about Chainlink, which hit a new record high price recently.
Zeus Capital came to prominence recently after releasing a report claiming LINK was a scam and then heavily promoting negative news about Chainlink via Twitter ads. It has since called upon users to join a class-action lawsuit against CEO Sergey Nazarov.
According to a screenshot posted to Twitter by 'The Wolf of All Streets' Scott Melker on July 29, Zeus Capital reached out to him asking them if he'd be willing to post an analysis of Chainlink (LINK) to social media "for a fee."
Twitter direct message from Zeus Capital. Source: Scott Melker
Melker, who has more than 108,000 followers, was not the only influencer to report the offer. Josh Rager said he'd simply ignored the firm's messages. Crypto Twitter user Smokey posted a screenshot of an identical message to his 17,500 followers.
The "fee" to which Zeus is referring was left ambiguous by users who didn't take up the firm on its offer. But one user, icebergy, who has more than 12K followers, reached out to Zeus with an offer to post a "bad LINK chart" for 5 Bitcoin (BTC) — roughly $55,000 at the time of writing. According to a screenshot response, purportedly from Zeus Capital, the firm inquired if the offer was still valid.
HOLY SHIT https://t.co/62E0x5rbRr pic.twitter.com/MhMvCTJcSk
Crypto Bitlord has indeed posted updates about LINK — although this may well be a joke.
What cryptocurrency will become the main one in a year?
While Zeus is pushing influencers to potentially disparage LINK, it's possible that such seedy tactics may be having the opposite effect. Melker referred to the incident as "completely absurd" and bad for the cryptospace. Others like Obit7777777 called Zeus' actions desperate: "They want you to analyse one of the cleanest charts in crypto hoping to find something bearish."
A few, including AlCryptoTrader, even said they were willing to buy LINK at $8-9 just to "f— over Zeus Capital."
Zeus authored a report recently claiming it was building a Chainlink short position with a target of 99% gains. However, its website appears to have been registered only seven months ago, and the firm's Twitter account has been suspended for violations of the platform's terms of use multiple times.
On July 27, it called upon its 3,800 Twitter followers to join a class-action lawsuit against LINK over the alleged pump and dump manipulation in 2019.
Despite Melker's free analysis on July 28 that LINK is decidedly "not bullish," the token was still priced at $7.17 at the time of writing, having risen 56.3% in the last month.
Cointelegraph contacted Zeus Capital for comment but did not receive a response as of press time.
The post Zeus Capital Reportedly Offers Influencers 5 BTC for LINK FUD appeared first on BTC Ethereum Crypto Currency Blog.
Source: cryptomoneyteam.co
Author: By TeamMMG
New Crypto Wallet App Guarda is Live – brkn-news
Guarda is making available the new version of the crypto wallet app.
The fully redesigned app is bringing a slew of exciting new features to crypto users supporting more than 45 blockchains and over 10.000 tokens, including ERC-20, ERC-721, BEP-2, TRC10, TRC20, WAVES, OMNI, and EOS.
Considering Guarda Wallet's wide range of supported assets, it is the best noncustodial wallet for ERC20 tokens and other coins, allowing for easy asset management from one place.
The Guarda Wallet is versatile and can be accessed from the various operating system:
The built-in trading option integrated with Guarda Wallet allows users to exchange cryptocurrencies between them, buy or sell Bitcoin, Ethereum, and many others without ever leaving their wallets. The users also able to buy crypto directly from within their wallet by using their Mastercard or Visa bank card.
The new version of the wallet allows you to access and manage all your funds regardless of the app or device you are using. That's because either you have a mobile or a desktop wallet, all versions of Guarda Wallet can be synchronized between each other.
From Guarda's interface, you can easily connect to your Ledger wallet, import your accounts, and manage the crypto funds stored in the hardware wallet. You can still get the security of an offline wallet, but also have the flexibility to manage and make trades via Guarda.
Although secure, sometimes paper wallets can get inconvenient. Therefore, with Guarda, users can integrate their paper printed keys with the online wallet and use it with ease.
Guarda, in collaboration with the Zcash Foundation, has created a non-custodial shielded wallet specifically for ZEC.
So, the Private Zcash Wallet from Guarda's mobile app now supports the generation of private Zcash transactions just as well as public transactions.
Not many multi-crypto wallets support staking. However, Guarda makes things convenient for crypto owners, as they do not have to own multiple separate wallets to be able to stake their favorite cryptos.
Updated version of mobile Guarda Wallet app also includes staking functionalities for a number of assets, including Callisto, Tezos, Komodo, Cosmos, Tron, and EOS (stake CPU and NET).
Guarda Wallet is launching the updated version of its iOS and Android mobile apps, adding new features that will better the process of wallet management and make things much more convenient for the user.
Here are some of the new features of the updated app:
Improved and clear graphics allowing users to monitor cryptocurrency prices and price changes.
Efficient filtering system for hiding zero-balance wallets, and many others.
A new sorting system for transactions, that filters transactions by type, wallet, or currency.
A new search function that enables users to navigate the transaction history via hash.
New currencies such as RUB Russian Ruble, AUD Australian Dollar, KRW Won, CHF Swiss Franc, CZK Czech Koruna, DKK Danish Krone, NOK Norwegian Krone, NZD New Zealand Dollar, PLN Polish Zloty, SEK Swedish Kronor, TRY Turkish Lira, ZAR South African Rand, HUF Hungarian Forint, ILS Israeli New Shekel, INR Indian Rupees, HKD Hong Kong Dollar, MYR Malaysian Ringgit, SGD Singapore Dollar, BGN Bulgarian Lev, BRL Brazilian Real, MXN Mexican Peso, AED Dirham, NGN Naira, TWD New Taiwan Dollar, MAD Moroccan Dirham, RON Romanian Leu, UAH Hryvnia.
More fiat currencies against which users can estimate the price: USD US Dollar, EUR Euro, AED Dirham, AUD Australian Dollar, BGN Bulgarian Lev, BRL Brazilian Real, CAD Canadian Dollar, CHF Swiss Franc, CNY China Yuan, CZK Czech Koruna, DKK Danish Krone, GBP Pound Sterling, HKD Hong Kong Dollar, HKR Croatian Kuna, HUF Hungarian forint, IND Indonesian Rupiah, ILS Israeli New Shekel, INR Indian Rupees, ISK Icelandic Krona, JPY Japanese Yen, KRW South Korean won, MAD Moroccan Dirham, MXN Mexican peso, MYR Malaysian Ringgit, NOK Norwegian Krone, NGN Naira, NZD New Zealand Dollar, PHP Philippine Peso, PKR Philippine Peso, PKR Pakistan Rupee, PLN Polish Zloty, RON Romanian Leu, RUB Russian Ruble, SEK Swedish Kronor, SGD Singapore Dollar, TWD New Taiwan Dollar, THB Thai baht, TRY Turkish Lira, UAH Ukrainian Hryvnia, ZAR South African Rand.
24/7 online chat support.
The added Masked balance tool can be turned off.
Tezos staking has also been implemented.
Users can claim Gas tokens from the NEO network. The new Guarda Wallet app is eagerly awaiting for users to test out its new features!
Source: brkn-news.com
Gold Crypto — It's A Thing! New Stablecoin Checks All The 2020 Fear Boxes
As Bitcoin and gold hit 2020 highs, Uphold unveils a revolutionary new product redefining "store of value" for a panicked age.
John Forster, an employee at the Perth Mint, holds a six-kilo, freshly poured bar of gold in Perth, … [+] Australia, in 2008.
It's physical gold. It's crypto. It's government-backed. It's a new product from a Silicon Valley company mutating gold and crypto into a single unit. And it's as deeply fear-soaked as anything since, well, 2020.
Today Uphold, a digital investment platform based in San Francisco, announced what it calls "a better form of gold": Universal Gold. Users can buy the gold crypto UPXAU — a token verifiable on the Ethereum blockchain and audited by the security firm CertiK — and Uphold instantly contracts to buy physical gold from the Government of Western Australian.
UPXAU is to crypto finance what "clicks and mortar" was to e-commerce, a simultaneous merger of the digital and the physical.
It all started back in March, when one of Uphold's investors, a dyed-in-the-wool gold bug, stumbled upon GoldPass, an Australian government program issuing certificates that guaranteed physical delivery of gold. He immediately called Uphold CEO J.P. Thieriot who used the program to create the Universal Gold token.
"The gold is held with the Perth Mint, the largest refiner of new gold in the world," says Thieriot. "The mint issues a gold certificate, one token equals one certificate which equals one ounce. One-to-one-to-one. When you buy the token, you're buying gold. It's not hypothecated, it's not fractional. You're buying gold."
Thieriot hopes this appeals to paranoid gold bugs who have long wrestled with the problem that buying physical gold is hard to do. It's expensive to store, often incurring monthly custody fees of around 0.4%, and has traditionally been expensive to liquidate and turn into cash.
There are blockchain comps, digital assets like PAX Gold (PAXG) or Digx Gold (DGX), but they charge on-chain fees of 0.02% and 0.13%, respectively. There's Tether Gold (XAUt), which charges some users 0.25% when they buy the product and another 0.25% when they sell it.
"I can't even believe there is a Tether gold product," says Therot, dismissively. "I think family offices would give a very wide berth there." (At press time, Tether had not responded to a request for comment.)
Uphold is part of the broader trend towards zero-fees, dragging along competitors as Robinhood inspired its competitors to eliminate fees in the stock brokerage business.
But in that same letter, Buffett wrote: "What motivates most gold purchasers is their belief that the ranks of the fearful will grow."
During 2020, the ranks of the fearful have grown. And have you read a newspaper lately? Those ranks are surely still growing. No surprise gold is up 26% this year and Bitcoin has risen 55%.
Gold might be the exception to the rule that, in the end, the purpose of a tool is to be useful. In the end, it may be that the value of Bitcoin, Ethereum, XRP and others will lie in their functionality — not just the idea that some other moron will show up and pay more for it.
But for investors right now, liquid assets with limited supply are all the rage, be they Bitcoin or gold. Or, today, Ultimate Gold.
"One isn't a replacement for another," says Therot. "I think there's room for all of that. Gold is like Bitcoin's big brother. Recent events are probably the giant tailwind for both."
* Disclosure: at the time of this writing I own Berkshire Hathaway shares.
Source: www.forbes.com
Author: Cory Johnson
Previous
Next