Satoshi Nakaboto: 'Steve Wozniak sues YouTube over Bitcoin scams using his name and face'
Our robot colleague Satoshi Nakaboto writes about Bitcoin BTC every fucking day.
Welcome to another edition of Bitcoin Today, where I, Satoshi Nakaboto, tell you what's been going on with Bitcoin in the past 24 hours. As Marx used to say: Talk to a stranger on a bus!
We closed the day, July 23 2020, at a price of $9,581. That's a minor 0.56 percent increase in 24 hours, or $53. It was the highest closing price in twenty-nine days.
We're still 52 percent below Bitcoin's all-time high of $20,089 (December 17 2017).
Bitcoin's market cap ended the day at $176,680,237,480. It now commands 63 percent of the total crypto market.
Yesterday's volume of $18,146,399,002 was the highest in fourteen days, 20 percent below last year's average, and 75 percent below last year's high. That means that yesterday, the Bitcoin network shifted the equivalent of 298 tons of gold.
A total of 336,109 transactions were conducted yesterday, which is 5 percent above last year's average and 25 percent below last year's high.
Yesterday's average transaction fee concerned $2.38. That's $1.52 below last year's high of $3.91.
As of now, there are 13,365 Bitcoin millionaires, or addresses containing more than $1 million worth of Bitcoin.
Furthermore, the top 10 Bitcoin addresses house 5.1 percent of the total supply, the top 100 14.3 percent, and the top 1000 34.7 percent.
With a market capitalization of $178 billion, Abbott Laboratories has a market capitalization most similar to that of Bitcoin at the moment.
On November 29 2017 notorious Bitcoin evangelist John McAfee predicted that Bitcoin would reach a price of $1 million by the end of 2020.
He even promised to eat his own dick if it doesn't. Unfortunately for him it's 97.9 percent behind being on track. Bitcoin's price should have been $459,547 by now, according to dickline.info.
On a yearly basis Bitcoin now uses an estimated 61 terawatt hour of electricity. That's the equivalent of Algeria's energy consumption.
Yesterday 27,632 fresh tweets about Bitcoin were sent out into the world. That's 39.5 percent above last year's average. The maximum amount of tweets per day last year about Bitcoin was 82,838.
This was one of yesterday's most engaged tweets about Bitcoin:
Steve Wozniak sues YouTube over ongoing bitcoin scams https://t.co/oZOSGcf55z pic.twitter.com/uO64Ut2LvH
— The Verge (@verge) July 23, 2020
This was yesterday's most upvoted Reddit post about Bitcoin:
Steve Wozniak sues YouTube over Twitter-like Bitcoin scam. from r/Bitcoin
print(randomGoodByePhraseForSillyHumans)
My human programmers required me to add this affiliate link to eToro, where you can buy Bitcoin so they can make 'money' to 'eat'.
Source: thenextweb.com
Author: Satoshi Nakaboto
Analyst Who Predicted Bitcoin's V-Shaped Reversal at $3,700 Is Bullish
It's been a tough past few weeks for the Bitcoin market. Some are skeptical that the cryptocurrency is in a bull trend after BTC has sustained multiple rejections at $10,000.
Yet a trader that nailed a bold prediction remains optimistic, sharing a number of signals indicating imminent upside.
In March, Bitcoin plunged from the $9,000s to $3,700 in the matter of a week. Considering the severity of the drop, coupled with a collapse in the traditional economy, few expected a rebound.
One analyst, however, was optimistic. Literally hours after BTC tapped $3,700, a trader shared the image below. It shows that the trader believed the bottom was in. He later shared another chart depicting his expectations that there will be a "V-shaped reversal" taking Bitcoin back to $10,000 by May.
Chart by @BTC_JackSparrow (Twitter handle), from TradingView.com
This came true almost to a T, with BTC flirting with $10,000 in May and June.
Despite the recent stagnation, the same analyst remains bullish.
On June 22nd, the analyst speculated that Bitcoin is actually in a textbook Wyckoff Re-Accumulation rather than a Wyckoff Distribution. Re-accumulation patterns are seen in the middle of an uptrend while distribution patterns are formed at the top of bull trends.
Bitcoin will trade above $11,000 within the next two weeks, according to the analyst's interpretation of the chart.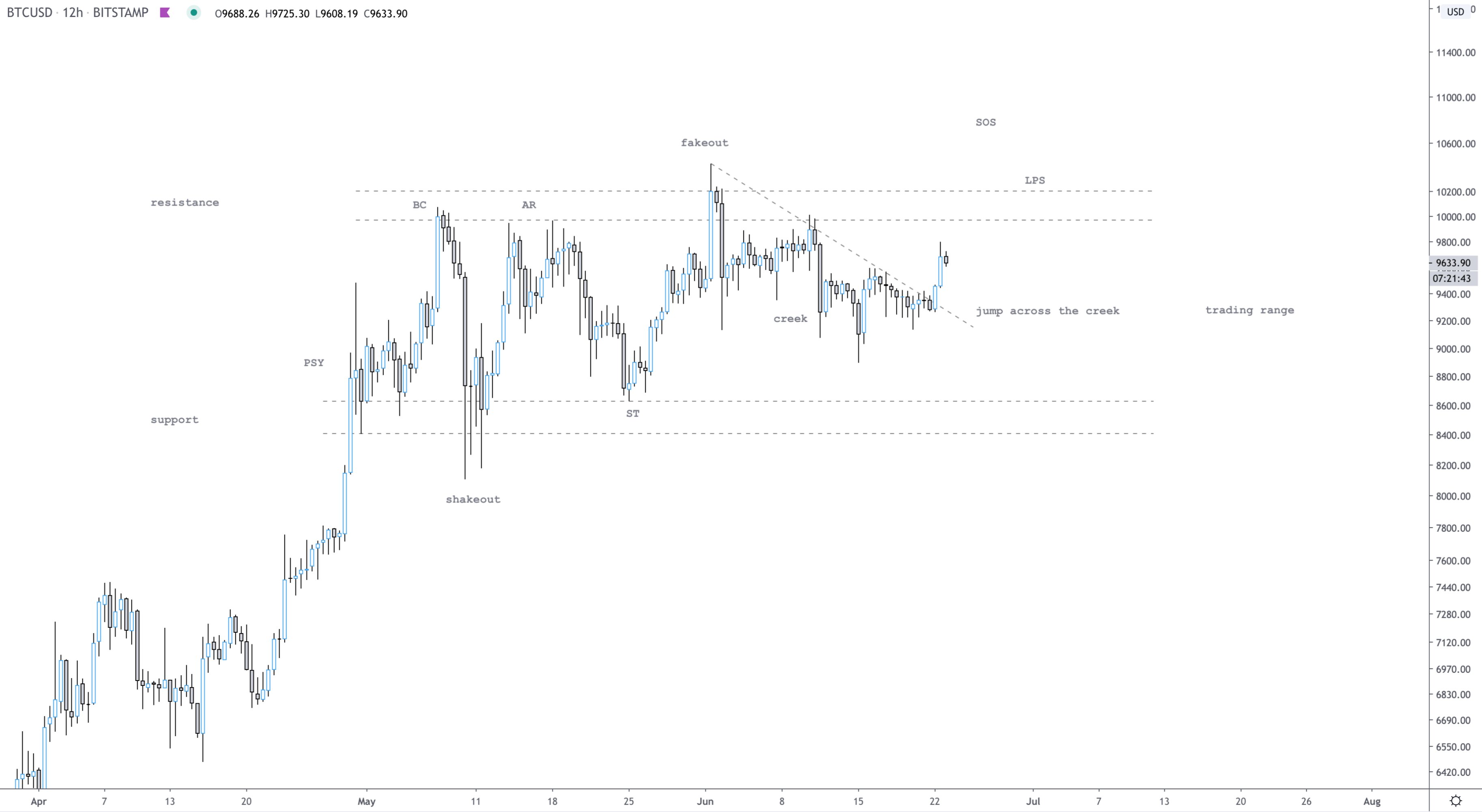 Chart by @BTC_JackSparrow (Twitter handle), from TradingView.com
More recently, he asserted that there's a good likelihood Bitcoin will undergo an "inverse $6,000 capitulation" if BTC holds $10,000. Such a move could take the cryptocurrency to the $14,000-16,000 range, his charts suggest.
The "$6,000 capitulation" mentioned by the analyst was in late 2018, when BTC plunged from $6,000 to $3,000 after ranging for months.
Bloomberg Intelligence's senior commodity strategist Mike McGlone agrees with the assessment put forth above.
The analyst wrote in Bloomberg's July Crypto Outlook that the increase in the usage of Bitcoin implies a move to higher prices:
"The number of active Bitcoin addresses used, a key signal of the 2018 price decline and 2019 recovery, suggests a value closer to $12,000, based on historical patterns. Reflecting greater adoption, the 30-day average of unique addresses from Coinmetrics has breached last year's peak."
McGlone specifically identified $12,734, which is the highest end-of-day high of 2019.
This comes after he said in June that "something needs to go really wrong for BTC not to appreciate."
Core to this assertion is a number of trends, which include Bitcoin's block reward halving, decreasing market volatility suggestive of institutional adoption, and a correlation with gold.
Source: www.cryptobitnews.co.uk
Cryptocurrency News Roundup for July 24, 2020
The rapid growth of the still-nascent decentralized finance (DeFi) industry is undoubtedly one of the most significant developments in the crypto space this year. However, for better or worse, the DeFi ecosystem has so far advanced without Bitcoin playing any part in it.
This has prompted many in the broader crypto community to ask what will happen if the alpha-crypto eventually abandons its absence to become part of the ever-evolving DeFi craze.
Is it even possible to build DeFi on Bitcoin? And if so, what are the broader implications when Bitcoin starts playing a central role in the space?
More on that and other big stories from the day in the Friday edition of BeInCrypto's daily news roundup.
Apparently, the commonly held view by many experts is that it's not impossible to build DeFi on the benchmark crypto. Tough – yes, but certainly achievable. Matthew Black of Atomic Loans, for example, says that the biggest hurdle to having Bitcoin as an active player in the DeFi scene has nothing to do with the technicalities.
It's just that the vast majority of participants within the Bitcoin ecosystem are individuals with their own agenda, holding back potential development.
What cryptocurrency will become the main one in a year?
The growth in the DeFi markets appears to be going parabolic. Today, total value locked has hit a new all-time high of $3.5 billion according to DeFi Pulse. Ethereum lockup has also reached a new peak with 4 million ETH, or 3.6% of the whole supply, locked into smart contracts for borrowing and lending markets.
DeFi tokens are the driving force for crypto markets at the moment with some of them recording four-figure gains since the beginning of this year.
Yesterday, the Bitcoin price created another bullish candlestick that had wicks on both sides. This is the third consecutive bullish candlestick since the breakout on July 21.
The rally seems to have stalled at the 0.5 Fib level of the entire decline that began on June 1. Using the Fib retracement tool on the most recent fall, we see that the price has moved slightly above the 0.85 Fib level.
Since this is not a common reversal level, it's likely that the price will eventually move above the June 22 high of $9,780
The Bitcoin price has likely finished the third wave of a five-wave Elliott formation.
There is resistance at $9,750 and support at $9,250 and $9,400.
There is bearish divergence on the hourly RSI.
Read the Full Analysis
In the shorter-term, the price has formed a shooting star candlestick, which is a bearish reversal sign, often indicating that the upward trend has ended. This was done on considerable volume. However, the price has rallied since then and is currently testing the highs of the shooting star.
Therefore, the price should retrace back to the breakout level, which it also validated as support in the form of a long lower wick before eventually moving upwards.
Read the Full Analysis
On July 6, the DOGE price initiated a rapid upward move that caused it to break out from a descending resistance line that had been in place since October 2019. It subsequently increased by 135% in two days. However, the price has been declining since, losing the majority of the gains made during the breakout.
The price has retraced almost all the way to the previous descending resistance line, finding support above the 50 and 200-day moving averages (MA), which have made a bullish cross.
Read the Full Analysis
Join our Telegram Group and get trading signals, a free trading course and daily communication with crypto fans!
Source: beincrypto.com
Author: By Shilpa Lama 24 July 2020, 21:17 GMT+0000 Updated by Ryan Smith on 24 July 2020, 21:21 GMT+0000
Previous
Next