Apex Crypto News – Greatest Chess Player of All Time Backs Bitcoin
Garry Kasparov, the Russian chessmaster who faced off against IBM's "Deep Blue" supercomputer, says Bitcoin, crypto and blockchain technologies, are the solution to the demand for privacy in financial markets.
In a July 23 interview with Forbes contributor Roger Huang, Kasparov said he saw many upsides to cryptocurrencies. According to him, they give individuals more control over their money, which is usually regulated "either by the state, corporations or outside parties."
"The good thing about Bitcoin is that you know exactly the number — the magic number of 21 million," the chessmaster said, referring to the maximum number of Bitcoin (BTC) tokens that will ever be mined. "But when you look at the other side, the Fed for instance, you never know how many trillions of dollars will appear on the market tomorrow that will damage your savings."
Kasparov is a chair of the Human Rights Foundation, a foundation which uses technology and digital innovations to protect those whose freedoms are threatened. According to him, blockchain technology and cryptocurrencies like Bitcoin are "natural choices" for protection against infringements on privacy and human rights.
"I think the steady rise in popularity of Bitcoin and other cryptocurrencies and blockchain technology as a concept is inevitable, because it's a response to the shift of power from individuals to states or other institutions that may act on our privacy without our consent."
Cointelegraph reported in June that a chess match between grandmaster Sergey Karjakin and Algorand founder Silivio Micali was recorded on the blockchain.
Like Kasparov, Kajakin expressed an interest in cryptocurrencies and the underlying technology. Algorand, a proof of stake blockchain platform, may be used to further greater adoption of chess, according to Micali.
Credit: Source link
Source: apexcryptonews.com
Binance Enters German Market via Partnership With Crypto Investment Firm
Binance has partnered with licensed German investment firm CM-Equity to offer crypto asset management and brokerage services in Germany and Europe.
CM-Equity has a crypto custody license with Germany's Financial Supervisory Authority (BaFin), allowing Binance, the largest crypto exchange by volume, to operate in the German market.
Digital asset custodians in Germany have to be licensed, per a law passed in January 2020. Crypto firms have scrambled to understand the new mandate; BaFin offered additional clarity on the new regulations in February.
"Depending on the residency of the user, some services were restricted and/or not marketed in certain jurisdictions," Wei Zhou, Binance's chief financial officer, said via email. "This partnership allows Binance to offer more services and market directly to more countries in Europe."
The exchange would not clarify what kind of new services it would offer with CM-Equity, saying it would announce them in the coming weeks and months.
"Binance offers the best trading experience in the market and we are thrilled to collaborate with the world's number one," CM-Equity CEO Michael Kott said in a press release. "Our fully licensed digital assets platform will benefit from the best liquidity and frictionless service offered by Binance."
Binance Enters German Market via Partnership With Crypto Investment Firm
Binance Enters German Market via Partnership With Crypto Investment Firm
Binance Enters German Market via Partnership With Crypto Investment Firm
Binance Enters German Market via Partnership With Crypto Investment Firm
Source: finance.yahoo.com
Author: Nathan DiCamillo
VF Make investments – 1st To Market Crypto Investing App For Straightforward Diversification In Sectors like DeFi, Gaming,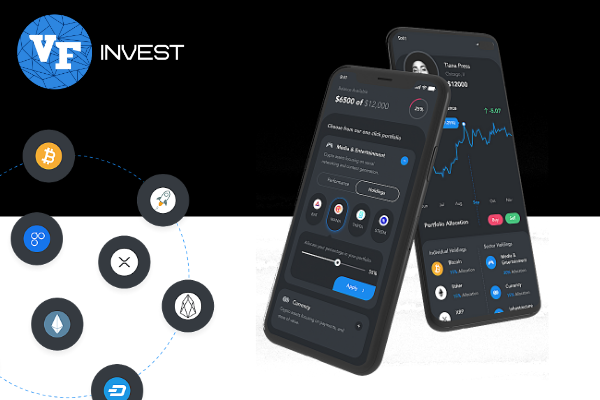 Crypto media outlet Visionary Monetary plans to launch a primary to market non-custodial, and decentralized funding platform that may lastly let traders diversify in a single place. The protocol, "VF Invest" plans to revolutionize person expertise, giving customers the flexibility to diversify in particular person cryptocurrencies and sector portfolios in seconds, whereas having full management over their property.
Chicago, IL, USA: Visionary Monetary, a crypto media firm that caters to 20,000+ each day and works with a few of the largest firms within the business, plans to introduce an funding arm known as "VF Invest." VF Make investments can be a one-stop funding software that lastly makes it simple to diversify in crypto markets. Not like conventional platforms, customers can have the flexibility to diversify in sector portfolios that target areas similar to DeFi, gaming, infrastructure, funds, and others. As well as, customers will be capable of on-board 100+ particular person digital property. With many inefficiencies present on present funding platforms, VF plans to make crypto investing seamless whether or not you're a newbie or skilled investor.
Non-Custodial And Decentralized

VF Make investments plans to function in a non-custodial and decentralized method, which means the person maintains full management. In right this moment's atmosphere, it's well-liked to maintain crypto investments on an change. The issue there's that traders run the danger of shedding their property from hacks and different illicit actions. As well as, retaining property on an change means the person is giving a central get together full management. Non-custodial and decentralized framework ensures added security by retaining property off exchanges, and sustaining full management over private and non-private keys.
Founding father of Visionary Monetary, Jeff Guzzi acknowledged that "Coming from traditional finance, we have always planned to launch an investment arm, but we were focusing on building a brand through our media division first. Users are still looking for a seamless way to fully diversify in crypto. Investors, especially newcomers, still lack direction. I have friends on a weekly basis, some of which (CFA/CPA's) who don't even know where to start. Unfortunately in a developer-heavy environment, UX has been a core issue. User experience behind VF Invest is going to fix the core inefficiencies, while offering a completely differentiated experience. For the first time ever, users can stop worrying about accounts on multiple exchanges, and diversify in seconds, while maintaining full control over their assets."
Sector Portfolios
What future awaits cryptocurrencies?
Except for particular person cryptocurrencies, customers can develop into absolutely diversified by partaking in sector portfolios that observe well-liked sectors and tendencies. Whether or not somebody is focused on DeFi, funds, provide chain, gaming, or many others, sector portfolios provide a diversified combine in seconds. Traders are all the time trying to find the following challenge that may create a market impression. As an alternative of looking by way of 3,000+ particular person cryptocurrencies, traders can select sectors which can be being powered by varied digital property.
Blockchain Based mostly Languages & Routing
By leveraging varied blockchain primarily based languages, algorithms, and inbuilt change aggregators, VF Make investments will make diversifying in crypto low-cost, seamless, and very strategic.
Fixing Business Inefficiencies
The typical crypto investor has 3-5 accounts on varied exchanges which is inefficient and exposes them to further threat. As well as, many "one-stop" funding protocols right this moment nonetheless require customers to have accounts on varied exchanges. That is like telling somebody they want 5 totally different brokerage accounts to spend money on shares… By taking a non-custodial method, customers can have entry to digital property from varied exchanges, whereas monitoring a diversified combine underneath one roof.
Co-founder of Visionary Monetary, Anthony Solano acknowledged that:
"This year we have already seen various altcoins and sectors soaring as use cases and developments ramp up. With a market that is valued at $270B, the percentage of the world that invests is still extremely low. Outside of investing in the core digital assets, the market still lacks a platform that allows for investing in popular sectors. Instead, investors continue to "diversify" by navigating varied exchanges which is extraordinarily inefficient and finally slows down mass adoption."
To be notified upon Apple IOS & Android launch, be part of the waitlist on VF Make investments !
Comply with Visionary Monetary on Twitter
Normal inquiries, partnerships, and different questions
Visionary Monetary
[email protected]
Discover: Info contained herein shouldn't be and shouldn't be construed as a suggestion, solicitation, or advice to purchase or promote securities. The knowledge has been obtained from sources we imagine to be dependable; nevertheless no assure is made or implied with respect to its accuracy, timeliness, or completeness. Authors might personal the crypto forex they talk about. The knowledge and content material are topic to alter with out discover. Visionary Monetary and its associates don't present funding, tax, authorized or accounting recommendation. This materials has been ready for informational functions solely and is the opinion of the creator, and isn't supposed to supply, and shouldn't be relied on for, funding, tax, authorized, accounting recommendation. You must seek the advice of your personal funding, tax, authorized and accounting advisors earlier than partaking in any transaction. All content material revealed by Visionary Monetary shouldn't be an endorsement in anyway. Visionary Monetary was not compensated to submit this text Please additionally go to our Privateness coverage; disclaimer; and phrases and circumstances web page for additional info. VF Make investments is wholly owned and operated by Visionary Monetary. This text was sourced from Visionary Monetary
Source: thebitcoinexaminer.com
Author: TBE
Blockchain Bites: OCC's Crypto Letter, Eth 2.0's 'Official' Testnet and Dinwiddie's Tokenized Airball
The OCC will allow banks to custody crypto, Visa has a digital currency playbook and a digital dollar is essential to America's economic edge, said experts at a U.S. Senate hearing.
Related: Don't Expect Banks to Jump on the OCC Crypto Custody News
Apple's co-founder Steve Wozniak sued YouTube over Bitcoin giveaway scams using his likeness
BitGo is staking Tezzies
Winklesvoss-owned Gemini will custody .crypto domains names
Veritaseum accuses T-Mobile of gross negligence over $8.6 million SIM-swap hack
The U.S. House passed two blockchain amendments in an annual defense budget bill
Related: First Mover: Ethereum a Victim of Its Own Success as Fees Soar, Vitalik Complains
A change is in the air. In a letter yesterday, the Office of the Comptroller of the Currency (OCC) announced all nationally chartered banks in the U.S. will be able to provide custody services for cryptocurrencies.
This marks a major turning point for the crypto industry, long reliant on specialist custodians, typically licensed through states, to offer services to large investors. But it also signals a changing attitude in the nature of money.
"The OCC recognizes that, as the financial markets become increasingly technological, there will likely be increasing need for banks and other service providers to leverage new technology and innovative ways to provide traditional services on behalf of customers," the letter said.
Brian Brooks, a former Coinbase exec who joined the OCC as Acting Comptroller earlier this year, is just one of a number of crypto-friendly regulators in high positions. U.S. Securities and Exchange Commission (SEC) Chairman Jay Clayton is likely to become the next U.S. Attorney for the Southern District of New York, while 'Crypto Mom' Hester Peirce has been tapped for a second term as an SEC commissioner.
It's not out of the question for more crypto-forward legislation or administrative actions to follow this year.
Still, the growing governmental acceptance of crypto comes with costs. Banks custodying digital assets will have to conform to local laws and follow "sound risk management practices," the OCC letter states, placing these assets under watchful eyes.
Whether this is antithetical to crypto's original ethos, or may stifle breakneck development is an open question. But it's worth asking what "being your own bank" means.
Blockchain Bites: OCC's Crypto Letter, Eth 2.0's 'Official' Testnet and Dinwiddie's Tokenized Airball
Blockchain Bites: OCC's Crypto Letter, Eth 2.0's 'Official' Testnet and Dinwiddie's Tokenized Airball
Source: finance.yahoo.com
Author: Daniel Kuhn
Don't Expect Banks to Jump on the OCC Crypto Custody News
Alex Mascioli is head of institutional services for Bequant, a digital asset prime broker. He spent nearly a decade in traditional financial markets before making the jump to crypto markets three years ago.
Banks can now offer cryptocurrency and digital asset custody to their clients, but what does this really mean?
As you may know, the Office of the Comptroller of the Currency (OCC) announced Wednesday that nationally chartered banks in the U.S. can now jump into the crypto custody arena. There are plenty of opinions about what impact this will have on the industry, and many of them are at odds.
Related: Blockchain Bites: OCC's Crypto Letter, Eth 2.0's 'Official' Testnet and Dinwiddie's Tokenized Airball
See also: Banks in US Can Now Offer Crypto Custody Services, Regulator Says
Some feel this is the beginning of a new era for the industry where banks will be able to offer complimentary digital asset services attractive to sophisticated investors; or, even more optimistically, that a Bitcoin ETF is more likely to be approved. Others have lamented that banks will audit and tax every penny, or, even worse, that they will readily agree to help the federal government seize coins in the future.
Here's the thing. Traditional financial institutions, banks included, move slowly. Most make turtles look like they're in a hurry. So, don't expect any to announce their brand new custody platform immediately, if at all.
According to a recent Fidelity survey, only about a third of all these firms even own crypto.
Related: Crypto Needn't Fear GPT-3. It Should Embrace It
Think about that for a second.
Many investors in this space are here because they are weary of being exposed to the systemic risk that having digital assets custodied in a traditional financial institution could create. They are hedging against the very network that's trying to encroach on Bitcoin.
The bulk of banks and other sophisticated players in the old school markets don't know much about our industry.
Given this unusual (and vocal) segment of our industry, banks may not have quite the opportunity they think they do, and a significant share of crypto asset traders and investors may avoid them altogether and stick with crypto native firms that are somewhat insulated from the potential problems of a Northern Trust or a State Street, both of which are large traditional custodians that took TARP bailout funds during the Great Recession.
The bulk of banks and other sophisticated players in the old school markets don't know much about our industry. Most of them don't appear to have even done anything as basic as buying a fractional Bitcoin on Robinhood.
Some firms have even publicly frowned upon bitcoin. For example, just this past May, Goldman Sachs said in a widely publicized research note that "cryptocurrencies including bitcoin are not an asset class."
Comments like those don't appear to be aging well, and are important because they show the fundamental lack of experience and understanding of digital asset markets that at least some of these firms have. Sure, their reach and distribution is huge, but what does that matter if they don't have the knowledge or relationships to build such an offering?
It isn't all negative, though. There are positives that can be taken away from this announcement.
When former Coinbase Chief Legal Officer Brian Brooks became the acting head of the OCC, his office announced that he wanted banks to submit input on crypto rule policies, this was a major change from the previous head. Additionally, now that nationally chartered banks can officially do business as a crypto custodian, this will legitimize digital assets to more people, both on the retail consumer side and institutionally. And, I wouldn't be surprised if we saw a jump in values for many of the more well-known crypto assets over the coming days and weeks.
See also: Byrne Hobart – PTJ on BTC: Bitcoin Is Now the Macro Big Bet
Paul Tudor Jones, one of the most successful and well known hedge fund managers in the world, recently made news by making public his intention to include bitcoin futures in response to an "unprecedented expansion of every form of money unlike anything the developed world has ever seen," and what he sees as "the upcoming digitization of money everywhere, accelerated by Covid-19."
He can't be the only member of the old guard starting to see the value and practicality of Bitcoin and other crypto assets.
More than likely, this will be a catalyst of sorts for an acceleration of clarity from Washington regarding a more solid regulatory framework for our industry (also good). All too often, the clarity of what we can or can't do seems to shift with the winds. Hopefully, this is the beginning of a trickle-down effect. Maybe this announcement is our stabilizer, maybe Brian Brooks is the even-keeled captain that we need to move forward.
Once all the headlines surrounding this announcement fade away, what will we be left with? Probably not many new custodial entrants from this regulatory approval in the short term, but the bright hope that the onlookers will see the acknowledgement from our government that crypto is real, at least real enough for the house that Morgan built to be allowed to do business with it.
Don't Expect Banks to Jump on the OCC Crypto Custody News
Don't Expect Banks to Jump on the OCC Crypto Custody News
Source: finance.yahoo.com
Author: Alex Mascioli
Previous
Next