Manhunt in Europe! Germany on the Chase of Wirecard's Jan Marsalek, Russia's GRU Allegedly Hiding Him, Bitcoined "From Dubai to Russia"
'World's most wanted man' was the opening of an investigative report by Bellingcat which claims to use digital data to piece together events.
The report published this Saturday says Jan Marsalek (pictured), the COO of Wirecard since 2010, had lied about going to the Philippines after his disappearance late last month following the eruption of Germany's and Europe's biggest financial scandal after auditors confirmed $2 billion was missing from Wirecard.
After inspecting arrival and departure databases from FlighRadar, Flighstats and FlightAware, the Bellingcat reporters concluded he had gone to Belarus.
Today it was revealed Russia wasn't very sure about their ally, presumably because pro democracy and liberty forces have been rising in Belarus which has been ruled by Aleksander Lukashenka for the past 25 years.
As such, according to Germany's financial paper Handelsblatt, Russia's new KGB, GRU, brought him into Russia proper.
They say Jan Marsalek "is said to be housed on a property west of Moscow under the supervision of the Russian military secret service GRU."
Handelsblatt goes so far as to imply there was a Russian spy in the middle of Berlin, stating according to a very rough translation:
"In talks and chats, Marsalek has often stylized himself as a secret agent and must have worked closely with the GRU on visits to Palmyra, Syria, and investments in Libya that he indicated. During his frequent trips to Russia alone, the 40-year-old used six passports."
Bellingcat says in some of his visits to Russia he used a diplomatic passport as well from an unnamed country with this diplomatic passport extremely unusually given to a non citizen. They also say:
"Whatever kept bringing Marsalek to Russia in 2015 and 2016 must have caught up with him in 2017.
After 4 trips early in the year – as usual, each no longer than a day or two – Wirecard's COO flew back from Munich to Moscow on 9 September 2017, but did not leave until a week later.
In fact, he was not allowed to leave even when he attempted to: immigration records show that on the morning of 15 September, at 8:05 his attempt to leave the country using a private business jet was denied by FSB's border service.
It is not clear what caused the detention, but it appears that his initially booked jet had to be let go without Marsalek.
At 17:35 that afternoon, Marsalek did leave Russia after all, using a different private jet. This was the last time Wirecard's boss would visit Russia. Or at least, the last time using his Austrian passport," emphasis theirs.
At the end of July 2017 Alexander Vinnik was arrested in Greece with Mark Karpeles of MT Gox accusing him of being the thief of some 800,000 bitcoins that were stolen from the exchange.
Vinnik's connection to BTC-e was confirmed in July 2017 with extradition court battles leading to court trials that are yet to start in France.
The fairly close timing of FSB's intervention in regards to Marsalek may well be a coincidence, but a leak revealed that in mid-May 2018 a transfer occurred to, allegedly, Russian authorities, with BBC claiming Wex's known wallets show 30,000 bitcoin and 700,000 litecoin left the exchange on May 16th 2018.
Bellingcat says Russian authorities stopped tracking Marsalek at the end of 2018, while Handelsblatt claims he "brought significant sums to Russia in the form of bitcoins from Dubai, where Wirecard had operated dubious operations."
Source: www.trustnodes.com
DeFi Effect Brings Ethereum Transactions Near 2018 ICO Boom Levels
The DeFi effect can clearly be seen in the ethereum transactions which are nearing the 2018 ICO boom level as most of the activity is attributed to the rise of Layer-2 applications and DeFi. In our latest Ethereum news, we take a closer look at the analysis.
The data shows Ethereum transactions are getting close to the 2018 levels as the GAS prices increased and are set at record highs. Transactional activity broke the 1 million per day level which was set last year, and it is nearing 1.3 million per day as it was seen in January 2018. The current transaction activity is ranging between the 1.1 and the 1.2 million/day level.
Some people think that #Ethereum will be successful but $ETH won't have any value.
Let me debunk this meme with one single plot. pic.twitter.com/vwfNdZp2tM
— Mo (@MorganTBennett) July 16, 2020
The charts coincide with the increase of DeFi applications and projects such as Compound, Aave and Balancer gained a lot of supporters and media interest in 2020 and their increase in popularity is the same with the surge in Ethereum transactions. All DeFi tokens account for 1.44 percent of the total crypto space as the sector volume reached $456 million over July. The sector returned 6.53 percent to investors in the past few days and this is the most among the other sub-sectors such as general currencies, privacy tokens, and smart contracts.
There's a price-wise look to it as well. One economic model suggests that Ethereum's price will be booster by DeFi's growth which was proposed by the analyst Morgan Bennet earlier this week. In the meantime, the mempool data on Ethereum is not helping the cause. The transaction fees soared in the past week and cost more than $10 on some transfers. The DeFi effect can also be seen to the DeFi token usage as the top coins run on the ETH mainnet.
The Reddit thread captured some of the community sentiment for this matter:
"The high gas prices make it really painful (and sometimes confusing) to interact with (a) smart contract."
Ethereum's bigger ecosystem however is working to solve some of the problems. Consensys-backed starkware reached 9000 transactions per second back in May while Matic Network reported 7200 tips over the last week. As the current TPS is set between 12-15, the block data shows the layer-2 designs, and rollup tech will power the network to more than 1 million tps.
Source: cryptomoneyteam.co
Author: By TeamMMG
Why An Analyst Says Ethereum Has At Least 1 Month of Bullish Fuel | NewsBTC
Against Bitcoin, Ethereum has been embroiled in a brutal bear market for the past two years.
There was a point when one ETH was worth in excess of 0.1 BTC, but those days have long passed. Now, Ethereum trades for under 0.03 BTC — a far cry from its all-time highs. But multiple analysts say that the asset is on track to see a strong recovery against Bitcoin in the months ahead.
As Bitcoin has flatlined, Ethereum has actually been inching higher due to an influx of ETH usage spurred by growth in decentralized finance. These slight gains have allowed the cryptocurrency to print positive technical signs against the market leader.
One trader noted that the recent price action has enabled Ethereum to break past a crucial downtrend against Bitcoin. This simple technical occurrence primes the asset for at least a month of upside, the trader explained further.
"Wonderful 2W close for $ETH / $BTC. After such long consolidation, this break out should lead to 2 or more strong 2W candles for the bulls. 50 RSI as support for the first time in 2 years," he added, referencing how the pair's relative strength index reading is favoring appreciation.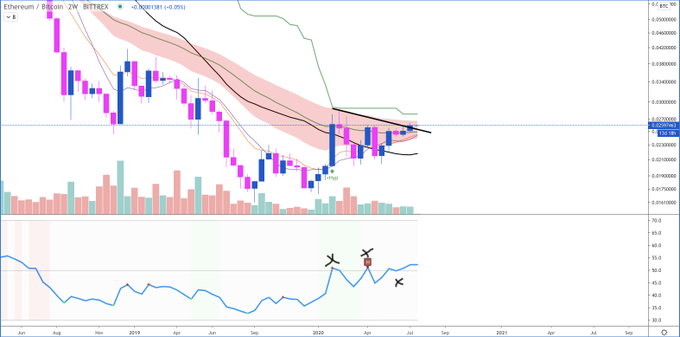 What future awaits cryptocurrencies?
Chart of ETH/BTC with RSI and multiple indicators attached by Polar Hunt (@Polar_hunt on Twitter), a crypto trader. Chart from TradingView.com
This optimism about ETH's prospects, especially in regards to the asset's trading pair against Bitcoin, has been echoed by a swath of other traders.
Long-time commodities analyst Peter Brandt shared the chart below earlier this month. It suggests that against Bitcoin, ETH can gain 20% in the weeks ahead because of a "significant breakout."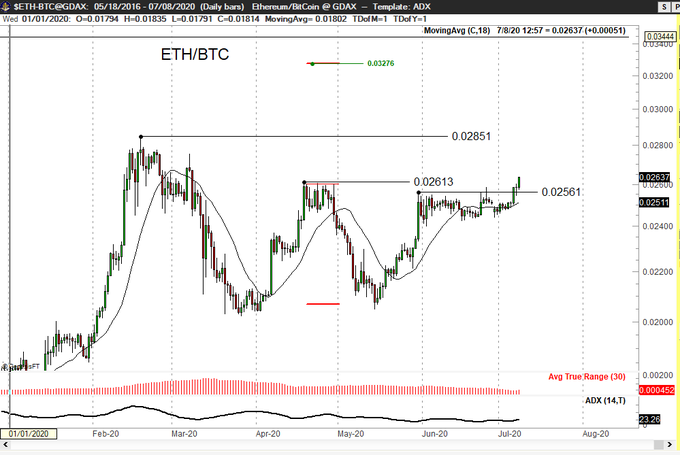 ETH/BTC analysis by Peter Brandt
There's also macro analyst Raoul Pal, a former head of hedge fund sales at Goldman Sachs. He said that there's a fair likelihood ETH is "going to be the [initial] outperformer" in the upcoming cryptocurrency bull cycle.
Further backing the bullish on Ethereum narrative, the asset's fundamentals seemingly are stronger than ever.
Coinbase's Max Bronstein, who works as part of the firm's institutional and ventures team, recently shared that two of the blockchain's metrics have surged. They are as follows:
Ethereum's daily transaction count is starting to pass one million once again. This was last seen at the 2018 highs.
The number of users leveraging Ethereum-based DeFi contracts has gone "exponential." This growth is largely being driven by Uniswap, Synthetix, and 1inch.
Crypto is having a major reflation moment — soon to be on par with, and likely exceed, the 2017 boom.
Notable metrics include:
• Ethereum tx count
• Bitcoin holders with =>1 BTC
• DeFi users going exponential, standouts include: @UniswapProtocol @synthetix_io @1inchExchange pic.twitter.com/t7BYv8HZGF
— Max Bronstein (@max_bronstein) July 18, 2020
Source: www.americancryptoassociation.com
Ethereum Blockchain enabled platform for SME deal making launches in UAE
MENA based startups have raised $659 million in the first six month of 2020, representing a 35% increase in total funding compare to the first half of 2019, however the number of investment deals dropped by 8% compared to 2019, with March and April seeing the largest drop of 66% and 35% respectively. (Source MAGNITT).
Interestingly there has also been increased later stage investments with larger round sizes which highlights more interest from investments in established companies, better known as SMEs (Small and Medium Sized) SMEs in the MENA region represent 96% of registered companies , 50% of employees and 52% of non-oil GDP.
However many SMEs have a lack of access to bank lending where lending to SMEs accounts for only 7% of total bank lending the lowest level in the world, and fund raising usually takes six months to fundraise. In addition Covid 19 has had strong effects on the economies in GCC and MENA region. OECD believes that the Arab region is likely to lose 45% of FDI inflows in 2020.
According to the Arab Monetary Fund, while SMEs make up 80% of businesses in the Arab regions, only one in five has a loan or line of credit. The International Finance Corporation (IFC) estimates the SME funding gap in the Middle East and North Africa (MENA) to be around US$260 billion.
This has trickled down to new funding mechanisms for SMEs that include P2P lending (Peer-to-peer), Sharia compliant Bonds, profit sharing agreement, crowd funding and there are increased mega funding, sovereign wealth funds and initiative being deployed in UAE and Saudi Arabia. One example is Saudi Arabia's Public Investment Fund (PIF) aimed at investing in venture capital and private equity funds geared towards small businesses.
According to Ali Maabreh, Head of M&A at KPMG in Saudi Arabia, "Merger and acquisition (M&A) activity in Saudi Arabia and other Gulf countries are expected to increase amid the Covid-19 pandemic as small and medium enterprises (SMEs), and several large corporates will look for equity via capital injections to satisfy working capital needs."
In the recent Life After Covid-19Innovation and Entrepreneurship survey of the startup community in the MENA region, companies have reported that the Covid-19 crisis is affecting their business, with revenue generation, fundraising and burn-rate being the most significant concerns."
With all this in play Mohamed El-Masri, Founder and CEO of MAKSAB ( www.maksab.io) , an Investment Consulting company, which incorporate the Maksab platform, a secure digital smart virtual deal making marketplace that will allow investors to access off market and exclusive emerging transactions. MAKSAB, an Ethereum Blockchain digital platform hopes to empower SMEs to improve transparency while ensuring the mandates that fall under a list of strict criteria. The platform will connect advisors and private investors with Small and Medium Enterprises that are seeking growth capital.
Maksab Platform users consist of three different categories that are (1) corporate finance consultants and transaction agents ("Advisor"), SME business owners ("Sell-Side") and private funding partners ("Buy-Side") (collectively the "Platform Prospects").
The Maksab Platform uses the Ethereum blockchain to allow confidential, secure, streamlined, efficient and reliable transactions between Platform Prospects. The platform generates Ethereum Based token standard contracts that facilitate bridge financing and selling of SME Companies (MXAB Token)
Buy-Side and Sell-Side users have the ability to work with the Advisors on the platform that structure hybrid solutions that combine debt and equity offerings in a tokenization model that is streamlined on the on the Maksab Platform.
In short Maksab is working to match investors with companies using the power of the internet, disclosing information and deal terms and facilitating the investment transaction all online. What usually would take 8 to 12 months, can now take weeks or even days on equity on Maksab platform.
As El Masri states, " Maksab platform creates an opportunity to widely address the significant financing gap that SMEs are facing through a streamlines, efficient, reliable, and transparent trust and transaction protocol using blockchain and MXAB Token which has never been possible before in the history of capital markets."
Utilizing Maksab platform SMEs can communicate directly with market counterparts without the need for brokers, bank intermediaries and lawyers reducing transaction timelines and costs from entry to exit.
El Masri adds, "The adoption of blockchain and smart contracts allows for the facilitation and allocation of interest-free financing and direct equity investments towards SMEs on a digital platform without the need for brokers and intermediaries. This platform is essential given that the global credit gap for formal SMEs is estimated at $1.2 trillion with the total credit gap for both formal and informal SMEs is as high as US$2.6 trillion."
The Maksab platform will also allow SMEs to get access to qualified resources that assist them in accelerating their business and expanding operations.
El Masri concludes, " In the end Maksab platform is all about community, users can earn rewards in the form of MXAB tokens for their participation while they directly manage prospects, track deal flow, manage offerings, send and receive offers and more… in short we are making it easier to share and negotiate deals by connecting accredited investors with high growth companies seeking direct investments. We got you covered from entry to exit.
Source: www.unlock-bc.com
Author: Source: Maksab press release
Ethereum Is Range-Bound between $230 and $240, Uptrend Possible
Ethereum bulls rebounded yesterday but failed to break the $240 resistance. The biggest altcoin has been consolidating above $230 after the last bearish impulse on July 16.
Source: www.americancryptoassociation.com
Analyst Says These Altcoins Could Gain Up to 40X on Bitcoin – But Will They Challenge Ethereum?
Crypto analyst Nicholas Merten thinks savvy crypto investors should pay attention to whether alternative blockchain protocols can overtake Ethereum – or at least grab a higher percentage of the market share.
Merten dubs the market competition "the protocol wars," noting that all of the best-performing assets recently have either been enterprise blockchain or decentralized finance (DeFi) projects.
The host of DataDash notes that Cardano, EOS, Neo, Tezos and Cosmos are displaying promising metrics and should continue to perform well in the next year. The question, he says, is whether they can actually chip away at Ethereum's protocol supremacy.
"I have no doubt all of these crypto plays that we just looked at are probably going to have higher levels [compared] to Bitcoin [BTC] a year from now than where they are right now. Let's just get that off the table. Probably the vast majority.
Keeping that in mind though… whether or not we can actually get some fundamental development on these chains is going to be the question we need to get answered in order to see if this is going to do a 2 or 3x against Bitcoin or if a variety of protocol plays are going to do a 10, 20, 30, [or] 40x.
Because this time around, it's not just speculation. There needs to be a bit of fundamentals with it. There really does. Quite frankly, a lot of blockchain protocols simply have one thing missing that Ethereum has hand-in-hand, and that is a developer ecosystem."
Merten notes that while he appreciates the academic nature of Cardano, not much has been built on it. And EOS, he says, is probably in the second-best position in blockchain for DeFi, but he still hasn't felt a need to use any of the protocol's DeFi apps.
"This is a problem here. If you don't have a way to have the leverage of building a network effect, you can have a great blockchain, you can be much more scalable than Ethereum, but you're not going to be a better blockchain protocol in the long run."
From an investment perspective, Merten says he believes NEO, Tezos, and Cosmos are all potentially worth a look.
Source: dailyhodl.com
Previous
Next