Bitcoin Trading Near Make-or-Break Levels: Here's Why $9,400 Holds The Key
Bitcoin is trading nicely above the $9,100 and $9,200 support levels against the US Dollar. BTC is forming a crucial breakout pattern and it must break $9,400 for a sustained upward move.
Bitcoin is trading above the key $9,120 support level and the 100 simple moving average (4-hours).
The price is facing a strong resistance near the $9,400 and $9,500 levels.
There is a crucial breakout pattern forming with resistance near $9,380 on the 4-hours chart of the BTC/USD pair (data feed from Kraken).
The pair must settle above the $9,400 and $9,500 levels for a strong rally.
This past week, bitcoin made an attempt to surpass the main $9,500 resistance levels against the US Dollar, but it failed. BTC formed a weekly high at $9,480 and later started a downside correction.
There was a break below the $9,400 and $9,300 support levels. The price even broke the 50% Fib retracement level of the upward move from the $8,912 low to $9,480 high. Finally, the price spiked below the $9,200 support and the 100 simple moving average (4-hours).
BTC tested the main $9,120 support area, where the bulls appeared. It seems like the 61.8% Fib retracement level of the upward move from the $8,912 low to $9,480 high acted as a strong support.
Bitcoin price holding $9,200: Source: TradingView.com
More importantly, there is a crucial breakout pattern forming with resistance near $9,380 on the 4-hours chart of the BTC/USD pair. The pair is currently rising and trading well above the $9,200 and the 100 SMA.
On the upside, an initial resistance is $9,350 level. The first major resistance is near the triangle resistance and $9,400. A successful break and close above $9,400 will most likely increase the chances of a sustained upward move above the $9,500 resistance. If the bulls succeed, the price might climb towards the $9,600 and $9,800 levels.
If bitcoin struggles to clear the $9,400 and $9,500 resistance levels, there is a risk of a bearish break. The first major support is near the triangle lower trend line at $9,200.
The main support is near the $9,120 levels, below which the bears are likely to aim a larger decline below the $9,000 and $8,800 levels in the coming days.
Technical indicators
4 hours MACD – The MACD for BTC/USD is slowly moving in the bullish zone.
4 hours RSI (Relative Strength Index) – The RSI for BTC/USD is currently rising and it is just above the 50 level.
Major Support Level – $9,120
Major Resistance Level – $9,400
Take advantage of the trading opportunities with Plus500
Risk disclaimer: 76.4% of retail CFD accounts lose money.
Source link
Spread the love
Source: www.cryptobitnews.co.uk
Cryptocurrency News Roundup for July 3, 2020
A flash crash of this kind was the last thing the bulls needed given that technical indicators have remained consistently bearish over the past few weeks. Combine that with a bearish volume pattern, and the odds are reasonably high that we'll soon witness a short term breakdown in the price.
More on that and other big stories from the day in the Friday edition of BeInCrypto's Cryptocurrency News Roundup.
While the price initially moved above the 200-hour moving average, it proceeded to fall back below and is now facing resistance from the 200 and 50-hour MAs. Furthermore, the RSI has fallen well below the 50 mark and is now possibly facing resistance from the line.
The volume pattern is also bearish. It was at its highest during yesterday's hourly bearish engulfing candlestick.
The Bitcoin price declined considerably on July 2.
Technical indicators are bearish, especially in the short-term.
Bitcoin has lost the support of its 50-day MA.
Read the Full Analysis
As of this writing, XRP is up almost 2% according to the daily chart. It may have created a double bottom in the short run, signaling a bullish reversal pattern.
In addition, the price is also following a descending resistance line from the beginning of June. There is stiff resistance at $0.19, and if the bulls manage to push the price beyond there, a break out should follow.
Read the Full Analysis
Both the ADA/USD and ADA/BTC pairs are currently undergoing a more or less similar pattern. The former is trading just between the resistance and support levels at $0.105 and $0.072, respectively.
There is a significant dip in daily volume figures. Even if the price manages to reach the previous resistance area, the likelihood of an ensuing breakout is low, at least on the first attempt.
Read the Full Analysis
In a detailed report published on Thursday, BeInCrypto's Tony Toro delves into how the Lebanese currency is on the brink of collapse. The report explores how the Lebanese central bank may have pulled off a massive nationwide Ponzi scheme.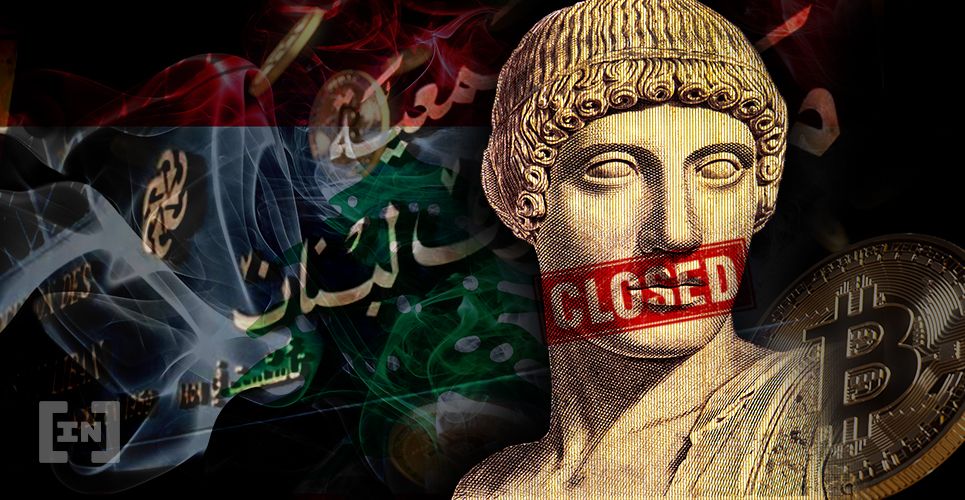 If things don't improve soon, which is highly unlikely, Bitcoin could very well take over and play a pivotal role in Lebanon's financial future.
Read the Full Report
Meanwhile, halfway across the world in Latin America, the average Venezuelan citizen has been struggling with worsening economic conditions that have been lingering since 2014. In late 2017 the Venezuelan government announced a state-backed digital currency, called the El Petro, or simply Petro.
They hoped it would rekindle the dying economy and bring the nation back on track. It turns out, it wasn't very practical, and Venezuelans don't seem to care that much for the highly-centralized 'crypto.' It's hardly a surprise that Bitcoin trading volumes have skyrocketed in the country, particularly in 2020.
Read the Full Report
The Ethereum price has likely begun a long-term correction, which should take it all the way back to $170. A long-term wave count is yet to be confirmed and suggests that Ethereum could decline to $45. There is resistance and support at $250 and $170, respectively.
Read the Full Analysis
Source: beincrypto.com
Illustrations by A. Gnetova and G. Phan
Japanese Broker Monex Launches Crypto-Based CFDs With 2x Leverage
Gifts and Remittances: Bitcoin.com's New Tools Allow People to Send BCH via Email
Bitcoin Investors Pocketed 42% in Gains During the Second Quarter of 2020
What future awaits cryptocurrencies?
Tether's Market Valuation Grows 144% in 2020, USDT Market Cap Worth $10 Billion
Alt-Right Activist Stefan Molyneux Banned from Youtube, Raises $100K in Crypto Donations
A 'Significant Increase': UK Regulator Says 2.6 Million Residents Have Bought Cryptocurrencies
Russian Court: Bitcoin Theft Not a Crime
UK Court Denies Maduro Access to $1 Billion of Venezuela's Gold
Despite Covid-19 Negativity, Crypto Prediction Markets Say Trump Wins the 2020 Election
Crypto Use-Cases in Africa on the Rise, According to Luno
The IRS Investigation Division Is Requesting Information About Privacy-Centric Cryptocurrencies
Personal Data of 250,000 People From 20 Countries Leaked by Bitcoin Scam
Over 2,500 Austrian Merchants Can Now Accept Cryptocurrency Payments
A New Price Valuation Model Says $10,670 Fair Value For Bitcoin
Bitcoin Entrepreneur Brock Pierce Joins the 2020 US Presidential Election
700,000 Expedia Hotels Can Now Be Paid With Cryptocurrencies via Travala
The Tokenized Metaverse: Non-Fungible Token Sales to Surpass $100 Million
Bitcoin Volatility Hits Three-Year Low, Sparking Fears of Massive Sell-Off
European Blockchain Ecosystem Needs €350 Million for the Next 18 Months
Crypto Derivatives Volumes Crash 36% to $393 Billion in June, a Low for 2020
South African Investors to Lose $13 Million as Bitcoin Scammer Declared Bankrupt
Encryption Crackdown: Private Phone Network With 60,000 Users Dismantled by Law Enforcement
Bitcoin.com Wallet Launches New Portfolio Breakdown and Stablecoin Swap Features
Tiktok Ban: US May Join India in Banning Chinese Social Media Apps
Escalating Bank Runs Spur Chinese Government to Require Approval for Large Cash Transactions
The Popular Stablecoin Tether Is Now Circulating on the Bitcoin Cash Network
Bitcoin Price Poised for 'Imminent' Breakout As Network Hashrate Hits Record Highs
Renters Threaten US Real Estate Market, 20 Million Americans Face Eviction
Crypto Facilities Gets FCA Nod to Set up Crypto Futures Venue
Major Indian Company TCS Launches Cryptocurrency Trading Solution for Banks' Customers
Market Update: Crypto Assets Slowly Gather Gains, Bitcoin Needs Capital Inflow, ADA Jumps 85%
About 90% of Bitcoin Investors Worried About Fate of Their Assets After Death: Study
Permissionless Software Foundation Aims to Foster Open-Source Software With Bitcoin Cash
John McAfee Launches Ghost Phone Service to Supplement His Cryptocurrency
'Bitcoin Is Not a Privacy Coin' Says Crypto Evangelist Andreas Antonopoulos
Jeffrey Epstein Confidant Ghislaine Maxwell's Last Reddit Post Was About Bitcoin
Famous Malaysian Actor Fined for Stealing $50,000 Worth of Crypto From His Producer
South African Crypto Investment Company Issued Cease And Desist Order In Texas
China's Giant Ride-Hailing Service Didi to Pilot the Central Bank's Digital Yuan
Centre Obliges Government Request, Freezes Address With $100,000 USDC
Avalanche Launch Fumbles: 'A Highly-Sophisticated DDoS Attack Derailed Token Sale'
Source: bitcoinrecent.com
Author: by admin
20,000 Helbizcoin Investors Accuse Company of Trying to Destroy Evidence, Seek Court Injunction | News Bitcoin News
A group representing about 20,000 investors in Helbiz Inc has filed a motion seeking a temporary restraining order and preliminary injunction against the company.
Investors want a motion granted to stop the company from destroying smart contracts that supports Helbiz Inc.'s ERC20, a token also known as Helbizcoin (HBZ). The application was filed on 6 July 2020.
According to a motion filed at United States District Court Southern District of New York, the plaintiff, Ryan Barron, and other investors accuse the defendant, Salvatore Palella of fraud. Palella is the "main owner" of Helbiz Inc.
Investors state that there are three main issues of why the court needs to grant the motion.
First, the investors' counsel argues it is "tortuous" to destroy the computer code that allows the coins to exist. Helbiz Inc "sold these coins and transferred ownership to them (investors)" and it would be a "trespass to and conversion of personal property" (at a minimum) to destroy their functionality.
Secondly, investors say the threatened destruction of personal property is a well-established basis for an injunction, and particularly so here because the contract, "once destroyed, can never be restored."
Investors allege that the ERC20 token, which has seen its value drop by 99%, was part of an elaborate pump and dump scheme orchestrated by Palella and Helbiz Inc.
It is on the third issue that investors say they expect the Palella to mount a challenge.
In their motion, investors argue that by filing an opposing motion to an earlier filing suggests Palella's willingness to defend himself. Investors had approached the court for a letter seeking expedited discovery of the defendants' control over the coin.
Palella's opposition also supports investors' claims that the defendant is trying to distance himself from Helbiz Inc so that he avoids liability.
Court records also show Palella arguing that "non-party HBZ Systems PTE LTD ('HBZ Systems') [is] the company that controls the computer code for the smart contracts at issue."
Palella further argues that "HBZ Systems is a Singaporean company that is beyond this Court's jurisdiction."
Concluding its opposition to the plaintiff's filing, the Pallela's counsel states that the initial coin offering (ICO) for HelbizCoin "raised only 1,804.45 ethereum, which is the equivalent of approximately $1.56 million."
This last statement by Pallela's counsel suggests he is trying to insinuate to the court that this is an unimportant case.
Still, investors point to the existence of an interview Palella had with an online cryptocurrency news magazine. Investors say Palella's statements in that interview shows that he controls the coin and not some third party.
In 2017, during the ICO boom, Palella began promoting Helbizcoin (HBZ) and its associated blockchain platform as a peer-to-peer solution to reinvent the ride-sharing economy.
Capitalizing on the frenzy over crowd-sharing businesses and crypto, Palella raised nearly $40 million from small investors reports quote him saying at the time. Investors believe their case has strong merits and an injunction must be granted.
Do you think winning the court injunction will improve the chances of investors recovering their funds? Tell us what you think in the comments section below.
Court Injunction, Fraud, HBZ Systems, Helbiz Inc, HelbizCoin, ICO, pump and dump, Ryan Barron, Salvatore Palella, Smart Contracts, Temporary Restraining Order
Disclaimer: This article is for informational purposes only. It is not a direct offer or solicitation of an offer to buy or sell, or a recommendation or endorsement of any products, services, or companies. Bitcoin.com does not provide investment, tax, legal, or accounting advice. Neither the company nor the author is responsible, directly or indirectly, for any damage or loss caused or alleged to be caused by or in connection with the use of or reliance on any content, goods or services mentioned in this article.
Read disclaimer
Source: www.americancryptoassociation.com
Previous
Next