Ethereum Smashes Crucial Hurdle And It Could Rally To $250
Ethereum formed a strong support base above the $224 level against the US Dollar. ETH is up over 3% and it broke the key $230 and $232 resistance levels.
Ethereum is gaining bullish momentum above the $230 pivot and the 100 hourly simple moving average.
The price is up more than 3% and it even tested the $235 resistance level.
There was a break above a major bearish trend line with resistance near $230 on the hourly chart of ETH/USD (data feed via Kraken).
The pair is showing positive signs and it seems like it could continue to rise towards $240 and $250.
In the past few days, Ethereum price formed a strong support base above $224 against the US Dollar. ETH price started a fresh increase and surpassed a couple of important hurdlers near $228 and $230.
The bulls gained strength, resulting in a steady rise above the $230 resistance the 100 hourly simple moving average. More importantly, there was a break above a major bearish trend line with resistance near $230 on the hourly chart of ETH/USD.
The pair even climbed above the $232 resistance and tested the $235 region. It is currently correcting lower and trading near the 23.6% Fib retracement level of the recent upward move from the $223 swing low to $235 high.
On the downside, the first major support is near the $230 level (the recent breakout zone) and the trend line. It is close to the 50% Fib retracement level of the recent upward move from the $223 swing low to $235 high.
Once the current correction wave is complete, there are chances of another increase above the $235 resistance zone. In the mentioned case, ether price might continue to rise towards the $245 and $250 resistance levels in the coming sessions.
If Ethereum fails to remain stable above the $230 support, there is a risk of a false upside break. A bearish close below the $230 support might spark a fresh decline.
The next major support is near the $224 level, below which the bears are likely to eye a sustained downward move.
Technical Indicators
Hourly MACD – The MACD for ETH/USD is gaining momentum in the bullish zone.
Hourly RSI – The RSI for ETH/USD is currently well near the overbought zone.
Major Support Level – $230
Major Resistance Level – $235
Take advantage of the trading opportunities with Plus500
Risk disclaimer: 76.4% of retail CFD accounts lose money.
This post was originally published on www.newsbtc.com
Source: www.cryptoalphanews.com
Author: cm_team
The Ethereum Network Activity Surged to Levels Unseen in 2 Years | NewsBTC
The smart contracts giant kicked off the week on the right foot. Its price has surged over 4.60% since the weekly open to hit a high of $237.5. However, the Tom Demark (TD) Sequential indicator estimates that Ethereum could be bound for a small intraday correction before it continues rising towards the $239 resistance level.
Based on ETH's 1-hour chart, the TD setup is currently presenting a sell signal in the form of a green nine candlestick. The bearish formation estimates a one to four 1-hour candlesticks correction. A red two candlestick trading below a red one candlestick can serve as confirmation of the pullback.
Ethereum Bound for an  Intraday Pullback. (Source: TradingView.com)
Despite the chances of a potential retracement, Ethereum's network activity is trending up and just reached levels not seen since January 2018.
In a recent blog post, Daniel Ferraro, Marketing Director at IntoTheBlock, affirmed that Ethereum is seeing some key on-chain metrics growing exponentially. While prices have increased by nearly 90% year-to-date (YTD), Ether's utility is expanding over time with more than 1 million transactions on the network registered on a daily basis.
"As yield farming and DeFi activity has boomed the last few weeks, Ethereum has benefitted from an increase in ETH use, which is needed to pay gas costs required by these projects. Recently, the number of Ethereum transactions reached a level not seen since January 2018, it surpassed 1 million transactions, achieving a high of 1.09 million transactions on June 23," said Ferraro.
The Number of Ethereum Daily Transactions Surges to 2018 Levels. (Source: IntoTheBlock)
Along the same lines, data from Santiment reveals that the number of daily active ETH addresses surge to nearly 490,000 addresses on June 29. Based on historical data, spikes in daily active addresses have lined up with market tops. Thus, the recent spike could spell trouble for the smart contracts giant.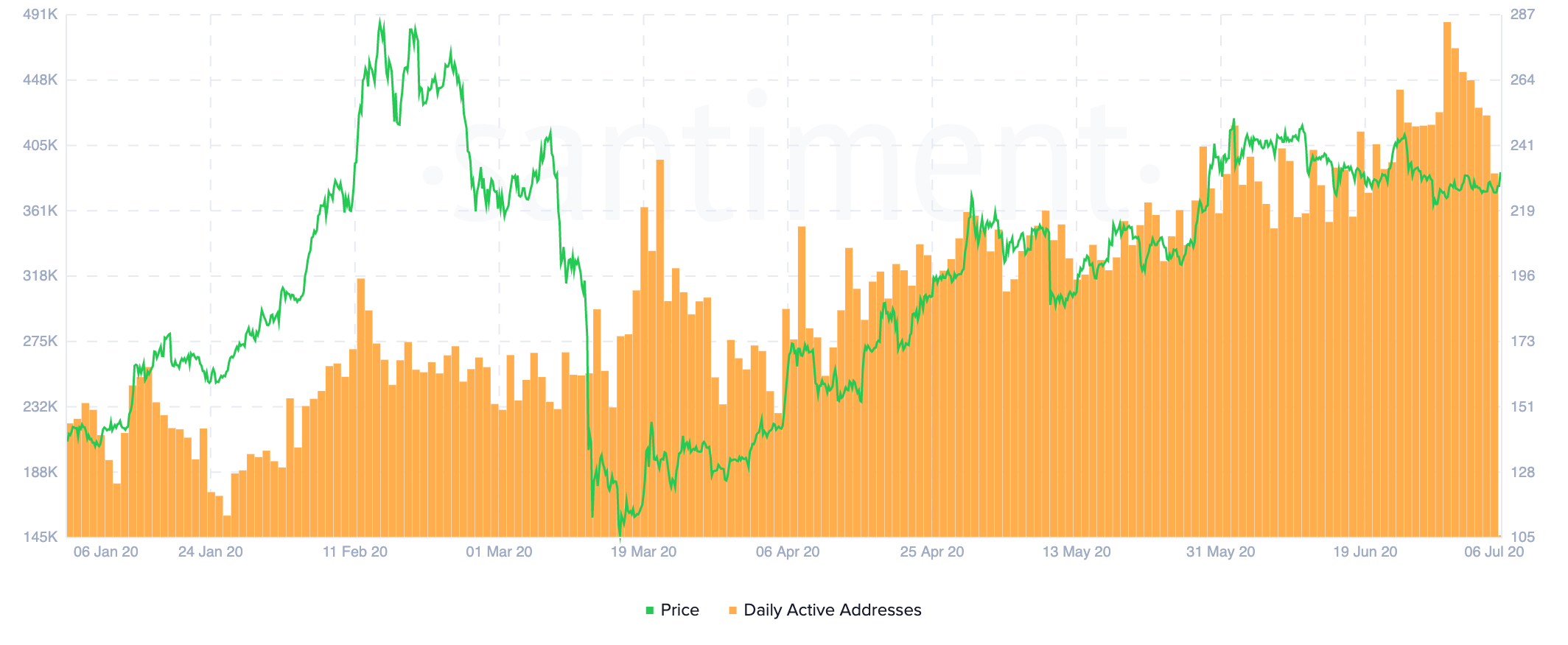 Ethereum Daily Active Addresses Rise to New Yearly Highs. (Source: Santiment)
A wise man once said, "those who cannot learn from history are doomed to repeat it." This idea usually can be seen in the price action of different assets and given the high correlation between market tops and daily active addresses, momentum for a bearish impulse could be building up slowly.
For this reason, investors must watch out for the $239 resistance level. Around this price hurdle, roughly 1.3 million addresses had previously purchased over 6 million ETH, according to IntoTheBlock's "In/Out of the Money Around Price" (IMOAP) model.
Such a significant supply barrier may prevent Ethereum from advancing further as holders within this range will likely try to break even in the event of a bullish impulse. Under such circumstances, it is reasonable to expect a move back to $230 or $201 support levels based on the price history of the past month.
Key Support and Resistance Levels Ahead of Ethereum. (Source: IntoTheBlock)
It is worth mentioning that a break of the $239 resistance cluster may send Ether towards $270. The IOMAP cohorts show that there is not any considerable supply wall in-between these price points that will prevent such an upswing.
Source: www.americancryptoassociation.com
Ethereum's "Monthly Pivot" Could Signal That a Major Rally is Brewing
Ethereum has flashed some significant signs of strength after posting an intense recovery yesterday.
The cryptocurrency is now back within the boundaries of its multi-month trading range, and buyers appear to be attempting to establish its recent lows as a long-term bottom.
Overnight, sellers pushed it as low as $222 – just a hair above its crucial high time frame support at $220.
The dip to this level catalyzed a significant amount of buying pressure, which was further perpetuated by Bitcoin's surge from $8,900 to highs of $9,300.
ETH is now trading firmly within the trading range between $230 and $250 that was first formed in early-May. Its outperformance of the aggregated market is pointing to underlying strength amongst its buyers.
One analyst is noting that the crypto's push higher came about as it reached its "monthly pivot" – signaling that its recent lows may market a long-term bottom.
What future awaits cryptocurrencies?
This comes as multiple bullish narratives surrounding the cryptocurrency begin emerging, which could help bolster any potential uptrend.
This past weekend, the crypto markets faced some weakness when Bitcoin dipped below $9,000.
This movement by the benchmark digital asset sent Ethereum, and virtually all other top altcoins, also reeling lower.
In the time since, however, the market has recovered and is now sitting above where it was before the recent decline.
At the time of writing, Ethereum is trading up roughly 4% at its current price of $236. This marks a massive climb from daily lows of just over $220 that were set yesterday.
Now that the crypto is trading back above the lower boundary of its long-established trading range, buyers may attempt to test its upper limit, which sits around $250.
This latest surge also came about in tandem with the crypto printing a bullish signal at its "monthly pivot" – according to one respected analyst.
"Well, looks like ETH wants to cement, a bullish signal with the Gann Fan, right on the monthly pivot," he said while pointing to the chart seen below.
Image Courtesy of Mitoshi Kaku. Chart via TradingView.
In addition to showing signs of technical strength, multiple narratives are floating amongst investors that could further bolster its uptrend.
Luke Martin – a respected analyst and the host of the Coinist Podcast – spoke about some of these narratives in a recent tweet, pointing to ETH 2.0, DeFi, and EIP 1559.
"ETH trying to move up after a sideways June. The narrative for bullish ETH action has been there (eth 2.0, deFi, EIP 1559) and the charts support that," he said.
Image Courtesy of Luke Martin. Chart via TradingView.
How Ethereum trends in the days ahead should reveal just how influential these narratives will be on its future price action.
Source: www.cryptobitnews.co.uk
Previous
Next