How Bitcoin May See An Unexpected Boost From A DeFi Token Bubble Burst
Night Takeoff Of The American Space Shuttle. 3D Illustration.
Decentralized finance—better known as "DeFi"—has become a buzzword in the cryptocurrency industry over recent weeks. Migrating financial services to a decentralized platform has been viewed by many as a killer use case for cryptocurrency, specifically Ethereum.
Jon Jordan, communications director at DappRadar, said in an interview late last year: "DeFi certainly is the first category of dapps to attract significant amounts of value… Yes, DeFi is the first killer dapp category on Ethereum."
According to data provider DeFiPulse, the cumulative value of tokens locked in DeFi applications has surged from $1 billion on Jun. 15 to $1.65 billion on Jun. 26—growth of 65% in eleven days.
Simultaneously, the prices of tokens related to this cryptocurrency sector have seen rapid growth.
Taha Zafar, a crypto analyst, shared the table below on Jun. 18, showing Bitcoin's performance in comparison to DeFi tokens such as Aave (LEND), Kyber Network (KNC), and Maker (MKR).
The data indicates that while Bitcoin is up 80% in the past three months, DeFi tokens have done even better, registering performances in excess of 100% over that same time frame.
Bitcoin vs. DeFi-focused tokens over the past 90 days. Data current as of Jun. 18.
Although DeFi is still in vogue, analysts expect Bitcoin to experience a rally once this cryptocurrency market segment undergoes a necessary correction.
How DeFi Can Boost Bitcoin
After surging by over 150% from March's lows, Bitcoin has stalled in the $9,000s. Since early May, the leading cryptocurrency has traded in a tight range from $8,500 to $10,000, barely deviating from these levels.
The chart below from crypto trader Josh Rager depicts Bitcoin's lack of momentum.
Bitcoin range chart
It's a much different story for DeFi tokens, which have strongly outperformed Bitcoin over recent weeks as shown in the table above.
Even today, on Jun. 26, CoinMarketCap reports that six out of the ten best-performing cryptocurrencies in the top 100, are DeFi focused.
Yet the higher these tokens rally, the more Bitcoin could gain once DeFi goes through a correction.
Kelvin Koh, a partner at cryptocurrency advisory and investment fund Spartan Group, observed on Jun. 9 that once "smaller altcoins" reach valuations that are deemed frothy by investors, Bitcoin will experience strong capital inflows. Referencing the strength of tokens such as MKR, LEND, and their contemporaries, Koh said:
"We have seen a major re-rating in many of the smaller altcoins (esp DeFi ones) in the past 4-5 weeks while BTC has been range bound. At some point, the valuation of these alts will start to look frothy and the capital will flow back to BTC."
This comment was echoed by a pseudonymous Bitcoin trader, who said that Ethereum and Bitcoin could see a "small pump" when "it"—referencing the recent DeFi bubble—"all comes crashing down."
This sentiment is based on the fact that most smaller altcoins trade against Bitcoin or Ethereum, not the U.S. dollar. That means that if traders want to realize the unrealized profits they made on altcoins, they will need to acquire either Bitcoin and/or Ethereum.
And with data site DeFi Market Cap indicating that the cumulative value of all DeFi tokens is now in excess of $6.5 billion, these tokens retracing even by 10-20% could correspond with millions of dollars worth of capital flowing into Bitcoin and Ethereum.
A Bubble Waiting To Pop
The growth of DeFi as of late can largely be attributed to two trends: support of blockchain-based finance projects by crypto exchange Coinbase and the launches of two new DeFi coins, Compound (COMP) and Balancer (BAL).
On Jun. 10, Coinbase revealed that it is looking into supporting 18 cryptocurrencies. Although the company does this every few months, this time, a sizable percentage of the tokens the exchange identified are DeFi centric. LEND, Bancor (BNT), COMP, Keep Network (KEEP), Ren (REN), and Synthetix (SNX), which were mentioned by Coinbase on Jun. 10, are either largely focused or entirely focused on enabling decentralized finance.
While the exchange is still evaluating whether or not the tokens should be added, the seven aforementioned coins have experienced rallies since the announcement. On the day of the announcement alone, some of the coins gained 10%.
These tokens are benefiting from what is colloquially known as the "Coinbase Effect," whereas coins mentioned by the exchange temporarily boom as listings on Coinbase often lead to increased adoption.
Shortly after Coinbase gave DeFi that boost, Ethereum-based finance protocols Compound and Balancer publicly launched their respective native tokens, COMP and BAL, respectively.
These launch events generated hundreds of millions of dollars worth of value as speculators were quick to throw money at these tokens and their respective protocols.
A running theme through these two trends is that the growth of DeFi may not be sustainable.
Tokens listed or mentioned on Coinbase often retrace once hype dies down. Also, many expect the Compound and Balancer bubbles to eventually deflate.
Weiss Crypto Ratings, market research firm Weiss Ratings' cryptocurrency division, wrote on DeFi's "ludicrous" growth in relation to the rest of the industry:
"DeFi is one of the most exciting things going on in crypto right now, but the idea that sector will decouple from the rest of the market is ludicrous. Eventually, the mania will end, and DeFi will trade in line with the rest of the market."
Yet when that correction takes place and how far this segment falls remains to be seen.
What's Next For DeFi?
Stepping back, decentralized finance is facing down longer-term roadblocks that may worsen the upcoming correction should it ever arrive.
Multicoin Capital's Kyle Samani recently argued that DeFi is facing down "invisible asymptotes" that are a byproduct of how Ethereum currently works. He opined:
"You just can't build global scale trading systems for lots of users on POW chains. It just doesn't work. High latency –> all kinds of negative second order effects. So I think for now we are near a plateau for DeFi – measured in ETH terms (not USD) – until the core latency problems are solved."
This comment was made in reference to Ethereum's ~13 second block times, which disallows blockchain developers from building decentralized applications that mimic Wall Street financial instruments and products.
Samani added that crypto also has issues with a lack of fiat on-ramps and high transaction fees, which slow adoption.
Analysts expect Ethereum's budding DeFi sector to correct as valuations become overvalued and users face latency problems; in turn, Bitcoin and Ethereum may rally as capital from those overvalued altcoins returns to the crypto sector's "reserve assets."
Source: www.forbes.com
Author: Nick Chong
$20 Million in BitMEX Longs Wiped as Bitcoin Crashes Below $9,000
After weeks of consolidation, Bitcoin decisively broke below $9,000 just minutes ago. The cryptocurrency dipped as low as $8,840 on leading spot exchanges and slightly lower on margin-enabled exchanges like BitMEX.
BTC price chart of the drop from TradingView.com
This move caught many traders off guard, according to derivatives data.
Skew.com reported that more than $20 million worth of longs on BitMEX alone were liquidated during this move lower. This adds to the approximately $50 million in longs liquidated earlier this week as the cryptocurrency slid from ~$9,400 to $9,000.
Bitcoin position liquidation chart for BitMEX from crypto derivatives tracker Skew.com
BitMEX's Ethereum market has also sustained damage. The derivatives tracker has reported liquidations of $1 million worth of ETH contracts.
Considering that these are just two markets of a broader crypto derivatives industry, there were likely dozens of millions more liquidated.
Analysts say that this weakness could be a precursor to an even greater drop.
Blockroots founder Josh Rager said last week that Bitcoin breaking $9,100 will lead to a move to $8,900 and $8,500. Should Rager's analysis continue to hold true, a move towards $8,500 will follow in the coming hours and days:
"BTC's range is clear. Current support that has been holding the past three weeks is the mid-range Break down here and price likely to see $8900 followed by $8500 range bottom," Rager wrote, referencing the chart seen below.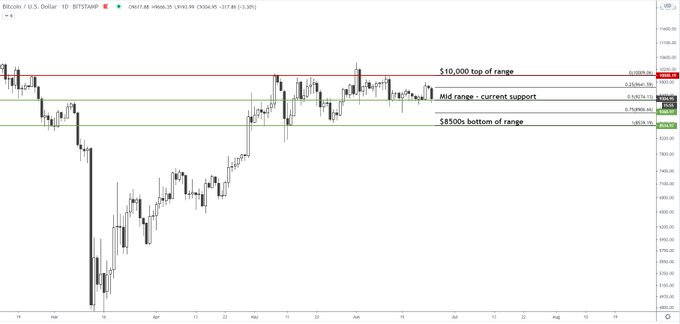 Chart of BTC's price action over recent months by Josh Rager (@Josh_rager on Twitter). Chart from Tradingview.com
There are others expecting a further move to the downside.
One trader argued on June 25th that Bitcoin is currently trading in a textbook Wyckoff Distribution. A Wyckoff Distribution is a bearish chart and volume pattern that appears near the tops of bull trends.
"A couple more clues developing that lend themselves to HTF distribution. 1. Rising Demand on the verge of failing. 2. Side by side, ascent vs descent with selling the dominant pressure from volume. We break to the downside, I'm not interested in $7ks. Much lower," the analyst wrote, referencing Bitcoin's recent weakness.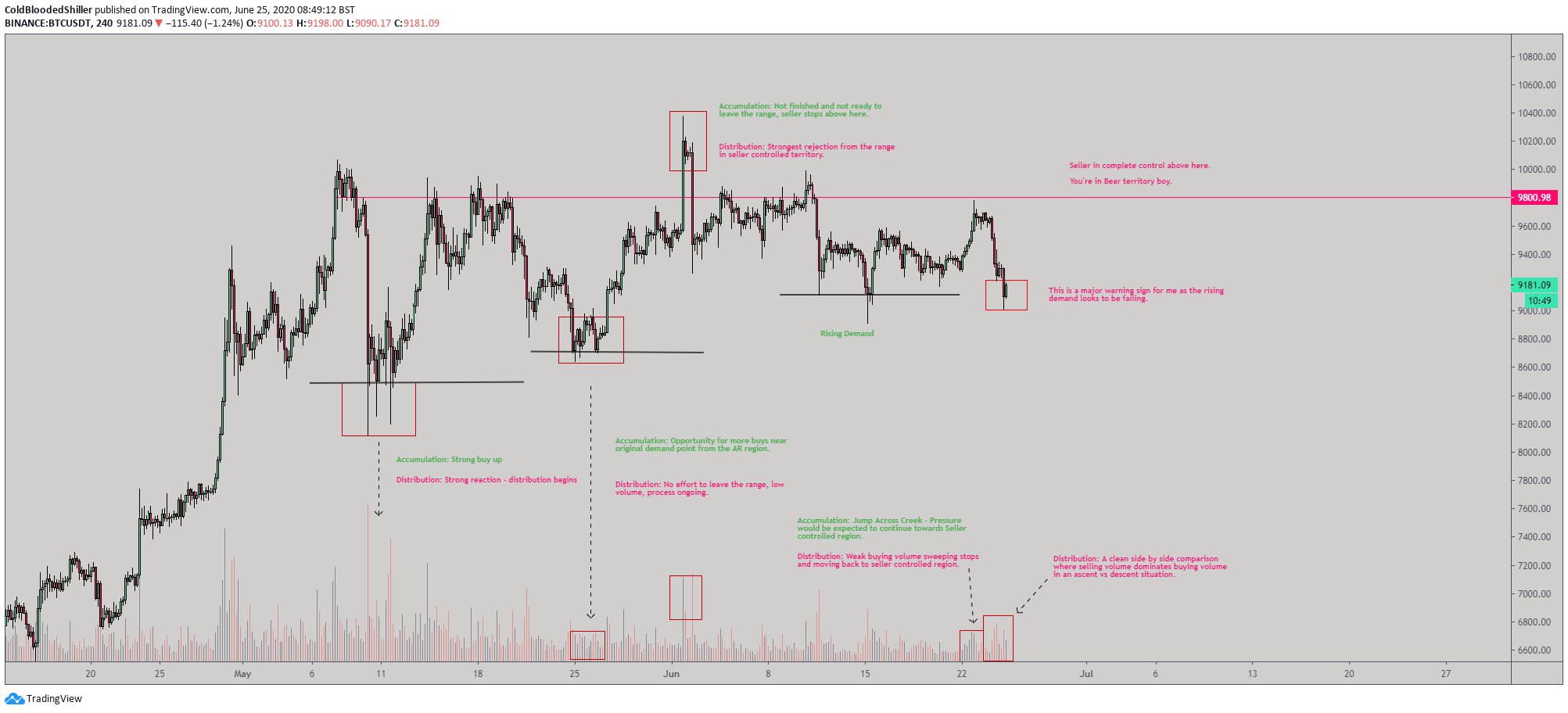 BTC distribution analysis posted by "Cold Blooded Shiller" (@Coldbloodshill on Twitter). Chart from TradingView.com
The bearish analyses shared by these traders can be corroborated by fundamental trends.
As reported by NewsBTC previously, on-chain analyst Cole Garner noted that BTC's next "big" move is likely to be to the downside. He attributed this sentiment to growing sell-side pressure from miners, weak buy orders on Bitfinex, and institutions being net short on Bitcoin via the CME.
Not to mention, the multi-billion-dollar crypto scam, PlusToken, has distributed cryptocurrency to wallets. DTC Captial's Spencer Noon has reported that the sum PlusToken is trying to liquidate is cumulatively worth $450 million.
Source: bitcoinrecent.com
Author: by admin
Ethereum 2.0 VS Cardano | Earning Passive Income in Cryptocurrency STAKING!
Ethereum 2.0 and Cardano will enable proof of stake or staking which allows for earning passive income in cryptocurrency with their coins. This should be super profitable, let's compare them. Sub to VoskCoin here! http://voskco.in/Sub
Start staking your Ethereum and Cardano today along with a $50 sign-up bonus, we are staking our ETH & ADA for 5-6% APR right now! https://voskcointalk.com/t/get-50-in-cryptocurrency-just-for-signing-up-with-crypto-com/577
Proof of Stake or PoS will become a fundamental part of cryptocurrency and blockchain projects. Staking allows users to earn more crypto coins, and thus earn passive income in cryptocurrency by simply holding the coins and/or running a crypto node. For example by setting up an Ethereum 2.0 Validator node ETH holders will receive ~3-15% ROI or return on investment or really just interest on their Ethereum they're staking. Cardano ADA staking profitability calculator estimates an annual return of 10% on your staked Cardano coins. Earning passive income is one of the many routes to achieving true financial freedom and success along with multiple streams of income. With 2 of the top 10 cryptocurrencies when ranked by coin market capitalization planning to move to proof of stake very soon, the passive income opportunities in cryptocurrency have potentially never been greater.
Source: cryptolearningvideos.com
Author: by admin
EIP-1559 Grant – Please take part and unfold the phrase! : ethereum
What's the Ethereum 2.Zero roadmap? What are the phases of Ethereum 2.0?
Ethereum 2.Zero is deliberate to be rolled out in a minimum of three phases: Part 0, 1, and a pair of. Part Zero is deliberate to launch in 2020, with Phases 1 and a pair of to be launched in following years.
Part 0: Within the first part of Ethereum 2.0, the "Beacon Chain" can be applied. The Beacon Chain shops and manages the registry of validators, and can implement the Proof of Stake (PoS) consensus mechanism for Ethereum 2.0. The unique Ethereum PoW chain will proceed to run alongside the brand new Ethereum PoS chain, guaranteeing there isn't any break in knowledge continuity.
Part 1: The second part of Ethereum 2.Zero will probably roll out in 2021. The first enchancment of Part 1 is the combination of shard chains. Shard chains are a scalability mechanism through which the Ethereum blockchain is "split" into 64 totally different chains, which permits for parallel transaction, storing, processing of data. At its most conservative estimate it'll allow 64 instances extra throughput than Ethereum 1.0, however it's designed to have the ability to deal with a number of hundred instances extra knowledge than Ethereum 1.0.
Part 2: The third part of Ethereum 2.Zero will probably be launched in 2021 or 2022. This part is presently much less clearly outlined than the above two phases, however will contain including ether accounts and enabling transfers and withdrawals, implementing cross-shard transfers and contract calls, constructing execution environments in order that scalable functions will be constructed on high of Ethereum 2.0, and bringing the Ethereum 1.Zero chain into Ethereum 2.Zero in order that Proof of Work can lastly be turned off.
Source: thebitcoinexaminer.com
Author: TBE
US breaks record for new COVID-19 cases. How to tell where your state is headed.
The United States had its second day of record-high cases of COVID-19.
On Thursday (June 25), the U.S. recorded 40,184 new cases, which is higher than any other single-day caseload throughout the entire pandemic to date, according to data collected by Worldometer. Wednesday's new cases — 38,390 — were the highest since April 24.
The soaring case numbers are being blamed on both state reopenings and increased testing, according to news reports. The surge is so worrisome that some states are either pausing the next phases of reopening or rolling back their reopenings.
Several states are especially hard-hit, breaking case-number records and reporting surges in hospitalizations and filled ICU (intensive care unit) beds.
Related: Live updates: Read the latest news on the coronavirus across the globe
Arizona is one of those states. Maricopa County, where Phoenix is located, "is surpassing 2,000 cases a day, eclipsing the New York City boroughs even on their worst days," doctors wrote in a blog for the PolicyLab at the Children's Hospital of Philadelphia, which is producing forecasts for COVID-19 in the U.S. "It is fair to say that the state of Arizona has lost control of the epidemic. So too has Texas, where the Houston area surpassed 1,600 daily cases, and their children's hospital began admitting adult patients. Florida is not far behind in our projections."
Those three states, along with South Carolina, have seen record increases in new cases over the last week, calculated using a seven-day average to account for single-day anomalies, The Washington Post reported.
So which indicators should you be watching to determine whether your state or county is moving in the right direction or not?
Test positivity rate: By looking at the proportion of tests that turn up positive for COVID-19, you can see whether transmission in your area is increasing, the PolicyLab reported. More testing means you'll likely see more cases just because you are testing asymptomatic or mildly symptomatic people whose cases might otherwise go unnoticed; the positivity rate gets rid of that confounding factor. (Arizona's positivity rate is continuing to increase, currently at 23.2%, according to Johns Hopkins University. New York's positivity rate, which peaked at around 50% in the beginning of April, has dropped to 1.1%.)
New hospitalizations: Daily new hospitalization numbers (over a 3-day or 7-day rolling average) can reveal whether your area has the coronavirus under control or not. It can take a few weeks for people who contract COVID-19 to get sick enough to be hospitalized, so this number is a bit delayed compared with new cases, according to the Policy Lab. But people who are sick enough to be hospitalized are unlikely to be missed, so increased testing would not affect that number. "It is unequivocal. If your hospitalizations are increasing, the risk in your area is increasing," according to PolicyLab
Compared to earlier in the pandemic, more states are reporting cases increasing in younger people, who are as a group less likely to be hospitalized or die from the disease. Even so, "they're still at risk for spreading coronavirus to other medically vulnerable people in their communities when they go to the store, travel for summer vacation or if they work at places like restaurants. This risk grows even higher if they don't wear masks in crowded indoor locations," the PolicyLab noted.
This spread to older people occurred in Iran, according to Florian Krammer, a professor in the Department of Microbiology at the Icahn School of Medicine at Mount Sinai. After seeing a decline in new cases beginning in April, Iran showed an uptick starting about May 1, Krammer said on Twitter. "But deaths did not go up. People explained to me, that now mostly young people are getting infected so nothing bad would happen," Krammer tweeted.
That was wishful thinking, because on May 25, daily deaths also started to increase. "This is a solid 3-4 week delay. What happened? First, it takes time to die of COVID-19. Second, cases probably really built up in younger people. But they diffuse into older populations. And then the deaths rose," Krammer tweeted.
Other indicators include:
Burden on hospital system: In addition to looking at new hospitalizations, check to see if hospitals have the capacity to treat severe COVID-19 infections. That means looking at ICU beds available, preferably over a 7-day rolling average. "The number of available intensive care beds helps us gauge the ability of our health care system to handle a potential surge of seriously ill COVID-19 patients," according to the city and county of San Francisco, whose goal is to maintain at least 20% availability of ICU beds.
Contact tracing: Knowing how many people who may be infected are being contacted and isolated can tell you how out-of-control an outbreak is. For instance, if public health officials reach out to the contacts of everyone who tests positive and make sure they're isolating at home, those people will not spread it further. But if health officials aren't tracing the contacts of many people who test positive for COVID-19, that means the epidemic is spreading largely out of control. In San Francisco, for instance, the goal is to contact 90% of those exposed to positive cases.
One way to see if contact tracing is working is to measure the number of unlinked infections, Tom Frieden, the former head of the Centers for Disease Control and Prevention, wrote in The Washington Post. "Tracking the number of infections without an identified source case or event reveals the effectiveness of the contact tracing process. Areas with unlinked infections can control the virus by improving contact tracing and physical distancing," Frieden wrote. However, only a handful of places are reporting this statistic.
Originally published on Live Science.
Source: elexonic.com
Author: by elexonic
Previous
Next