Week in Ethereum News
June 21, 2020
Layer 2
Matter Labs' ZK Sync rollup is live – tiny transaction fees, withdrawals to Eth mainnet in 15 mins, 300 transactions per second (with 2000 tps coming)
Minimally viable rollback in Validium/Volition
Crypto
a GKR inside a snark to speed up SNARK proving 200x
Attacking the Diogenes setup ceremony for Eth2's VDF
Isogenies VDFs: delay encryption
Kate polynomial commitments explainer from Dankrad Feist
Reputable List Curation from Decentralized Voting Crites, Maller, Meiklejohn and Mercer paper for construction of private TCR voting
0x is excited to sponsor Week in Ethereum News and invite readers to try out our new DEX!
Stuff for developers
Waffle v3 with ethers v5 support
WalletConnect v1 release, now with mobile linking
ethers-rs, a port of ethers to Rust
Solidity v0.6.10. error codes and bugfix for externally calling a function that returns variables with calldata location.
Inheritance in Solidity v0.6
Sorting without comparison in Solidity
Create dynamic NFTs using oracles
Deploying with libraries on Remix IDE
Wyre's WalletPasses allow push notifications for dapps
Code security
OpenZeppelin found a bug that affected 61 Argent wallets
Bancor bug: public method allowed anyone to drain user balances. Amusingly, the white hat draining got frontrun
DeFiSaver exchange vulnerability. They white hat drained it and also got frontrun.
Database of audit reports
Check out this newsletter's weekly job listings below the general section
Ecosystem
Reddit announces scaling competition to move Reddit's community points to mainnet
It seems the mysterious and massive transaction fees were from a hacked korean ponzi called GoodCycle. Various miners have handled differently: Ethermine (already paid out). Sparkpool (said it would pay out but then victim identified, unclear to me if yet resolved). f2pool (said they'd return to new address)
By default, Geth will no longer accept transaction fees over 1 eth
3box on demystifying the many facets of digital identity
The death (and web3 rebirth?) of privacy
Ethereum Foundation invests in Unicef's CryptoFund startups
Enterprise
WEF, IADB and Colombian government project to reduce corruption in procurement
EY launches crypto tax reporting app
DAOs and Standards
EIP2733: Transaction package
Anonymous voting using MACI and BrightID
Application layer
$COMP was distributed and liquidity mining ("yield farming") blew up. Compound passed Maker for #1 on DeFiPulse, and $COMP has had a fully diluted market cap over $3.5 billion
Uniswap v2 passes v1 in liquidity
Streamr's data unions framework is live for anyone to create their own
5m KNC burned milestone
Yield farming on steroids from Synthetix, Ren, and Curve
A yield farming for normies (and the risks!) tweetstorms from Tony Sheng
this artwork is always on sale, v2 with 100% per year tax instead of 5%
Tokens/Business/Regulation
ETH disrupting SWIFT: why fintech VCs are missing DeFi
Nick Tomaino on the economics of Eth2
Personal token vote on Alex Masmej's life decisons
Liechtenstein company tokenizes 1.1m USD collectable Ferrari
Opyn: hedging with calls
Synthetix: Deep Solidity engineer, 2+ years exp & US/EU friendly timezone
Chainlink: Product Manager for Blockchain Integrations and Lead Test Engineer
0x is hiring full-stack, back-end, front-end engineers + 1 data scientist
Celer Network: Android developer
Trail of Bits is looking for masters of low-level security. Apply here.
Want your job listing here? $250 per line (~75 character limit including spaces), payable in ETH/DAI/USDC to evan.ethereum.eth. Questions? thecryptonewspodcast -at-gmail
Follow me on Twitter @evan_van_ness to get the annotated edition of this newsletter on Monday or Tuesday. Plus I tweet most of what makes it into the newsletter.
Permalink: https://weekinethereumnews.com/week-in-ethereum-news-june-21-2020/
Upcoming dates of note (new/changes in bold):
June 24 – EIP1559 call
June 25 – Eth2 call
June 26 – Core devs call
June 29 – Swarm first public event
July 3 – Gitcoin matching grants ends (here's my grant)
July 6-Aug 6 – HackFS Filecoin/IPFS and Ethereum hackathon
July 20 – Fork the World MetaCartel hackathon
Aug 2 – ENS grace period begins to end
Oct 2-Oct 30 – EthOnline hackathon
Source: weekinethereumnews.com
Ethereum Whales on a Buying Spree as Network Prepares for Upgrade
The buying pressure behind Ethereum is rising as market participants prepare to receive staking rewards.
The price of Ethereum is stagnant in a narrow trading range.
Despite the lackluster price action, miners and whales have been adding a significant number of ETH to their bags.
If the buying pressure continues, Ether may be bound for a bullish impulse. There is still a massive barrier ahead, however, that must break.
This Exchange News was brought to you by OKCoin, our preferred Exchange Partner.
As Ethereum prepares to transition to a proof-of-stake (PoS) consensus algorithm, large ETH holders are on a buying spree that may result in a price increase.
The second-largest cryptocurrency by market cap continues consolidating without any clear signs of where ETH is headed next.
Based on its 4-hour chart, Ethereum has been mostly contained between its 100- and 200-four-hour moving average over the past week. These two moving averages are getting closer to each other, limiting Ether's price action to a $7 range.
Such a narrow trading range may indicate that the odds for a wild price move are increasing.
Data from Santiment reveals that Ethereum whales have been enjoying the lackluster price action to grow their positions in anticipation of an upward breakout.
Miners have also collectively increased their balance by 15,000 ETH throughout the past couple of weeks.
"After a mild bag dump around the time ETH began to consolidate, miners have resumed accumulating for the time being," said Santiment.
Along the same lines, the number of addresses with millions of dollars in Ether is rising again. Since the beginning of the month, the number of addresses with 100,000 to 1,00,000 ETH has surged by nearly 5%.
Santiment's holders distribution chart shows that 160 addresses are holding between $23 million and $230 million worth of Ethereum, which is the highest number ever recorded.
Despite the rising buying pressure behind Ethereum, IntoTheBlock's "In/Out of the Money Around Price" (IOMAP) model reveals that there is a massive supply wall ahead.
Roughly 1.14 million addresses bought nearly 7 million ETH between $235 and $242. These price levels represent a significant barrier for the bulls to overcome since they may have the ability to absorb any upside pressure.
But, if the demand for Ether continues trending up and allows it to break above this resistance hurdle, the outcome would convert even the staunchest skeptics.
The IOMAP cohorts show that, above this level, there isn't any other significant barrier that will prevent a move towards $280.
Nonetheless, if the current support given by the 200-four-hour moving average fails to hold, the next significant support point to watch out for sits around $200. Here, approximately 1.6 million addresses purchased more than 7.5 million ETH, according to the IOMAP.
The hype around ETH 2.0 is real, and that can be seen in the rise of new addresses joining the network.
This metric surged more than 24.5% over the past week, which is a bullish sign because network growth is one of the most accurate price predictors. Generally, rising network growth leads to increasing prices.
But first, Ethereum would have to break above the supply barrier that lies ahead.
Until that happens, it is imperative to wait on the sidelines for a clear break of the support or resistance levels previously mentioned.
News Source
Source: elevenews.com
Author: Published 9 hours ago
Ethereum's Chances of Ending the Year at $480 Surges to 7%
Ethereum will soon transition from a proof-of-work (PoW) algorithm to proof-of-stake (PoS). The major protocol upgrade that is scheduled for Q3 2020 will transform the crypto-economic incentives around validating transactions. In fact, those holding ETH will be rewarded for their contribution to maintain the network secure.
This could be the reason why Ethereum whales have been enjoying the lackluster price action to grow their positions. Data from Santiment reveals that miners have collectively increased their balance by 15,000 ETH throughout the past couple of weeks.
Meanwhile, the number of addresses with 100,000 to 1,000,000 ETH surged by nearly 5% since the beginning of the month. Now, there are 160 addresses holding between $23 million and $230 million worth of Ethereum, which is the highest number ever recorded.
Ethereum Whales Increase Their Holdings. (Source: Santiment)
As speculation mounts around ETH 2.0, decentralized finance (DeFi) applications running on top of this protocol have stolen the spotlight of the cryptocurrency market. The substantial growth of these projects could have serious implications on the price of Ether.
Indeed, crypto derivatives analytics provider Skew affirmed that the smart contracts giant could double in price. Under the current market conditions, especially with everything that is going on behind Ethereum, there is a 7% probability that its price will be worth $480 by the end of the year.
What future awaits cryptocurrencies?
The firm maintains that the stablecoins and DeFi tokens running on top of Ethereum appear to have a "more sustainable" product and market fit. Compared to the initial coin offerings (ICO) of 2017, these projects may be able to add more value in the long-term to the smart contracts giant, according to Skew.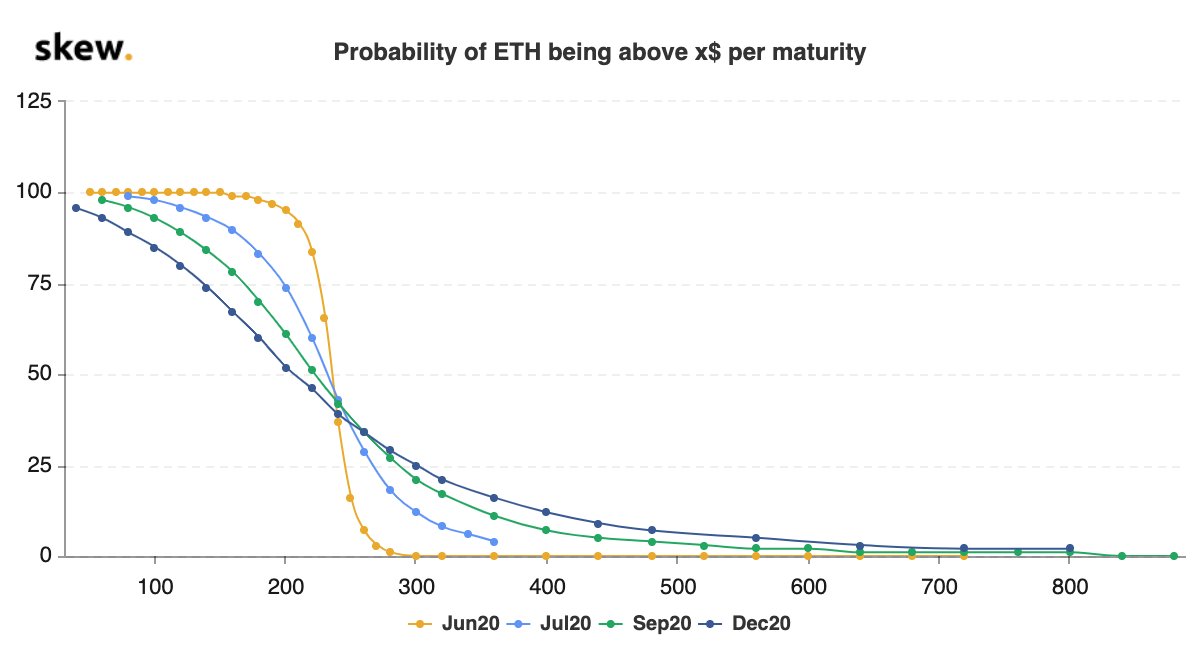 Odds For Ethereum to Rise Increase. (Source: Skew)
Along the same lines, John Todaro, head of research at TradeBlock, said that Ethereum will eventually benefit from the DeFi platforms "hitting escape velocity."
"There's a lot of excitement around new DeFi tokens. Reminder that most of that collateral locked up across those platforms is in Ethereum. As that outstanding Ether supply comes down and demand from DeFi platforms hits escape velocity, ETH will rally hard," said Todaro.
Despite the high levels of speculation around Ethereum, IntoTheBlock's "In/Out of the Money Around Price" (IOMAP) model reveals that there is a massive supply wall ahead.
Based on this on-chain metric, approximately 1.14 million addresses bought nearly 7 million ETH between $235 and $242. These price levels represent a significant barrier for the bulls to overcome since they may have the ability to absorb any upside pressure.

Ethereum Faces Massive Resistance Ahead. (Source: IntoTheBlock)
If the buying pressure behind Ether is significant enough, however, its price may be able to break above this resistance hurdle. Moving past this supply wall could see Ethereum rise towards $280 since there isn't any other significant barrier that will prevent such a move, according to the IOMAP cohorts.
Source: www.cryptobitnews.co.uk
Ethereum 2.0 Should be Secure and Scalable but Poses Risks for Users
Alongside the ultimate scalability and security for the Ethereum network, the upcoming Ethereum 2.0 upgrade to a proof-of-stake model promises to bring additional, new benefits to its users, too. One of the main attractions, which encourages buying Ether (ETH), is a staking model that allows receiving passive income for the validation of transactions. And here, the users are able to choose between two different options: The first implies depositing 32 ETH and running a validator node software, and the second allows for staking without having to deposit or run nodes by joining third-parties' pools.
The numbers speak for themselves, as 66% of the Ethereum community are proponents of staking with the remaining still unsure of their choice. With promising benefits, however, the new upgrade can bring some risks, too. How will the new staking model affect those who choose to stake, hold or trade, and what can the negative scenarios be for those who decide to keep mining with the old network?
Most experts believe that the upgrade to Ethereum 2.0 will have a positive impact on the price of ETH and its trading volumes. Staking can indeed open up wide investment prospects for those who prefer the buy-and-hold strategy instead of trading ETH futures. According to Changpeng Zhao, the CEO of Binance, staking will help stabilize cryptocurrency prices, as it encourages users to make market purchases and set limit sell orders.
Another expected benefit is that the launch of the update will reduce costs and speed up network transactions at the expense of a drop in the cost of gas. Speaking about positive changes that Ethereum 2.0 can bring to the market, Praneeth Srikanti, the investment principal at ConsenSys Ventures, told Cointelegraph:
"Proof-of-stake comes with a number of improvements, including energy efficiency, lower barriers to entry, stronger crypto-economic incentives and greater reward-generating capabilities for a broader set of users. We also believe that there would be increased demand for ETH, as users would start to gain opportunities to find new staking reward-based-yields and contribute to the security of the chain and will present some interesting dynamics with the current utilization via locking up ETH assets in DeFi protocols."
However, despite a number of advantages, the Ethereum 2.0 upgrade potentially carries the risk of significant negative consequences for the network's users and stakeholders.
One sizable risk relates to high requirements for stakers and the need to freeze funds to be eligible to validate transactions. Staking rewards the participants and adds security to the network. However, there is a hidden element of risk, as the average user may not fully understand staking. Lack of understanding and the complexity of the model can lead to such problems as the theft or loss of withdrawal keys and undertaking incorrect procedures when transferring funds.
Another risk is connected to the actual transition from Ethereum 1.0 to Ethereum 2.0, which, once complete, will allow users to stake ETH and start receiving rewards on the new Ethereum 2.0 network. While being a simple and secure mechanism to move ETH to the new blockchain, this one-way transfer can impose the lock up risk. While being staked on the new PoS chain, ETH may suddenly drop in price, leaving users unable to sell their assets and making it impossible to mitigate losses. In a conversation with Cointelegraph, Eliézer Ndinga, a research associate at investment company 21Shares, said:
"The transition from the current Ethereum blockchain to Ethereum 2.0 requires users to transfer their ETH between blockchains, which could create risks for users who try to do this themselves, though exchanges and other custodians are likely to assist in this process."
Using a third-party staking provider might be a solution. However, when participating in a staking pool, users need to understand that someone else may access their funds. Will McCormick, the director of communications at cryptocurrency exchange OKCoin, told Cointelegraph that while suggesting that users cannot trade with those funds, the lockup phenomenon has a positive side as well: "This gives further options to those who look to balance their risk between the expected returns on staking versus the expected returns on trading. By giving both options, it appeals to a wider set of investors/users."
Even seemingly negligible market fluctuations may affect the value of the staked asset and negate expected rewards. The Ethereum roadmap states that staking rewards may be as low as 1.56%, which, considering volatility, could result in considerable losses instead of returns.
There is also the case of when price volatility can also work in favor of the staker, but it is important to remember that in order to receive passive income for storing ETH, users must lock up their deposit. Unlocking takes up to 18 hours, and that period may be extended if many users request a return of tokens, as indicated in the project roadmap. Accordingly, if ETH starts to devalue, it will be impossible to sell instantly. Thus, there is a risk of losing part of the capital and all of the income received from staking.
The transition to the PoS algorithm will change the approaches to mining, which is why most miners will likely leave the market. Given that ETH is the most popular coin for home mining, the impact will be palpable.
Related: ETH Miners Will Have Little Choice Once Ethereum 2.0 Launches With PoS
As a result, ETH miners will be left with the choice of either selling their equipment to start staking or switch to other networks and mine coins that are not planning any major shakeups in their protocols. But the reality is that most miners will most likely switch off, and the remaining market participants will start staking their assets.
Some users have been expressing concerns about possible failures during and after the 2.0 update, such as a network split, or a security breach due to a possible vulnerability in the code. However, the developers claim that any concerns of a split, decentralized application failures or participants refusing to make the transition are unfounded.
The compatibility of the Ethereum ecosystem and its versatility allow tokens from the original network to be burned and replaced with new ones from the updated chain. The essence of the technicalities is that DApps will remain in operation and will not experience any changes until they manually undergo the transition to 2.0. However, there is a threat that the upgrade may fail. For instance, Konstantin Kladko, a SKALE network developer argued:
"Unfortunately, there are fatal flaws in the way ETH2 staking ended up [being] implemented. When staking starts it is going to be a huge embarrassment, because there may be not enough money to start the network."
He also added that Ethereum 2.0 is going to be less than Ethereum 1.0 because there is no way to transfer back, meaning that validators can lose 50% of their money once the transition is made. Replying to Kladko's claim, Vitalik Buterin also assumed that stakers might be aware that they are betting on a successful transition and that early stakers will get a return to commensurate those higher risks.
Yet, there are some experts who believe that the risk of upgrade delay is more realistic than the risk of its failure. For instance, Lanre Ige, a research associate at 21Shares, told Cointelegraph:
"It's unlikely that the Ethereum core developer team, or ecosystem, will altogether fail to upgrade the network given that the fundamental technological problems for the initial rollout ('Phase 0') seem to be solved. Rather, the latest risk is failure to deliver the network upgrade in a timely manner."
As numerous blockchain attacks show, any vulnerability in the code can attract hackers. The validation nodes of staking platforms located on third-party servers could also be subject to hacker attacks or crashes. Considering that hackers steal millions of dollars from cryptocurrency exchanges every year as a result of detecting vulnerabilities, participation in third-party staking programs may involve a certain risk for users.
Paolo Ardoino, the chief technology officer of cryptocurrency exchange Bitfinex, agreed that the Ethereum 2.0 blockchain will be likely scrutinized by attackers. He added: "It is important that users exercise caution and move their funds from Ethereum 1.0 to Ethereum 2.0 only when they are comfortable with the level of security provided by the Ethereum 2.0 blockchain."
The risks are quite realistic, as some platforms already appear to offer over 100% returns — unrealistic at best. Others may claim to request less than 32 ETH, which is against the Ethereum 2.0 protocol and entails a loss of transferred coins. Commenting on the possible security risks, OKEx CEO Jay Hao told Cointelegraph that Ethereum 2.0 will be a work in progress even after its launch, adding:
"ETH 2.0 is being designed with the highest level of security in mind. Therefore, it could take some years before ETH 1.0 is fully integrated, as a two-way bridge between the two chains may cause vulnerabilities and make the chains easier to hack. ETH 2.0 will have at least 64 times the capacity of ETH 1.0 to start with, and this will continue to increase and increase over time."
Last year, the crypto community was discussing the risk that the United States Securities and Exchange Commission will recognize Ether as a security. This may negatively affect the future of the project, as how the example of the TON blockchain platform vividly demonstrated. Whether the SEC makes a decision or not, any verdict will result in lengthy trial procedures that will inevitably affect the coin's price.
Slowly but surely, the update of the Ethereum network is coming. There are benefits to its implementation, and the Ethereum network will never be the same after it. But there are also risks that are inevitable if all the factors of novelty and market situation are to be considered. It is up to the users to decide whether to pledge their loyalty to the new network or seek their fortunes elsewhere.
Related: Ethereum 2.0 Staking, Explained
Speaking with Cointelegraph, OKEx's Hao argued that regardless of possible risks, Ethereum 2.0 is an essential part of its further development, which is vital for the entire industry:
"Given the current economic crisis and the very well-exposed flaws of the traditional financial system, cryptocurrency and DeFi have never been more relevant than today. Yet, if the space continues to be non-user-friendly and blockchains can become clogged up with more transactions, it will be impossible to onboard the masses. What Ethereum is going with ETH 2.0 is necessary. So, risks or no, it is a vital step."
Source: www.bit-cointalk.com
Previous
Next