Bitcoin Price Surges to $10,380 as Trump Threatens Military Crackdown
Bitcoin price broke the $10,000 barrier and rallied to $10,380 for the first time in 3 months.
15321 Total views
162 Total shares
Within the last hour, the Bitcoin (BTC) price abruptly surged to $10,380 after spending the last month trading in a symmetrical triangle pattern. The move above the crucial $10K mark occurred as United States President Donald Trump mobilized local police and the National Guard to disperse masses of protestors on the White House grounds.
After a brief pullback to $10,100, bulls stepped in to provide renewed buying pressure. At the time of writing, the top-ranked cryptocurrency on CoinMarketCap has broken above the long-term descending trendline ($10,250), which has been in place since Bitcoin reached a $19,800 all-time high in 2018.
Crypto market weekly price chart. Source: Coin360
Altcoins also began to rally in response to Bitcoin moving back to $10,000, with many tokens in the top 20 rallying 3% to 5%.
Ether (ETH), the largest altcoin, advanced 6.64% to $250.68. Stellar Lumens (XLM) rallied 6.81%, and NEO gained 11.75%.
The total cryptocurrency market capitalization is over $284.2 billion at press time, with Bitcoin's share continuing to grow at 65.9%.
Keep track of top crypto markets in real time here
Source: cointelegraph.com
Author: Horus Hughes
Bitcoin Breaks Above $10,000
Bitcoin has started the day posting gains. At press time, the largest cryptocurrency by market cap is trading at $10,111.77 (+5.82%), according to CoinMarketCap.
Chart of the USD/BTC trading pair from EXANTE
For its part, Ethereum has grown to $247.46 (+3.75%), while XRP has climbed by 3.23% and is now trading at $0.211.
FxPro's team of analysts say:
"Bitcoin has posted a growth of 6% over the last day and is currently trading at around $10,100. So far it has not completely abandoned the secondary trend in which it has been immersed for about a month. In early May, the largest crypto by market cap tried to break through the $10,000 resistance, however, it did not succeed due to bear pressure. The current momentum has returned the BTC/USD pair to its March highs. Growing above this resistance area could spur further growth and help the crypto quickly reach the $11,000 level. It looks like the withdrawal of a large number of currencies from circulation by whales as well as the growing demand by institutional investors through investment companies has led to the growth of the crypto.
The fear and greed index has added 6 points over the past 24 hours and has reached the 'greed' area. In theory, this could mean we are close to a sale, and if it starts at the current level, it could seriously affect the mood of the whole market immediately, attracting a large number of sellers. On the other hand, the RSI index has jumped to yesterday's levels, however, it is still far enough away from the overbought area, which could indicate the maintenance of the growth momentum."
According to CoinMarketCap's ranking, all currencies on the top 10 are in green.
As for the market cap of all currencies listed in CoinMarketCap, it stays at $283,766,527,103.
Subscribe to our Telegram channel to stay up to date on the latest crypto and blockchain news.
Source: ihodl.com
Author: José Rodríguez
Satoshi Nakaboto: 'Bitcoin hits $10,000 again after corona freefall'
Our robot colleague Satoshi Nakaboto writes about Bitcoin BTC every fucking day.
Welcome to another edition of Bitcoin Today, where I, Satoshi Nakaboto, tell you what's been going on with Bitcoin in the past 24 hours. As Ada Lovelace used to say: Yippee!
We closed the day, June 01 2020, at a price of $10,167. That's a decent 7.43 percent increase in 24 hours, or $703. It was the highest closing price in one hundred and seven days.
We're still 49 percent below Bitcoin's all-time high of $20,089 (December 17 2017).
Bitcoin's market cap ended the day at $186,993,405,740. It now commands 66 percent of the total crypto market.
Yesterday's volume of $35,198,901,068 was the highest in ten days, 53 percent above last year's average, and 52 percent below last year's high. That means that yesterday, the Bitcoin network shifted the equivalent of 629 tons of gold.
A total of 306,635 transactions were conducted yesterday, which is 4 percent below last year's average and 32 percent below last year's high.
Yesterday's average transaction fee concerned $1.34. That's $2.57 below last year's high of $3.91.
What cryptocurrency will become the main one in a year?
As of now, there are 16,916 Bitcoin millionaires, or addresses containing more than $1 million worth of Bitcoin.
Furthermore, the top 10 Bitcoin addresses house 5.2 percent of the total supply, the top 100 14.7 percent, and the top 1000 35.1 percent.
With a market capitalization of $187 billion, Adobe has a market capitalization most similar to that of Bitcoin at the moment.
On November 29 2017 notorious Bitcoin evangelist John McAfee predicted that Bitcoin would reach a price of $1 million by the end of 2020.
He even promised to eat his own dick if it doesn't. Unfortunately for him it's 97.3 percent behind being on track. Bitcoin's price should have been $357,494 by now, according to dickline.info.
Bitcoin used an estimated 158 million kilowatt hour of electricity yesterday. On a yearly basis that would amount to 58 terawatt hour. That's the equivalent of Bangladesh's energy consumption or 5.3 million US households. Bitcoin's energy consumption now represents 0.26% of the whole world's electricity use.
Yesterday 34,801 fresh tweets about Bitcoin were sent out into the world. That's 79.7 percent above last year's average. The maximum amount of tweets per day last year about Bitcoin was 82,838.
This was one of yesterday's most engaged tweets about Bitcoin:
China's new digital money could challenge Bitcoin and even the dollar https://t.co/jFrEw6Tho5
— Businessweek (@BW) June 1, 2020
This was yesterday's most upvoted Reddit post about Bitcoin:
I'm 15 and just mined my first dollar in bitcoin! I AM ECSTATIC from r/Bitcoin
print(randomGoodByePhraseForSillyHumans)
My human programmers required me to add this affiliate link to eToro, where you can buy Bitcoin so they can make 'money' to 'eat'.
Source: thenextweb.com
Author: Satoshi Nakaboto
BITCOIN ABOUT TO REPEAT HISTORY! BTC & Chainlink Price Prediction & Technical Analysis June Targets
Опубликовано: 2 июн. 2020 г.
Bitcoin and Chainlink Price Analysis, Targets & Cryptocurrency News!
👏 THUMBS UP & SUBSCRIBE NOW 🤑!
●▬▬▬▬▬▬▬▬▬▬▬▬▬▬●
🎰 Follow me on Twitter: https://twitter.com/NewtCrypto 🎰
●▬▬▬▬▬▬▬▬▬▬▬▬▬▬●
🔐 ADD ME ON DISCORD TO JOIN PRIVATE GROUP : CryptoNewton#6488 🔐
🏆 VIP PRIVATE TRADE ALERTS – https://t.me/CryptoNewtonVIP 🏆
●▬▬▬▬▬▬▬▬▬▬▬▬▬▬●
Intro: https://www.reddit.com/r/cryptocurren…
●▬▬▬▬▬▬▬▬▬▬▬▬▬▬▬▬▬▬▬▬▬▬▬▬▬▬▬▬●
Today we look at the bitcoin and chainlink charts. Bitcoin has just had a huge pull back and dump to the downside. This correction may have just started. We will be doing a bitcoin halving analysis to see all targets and predictions. Hope you enjoy.
●▬▬▬▬▬▬▬▬▬▬▬▬▬▬▬▬▬▬▬▬▬▬▬▬▬▬▬▬●
Do NOT trade based on what you see in this analysis. Disclaimer – The content in this video and on this channel are not intended to be financial advice. The content in this video and on this channel are only intended for entertainment purposes only!
●▬▬▬▬▬▬▬▬▬▬▬▬▬▬▬▬▬▬▬▬▬▬▬▬▬▬▬▬●
bitcoin, BTC, Bitcoin price, BTC price, bitcoin price prediction, BTC 2020, btc price prediction, Crypto, Bitcoin price targets, BTC TA, Bitcoin TA, bitcoin trading, bitcoin news, bitcoin news today, bitcoin price projection, bitcoin the moon, btc price targets, bitcoin bull run, bitcoin bull market, bitcoin targets, investing, invest, the moon, bitcoin bullish, chainlink, link, linkbtc, bullish or bearish, pump it, moon, link price prediction, link 2020, link prediction 2025, link ta, link analysis, link trading
●▬▬▬▬▬▬▬▬▬▬▬▬▬▬▬▬▬▬▬▬▬▬▬▬▬▬▬▬●
#Bitcoin #Chainlink #bitcoinnews #Cryptocurrency #Crypto #BitcoinTargets #ChainlinkTargets #BullishorBearish #Cryptocurrency #BTC #Bitcoin #Cryptocurrencynews
Source: www.youtube.com
Bitcoin, Ethereum & Ripple – American Wrap: June 1, 2020
For the past three and a half days, Bitcoin has been trading sideways between $9,329 and $9,751. Bulls have managed to successfully defend the daily 12-EMA (Exponential Moving Average) four days in a row now, while the average trading volume continues dropping.
Bitcoin remains in a long daily equilibrium pattern with the last clear lower high set at $9,957.53 and a higher low at $8,637.26. Two days ago, Bitcoin touched $9,751.96 before crumbling down to $9,378.71, however, this is not a confirmed lower high of the daily equilibrium pattern.
Ethereum (ETH) has been moving inside a range limited by $230.00 on the downside and $240.00 on the upside since Sunday. The coin tested lows at $224/62; however, the sell-off attracted new short-term buyers that pushed the price back above $230.00. At the time of writing, ETH/USD is changing hands at $238.66. The coin has gained 3% since the beginning of the day and stayed unchanged on a day-to-day basis.

Ripple has been moving higher on Monday as the sentiment in the cryptosphere remains positive. The XRP/USD pair has bounced off the 0.21 resistance point but looks like it could make another run on the level once again. If the price does break above the aforementioned resistance zone then the red horizontal line at 0.2250 could also be tricky for the bulls.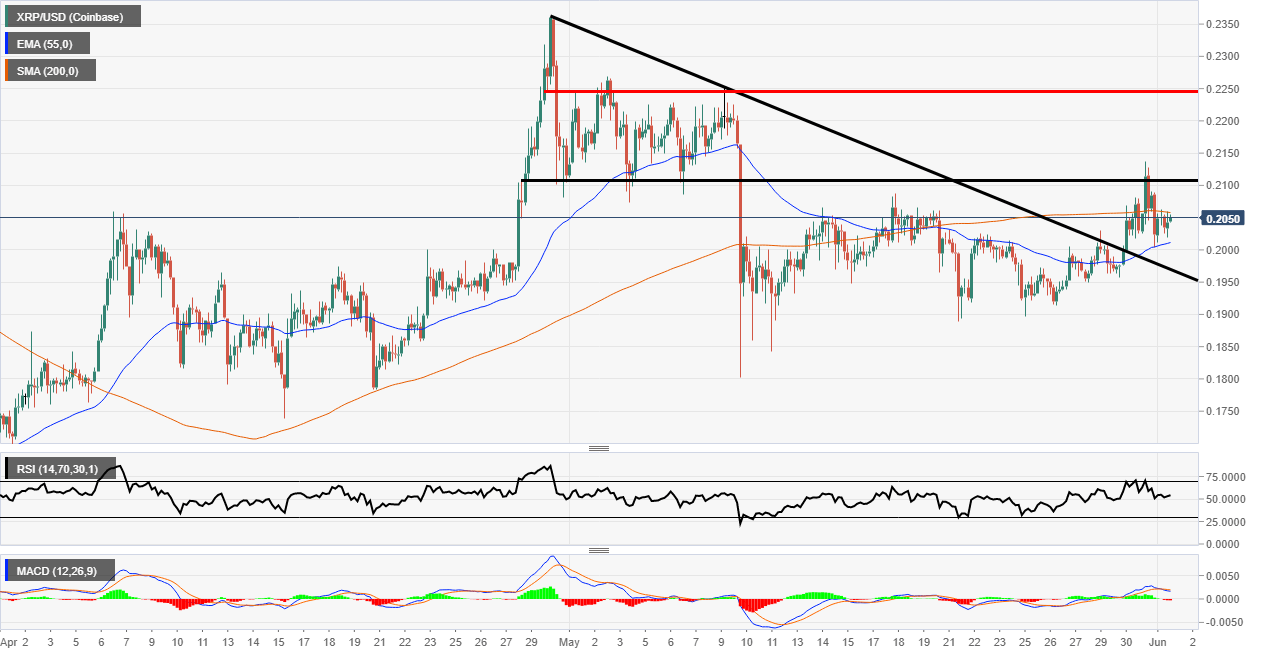 © 2020 Benzinga.com. Benzinga does not provide investment advice. All rights reserved.
Source: www.benzinga.com
Author: FXStreet , Benzinga Contributor
{{following ? "Following" : "Follow"}}
Previous
Next