Coin Race: Top Winners/Losers of Mixed May; Bitcoin, Ethereum Up Again
As June just started, we'll look back again at May to see how the market finished the month. We have a mixed bag this time. While it was difficult finding a coin in red in April, we have a full list of both winners and losers this time around. However, there are only four coins in the top 10 by market capitalization category whose price appreciated over the course of the last month of this spring.
And this comes as no surprise given bitcoin (BTC)'s several up and down trips over the USD 9,000 mark towards the USD 10,000 mark in May. Furthermore, May was the month of its historic, third halving, and in this month, BTC also saw the first twelve-month period since the 2019 rally where investors started to see negative returns.
In May, ethereum (ETH) continued its strong performance from April. Interestingly, Ryan Watkins, an analyst at crypto researcher Messari, warned that this coin may be hurt by the ERC20 tokens taking over the Ethereum network. Meanwhile, Vitalik Buterin confirmed that Phase 0 of the network's second version is 'on track,' though it'll not launch in July.
That all said, at the very end of the month, both BTC and altcoins trend turned bullish once more.
As said, only four coins of the top 10 by market capitalization finished the month of May in green, and these are our winners in this category. At the very top sits cardano (ADA) with an increase of 62% over the course of the past 30 days. Near the end of May, Cardano founder and CEO of Cardano development firm IOHK, Charles Hoskinson, revealed a number of dates related to the platform's Shelley upgrade. This was accompanied with ADA outperforming nearly all other top 100 cryptoassets by market capitalization.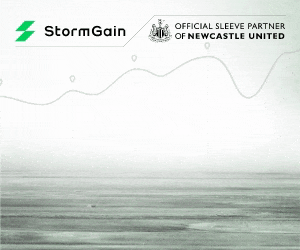 Both ETH and BTC had seen lower double-digit increases, with Ethereum leading the way, seeing how it has three percentage points over bitcoin. Meanwhile, binance coin (BNB) also finished the month positively, even if recording a smaller rise compared to the other three coins, of less than 2%.
As for the other coins (excluding stablecoin tether (USDT)), bitcoin SV (BSV) (whose backer, Australian entrepreneur Craig Wright found himself in deeper hot water) and XRP dropped the most, both more than 6%, while litecoin (LTC) dropped the least, almost 2%.
We now look into the top 50 coins market capitalization to find our winners and losers. As for the winners, we have a clear top 10 list, at the top of which sits zilliqa (ZIL), which appreciated over 186.5% in the past thirty days. The second-placed theta token (THETA) saw a rise of over 114%, and the third-place omisego (OMG) over 108%. With ADA as the next line, the rest of the coins on this list boast two-digit increases, the lowest of which is NEO's 29%.
Meanwhile, as reported, major crypto exchange Coinbase is now distributing OMG tokens to everyone who held ETH on the platform as of July 7, 2017.
Though there is a full list of top 10 losers in May, it's worth noting that their drops aren't that large, particularly not as large as what we've seen in March. Bitcoin gold (BTG) is leading this list with a 8% drop. It's then followed by four of the top 10 coins by market capitalization, as well as three coins with a 3% fall each. The least to decrease over the course of the past month is cosmos (ATOM) with -2.5%.
ZIL is at the throne even among the top 100 coins by market capitalization. This category, however, has seven coins with a three-digit rise, with solve (SOLVE) in the second place with an increase of 141.5%. THETA and OMG are not far behind either, now in the third and the fifth place respectively. The last of the seven is velas (VLX) with a 102% rise. It's followed by holo (HOT) with 76%, 0x (ZRX) with 57.5%, and ADA. Of the 100, the least green is qcash (QC) with a 0.8% rise.
There are just nineteen red coins among the top 100, led by hive token (HIVE), one of the top winners last month, with a 48% drop. energi (NRG) and nervos (CKB) follow with -27% and -17%, receptively. The rest have single-digit drops, with kucoin shares (KCS) taking the last spot (-0.4%).
The situation is quite different in the top 200 by market capitalization category. whitecoin (XWC) is on the throne with a 1,937% rise, while the eighteen coins that follow have three-digit rises, VLX being the last among them. xensor (XSR) is in the second place (629.5%), and xinfin (XDCE) in the third (427%).
As for the red coins, cryptoindex (CIX100) is number one, having dropped 44% in a month, followed by hive, and tap (XTP) that fell 36%.
Source: cryptonews.com
Author: By Sead Fadilpašić
Ethereum Price Analysis: ETH/USD Gazes Towards A Breakout $300, Why Are Ether Options Surging? |
The Cyprus Securities and Exchange Commission (CySEC) has suspended the Cyprus Investment Firm (CIF) License of several forex brokers that were caught up in promoting their products in the UK.
The UK watchdog today said Hoch Capital Ltd (trading as iTrader and tradeATF), Magnum FX (Cyprus) Ltd (trading as ET Finance), Rodeler Ltd (trading as 24option) and F1Markets Ltd (trading as Investous, StrattonMarkets and Europrime) paid money to celebrities in order to endorse their unregistered offerings on their social media accounts. Its Cypriot counterpart has taken notice and dropped the hammer on all these brands, having partially suspended their licences for one month until they take corrective measures within a set framework; otherwise, additional measures will be taken, such as the imposition of fines and/or even the withdrawal of their licenses.
The Most Diverse Audience to Date at FMLS 2020 – Where Finance Meets Innovation
The Cypriot watchdogs provided a breakdown and specific details for the regulatory action, saying its decision was taken based on possible violations of local regulations and for not acting honestly when approaching their potential clients . These brands were also flagged for non-compliance with authorization conditions stated in many articles, which mainly concern the appropriateness of their products offered to certain client segments.
Article 25(1) of The Investment Services and Activities and Regulated Markets Law of 2017 ('the Law') as the Company does not appear to act honestly, fairly and professionally when providing investment services to clients.
Article 25(2)(b) of the Law as the Company does not appear to assess the compatibility of the financial instruments with the needs of the clients to whom it provides investment services and to ensure that financial instruments are offered or recommended only when this is in the interest of the client.
Article 25(3) of the Law as the Company does not appear to provide information, including marketing communications, to its clients or potential clients that is fair, clear and not misleading.
Article 25(4)(a) of the Law as the Company does not appear to provide appropriate information to clients in good time.
Article 25(5) of the Law as the Company does not appear to provide the information referred to in article 25(4) of the Law to the clients in a comprehensible form.
On the UK part, the FCA told these brands that they are no longer allowed to solicit or take on new clients from the country anymore, while relations with the existing clients must be terminated, and they must be allowed to close their positions and withdraw their funds.
The FCA estimates that UK investors have lost hundreds of thousands of pounds in these investments, while none of the aforementioned brokers have any actual presence in the UK. It further accuses their operatives with not providing customers with sufficient information as to the nature of CFDs products, while some were pressured into making highly leveraged-bets in CFDs referenced cryptocurrencies, forex, shares and indices.
Mark Steward, FCA Executive Director of Enforcement and Market Oversight, said: "The FCA has removed passporting rights for these firms which effectively stops them from continuing to provide these types of products in the UK. We welcome the further action taken by the CySEC. The FCA's investigations into the sector are continuing."
ATFX Thanks NHS Frontline Workers with 1k Fruit Boxes DonationGo to article >>
Following the FCA's action, the CySEC has fully suspended the regulatory authorisations of Rodeler Ltd and Hoch Capital Ltd and partially suspended the licenses of Magnum FX (Cyprus) Ltd and F1 Markets Ltd.
The CySEC action means that Rodeler Ltd and Hoch Capital Ltd must cease all regulated activities entirely. Magnum FX (Cyprus) Ltd and F1 Markets Ltd, may only provide investment services to their existing non-UK-resident clients, but can't promote their products any more or take on new clients.
This past December, Italy's regulator went after 24Option and Hoch Capital Ltd which were barred from providing investment services in Italy. The decision also prevents Cypriot intermediaries from soliciting customers or continuing its current relations with Italian clients.
According to Consob, both brands continued to break laws even after Consob sent several complaints to their original regulator, Cysec, about its misconduct. The claims refer to non-compliant practices made by the brand's operator, including promoting the contracts for difference (CFDs) to non-professional investors.
The Cyprus brokers also violated the EU directive that mandates negative account protection, ensuring that customers can't lose more than their trading stake. Further, the Consob accuses their staff of exercising pressures on their clients to deposit more funds, though the current rules forbid bonuses and other incentives that may have encouraged overtrading in recent years.
At the time, Consob clarified that it made the latest decision under the article 7-quarter, paragraph 4 of the Consolidated Law on Finance (TUF), as well as article 86 of Mifid2. This legislation allows CONSOB to order investment firms and brokers operating in the country from another EU member state, through the EU passporting regime, to cease their operations after informing the competent authority of the member state.
Source: zephyrnet.com
Author: Published 8 hours ago on June 1, 2020
Crypto Review for Jun 01 – Bitcoin fighting resistance, as Ethereum leads
This weekend was very profitable for Cardano (+25%), NEO (+14.29%), and Ethereum (+8,66%), as Bitcoin, struggling to hold above $9,500, moved a mere 1.23%. On the Ethereum-based token, ZIL (+30.14%), Chainlink (+10.07%), and CRO (+6.49%) lead the gains, as MATIC (-17.62%), HEDG( -15.83%) and THETA (-15.86%) were the worst performers.
Fig 1 – 24H Crypto Sector Heat Map
The market cap is now $264.654 billion, +1.39% higher than on Friday; the 24H volume was $33.926 billion, +3.57% higher than on Friday. Finally, Bitcoin dominance dropped almost one basis point, to 65.53%.
Source (coin360.com)
Bottom 10 72-Hour Performers
Source (Coin360.com)
Crypto-related news
Regulatory uncertainty keeps traditional asset managers out of the crypto space, survey takers say (The Block)
What future awaits cryptocurrencies?
Sharp U.S. Futures recovery hints Bitcoin will retest $10K this week. (Bitcoininst)
Ether Options Trading Reaches Record Volume on Some Exchanges (BeInCrypto)
FXCoin Strategist: Weaker Yuan Could Lead to a Stronger Bitcoin (Cointelegraph)
Blockchain Technology Is Ripe to Powering Global Healthcare, Harvard Study Notes (Btcmanager)
Stock-market futures knocked around as U.S. cities rocked by protests amid pandemic (Marketwatch)
Asian markets rise on 'sigh of relief' over Trump's response to China (Marketwatch)
U.S. crisis deepens as protests erupt over police brutality amid deadly pandemic and record unemployment (CNBC)
European markets head for lower open as U.S. protests shake confidence (CNBC)
Stock futures fall as nation grapples with protests (Yahoo Finance)
Gold rises as U.S. riots, Hong Kong tensions lift safe-haven appeal (CNBC)
Trump taken to White House bunker as protests raged nearby Friday (Marketwatch)
The stock market is expected to be affected by the protests in most of the U.S. territory, triggered by police brutality. George Floyd, an unarmed man, was brutally killed by a Minneapolis police officer. The Asian market, though, seemed more concerned by U.S. President Donald Trump's response to China's security law on Hong Kong and is mostly in the green, relieved by its mild response, HonkKong's Hang Seng Index up 3.25% leading the gains. In Europe, Markets are closed in Austria, Denmark, Germany, Norway, Sweeden,
and Switzerland. London FTSE 100 is seen to open 22.7 points higher, France's CAC 40 futures are 148 points lower, and Italy's FTSE MIB futures are 228 points higher. The crypto market is mildly upward, with Bitcoin up 1% for the day, as Ethereum climbs 3% in Monday's trading session, and Ripple is 1.28% up.
Total Market
Fig 2 – Total Market Daily
The Total market went up on Saturday, touching the $271,763 resistance level but was rejected there, and it made an almost totally pullback on Sunday. Today it is mildly bullish, recovering some of the losses produced on Sunday. The daily chart shows that the price still moves above the +1 sigma line of the Bollinger bands, which is bullish, and the RSI is moving near the 60 level.
Linear regression channel points up +
Prices above the upper +1 sigma side of the Bollinger Bands +
Prices above its 20- 50- and 200-day SMA +
50-SMA above the 200-SMA +
RSI sideways at the 60 level N
Bollinger bands move upwards +
Rejected at resistance level –
The market is fighting near resistance levels. The rest of the technical indicators point to a bullish continuation.
Bitcoin
Fig 3 – Bitcoin 4H Chart
After a good bullish candle on Saturday, touching the $9,750 level, BTC's price was rejected and retraced all the gains made and now is struggling to hold above $9,500. On the 4H chart, we see that the Bollinger bands have shrunk and move horizontally, as the price is near its mid-line, and the RSI descends.
The slope of the Linear Regression Channel is positive +
Price above its 20-, 50- and 200-SMA +
Bollinger Bands shrinking and sideways N
RSI strong, although near overbought N
The price near the midline of the Bollinger bands N
Bitcoin is creating a base after last week's gains. The short-term technical factors show neutrality, which reflects the price moving in a range and consolidating. The primary levels to watch are $9,300 to the downside and $9750 to the upside. A break above one of these levels would signal another leg up or down. The mid-term trend is still up, so the likelihood of a continuation towards $10K is higher, but a test of the $9000 cannot be discarded.
Ethereum
Fig 4 – Ethereum 4H Chart
Ethereum has made a large upward movement this weekend that carried the price from $220 to near $250. On Sunday, it has retraced a portion of it, but it made a good engulfing candle early morning, as the price bounced off from the regression line, which puts ETH in the bullish track. The price moves following the +1 sigma line, and the Bollinger bands head up, as the RSI went out of the overbought zone and is now bouncing at the 60 level.
The slope of the linear regression channel is positive +
The price broke above the last high of 217 made on May 18 +
The price above its 200-, 50-, and 20-SMA +
Bollinger bands upwards +
The price follows the + 1 sigma line of the Bollinger Bands +
Short-term overbought –
We see Ethereum making a healthy consolidation after a bullish leg that started at $196 on May 26, a 21.4% move, but ETH is clearly in an uptrend, and a target of $250 and beyond is reachable.
Ripple
Fig 5 – Ripple 4H Chart
Ripple has broken the $0.20 resistance level on Saturday. We said in our latest report last Friday that Ripple was undervalued and this weekend it found buyers that could push the price above 0.21, our target, Then on Sunday, it suffered a pullback, product of the weakness of this asset. Currently, it is moving in the upper side of the Bollinger Bands, and the Bands heading upward, which is good for this asset, as the RSI is making a correction towards the middle of the range.
Linear regression channel has a positive slope +
The price near the +1 sigma line of the Bollinger bands +
Price above its 50-period SMA +
Bollinger bands curving up +
RSI retracing –
Ripple is holding above $0.20 and made a higher high above the range it was moving after May's ten slide. This and the majority of the technical indicators hint to an upside continuation. We think the next target should be $0.22 and 0.2265.
CryptoRocket Review
Monday, 01 Jun, 2020 / 9:01
Source: directory.financemagnates.com
Ethereum Price Analysis: ETH/USD Gazes Towards A Breakout $300, Why Are Ether Options Surging?
Ethereum options market gain traction as anticipation for ETH 2.0 launch continues to grow.
ETH/USD renews the bearish pressure under $240 after resistance at $242 (intraday high).
Ethereum price is among the best performers in the cryptocurrency market on the day. The weekend session was very eventful, especially for bulls as they extended the price action above $240. However, the critical $250 level was not tested, resulting in a break under below $240.
In the meantime, Ether is valued at $238.11 while dealing with the resistance at the 61.8% Fibonacci retracement level of the last swing high of $287.28 to a swing low of $101.02. If buyers manage to reclaim the position past $240, the trend towards $250 and later $300 could be renewed.
Ethereum options market continues to gain traction on supporting cryptocurrency exchanges. The options on Deribit and OKEx exchanges recently hit all-time highs. The growth in the options is attributed to the anticipated Ethereum 2.0 upgrade. It is believed that this upgrade, also known as Serenity will make Ethereum stand out among its peers. For instance, the network will be able to support over 1,000 transactions per second, allow the staking of Ether, and migrate to the Proof-of-Stake algorithm.
Ethereum is dealing with increased seller congestion at $240. The longer the price stays under this level, the stronger the bears become. According to the RSI, buyers are currently in control but they lack a catalyst to pull upwards. Moreover, other buyers are not yet convinced that Ethereum can sustain gains above $240 due to the low volume. The Elliot Wave Oscillator hints that bullish action could continue in the course of the trading on Monday.
ETH/USD daily chart
Spot rate: $236.80
Percentage change: 2.12%
Relative change: 5
Trend: Bearish
Volatility: Low
High: $242.26
Low: $230.60
Summary
Article Name
Ethereum Price Analysis: ETH/USD Stares Towards A Breakout $300, Why Are Ether Options Surging?
Description
Author
Publisher Name
Publisher Logo
John is a talented writer with over two years of experience actively contributing to the cryptocurrency industry by providing credible, interesting and easy to read the content. His main focus is on cryptocurrency price analysis and industry news coverage. Lets follow him on Twitter at @jjisige
Source: coingape.com
Bitcoin Could Surge Past $10,000 as Ethereum "Hammers" Higher: Top Analyst
Bitcoin and the rest of the crypto market have performed extremely well over the past few days, bouncing 10% from last weekend's correction lows.
Though one cryptocurrency has been dramatically outperforming all the rest: Ethereum.
The second-largest cryptocurrency and foremost altcoin was up 10% on Saturday, surging higher on the back of an influx of buying pressure. It was a move that allowed Ethereum to break past a crucial resistance.
Although Bitcoin has yet to follow Ethereum higher, analysts say that ETH's strength could drag the rest of the market higher.
One prominent trader asserted that ETH's ability to continue to "hammer" past key resistances is adding fuel to the Bitcoin bull case:
"ETH continues to hammer up, dragging BTC past a $10k breakout. That adds fuel to ETH until ETH has gone fully absurd. That's my favored son scenario."
Bitazu Capital founding partner Mohit Sorout shared this sentiment in his own analysis on the matter. In reference to the chart below, he explained that "Ethereum maximalists are waiting for Bitcoin bulls to join the party."
The chart below shows that Bitcoin has yet to break a downtrend formed at the end of April while Ethereum has.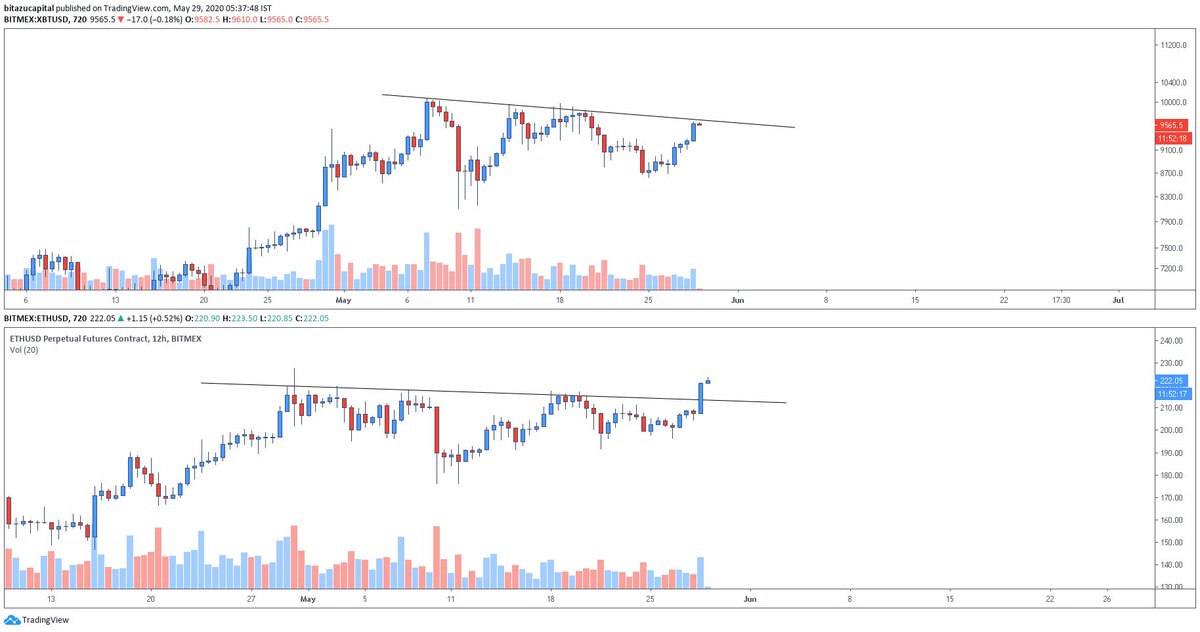 Charts of both ETH and BTC from Mohit Sorout (goes by @SinghSoro on Twitter)
As ETH led BTC higher during February 2020's rally, chances are BTC is about to break past the level indicated in Sorout's chart too. Should this happen,~$10,100 could be within BTC's sights in the coming few days.
Bitcoin, too, is showing technical and fundamental strength.
As reported by Bitcoinist previously, the leading cryptocurrency is on the verge of closing above a key downtrend resistance on a monthly time frame.
Analyst Eric "Parabolic" Thies pointed out this technical occurrence with the chart below. It shows that BTC is finally peaking above the downtrend formed after the $20,000 high.

BTC chart from Eric "Parabolic" Thies, a crypto analyst and programmer.
Thies believes that Bitcoin closing the May candle above that crucial level in approximately four hours (as of this article's writing) will be "incredibly significant for bulls."
Adding to the bullish confluence, there are macroeconomic and geopolitical trends favoring BTC growth.
Matt D'Souza — CEO of Blockware Mining — recently identified four such trends, some of which are as follows:
There is growing geopolitical unrest: The U.S. and China have seen tensions grow again over Hong Kong democracy. The mainland Chinese government proposed a law that some American officials say erodes the autonomy of the region. As a result, the yuan has sunk, boosting Bitcoin's opportunity to act as a hedge.
Central banks continue to print money to save the economy: To respond to the ongoing recession caused by the illness, central banks and governments have continued to print trillions upon trillions of dollars to bail out companies and individuals. Bitcoin's scarcity allows it to appreciate over fiat money.
Source: bitcoinist.com
Ethereum Developer talks ETH 2.0 with Redditors | CoinJournal.net
The developer discussed the anticipated update and even alluded to rumours surrounding ETH 3.0
Ethereum announced the beginning of development on its Ethereum 2.0 "Serenity" update in 2018. Since then, the massively bullish event has garnered the attention of experts and cryptocurrency users alike, especially due to its proposed shift from Proof of Work (PoW) to Proof of Stake (PoS).
While Ethereum has already announced that its original timeline for July has been pushed back, core developer, Danny Ryan, took it upon himself to answer questions about the much-awaited update. On Reddit's r/ethfinance community, Ryan addressed concerns regarding centralisation, spoke about the shift to PoS and even tackled the rumours regarding Ethereum 3.0.
The Ethereum 2.0 update will aim to increase scalability, heighten security and to boost the speed of the network. Danny Ryan began by explaining the various stages Ethereum 2.0 will progress through to realise the upgrade. He further explained the features of the new system and addressed concerns regarding the delay in the launch of phase 0. He stated that testing periods take a long time, especially while dealing with a distributed system.
However, he was quick to reassure that although most developer focus is currently on phase 0, they are also making "swift progress" on phase 1 to ensure it is introduced soon after the launch of phase 0. Speaking of hardware, Ryan said that a computer like Raspberry Pi 4 might be able to handle phase 0, but the implementation of phase 1 will require more powerful hardware.
Ryan stated that the Ethereum developers "are aware" of the community's concern regarding the 32 ETH lockup to run a validator node. He offered assurance that the team is open to discussing the topic again after the launch of phase 0.
He further revealed that the developers' initial plan to include ETH transfers between validator nodes were not part of the final design. Addressing questions on how developers aim to prevent centralization, Ryan spoke of "disincentives" that will prevent "Staking – as – service" providers from growing too large. This will ensure that miner pools don't dominate hash rates; a situation currently faced by Bitcoin.
Developers are willing to involve the entire Ethereum community to deliver a network spread across as many clients as possible, Ryan claimed. Further, he also stated that attempts at centralisation on specific clients or other points of failure will invoke a penalty.
Some questions addressed the possibility of decentralized applications with similar output models and objectives being run on specific shards to increase speed and output. The developer responded by saying that a DeFi-specific shard had not been considered and are unlikely to appear any time soon.
When the idea of ETH 3.0 involving the replacement of certain components of Ethereum to create a "quantum-resistant'' platform was brought up by the community, Ethereum co-founder Vitalik Buterin chipped in to say, "At present, I favour the basic structure of Ethereum never again changing after (ETH 2.0) is out; only incremental tweaks," via a comment.
Source: coinjournal.net
Previous
Next