Four Features to Look Out for When Trading Crypto
Hot topic
Yesterday 13:12
Let's face it. The vast majority of cryptocurrency exchanges don't go far enough to ensure their traders stand the best chance of turning a positive return on investment. After all, they still get their trading fee whether their traders make a winning or losing order.
With that said, a growing number of exchanges are introducing tools and features designed to help traders grow their profits in more ways that one. Here, we take a look at four of the features we think traders should look out for when choosing a new cryptocurrency exchange.
Leverage Options
Since cryptocurrency exchanges first appeared in 2010, the variety of tools and features they offer have evolved considerably. Nowadays, modern exchanges offer a huge number of features that traders can use to boost their success and maximize their profitability.
Among these, the capacity to trade on leverage is arguably the most significant upgrade to the cryptocurrency trading space, since this allows traders to amplify their exposure to already volatile markets, turning what would otherwise be modest gains into colossal profits.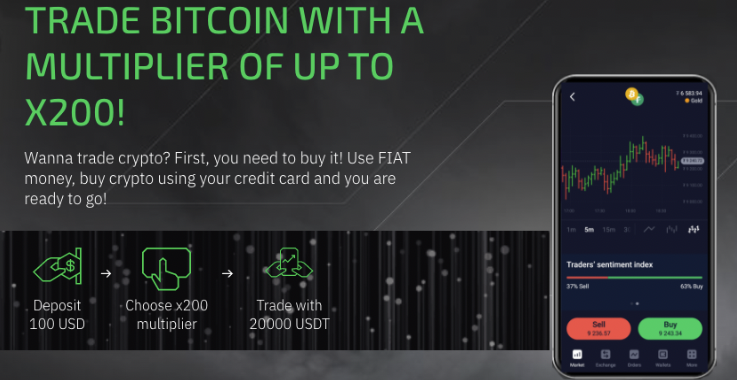 However, the feature is typically only available on a particular type of cryptocurrency trading platform, known as a derivatives exchange. These platforms allow users to go long or short on the market, ensuring they can profit regardless of how the market moves—which when combined with leveraged trading can lead to some staggering gains.
There are currently dozens of different platforms available for leveraged trading. StormGain stands apart from most due to its industry-leading maximum 200x leverage, whereas Deribit is also a popular choice for those that prefer to trade Bitcoin options.
Excellent Customer Support
Cryptocurrency trading can be a challenging experience—and not just for inexperienced traders. Since most cryptocurrency exchanges support a huge number of cryptocurrencies, offer a wide variety of tools, and cater to multiple demographics, it's only natural that issues will occur every now and then.
Despite this, most cryptocurrency exchanges struggle when it comes to customer support. They often host a huge number of clients, but have far too few or improperly trained support staff on hand to deal with customer complaints and concerns. This can leave traders in limbo, struggling to get the help they need, while potentially suffering financial losses in the meanwhile.
Fortunately, it isn't all bleak when it comes to customer support on cryptocurrency trading platforms. Some exchanges, including the likes of Coinbase and Gemini are bucking the trend, offering excellent, easily accessible customer support on-demand through a variety of mediums.
Never underestimate the importance of prompt customer support, it can be a lifesaver under the right circumstances.
Savings Products
Although cryptocurrency exchanges are primarily used for trading, customers generally only use them because they plan to turn a profit using the platform.
However, the vast majority of cryptocurrency traders leave their funds idle in their exchange accounts most of the time. Unless these funds are locked up in open orders, they are not being used for any potentially profit-generating positions—at least this was the case until fairly recently.
Now, several cryptocurrency trading platforms are beginning to provide users the opportunity to turn a safe profit on their crypto balances, without losing access to their funds through simple savings plans.

StormGain currently stands out among the platforms that offer this feature, since it provides a fixed return of 10% APR on any of the cryptocurrencies supported by the platform. Likewise, Binance offers a range of savings products for a huge array of cryptocurrencies, but these tend to offer a lower APR.
Overall, savings products represent an excellent way to maximize your returns by ensuring your deposits turn a profit even when they are not being used.
Staking Rewards
Similar to savings products, staking rewards are an excellent way to turn a profit on your cryptocurrency exchange balances while they are not being used for trading.
In short, these are the rewards that some blockchains provide to cryptocurrency holders that lock up their assets in order to help benefit the overall health of the network. The returns each blockchain provides varies based on a variety of factors, but tends to be in the single-digit range for most assets.
As it stands, the vast majority of cryptocurrency exchanges still don't offer staking functionality. That said, the feature is becoming increasingly popular, and a handful of exchanges, including Binance, Coinbase, and Kraken, have begun offering limited support for some coins.
Staking rewards can be an excellent way to supplement your trading income, but it's important to be aware that staked coins often locked for a fixed period, during which the funds will be inaccessible.
Source: ihodl.com
Author: Osher Deri
Bitcoin historical data api
Source: gk-kitchenware.com
Cryptocurrencies make a solid comeback in India despite a hostile environment
Indian investors are back in the cryptocurrency game and how.
There has been a sharp increase in trading volumes on cryptocurrency exchanges in India since March 5, when India's supreme court quashed a Reserve Bank of India's (RBI) circular that barred banks and other financial entities from providing services to virtual currency dealings.
Trading volume on Mumbai-based WazirX, one of India's leading crypto exchanges, rose 400% and 270% month-on-month in March and April, respectively. Now, the exchange is facilitating around 60 million trades per day as compared to 20 million before March.
WazirX, which was acquired by global exchange Binance in November last year, is also seeing an uptick in new sign-ups and active users, said founder and CEO Nischal Shetty.
For Bengaluru-based global exchange aggregator CoinSwitch, April was the best month since inception in 2017. "Our Indian user base went up by 158% in April," said Ashish Singhal, CEO of CoinSwitch. "Trading volumes in Indian rupees have shot up to 12-15 million each day from around 5-7 million prior to the supreme court order." The company, which currently gets around 10% of its users from India, expects this number to rise in the coming months.
The past two years were a nightmare for crypto exchanges in India. After the RBI's decision in April 2018, the virtual currency ecosystem in the country nearly choked, leading to several exchanges, including prominent ones like Koinex and Zebpay, shutting shop. A few others shifted outside the country to survive the onslaught.
But those who weathered the storm are now back in full swing. The high demand over the past couple of months has proved that Indians have an appetite for cryptocurrencies, and exchanges are planning to tap the market more efficiently.
For instance, CoinSwitch is creating a tailor-made mobile app called "CoinSwitch Kuber," which will be exclusive for Indian users. "People can buy and sell over 100 cryptocurrencies easily using Indian rupees. Earlier, users could trade only by using base currencies like Bitcoin," said Singhal.
What future awaits cryptocurrencies?
Reflecting its commitment to the country, Malta-based global exchange Binance, in tie-up with WazirX, announced on March 17 a $50 million fund to promote the adoption of blockchain technologies in India.
Increased activity in the Indian crypto market has also drawn the attention of global venture capitalists (VCs) who are trying to understand how they can participate in the boom, Shetty of WazirX said. "They have realised that a lot of startups are mushrooming and they want to be the early movers," he said. "In the US, there are huge investments taking place (in crypto startups) since 2010, which will also happen in India."
All this attention is great, but experts warn that there are still obstacles for cryptocurrencies in India.
Despite the supreme court's order, some Indian banks continue to be reluctant to support virtual currencies. "Some banks are co-operating with us, while some are still hesitant," Singhal of Coinswitch said.
The reason for this resistance could be due to a lack of clear norms from the RBI as well as the anonymous and speculative nature of cryptocurrencies. "Banks are concerned about the relative anonymity of cryptocurrencies and how they could be a safe harbour for illicit activities," Anirudh Rastogi, founder of Ikigai Law, a technology-focused law firm. "By providing services to crypto exchanges and traders, banks think they are opening themselves to a risk of regulatory scrutiny."
The records of virtual currencies are kept on an open-ledger but the anonymity of owners can create problems. This means cryptocurrencies could be misused to transfer illegal money or evade taxes.
The RBI must intervene to reassure banks and clarify that they can support crypto businesses and trade, he added.
Another hurdle for crypto exchanges to operate smoothly in India is the central government's hesitancy, including the draft "Banning of Cryptocurrency & Regulation of Official Digital Currency Bill" (2019), which was floated in July 22, 2019 and suggests a ban on all virtual currencies in India.
Until the RBI and the government have a change of heart, the path for the cryptocurrency ecosystem in India will remain difficult.
Source: qz.com
Author: Prathamesh Mulye
Deciphering crypto Part 1—an introduction to the issues | LexisNexis Blogs
In the first part in a legal series on cryptocurrencies, Angharad Hughes and Will Glover, barristers at 3 Temple Gardens, begin their series of articles in the developing area of cryptocurrency regulation by providing an introduction to cryptocurrency and the crypto sector, the current approach in England and Wales and regulation under the Fifth Money Laundering Directive (MLD5).
Currencies are inherently built on trust, and cryptocurrencies are no different. It is investors' belief in the integrity of the background infrastructure, or blockchain, that underpins the success of cryptocurrencies. The blockchain is a continuously growing list of transactions, (the blocks) made by using the cryptocurrency. These blocks are essentially chronological ledgers of crypto transactions which can be searched and used to trace the history of all transactions, but not necessarily the underlying beneficial ownership. Unlike cash therefore, the blockchain has the potential to make it easier to 'follow the money' when it comes to investigations.
It is ironic that despite their potential to guard against it, cryptocurrencies are an attractive vehicle for fraudulent activity and the disposal of criminal assets. The biggest attraction of cryptocurrency, for those involved in criminal activity, is its potential anonymity. Taking Bitcoin as an example, whilst Bitcoin transactions are traceable, the transaction record does not store information which would reveal the identity of the individual receiving, spending or otherwise dealing with the coins. This makes cryptocurrency appealing to those who want to move around large sums of money without the usual transparency and for those wanting to make illegal purchases on the Dark Web.
Until recently, the crypto sector was remarkable for its lack of regulation. Cryptocurrency exchanges have owners, as do their servers and registered offices, meaning that if governments had acted sooner, regulation and other restrictions could already be in place. Such regulation might have made them a less attractive prospect for those interested in their illegitimate potential. Unsurprisingly, governments around the world are now playing catchup. On 23rd February 2020, the G20 reinforced its commitment to the Financial Action Task Force (FATF) measures to reduce the risk posed by cryptocurrencies. The US has also indicated that it is embarking upon a journey of cryptocurrency regulation by virtue of the Crypto-Currency Act of 2020 laid before Congress on 9th March 2020. The EU's efforts are to be found in the Fifth Money Laundering Directive (MLD5).
Cryptoassets are property
In AA v Persons Unknown [2019] EWHC 3556 (Comm), the High Court considered whether Bitcoin was property. The Court concluded that, cryptocurrencies generally, are a form of property. This ruling means that investigatory bodies now have multiple ways of pursuing illegal cryptoassets. Before this decision, cryptoassets were being defined as a form of property under the broad definition of 'all forms of real or personal property' under section 84(1)(b) of the Proceeds of Crime Act 2002 (POCA 2002) in the criminal courts. There is now nothing in theory preventing an unexplained wealth order on cryptoassets under POCA 2002, s362A. We will examine this in closer detail in later articles in the series.
Prior to AA v Persons Unknown and in what is believed to be the first case of its kind, in R v Teresko (Sergejs) (not reported by LexisNexis) the Crown obtained an order to have Bitcoins not only seized but restrained and converted into sterling using POCA 2002. The defendant was accused of money laundering and drug dealing. During the course of the investigation, Surrey Police found evidence of Bitcoins. He had used cryptocurrency to conceal his funds and had over £1.2 million worth of Bitcoin. Surrey Police applied successfully to have the Bitcoins seized and restrained. Upon conviction, the Crown also successfully applied to have the restrained Bitcoins converted into pounds through an approved Bitcoin exchange.
Tracking ownership through devices
A note of caution. The authorities' ability to seize Bitcoin as part of proceedings so far, has only really been possible where laptops or other devices have been seized, which have then shown evidence of ownership of the cryptocurrency. There has been no obvious central body, like a bank, where orders can be applied for in the usual way to reveal the owner's accounting history and freeze or seize assets. However, we may see movement towards applications for such orders against crypto entities in the future. These issues are being tackled, in part, by the Fifth Money Laundering Directive (MLD5) which is touched on below. More on these issues later in the series.
R v West (unreported, Southwark Crown Court, 25th May 2018), is a further example of tracing through devices. A computer hacker, who was convicted of money laundering and conspiracy to defraud, carried out cyber-attacks on various high street names in order to obtain email addresses. Between July and December 2015 he sent phishing emails pretending to be from Just Eat, the popular take-away food provider, offering a voucher in return for answering questions on personal information. The victims' answers would then be sold on the Dark Web. When officers arrested the Defendant he was on his computer which allowed the police access to his virtual wallet. The police seized more than £500,000 worth of Bitcoin having gained access to the ownership information through access to the computer.
In R v Johnson (unreported, Leicester Crown Court, 5th February 2020) a drug dealer who used cryptocurrency to import drugs into the UK was sentenced to 8 years' imprisonment. The defendant had been trading Bitcoin in consideration for illegal substances entering the UK. A search of his home address revealed heroin, ketamine, LSD and MDMA tablets. Following searches at his address a seized laptop enabled Leicestershire Police's economic crime unit to trace the Bitcoin he had been using, revealing the equivalent of £300,000 in Bitcoin.
It is clear from West and Johnson above that, without access to relevant devices, evidence of each virtual wallet would have been difficult or impossible to obtain. This underlines the investigative problems for agencies and authorities who now want to tackle the conundrum of anonymity in which cryptocurrencies are shrouded.
MLD5 came into force in January 2020 which inter alia seeks to tackle the criminal use of cryptocurrencies. This development by the EU demonstrates that they are finally adapting to the dramatically evolved financial landscape since the Fourth Money Laundering Directive (MLD4) in 2017. MLD5 seeks to regulate both cryptoasset exchange providers (think 'currency exchange') and custodian wallet providers (eg Bitcoin), meaning they will be subjected to the same sort of regulation as traditional financial services bodies. This in turn should make it more difficult for them to be used within the Dark Web and as a vehicle for criminality.
On 10th January 2020 the Financial Conduct Authority (FCA) became the anti-money laundering and counter-terrorist financing supervisor of UK cryptoasset businesses under the Money Laundering, Terrorist Financing and Transfer of Funds (Information on the Payer) Regulations 2017 (MLR 2017), SI 2017/692 (as amended by regulations 3 to 13 of The Money Laundering and Terrorist Financing (Amendment) Regulations 2019, SI 2019/1511). MLR 2017 (as amended) seek to give effect to the activities specified in MLD5 and a wider range of activities as recommended by FATF of the G20. They now set out that cryptoasset businesses, including exchanges and wallet providers, must comply with the UK money laundering regulations.
Within the next year these businesses will have to register with the FCA or cease trading. There will be obligations to carry out customer due diligence and submit suspicious activity reports. In addition, providers must be able to give information on demand to inquiring authorities. The FCA's guidance document, helpfully called 'Guidance on Cryptoassets—Feedback and Final Guidance to CP 19/3' aims to provide clarity on the type of cryptoassets that fall within the new regulatory remit and the resulting obligations. We will take a closer look at the regulations in later articles in the series.
The next step for the EU will be the Sixth Money Laundering Directive (MLD6) which, coronavirus issues notwithstanding, will be written into law by December 2020 and must be implemented within regulated entities by June 2021. Following the UK's exit of the EU it is yet to be seen whether this will be implemented into UK law; it is likely however that a similar approach will be adopted.
What's next?
When compared to the accelerated rate of public interest and investment in cryptocurrencies, international and domestic political machinery has been slow to respond to the inevitable regulatory challenges. Perhaps that international sluggishness, when coupled with the UK Government's apparent scepticism, betrays an underlying fear that cryptocurrencies represent a threat to more traditional financial institutions. In any event, further jurisdictional challenges lie ahead. Enforcement and regulation needs to be implemented globally; governments that break rank with a unified approach will become safe havens for criminal cryptoasset operations. It will be interesting to see what further steps governments take to combat financial crime in the crypto arena. In the meantime, this series will continue to post content examining the caselaw and the operation of provisions in this fascinating and developing area of after-the-event regulation.
Will Glover is a barrister at 3 Temple Gardens. He has been instructed on matters relating to serious fraud, corruption and corporate offending. His recent instructions include defence work at the pre-charge stage of an SFO investigation, as well as trials involving the alleged mis-selling of alternative investment products and a high value counterfeit currency conspiracy.
Angharad Hughes is a barrister at 3 Temple Gardens. She came to the Bar with experience in financial and complex crime, civil recovery and fraud obtained at a top-tier firm. She was recently instructed to assist a team bringing a private prosecution on behalf of a corporate entity. She is also the founder of Griffin-LAW a pro-bono project advancing social mobility at the Bar.
This article was first published on the website of 3 Temple Gardens on 21 May 2020 and is reproduced with permission. To access the footnotes, see the original article here
Source: www.lexisnexis.co.uk
Author: Guest Blogger
Number of Bitcoins on Crypto Exchanges Hits 18-Month Low
The total number of bitcoins held in cryptocurrency exchanges wallets dropped to an 18-month low just above 2.3 million on Monday, according to data estimates from Glassnode. The decline marks an 11% year-to-date reduction in the number of bitcoins held by exchanges.
Meanwhile, over the same period, the amount of ether in exchange wallets increased by more than 7%. Some market participants see this as a sign that more bitcoin investors are increasingly taking direct possession of their cryptocurrency.
"People are accumulating aggressively, and the market participants seem to have a higher time preference these days," said Avi Felman, head of trading at Stamford, Conn.-based BlockTower Capital. "I think the trend is going to continue."
Related: Market Wrap: Bullish Traders Push Bitcoin Over $9,100, Returning to Halving Levels
A portion of these active and often ideologically motivated bitcoin accumulators are called "holders of last resort," a label implying they never intend to sell regardless of market movements.
This type of investor partially contributes to the decline in exchange bitcoin balances by continuing to "accumulate for the long term and self-custody their bitcoins," said Pierre Rochard, bitcoin strategist at Kraken, the largest U.S.-based cryptocurrency exchange by liquidity according to Cryptowatch.
Related: Goldman Sachs: Cryptocurrencies 'Are Not an Asset Class'
It's important to note that on-chain data analysis of exchange balances is only an estimate given that some exchange addresses may be overlooked by or unknown to data aggregators. The downward-sloped trend, however, is nonetheless pronounced.
"On-chain data is not perfect and new exchange wallets may be missed," added Rochard.
Others see bitcoins leaving exchanges for a reason completely unrelated to strong-willed, die-hard investors, however: the rise of prime brokers.
Felman added that currently "there are few alternatives to holding bitcoins on an exchange if you want to trade, but new offerings in the prime brokerage space will lead to greater outflows from exchange-specific wallets."
Regardless of the reason, a "consistent decline in the supply of bitcoin on exchanges implies a strong level of confidence from the holder base," said Yan Liberman, former associate at Deutsche Bank and co-founder of digital asset research firm Delphi Digital.
Roughly 60% of the issued bitcoin supply hasn't moved in over 12 months, added Liberman, and that has been a precursor to previous bullish market cycles.
Bitcoin Transaction Fees Decline as Network Congestion Eases

Bitcoin News Roundup for May 27, 2020
Source: sports.yahoo.com
Author: Zack Voell
Confirmed: 'No India crypto ban'
This follows the Supreme Court decision to quash the RBI circular prohibiting banks from providing services to any customers dealing in cryptocurrencies. The ban lasted for almost two years.
The RBI responded to a Right to Information (RTI) request that there is currently no banking ban on the crypto industry.
The RTI query was filed on April 25 by B.V. Harish, co-founder of Unocoin, a major Indian cryptocurrency exchange. He asked whether the RBI has "prohibited any banks from providing the bank accounts for crypto exchanges, companies or crypto traders." The RBI replied on May 22: "As on date, no such prohibition exists."
Part of the RBI's reply to the RTI query filed by Unocoin co-founder B.V. Harish. Image courtesy of B.V. Harish.
After several hearings, the Supreme Court of India quashed the RBI circular which banned banks from providing services to anyone or any businesses dealing in cryptocurrencies in March. The circular was issued in April 2018. Soon after the court's verdict, cryptocurrency exchanges began bringing back INR support after about two years without it.
Nonetheless, some banks are reportedly still refusing to open accounts for crypto exchanges, claiming that they are waiting for further instructions from the RBI regarding cryptocurrency. "Bankers have been saying that they need new RBI circulars mentioning that there are no more restrictions for them to provide bank accounts for crypto businesses," Harish was quoted by the Economic Times as saying.
"Now, we have received a positive response from the RBI." However, the central bank is not obligated to inform commercial banks of the supreme court's ruling. The RBI also previously confirmed that cryptocurrencies, such as bitcoin, are legal in India.
After the banking restriction was lifted, several cryptocurrency exchanges began seeing 10X trading volumes and a substantial increase in new users. While economists have predicted the worst recession ever for India, the crypto industry is booming despite the extended nationwide lockdown. Peer-to-peer (P2P) marketplaces for bitcoin are growing in India, new crypto exchanges are launching and new investments are flowing in.
Meanwhile, the Indian government is still discussing ways to regulate cryptocurrency; the process has been delayed due to the coronavirus crisis and the nationwide lockdown.
Source: www.asiatimesfinancial.com
Author: ATF Contributor
Previous
Next