Latest Bitcoin price and analysis (BTC to USD)
Bitcoin is testing the $10,000 level of resistance once again this morning after surging by 2.55% over the past 24 hours.
This marks the fourth time it has tested the psychological level of resistance since May 7, with a break out looking increasingly likely.
Levels of support and resistance get weaker with every touch as respective sellers and buyers get exhausted, meaning that its break out to the yearly high of $10,500 seems to be on the cards.
However, another rejection from $10,000 would indicate a lack of momentum from the buy side, which would then lead to a sell-off to the $8,830 level of support before a period of consolidation.
It's also worth noting that the recent daily golden cross has yet to take effect after the 50 EMA crossed the 200 EMA to the upside last Tuesday.
The previous golden cross preceded a 30% rally while the one before that came in April 2019 before a tremendous 175% surge to the upside.
Any kind of break out above $10,000 on strong volume will cause a cascade of short position liquidations on derivative exchanges like BitMEX and Deribit, which may cause price to extend to as far as $11,300.
This ties into the recent narrative around the halving, with analysts suggesting that the reduction in miner rewards will act as a bull market catalyst as new supply gets reduced.
For more news, guides and cryptocurrency analysis, click here.
Current live BTC pricing information and interactive charts are available on our site 24 hours a day. The ticker bar at the bottom of every page on our site has the latest Bitcoin price. Pricing is also available in a range of different currency equivalents:
US Dollar – BTCtoUSD
British Pound Sterling – BTCtoGBP
Japanese Yen – BTCtoJPY
Euro – BTCtoEUR
Australian Dollar – BTCtoAUD
Russian Rouble – BTCtoRUB
In August 2008, the domain name bitcoin.org was registered. On 31st October 2008, a paper was published called "Bitcoin: A Peer-to-Peer Electronic Cash System". This was authored by Satoshi Nakamoto, the inventor of Bitcoin. To date, no one knows who this person, or people, are.
The paper outlined a method of using a P2P network for electronic transactions without "relying on trust". On January 3 2009, the Bitcoin network came into existence. Nakamoto mined block number "0" (or the "genesis block"), which had a reward of 50 Bitcoins.
If you want to find out more information about Bitcoin or cryptocurrencies in general, then use the search box at the top of this page. Here's an article to get you started.
As with any investment, it pays to do some homework before you part with your money. The prices of cryptocurrencies are volatile and go up and down quickly. This page is not recommending a particular currency or whether you should invest or not.
Disclaimer: The views and opinions expressed by the author should not be considered as financial advice.
Source: coinrivet.com
Author: Oliver Knight
May 19, 2020
▷ Bitcoin course NEWS | Read news here!
Advertising advice:
BaFin's approval of the base prospectus should not be understood as its approval of the securities offered. We recommend that prospective and prospective investors read the base prospectus and final terms before making an investment decision in order to obtain as much information as possible, in particular about the potential risks and opportunities of the security. You are about to purchase a product that is not easy and can be difficult to understand.
Help free advertising app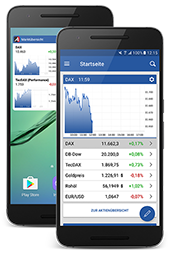 Source: www.ariva.de
Bitcoin's Impending Golden Cross May Bolster Bulls: Analysts
A widely tracked bitcoin price indicator is about to turn bullish – potentially accelerating the recent uptrend of the top cryptocurrency by market value.
"The golden crossover will catch the attention of classical trend followers," said Su Zhu, CEO of Three Arrows Capital.
What future awaits cryptocurrencies?
Trend-following traders do not predict or forecast specific levels but simply join the trend (bullish or bearish) when they feel a strong directional bias has been established. They often employ moving average crossover strategies to decide whether a trend is developing. This is because averages, which are based on past data, crowd out the noise created by intraday fluctuations and paint a better picture of the broader trend.
When a short-term MA moves above a long-term MA, a bullish cross is confirmed. That is considered a buy signal by trend followers. Alternatively, a bear cross is taken as a sell signal.
Thus, the impending golden cross, once confirmed, could bring in additional buying pressure from traders who employ MA strategies, leading to stronger price gains.
"I think MA strategies often work because they are self-reinforcing," said Anthony Vince, head of trading at GSR. That viewpoint has logic as averages follow price and produce a bull cross following notable price gains. Once the cross is confirmed, more buyers join the market, potentially pushing prices higher.
Lennard Neo, lead analyst at Stack, also expects the upcoming golden cross to bode well for the cryptocurrency. "Moving averages tend to be one of the best-performing strategies when applied to crypto, at least for the past couple of years. We expect the same to happen in this potential golden cross, as BTC should see some upward price pressure," said Neo.
Indeed, the golden cross that took place last April yielded more than 130% returns over just a 64-day period. Meanwhile, the golden cross witnessed in October 2015 was followed by a quickfire 64% rally in just eight days.
Some observers, however, are of the opinion that moving average crossovers are lagging indicators and often trap investors on the wrong side of the market. After all, MA studies are based on past data and tend to lag prices.
In the past, there have been instances where the golden crossover turned out to be a bull trap.
"The last golden cross was confirmed before Black Thursday (March 12) and the last death cross was confirmed before the April rally," said Darius Sit, co-founder and managing director at Singapore-based QCP Capital.
So, if history is a guide, golden crossover is an unreliable indicator of price trends.
Different this time?
What makes the upcoming golden cross different from some previous ones is the fact that it is supported by bullish fundamental developments.
The rewards per block mined on bitcoin's block chain were cut to 6.25 BTC from 12.50 BTC last Monday. Most analysts expect the supply cut to put bitcoin into a long-term bull market, similar to the one seen in the months following the second reward halving, which took place in July 2016.
Additionally, the challenging macro environment brought on by the coronavirus outbreak and the unprecedented monetary stimulus launched by major central banks is expected to boost haven demand for bitcoin.
Hence, some analysts see a low probability of the upcoming bull cross turning out to be a bull trap. "Fundamentals and technicals are lining up well for the markets now, " said Zhu.
Meanwhile, Neo said that "the fundamentals of bitcoin remain strong, which contemplates every reason for a break upside."
The on-chain activity does show a strong holding sentiment in the investor community. "The number of bitcoins held on exchanges has been steadily decreasing since the crash in March, and is now approaching a one-year low. This is the largest and most prolonged BTC exchange balance downtrend in Bitcoin's history," Glassnode, a blockchain intelligence firm, noted in its weekly report.
Investors typically move bitcoins from their wallets to exchanges when they expect prices to drop. On the other hand, coins held on exchanges are withdrawn when the cryptocurrency is expected to see a sustainable price rise.
At press time, bitcoin is changing hands near $9,800, representing a 0.6% gain on the day. The cryptocurrency found bids below $9,500 early on Tuesday, but is yet to cross above $10,000. The area around that level has proved a tough nut to crack over the past few days.
With both fundamentals and technicals biased bullish, a move above $10,000 may happen soon. "A successful break higher and the next significant level overhead would be the 61.8% Absolute Fib at $12,160 area," said Eddie Tofpik, head of technical analysis and senior markets analyst at London-based ADM Investor Services International Ltd.
However, over the past few days, the buyers have consistently struggled to keep gains above $9,840, as seen on the daily line chart. "Another failure there could see the forming of a possible double top and contemplation of the $6,000 area," said Tofpik.
Disclosure: The author holds no cryptocurrency at the time of writing.
Source: www.coindesk.com
Author: Daniel Cawrey
Previous
Next