Ethereum Just Saw A Key Technical Breakout And $230 Seems Imminent
Ethereum is up more than 5% and it broke the key $205 resistance against the US Dollar. ETH price remains well supported and it is likely to continue higher towards $230.
Ethereum is gaining traction and it recently surged above the $205 resistance zone.
The price is trading near the $215 resistance, but it is well above the 100 hourly simple moving average.
There is a key bullish trend line forming with support near $210 on the hourly chart of ETH/USD (data feed via Kraken).
A clear break above the $215-$216 zone might open the doors for a push to $220 and $230.
After forming a strong support base above $192, Ethereum price started a fresh increase against the US Dollar. Bitcoin price also gained pace towards $10,000, resulting in an upside break above the $200 resistance zone.
The price surged above the $205 resistance and the 100 hourly simple moving average. Ether is up more than 5% and it is now trading near the $215-$216 resistance zone. An initial support is near the $214 level.
The 23.6% Fib retracement level of the recent rise from the $206 low to $216 high is also near the $214 level. The first major support is seen near the $212 level, where the bulls might take a stand.
More importantly, there is a key bullish trend line forming with support near $210 on the hourly chart of ETH/USD. The trend line is close to the 50% Fib retracement level of the recent rise from the $206 low to $216 high.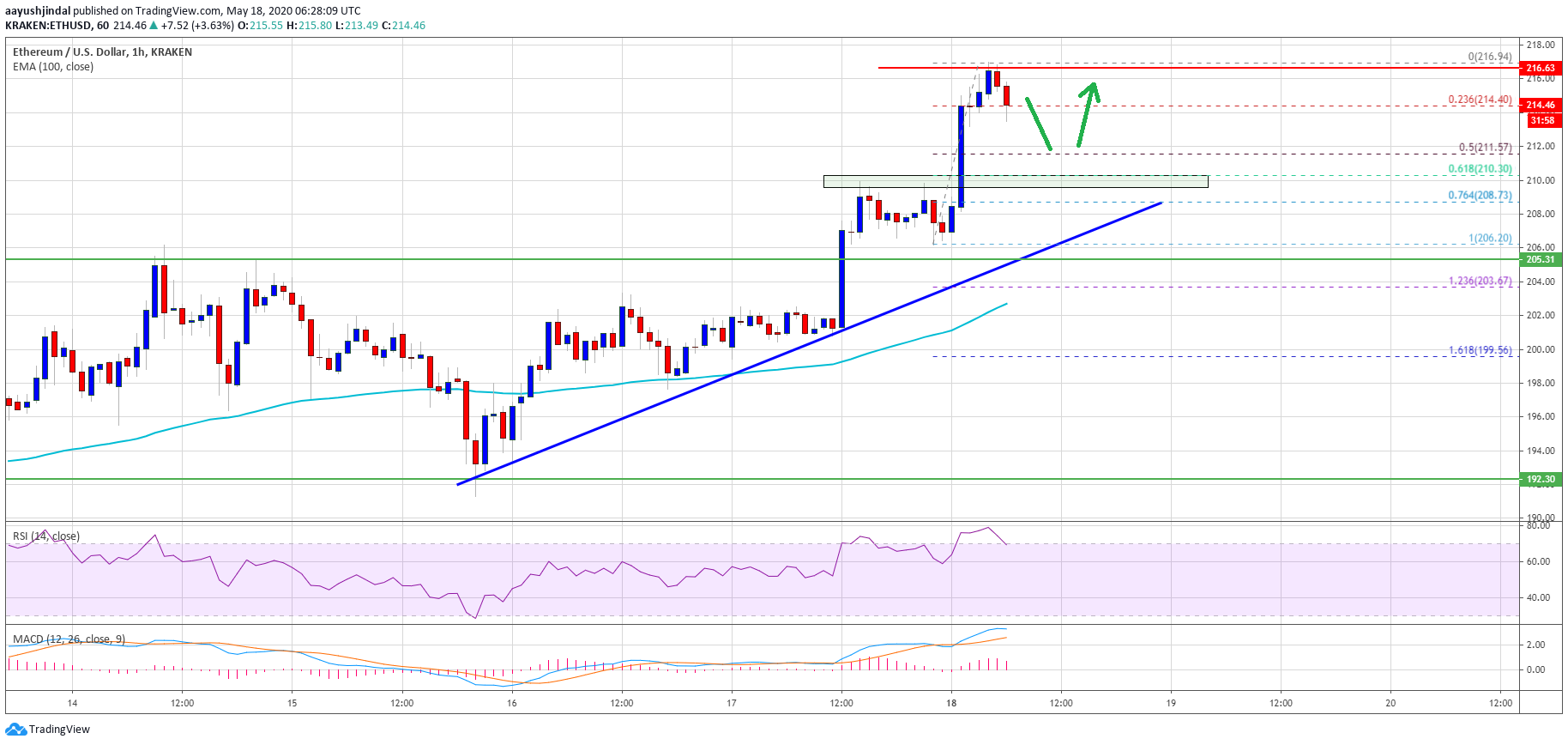 If Ethereum starts a downside correction, it is likely to find bids near the $212 and $210 levels. Any further losses may perhaps lead the price towards the main $205 support zone (the recent breakdown zone). If the bulls fail to keep the price above the $205 zone, there are chances of a renewed downtrend towards $192.
On the upside the $215-$216 zone is an initial barrier for more gains. A successful break above the $216 high might open the doors for the next rally towards $220 and $225.
The main hurdle on the upside is near the $230 level, where the bears could take a stand. Any further gains may perhaps open the doors for a sharp rise towards the $250 level.
Technical Indicators
Hourly MACD – The MACD for ETH/USD is currently losing pace in the bullish zone.
Hourly RSI – The RSI for ETH/USD is correcting lower from the 70 level.
Major Support Level – $210
Major Resistance Level – $216
Take advantage of the trading opportunities with Plus500
Risk disclaimer: 76.4% of retail CFD accounts lose money.
Source: www.newsbtc.com
Author: Aayush Jindal
Red Lever Pulled on Bitcoin-Ethereum Bridge Two Days Post-Launch
tBTC – Bitcoin (BTC) on Ethereum (ETH) project by venture production studio Thesis – was put to sleep just two days after its launch on the mainnet.
tBTC is a project meant to bridge Bitcoin and Ethereum by allowing BTC owners to access decentralized financial applications that run on Ethereum, turning their coins into tBTC – the ERC-20 token that is a representation of Bitcoin on Ethereum. It can then be used to trade using leverage, as a collateral to earn interest, etc. tBTC could then also be changed back into BTC.
However, two days after CEO and founder of Thesis, Matt Luongo, had announced that the first tBTC was minted on mainnet, saying that, despite BTC and ETH communities not always getting along, it was time for interoperability – the team "pulled the red lever, pausing deposits for the next 10 days, and are helping users drain funds," promising to rise again.
Luongo refused to share the reasons behind the move in the comments and stated that the details will be provided in a deep post-mortem, though he added that more information will be out tomorrow.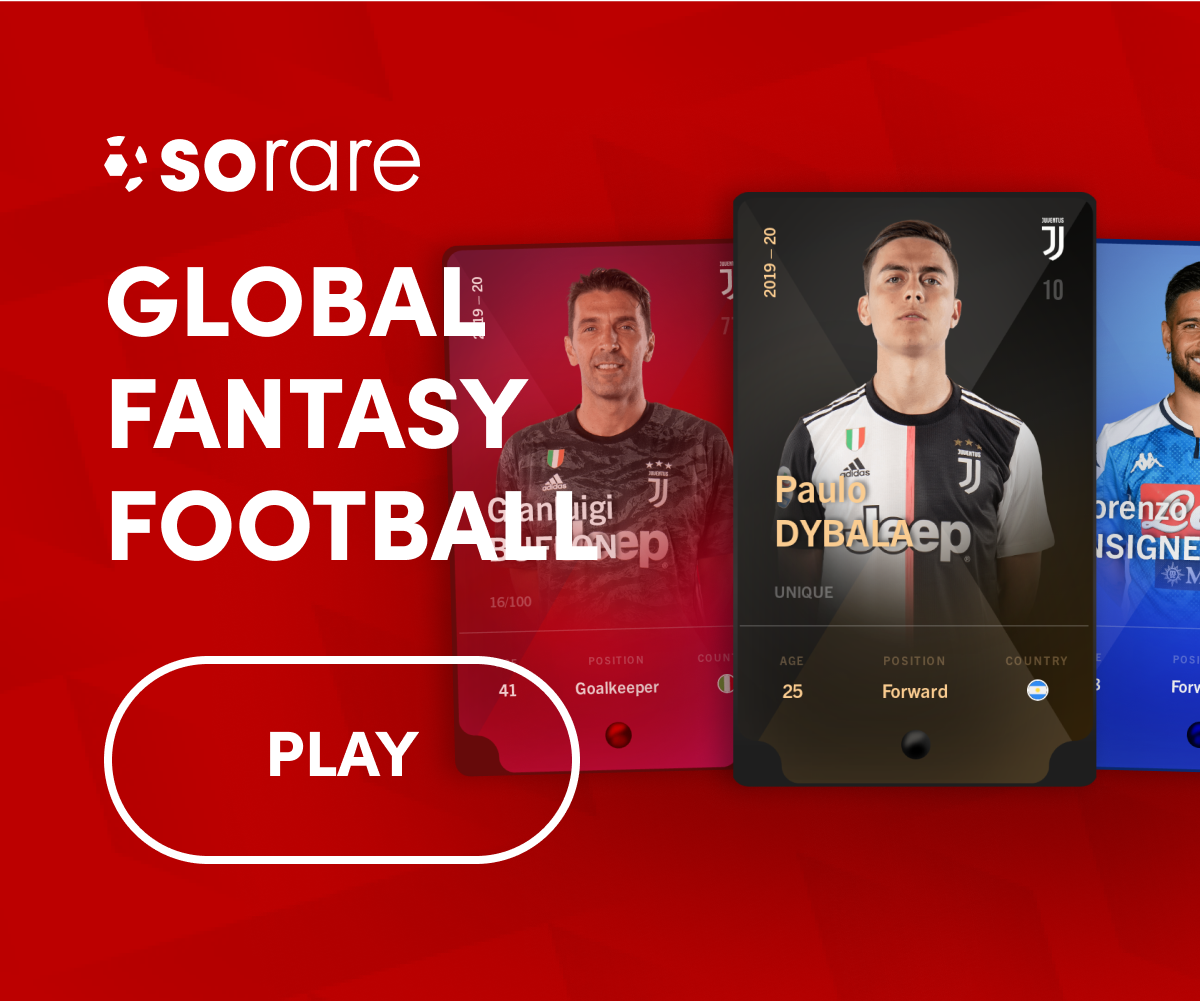 There aren't many speculations currently about what may have happened either, with people commenting on the difficulty of making smart contracts. Others have suggested it might've been an oracle issue, and shared a previous tweet by Luongo from 2019, according to which he allegedly said that "it took like two minutes to build something as robust as Chainlink," which is a decentralized oracle network.
Yep. No TL;DR until we're cleaned up, then a deep post-mortem.
Luongo also stated that there was a six-week audit followed by crypto audit, with another scheduled to start tomorrow, but that he is glad the issue was caught this early. Hence, he argues, this is "not so bad. Finding things early means protecting users." We asked Luongo for comment and will update should he reply.
Thesis, which is the team behind the Keep Protocol – a privacy layer for Ethereum and tBTC project contibutor whose system was supposed to be used to guard the BTC owners' private keys, had secured USD 7.7 million in April this year in a funding round led by Paradigm Capital, and with participation from firms including Fenbushi Capital and Collaborative Funds.
While most people seem to be waiting to hear what went wrong, others were more critical of the project. "Remember that project to tokenize Bitcoin on Ethereum to rival Liquid Network?," asks Bull Bitcoin Co-founder and CEO Francis Pouliot. "Yep, it's dead. Ethereum sucks." The company is a Liquid federation member.
___
Little do people know that when they make use of things like tBTC, or wBTC, or whatever comes next, that they are trading the security of their #Bitcoin for something much more risky. There really is no good reason for any of this.
__
3 hours after posting this tBTC was declared dead and taken down 🙏😆 https://t.co/AbbDHsDHM5
__
people were arguing with me just 3 days ago that *this* wrapped btc would thrive where others failed..
Y.A.W.B dead. pic.twitter.com/p5wjmax0QV
Source: cryptonews.com
Author: By Sead Fadilpašić
Latest Ethereum price and analysis (ETH to USD)
Following a decidedly low volume weekend of price action Ethereum has continued to climb back towards the $219 level of resistance as it seeks a long-awaited breakout.
The world's second largest cryptocurrency, which has a market cap of more than $23 billion, has rallied against both its USD and BTC trading pairs over the past 24-hours.
Against the Dollar it is 4.04% up while it has risen 3.22% against Bitcoin after a confident bounce from the 0.0205BTC level of support.
It's worth noting that Ethereum has now made four consecutive higher lows against Bitcoin since September 2019 to suggest that a bullish reversal may be on the cards.
A potential target has emerged at 0.028BTC as this was the high in February but it also heavily depends on the trajectory of Bitcoin over the coming weeks.
As extensively reported on by Coin Rivet, Bitcoin underwent a block reward halving last week with analysts tipping it to be the catalyst for a cryptocurrency bull market.
Bitcoin did respond as predicted with a rally towards the $10,000 level of resistance, although it has since suffered numerous sell-offs to around $9,000.
If Bitcoin breaks above $10,000 it could trigger a period of FOMO among investors, which would subsequently see altcoins like Ethereum fall by the wayside as focus switches back to Bitcoin.
If that is the case Ethereum will need to continue trading above the $200 level of support if it is to remain in a bullish posture.
What future awaits cryptocurrencies?
For more news, guides and cryptocurrency analysis, click here.
Ethereum was launched by Vitalik Buterin on July 30 2015. He was a researcher and programmer working on Bitcoin Magazine and he initially wrote a whitepaper in 2013 describing Ethereum.
Buterin had proposed that Bitcoin needed a scripting language. He decided to develop a new platform with a more general scripting language when he couldn't get buy-in to his proposal.
If you want to find out more information about Ethereum or cryptocurrencies in general, then use the search box at the top of this page. Please check the below article:
https://coinrivet.com/ethereum-adopts-erc-1155-as-an-official-standard/
As with any investment, it pays to do some homework before you part with your money. The prices of cryptocurrencies are volatile and go up and down quickly. This page is not recommending a particular currency or whether you should invest or not.
You may be interested in our range of cryptocurrency guides along with the latest cryptocurrency news.
Disclaimer: This is not financial advice.
Source: coinrivet.com
Author: Oliver Knight
May 18, 2020
CEO: DeFi gives Ethereum a "higher ceiling" to rally towards than 2017's bull run
While Ethereum was rolled out with the branding of being "The World Computer" capable of doing effectively anything that could be coded, the project arguably didn't have a killer use case until recently.
Throughout Ethereum's earliest years — especially in 2017 and 2018 — one of the primary uses for the blockchain was to act as a platform for initial coin offerings. That's to say, entrepreneurs trying to become the next Satoshi Nakamoto and Vitalik Buterin were leveraging Ethereum to sell their own cryptocurrency.
Effectively, issuing tokens, decentralized gambling apps, and CryptoKitties were all the blockchain had to offer. CryptoKitties were so prevalent that it became the first ETH-based app to seriously clog the network, as the BBC reported and Etherscan data corroborates.
Despite the limited use cases, the cryptocurrency still managed to become the world's best-performing assets, rallying 28,000 percent from dollars to approximately $1,400 over the 13 months from January 2017 to the early-2018 peak.
It was such a strong rally that at one point in 2017, there were analysts expecting the market capitalization of ETH to flip that of Bitcoin. Fittingly, this event was dubbed the "flippening."
Impressive, for sure, but a top industry chief executive has argued that Ethereum has an even "higher ceiling" to rally towards this time around, this bull run around.
The reason: the project actually has a solid use case now, and that is decentralized finance, better known as "DeFi."
While just two years ago, stablecoins and decentralized finance were not a prominent trend on Ethereum, they have become two use cases core to the blockchain over the past 12 months.
As it stands, $7.3 billion worth of U.S. dollar stablecoins like USDT, Circle's USD Coin, and Paxos Dollar,
According to Ryan Selkis, chief executive of crypto researcher and data provider Messari, this development, along with the development of this crypto sector in the future, gives "ETH a higher ceiling" to rally towards in the long run. Whether this was in reference to Ethereum's performance against the dollar or against Bitcoin isn't clear.
After the BTC bull run, I'll start averaging into ETH again.
+ digital gold narrative will lead in this climate, but stablecoin progress / DeFi gives ETH a higher ceiling
+ near all time lows for the pair
+ let layer 1 wars settle down, ETH 2.0 beacon chain launch then buy pic.twitter.com/cPBPmsBVk3
— Ryan Selkis (@twobitidiot) May 16, 2020
Selkis' comment somewhat contradicts that of Ryan Watkins, a researcher at his company who suggested in April that the invasion of Ethereum by Tether's USDT and other centralized stablecoins may pose a long-term "threat" to ETH's monetary premium.
Watkins wrote at the time in reference to how stablecoins could become the primary form of money on the Ethereum network as opposed to ETH:
"For ETH to defend its monetary premium, Ethereum must create demand for trust minimized applications that use it as collateral. ETH must not devolve into its naive early branding of digital oil."
That said, the cryptocurrency does have its own scarcity mechanisms enabled by DeFi that is likely leading Selkis to have his bullish skew.
Selkis asserted that the propagation of DeFi and stablecoins bolsters ETH's long-term prospects. But as he and many other analysts have admitted, it's time for Bitcoin — and primarily Bitcoin — to shine over altcoins. As the Messari CEO put it best:
"[The] digital gold narrative will lead in this climate."
In a report titled "Bloomberg Crypto Outlook: Bitcoin Demand Exceeding Supply," which CryptoSlate reported on previously, Bloomberg analyst Mike McGlone indicated that the ongoing macroeconomic environment will "sustain the first-born crypto's performance versus its brethren."
After all, Bitcoin is the only investable cryptocurrency that has safe-haven characteristics, the most notable of which being its 21 million coin supply cap enforced by halvings.
Raoul Pal — a former Goldman Sachs executive and the current chief executive of Real Vision — corroborated the sentiment that Bitcoin will outperform for now. The Wall Street veteran indicated in a number of recent interviews that if you truly believe cryptocurrency is the future, Bitcoin is automatically the most reliable bet, with Pal branding BTC the "call option" on a decentralized and digital economy.
Ethereum, currently ranked #2 by market cap, is up 6.02% over the past 24 hours. ETH has a market cap of $23.77B with a 24 hour volume of $17.7B.
Chart by CryptoCompare
Ethereum is up 6.02% over the past 24 hours.
Cover Photo by Ren Ran on Unsplash
Source: cryptoslate.com
Author: AuthorNick Chong Twitter LinkedIn Analyst @ CryptoSlate
ChainSafe enables Ethereum Classic owners to access Ethereum's DeFi
Ethereum Classic Labs has revealed that it will support ChainSafe in developing ChainBridge to increase its interoperability with Ethereum.
Through ChainBridge, Ethereum Classic users will be able to access Ethereum's DeFi sector .
In a Medium post, Ethereum Classic Labs has announced its support for the blockchain research firm ChainSafe. The research firm is developing a modular multi- direction al bridge called ChainBridge. The technology will enable data and value transfer across different blockchains.
ChainBridge in consultation with Ethereum Classic Labs will offer Ethereum Classic users the possibility to transfer values to Ethereum using "synthetic" ETC. This asset can interact with Ethereum's decentralized finance (DeFi) protocols. In addition, ChainBridge will enable ETC users with profits in the DeFi sector to transfer their value back to the Ethereum Classic network, according to the publication:
ChainBridge is chain agnostic and can eventually be extended to any blockchain network. The bridge offers the ability to transfer arbitrary data from one blockchain to another. A relayer runs software that monitors the different blockchains and signs transactions to execute the transfer of data between blockchains.
Ethereum could be just one of the blockchain networks that will be interoperable with Ethereum Classic. ChainBridge also provides support for the Cosmos SDK. The cooperation between ETC Labs and ChainSafe opens up many opportunities for collaboration and development that will enable interoperability between two blockchains. The CEO of ChainSafe Systems, Aidan Hyman, commented on the collaboration as follows:
The future of interoperability relies on projects forming consortiums around open source software that can solve their problems while being economically sustainable. We are proud that ETC Labs agrees with this vision and is supporting ChainBridge along with our other valued partners.
ETC Labs founder James Wo added that he is pleased with the cooperation. Wo hopes that the partners will be able to continue contributing to the chain interoperability. The founder of ETC Labs said:
Chainsafe has been a great partner in helping ETC continue to grow while working in tandem with other blockchain technologies to provide seamless integration and value to the developers.
Ethereum Classic has been increasing its interoperability with Ethereum for some time. Recently, ETC Labs announced that it will use Chainlink's oracle technology. Using Chainlink, the Ethereum Classic and Ethereum blockchains will be able to exchange data. On the other hand, the Saturn protocol was also implemented which will allow users to make atomic swaps between the Ethereum blockchain, Ethereum Classic, Bitcoin, among others. Both announcements are important steps that have been taken to strengthen the compatibility between the Ethereum Classic and Ethereum networks.
Source: www.crypto-news-flash.com
Author: Reynaldo
Previous
Next