Elon Musk reveals his Bitcoin holdings. Here's how much he currently owns
In response to a request from Rowling for Twitter to explain Bitcoin to her, Musk said: "Massive currency issuance by govt central banks is making Bitcoin Internet money look solid by comparison".
He added: "I still only own 0.25 Bitcoin btw".
A follower replied to Musk: "That's irrational, based on you just saying it is more solid than fiat money."
(Also Read: Tesla to build Cybertruck Gigafactory in Austin: Report)
Another wrote: "There's good reasons why all those fake bot accounts constantly try to push fake bitcoin scams lol, I don't trust bitcoin far as I can throw it".
Musk replied to him: "That is why you should only use trusted sources".
He also indicated that Tesla "might get into mining" last year.
Scammers have time and again abused Musk's popularity to fleece Twitter users after hacking several popular accounts.
The hackers used his name and likeness to ask for Bitcoin — a cryptocurrency — by promoting a fake ad on Twitter in 2018.
Despite Twitter attempting to ban scammers and impersonators on its platform, one impersonator broke into Musk's official account with a fake lookalike verified account, promising his 22.5 million followers free Bitcoin and ethereum cryptocurrencies.
Musk later slammed Twitter and Google for the rise in trolling networks and scams via fake bots on both the platforms.
"The crypto scam level on Twitter is reaching new levels. This is not cool," Musk said.
(Also Read: Tesla China faces ire of existing customers for recent discounts: Reports)
"Report as soon as you see it. Troll/bot networks on Twitter are a *dire* problem for adversely affecting public discourse and ripping people off," he added.
This story has been published from a wire agency feed without modifications to the text. Only the headline has been changed.
Source: auto.hindustantimes.com
Author: IANS
This is how the prices of Bitcoin, Litecoin, Bitcoin Cash and Ethereum are moving today
The Bitcoin price is now rising to $ 9,409.28, up from the previous day's $ 9,286.73.
display
Would you like to invest in Bitcoin? We will explain the options to you
Here you can easily buy and sell Bitcoin
The Ethereum shows up at $ 200.52. The previous evening, the rate of the digital currency was still $ 194.35.
The ripple price has risen to $ 0.1999 today, compared to $ 0.1976 the previous day.
The Cardano course has risen. The Cardano price rose to $ 0.0508 after trading at $ 0.0505 the previous day.
The digital currency Monero rate is up today at $ 64.21. The previous day, the price was $ 63.29.
The IOTA course is stronger compared to the previous day. An IOTA is currently worth $ 0.2008. Yesterday the price was still at $ 0.1982.
The Verge price is quoted at $ 0.0033 on Saturday. The previous day, the Verge had been worth $ 0.0033. The Verge thus continues its sideways movement.
The Stellar rate went up to $ 0.0680. The previous day's price was at $ 0.0673.
The NEM price is trading higher at $ 0.0393. The previous day, the price stood at $ 0.0392.
The dash price ranks at $ 73.97. The previous day, the dash was still at $ 72.90.
The NEO has moved. At noon, the NEO price rose to $ 10.03 after trading at $ 10.00 the previous day.
Editorial office finanzen.net
Source: www.finanzen.net
Bitcoin Derivatives Data: A Rally Past $10,000 Could Be Abruptly Halted
Since trading as low as $8,180 seven days ago, Bitcoin has mounted a strong recovery that brought it as high as $9,900 on Sunday. It's an impressive recovery that has many convinced the cryptocurrency is set to rally higher.
Data from Bitcoin derivatives markets, however, suggests that the cryptocurrency may be subject to a short-term reversal after a 20% bounce.
As derivatives exchanges have become increasingly adopted by Bitcoin traders, the data these markets provide have provided increasingly better insights into which way BTC will trend.
One prominent technician recently shared the chart below, indicating that the funding rate of the Bitcoin futures on OKEx — the fee longs pays shorts — has "suddenly [trended] very high again."
Data of OKEx's funding rate from analyst Byzantine General.
Extreme funding rates indicate that one side of the market is overleveraged. In this case, with the funding rate high, there are more aggressive Bitcoin buyers than sellers.
While logic would suggest that Bitcoin should head higher, extreme funding rates are often seen at the reversal of trends, not in the midst of a trend.
Along with the futures market also suggesting a potential reversal, data from the options market is showing investors are anticipating downside.
What cryptocurrency will become the main one in a year?
The insights team of the cryptocurrency derivatives exchange Deribit recently wrote that "real money flow is buying puts." That's to say, the bullish news narratives aside, there are big investors pouring money into derivative contracts betting that Bitcoin goes lower in the coming months:
"There are a variety of users and narratives for buying puts, not all bearish; protection can be cautiously bullish. But there seem some aggressive buyers still concerned/predicting a retrace," the exchange wrote.
It isn't only derivatives market data that is signaling a potential trend reversal.
According to order book data of Bitfinex's BTC/USD market shared by a popular crypto trader, there's a massive block of orders looking to sell Bitcoin around $10,000 that may be hard to break past.
Bitfinex's order book suggests that from $9,900 to $10,600, there is ~4,200 Bitcoin worth of sell orders, most of which are clustered around $10,000-10,200. That means on one exchange alone, there is over $40 million worth of sell-side pressure if the cryptocurrency attempts to rally past $10,000.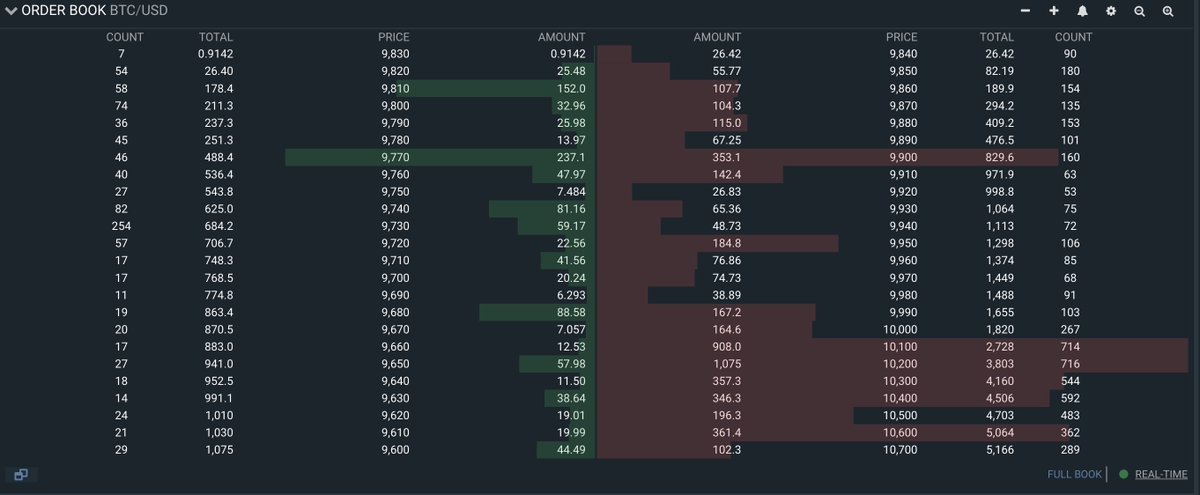 Order book (BTC/USD) screenshot from Majin (@Majinsayan on Twitter), a crypto trading.
Over $40 million in sell orders may not seem like a lot in a market where dozens of billions of dollars worth of cryptocurrency changes hands each day. But the last time Bitcoin saw a sell wall similar to the current one, it crashed.
Further corroborating this trend, four out of the six proprietary metrics of blockchain intelligence firm IntoTheBlock show that BTC is currently "mostly bearish," with the number of large transactions slowing down, traders slowly becoming unprofitable, and the short-term growth of Bitcoin slowing.
Bitcoin metrics from IntoTheblock, current as of May 16.
Photo by Aliyah Jamous on Unsplash
Source: bitcoinist.com
The Crypto Daily – Movers and Shakers -17/05/20
Bitcoin rose by 0.86% on Saturday. Partially reversing a 4.90% slide from Friday, Bitcoin ended the day at $9,388.0.
A bullish start to the day saw Bitcoin rise from an intraday low $9,222.0 to an early morning intraday high $9,580.0.
Falling short of the first major resistance level at $9,730.0, Bitcoin fell back to sub-$9,300 levels by the late afternoon.
The visit into the red was brief, however, with support from the broader market kicking in late in the day.
Bitcoin broke back through to $9,400 levels before easing back in the final hour.
The near-term bearish trend, formed at late June 2019's swing hi $13,764.0, remained firmly intact, reaffirmed by the March swing lo $4,000.
For the bulls, Bitcoin would need to break out from $10,000 levels to form a near-term bullish trend.
Across the rest of the majors, it was a bullish day on Saturday.
Monero's XMR and Tezos led the way, with gains of 4.22% and 5.78% respectively.
Binance Coin (+2.42%), Cardano's ADA (+1.81%), EOS (+1.90%), Ethereum (+3.02%), Stellar's Lumen (+1.85%) also found strong support.
Bitcoin Cash ABC (+0.26%), Bitcoin Cash SV (+0.89%), Litecoin (+1.33%), Ripple's XRP (+0.81%), and Tron's TRX (+0.76%) trailed the front runners.
Through the current week, the crypto total market cap rose from a Monday low $229.41bn to a Thursday high $265.28bn. At the time of writing, the total market cap stood at $260.41bn.
Bitcoin's dominance visited sub-67% levels before recovering. At the time of writing, Bitcoin's dominance stood at 67.3%.
24-hour trading volumes rose to an early Monday high $206.86bn before easing back to sub-$140bn levels. Interest picked up on mid-week, however, with volumes revisiting $190bn levels before sliding back. At the time of writing, 24-hr volumes stood at $118.41bn.
At the time of writing, Bitcoin was up by 1.44% to $9,523.1. A mixed start to the day saw Bitcoin fall to an early morning low $9,329.7 before striking a high $9,581.7.
Steering clear of the major support levels, Bitcoin broke through the first major resistance level at $9,571.33 early on.
Elsewhere, it was a mixed start to the day for the majors.
Bitcoin Cash SV led the way, with a 0.82% gain, while EOS and Monero's XRM bucked the trend, with losses of 0.05% and 0.49% respectively.
Bitcoin would need to avoid sub-$9,500 levels to break back through the first major resistance level at $9,571.33.
Support from the broader market would be needed, however, for Bitcoin to break out from the morning high $9,581.7.
Barring an extended crypto rebound, the first major resistance level and Saturday's high $9,580 would likely limit any upside.
In the event of an extended rally, the second major resistance level at $9,754.67 would likely come into play before any pullback.
Failure to break back through the first major resistance level could see Bitcoin hit reverse.
A fall back through to sub-$9,400 levels would bring the first major support level at $9,213.33 into play.
Barring a crypto sell-off, however, Bitcoin should steer clear of sub-$9,000 levels. The second major support level at $9,038.67 would likely limit any downside.
Source: www.fxempire.com
Author: Bob Mason22 hours ago (May 17, 2020 05:40 AM GMT)
Previous
Next