Cryptocurrency News From Japan: May 3 – May 9 in Review
This week's headlines from Japan included Taotao exchange revealing positive first year numbers, the Japan Crypto Trading Association unveiling crypto asset market rates, Coincheck announcing recent positive fiscal year totals, and Cointelegraph diving into the scene around several exchanges in Japan.
Check out some of this week's crypto and blockchain headlines, originally reported by Cointelegraph Japan.
Taotao, a crypto exchanged backed by Yahoo Japan, saw rising customer figures during Q1 2020, seeing over 7,000 total users by the end of March 2020. Glossing performance from a fiscal year that ended on March 31, data shows the exchange has seen significant growth since its May 2019 inception.
The outfit also posted $509,955,392 USD in exchange volume during its first year.
Japanese self-regulatory group, the Japan Crypto Trading Association, or JVCEA, now publicly shares the going market rate for several digital assets traded on exchanges in the country.
The group formulates a weighted average price for each asset, pulling price data and volume from various trading platforms and entities twice per day. The JVCEA now shares market rates for Bitcoin (BTC), Ethereum (ETH), Ripple's XRP, Bitcoin Cash (BCH), Litecoin (LTC), Nem (XEM) and Monacoin (MONA).
Tallying numbers from its fiscal year ending in March 2020, Japan-based exchange, Coincheck, revealed a profit of $2,746,634 USD on the year, with an 83.5% growth in final income compared to the prior year. Coincheck, the daughter company of Tokyo-based financial services company Monex Group, ended the previous year with an overall loss.
The exchange also touted growth in its U.S. branch, reaching a customer count of 3,782 — a 500% increase since Q4 2019.
Over the past couple of years, Japanese exchanges have faced various complications, including a blanket statement from the country's Financial Services Agency, or FSA, declaring license requirements.
This week, Cointelegraph Japan took a dive into the situation around Japan regarding Binance, BitMEX, and Bybit.
Source: cointelegraph.com
Author: Benjamin Pirus
This is how Bitcoin, Litecoin & Co. are developing on the crypto market today 07.05.20
How the main cyber currencies move on Thursday.
The Bitcoin price was trading at $ 9,293.16 on Thursday. The Bitcoin price rose above the previous day's level of $ 9,150.38.
The Bitcoin Cash rate has risen. The Bitcoin cash price rose to $ 243.70 after trading the previous day at $ 241.44.
The Ethereum price climbed to $ 204.40. The Ethereum surpassed the prior-day level of $ 198.90.
The Litecoin rate soared to $ 45.84. The previous day's price was at $ 44.99.
The ripple rate is trading at $ 0.2144 on Thursday. The ripple price rose above the previous day's level of $ 0.2116.
The Cardano course dropped compared to the previous day. A Cardano is currently worth $ 0.0494. Yesterday the price was still at $ 0.0500.
The Monero price rose to $ 59.50 today, while it was trading at $ 59.56 the previous day.
The IOTA course has a green sign compared to the previous day. The most recent IOTA stood at $ 0.1808.
The Verge course climbed on Thursday. At noon, the Verge rose to $ 0.0039, from $ 0.0036 the previous day.
The Stellar course presents itself in plus. This is currently trading at $ 0.0721. The previous day, the price had been $ 0.0715.
The NEM is down $ 0.0408. The night before, the digital currency rate was $ 0.0415.
The dash price dropped to $ 77.68. The previous day, the cryptocurrency had been worth $ 79.09.
The rate of the NEO digital currency is up today at $ 9.279. The previous day's price was $ 9.247.
Editorial office finanzen.at
Source: www.finanzen.at
Bitcoin (BTC) Tumbles to $8,600 in Sudden Crypto Crash, Sending Ethereum, XRP and Altcoin Market Into Deep Red Territory
Crypto traders are reeling from a sharp and sudden drop in the price of Bitcoin (BTC).
BTC went from about $9,600 to $8,600 in an instant, according to data compiled by CoinMarketCap. It is currently at $8,749 at time of publishing, down 11.40% in the last 24 hours.
Analyst Josh Rager says BTC needs to stay above $8,400 to avoid a bigger move to the downside.
"Tick tock it's officially Sunday UTC, time to let the BTC games begin. $9100 couldn't hold – that was a key area. Bitcoin looks like it hit local top and to be heading down to $7k land if this closes below $8400 (grey box). Expect more volatility today – seat belts…
Nice wick on the 4 hour so far, buyers stepping in. More downside could come but holding above $8600 support would be a good start."
The crash is pushing the altcoin market into deep red territory.
Ethereum is down 10.19% at $191.91, XRP is down 9.94% at $0.1985, and Bitcoin Cash is down 12.92% at $235.16. Here's a bird's-eye view of the market from COIN360.
What cryptocurrency will become the main one in a year?
This is Bitcoin's first correction since its huge rally from a low of $4,183 on March 12th to a high of $9,987 on Friday.
BTC began the year at $7,203 and is up 21.46% year-to-date.
Source: dailyhodl.com
Ripple, Bill Gates and Google develop payment app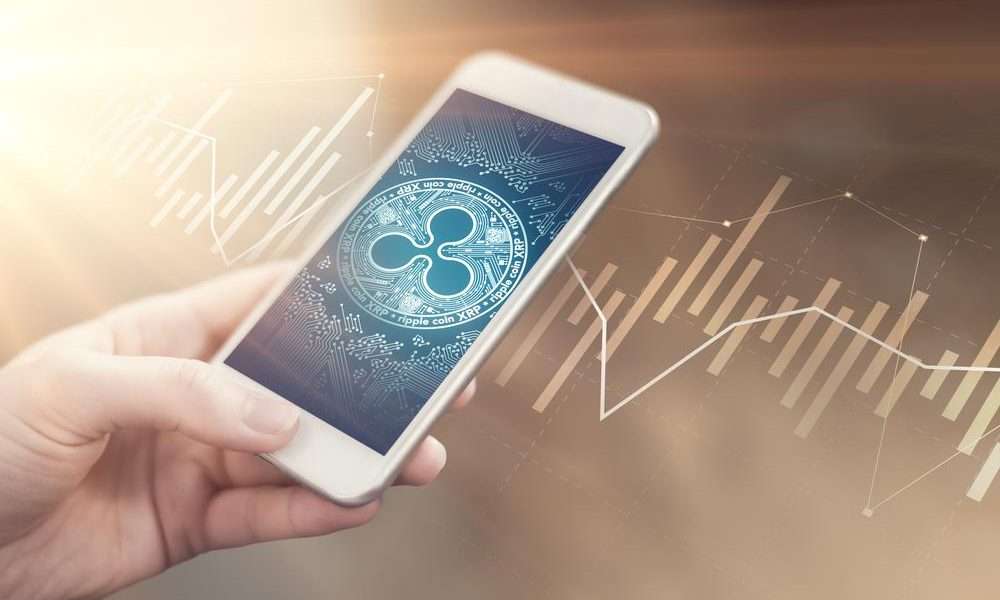 The Bill & Melinda Gates Foundation, Google, and Coil financially supported by Ripple are working together to advance financial inclusion.
As a result, more than 1.7 billion people around the world will have access to financial and banking services in the future.
Although there are mobile money services in more than 100 countries around the world that enable people to send and receive money, more than 1.7 billion people do not have access to digital financial services, according to current World Bank figures. In order to develop complex payment systems that are accessible to all, the necessary know-how and capital is often lacking. A new alliance of many well-known tech gangs wants to solve this problem.
The Mojaloop Foundation announced two days ago that it has been established to expand the efforts initiated by the Mojaloop open source software project to achieve global financial inclusion. The software has already been developed in 2017 by the Gates Foundation in cooperation with Ripple, Crosslake Technologies, Software Group, ModusBox and Dwolla.
This joint initiative has resulted in the Mojaloop app, which is designed to enable rural populations to access digital payment by mobile phone. The software used is open source and can be used by everyone free of charge. Mojaloop also has additional interfaces to introduce new functions, giving users access to additional financial markets.
The goal is to bring together banks, technology companies, digital financial service providers, government and regulatory agencies and other institutions in emerging markets to provide access to financial services for everyone. Above all, people without bank accounts should benefit from this in the long term.
The founding members include Coil, which is financially supported by Ripple, as well as the Bill & Melinda Gates Foundation, Google, ModusBox, Omidyar Network and the Rockefeller Foundation. If the adoption of digital financial services is adopted in all parts of the world, the GDP of emerging markets worldwide could increase by more than $3.7 billion by 2025, according to McKinsey data.
Kosta Peric, newly appointed chairman of the Mojaloop Foundation, describes that all people worldwide have the right to access financial services:
Our vision of universal financial inclusion is a world where everyone, everywhere, can access and use the digital financial services they need to build economic security and resilience.
Adama Diallo, founding member of the Mojaloop Foundation and head of partnerships for Google's Next Billion Users Initiative in Africa, describes how Google wants to support and improve the lives of many poor people around the world:
At Google, we believe that financial institutions, governments and technology companies need to work together if we want to empower people to be financially capable. […] that means seeing that people understand digital money, have access to it andmanage it with confidence, and use it to make their lives better.
The XRP price has risen 2.68% in the last 24 hours to a price of $0.2218. With a market capitalization of $9.81 billion, XRP remains the third largest crypt currency in the world.
Source: www.crypto-news-flash.com
Author: Collin Brown
The Halving Looms, Wright Plagiarizes, & Miners Face Serious Difficulties: Bad Crypto News of the Week
Only a few more days to go now before the halving! Less than a week and all those miners will be taking a giant pay cut. And it comes after a great week for Bitcoin. The price has risen by more than 6 percent over the last seven days and is now getting close to five figures again.
Will the price fall when the returns decline? It's not clear. Previous halvings have triggered declines that took months to recover from as investors "sold the news." Some traders, though, believe that if the recovery is fast, Bitcoin could enter a whole new price cycle.
In Europe, interest in the halving is heating up. According to Google Trends, the most searches for "blockchain halving" were in Austria, Estonia, Slovenia, Holland, and most of all, Switzerland. Google is blocked in China, where much of the mining industry is located.
And as if miners didn't have enough to worry about, it appears that there are problems with Bitmain's new Antminer products. Miners are complaining of failure rates as high as 30 percent with the new Antminer S17+. All of this is taking place in the context of stock market volatility caused by the coronavirus. Bitcoin no longer has a short-term correlation with the US stock market but Warren Buffett isn't optimistic about the recovery, and a slow return could affect digital currencies.
The Libra Association is trying to engineer its own recovery. After criticism from regulators and the departure of a number of partners, the association has appointed Stuart Levey as its first CEO. Levey was previously President Obama's undersecretary for terrorism and financial intelligence, with a responsibility for countering money laundering.
It's not just terrorists who have been up to no good, though. An anonymous blogger has accused Craig Wright, who once claimed to be Satoshi Yakamoto, of plagiarizing his doctoral dissertation. The accuser, PaintedFrog, has previously accused Wright of plagiarizing his 2008 law degree dissertation. Wright is known to be litigious.
PewDiePie has turned his back on blockchain-based video platform Dlive, and returned to YouTube. The videomaker left YouTube for Dlive last April. His Dlive channel picked up 820,000 followers. His YouTube channel has 104 million subscribers.
The blockchain might be getting a more serious break though. US Senate staffers have suggested using the technology to secure voting if its members need to vote remotely. And in Ukraine, the government is considering nuclear-powered mining. The coronavirus pandemic has caused an energy glut. The government thinks that plugging mining hardware into the nuclear power plant might just help it to make some money back.
The pandemic has been good for cryptocurrencies in India. Volumes are up as people stuck at home learn about digital coins and start trading. Investors in TON, the Telegram Open Network, won't be able to start trading though. Telegram has missed its April 30 launch date and has now repealed the option for investors to hang in for another year and receive a 110 percent refund. Regulatory uncertainty in the US means that investors will now only get a 72 percent repayment. They'll still be better off than Bitcoin miners next week.
Check out the audio version here:
Joel Comm is an internet pioneer, New York Times best-selling author, futurist speaker and co-host of The Bad Crypto Podcast. That's a fancy way of saying he writes words, says things and loves to play with cryptos.
The views, thoughts and opinions expressed here are the author's alone and do not necessarily reflect or represent the views and opinions of Cointelegraph.
Source: cointelegraph.com
Author: Joel Comm
Previous
Next