Coinbase Suffers Brief Outage as Bitcoin Tumbles 10% in 30 Minutes
Coinbase experienced a brief outage Saturday as the price of bitcoin crashed 10% in 30 minutes.
According to Coinbase's status page, the exchange's website, mobile app, and API website experienced partial outages beginning at 17:26 Pacific time (00:26 UTC). Ten minutes later, the San Francisco-based company said it was still investigating. Prominent Twitter accounts also noted Coinbase's outage as the price of Bitcoin tumbled from $9,500 to $8,100.
By 18:14 on the West Coast, service had been restored for the San Francisco-based company's consumer and professional trading sites. Reached Saturday evening, a spokesperson for Coinbase declined to comment beyond what was on the status page, which said the exchange was monitoring the situation.
Other U.S. exchanges, including Kraken, reported all systems as operational during the weekend price crash.
Coinbase experienced a similar outage last week when bitcoin rallied 15% to $8,900. At the time of publishing, Coinbase's volume was not excessively high relative to other peaks in trading volume during the past two weeks, according to data provider Skew.
Cryptocurrency exchanges like Coinbase tend to suffer temporary outages during periods of acute price volatility.
The weekend sell-off comes just days before bitcoin's next halving, a hotly anticipated once-in-four-years event whose implications for the cryptocurrency's price are a subject of debate in crypto trading circles.
Source: www.coindesk.com
Author: Omkar Godbole
Bitcoin and Libra undesirable – China is planning its own digital currency
Whether at home or while traveling: Alipay advertising sings the advantages of the smartphone payment app. The Chinese payment apps Alipay and Wechat are indeed practical. There is no tedious search for coins and notes, shops do not have to bring cash to the bank – provided that customers have a bank account with which the apps are connected and a smartphone that has Internet access.
If it goes according to the plans of the Chinese central bank, it will be even easier. The planned digital currency goes one step further.
You have to imagine it like this, explains Mu Changchun, who is responsible for the development of the digital currency at the central bank: «As long as you and I have installed a digital wallet on the cell phone and touch the cell phones, we can make a transfer. You don't need an internet connection or a bank account. »
The digital currency is just like cash and is therefore even easier to use than the current payment apps, says Mu. However, practical and fast payment is only one aspect. The central bank is likely to do a lot more, says Leonhard Weese, co-founder of the Bitcoin Association in Hong Kong. The payment platforms Alipay and Wechat have overwhelming market power in China: "The central bank doesn't like to see that."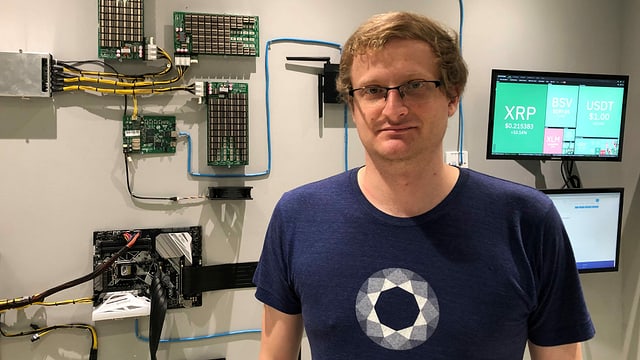 Weese would prefer a state-run transfer mechanism that can be identified by phone number. "So without one or the other app having more market power than a competitor."
China's answer is "Digital Currency Electronic Payments", in short: DC / EP, China's digital renminbi. "For China, which wants to inject money very specifically and steer and influence the economy, it is an advantage to know how much money exists in the economy, in which parts of the economy it increases," Weese said. This helps the government to be able to say exactly, "this is not wanted" or "we would like more of that".
Bitcoin and Facebook's Libra project are also likely to have motivated Beijing to move forward with their own digital currency – a currency that the state, unlike cryptocurrencies like Bitcoin, has fully under control. But there is the question of data protection. Will the state be able to monitor its citizens even better?
"The Chinese state will of course use this to pursue its worst enemies," believes Weese. "But as we see it now, he doesn't use it to intervene in every detail of people's lives." And: The introduction of a digital currency is not that easy anyway.
Above all, the technical hurdles are high: "We know that external consultants work at the central bank to create this system. But in the long term, the bank has to manage the system itself, and it is difficult for such an institution to become a technology provider – because the system must not fail, not even ten minutes a year. »
Several Chinese cities are currently conducting pilot tests. When exactly China's digital renminbi is officially launched is still uncertain. Other governments should still watch China's experiment closely.
Source: www.srf.ch
Autor:
Martin Aldrovandi
Bitcoin (BTC) Whale Leaves Twitter, Reappears on Bitfinex Pulse
In brief:
@Joe007 is a famous Bitcoin whale who for a long time, thrived on Twitter.
His trades were legendary with his profits running into the millions on Bitfinex.
Days after moving on from Twitter, he has reemerged on Bitfinex pulse.
Earlier today, Bitcoin (BTC) pulled a fast one on unsuspecting traders as its value dropped quick and fast from around the $9,600 support zone to $8,100. This move came a few hours before the Bitcoin halving which is now a day away. Many traders were anticipating that such a dip would happen after the halving in a classic 'buy the rumor, sell the news' type of way.
The sudden drop in price has had many retail traders concluding that it was Bitcoin whales who saw an opportunity to short BTC and did so en masse. One such whale who is famous for shorting Bitcoin is @Joe007 who recently walked away from crypto twitter on May 7th. @Joe007 deleted his Twitter account around the same time BTC hit $10,000. His departure led many to speculate that he left because of the loss he incurred from shorting BTC from around $6,800.
However, @Joe007 posted an elaborate thread on Twitter where he explained his departure as a way of protecting his trading setups:
…I can't really afford Twitter. There are many reasons why I can't stay, unfortunately.
Here is one. Trading is a dangerous, adversarial, high-stakes info game. It's played against best-in-class, looking for any advantage. Your trade results and views being public gives them too much advantage over you. There are tools reconstructing my portfolio out there already.
What cryptocurrency will become the main one in a year?
However, trader @Joe007 has reappeared on Bitfinex Pulse commenting on the recent sudden drop of Bitcoin via the following meme that was brought to our attention by the exchange's CTO, Paolo Ardoino.
A message from J0E007 https://t.co/GSTqGIIVb7
— Paolo Ardoino (@paoloardoino) May 10, 2020
Launched in late April this year, Bitfinex Pulse is the crypto exchange's homegrown social network that lets traders connect with each other and perhaps share ideas. The main aim of the platform is to provide an avenue for crypto content sharing. The announcement by Bitfinex launching the platform further explains this as follows.
In response to customer demand, we're excited to announce the launch of Bitfinex Pulse, a social networking platform enabling our customers to connect with each other and get a trading edge.
The launch of Bitfinex Pulse provides our growing customer base with a specialist crypto content distribution platform for traders. The platform will serve as an intuitive and fun way for our users to interact and share crypto news and views on market trends and developments.
(Feature image courtesy of Todd Cravens on Unsplash.)
Disclaimer: This article is not meant to give financial advice. Any additional opinion herein is purely the author's and does not represent the opinion of Ethereum World News or any of its other writers. Please carry out your own research before investing in any of the numerous cryptocurrencies available. Thank you.
Source: en.ethereumworldnews.com
Author: John P. Njui·Bitcoin News·May 10, 2020·2 min read
As price of Bitcoin plunges 12 percent in 24 hours, Twittersphere erupts over partial crash of Coinbase
The world's most famous cryptocurrency is once again generating chatter over social media.
And it's not only because the price of Bitcoin fell more than 12 percent in 24 hours.
It's also because a platform where cryptocurrencies are bought and sold, U.S.-based Coinbase, went down in the midst of this market correction.
That's after it staged a slight recovery from its low near US$8,600.
Last night, it was trading at over US$9,900.
Coinbase is back online now. But not before some of its users vented their anger.
You can read some of the comments below.
More
Source: www.straight.com
Bitcoin Dives 15% to $8,500, Liquidating $200 Million In BitMEX Longs
Since the daily close 20 minutes ago, Bitcoin has fallen off a cliff.
The cryptocurrency has collapsed from $9,800 where it spent most of Saturday to $8,000 — a drop of more than 15% — since the daily close, shedding support level after support level as if they were not notable at all.
TradingView.com
Few traders were expecting this move.
According to data from Skew.com, over $200 million worth of BitMEX long positions have been liquidated in the past 25 minutes. This is the largest bout of liquidations since the crash on March 12th, which sent Bitcoin from $7,700 to $3,700 within the span of 24 hours.
This indicates that longs were overleveraged, presumably because they were anticipating more upside after the rally to $10,000 seen earlier this week.
First-hand reports from Twitter suggest that during this move, Coinbase actually temporarily went down. Though, the site seems to have come back online, at least for this writer. Coinbase has had a theme of crashing during large moves in the Bitcoin price over its history, and this drop seems to be no exception.
While traders have been suffering heavy losses, a prominent trader has suggested that the bottom is nearing. This assertion was made just 10 hours he explained that Bitcoin is likely to retrace to the low-$8,000s after rallying as high as $10,000:
"Damn only took 10 hours for BTC to get here. Not as I'd imagined and not as fun, that's for sure. In the next few hours, you'll see 1-6k charts again. But eh. Think this is bottom or slightly lower."
The cryptocurrency also held both the 100-day and 200-day moving averages, suggesting bulls remain somewhat in control of Bitcoin.
Photo by Gabriel on Unsplash
Source: www.newsbtc.com
Author: Nick Chong
Previous
Next