Ethereum Holds Strong Above $200, Can ETH Follow Bitcoin's Rise
Ethereum is up around 2% and it broke the key $210 resistance against the US Dollar. ETH price is showing positive signs and it could rise further, similar to bitcoin.
Ethereum is slowly moving into a bullish zone above the $210 pivot level.
The price traded towards the $218 level and it is currently correcting gains.
There was a break above a key bearish trend line with resistance near $207 on the hourly chart of ETH/USD (data feed via Kraken).
The pair is likely to remain well bid above $208 and $210 in the near term.
In the past few sessions, bitcoin rallied and broke the $10,000 resistance, resulting in bullish moves in Ethereum against the US Dollar. ETH price formed a strong support base above $200 and started a fresh increase.
There was a break above the key $208 and $210 resistance levels. The price even settled above the $210 level and the 100 hourly simple moving average.
During the rise, there was a break above a key bearish trend line with resistance near $207 on the hourly chart of ETH/USD. The pair gained strength above $215 and traded towards the $218 level.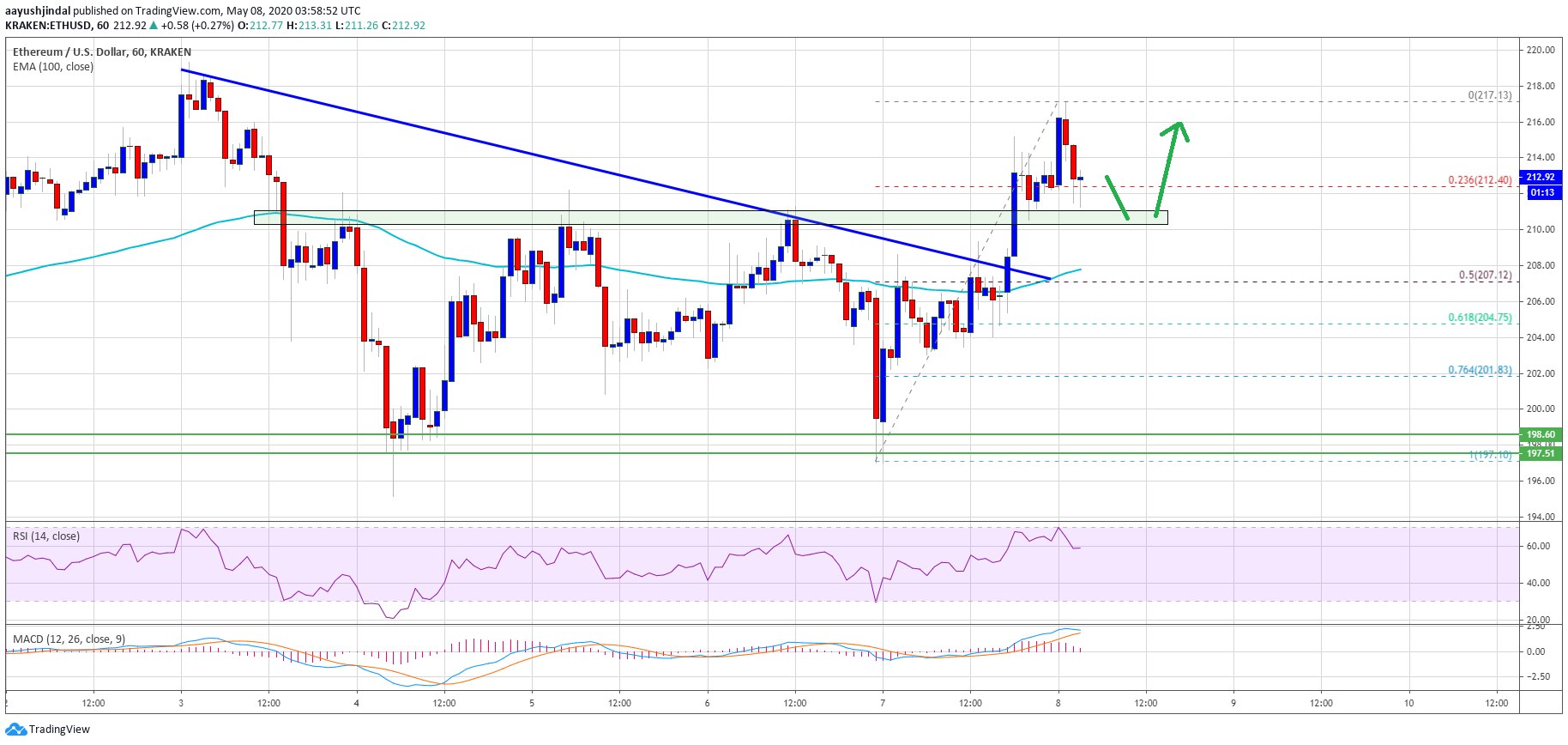 It seems like Ethereum struggled to gain pace above the $218 and $220 levels. It is currently correcting lower below $215. ETH traded below the 23.6% Fib retracement level of the recent rise from the $197 swing low to $218 high.
On the downside, the previous resistance near the $210 area is likely to act as a strong support. The next major support is seen near the $208 level and the 100 hourly simple moving average.
The 50% Fib retracement level of the recent rise from the $197 swing low to $218 high is also near the $207 level. Therefore, dips remain well supported and Ether price is likely to continue high above the $218 and $220 resistance levels. The next major resistance is seen near the $230 level.
If Ethereum fails to stay above the $210 and $208 support levels, it could extend its decline. The next support is seen near the $205 level.
The main support is now forming near the $198 level. if the bears succeed in clearing the $198 support zone, the price could move into a bearish zone.
Technical Indicators
Hourly MACD – The MACD for ETH/USD is about to move into the bearish zone.
Hourly RSI – The RSI for ETH/USD is currently correcting lower towards the 50 level.
Major Support Level – $208
Major Resistance Level – $220
Take advantage of the trading opportunities with Plus500
Risk disclaimer: 76.4% of retail CFD accounts lose money.
Source: www.newsbtc.com
Author: Aayush Jindal
Latest Ethereum price and analysis (ETH to USD)
As the financial world focuses on the capitulation of the price of oil cryptocurrency speculators are weighing up the potential of a possible Ethereum breakout.
The world's second largest cryptocurrency, which has a market cap of $19 billion, is currently trading at $170.78 after surging by more than 13% in the past week.
It momentarily broke above the crucial daily 200 moving average on April 18 before falling back below two days later.
It is now battling it out over over the 200MA ahead of this evening's daily candle close, with a breakout being confirmed if it closes back above $181.25.
However, it's worth noting that a rejection from the 200MA could lead towards a transition into a bearish phase in the market, with targets emerging at $151.89 and $133.59.
It's been a typically volatile year for Ethereum and the entire cryptocurrency asset class. ETH is 33.57% up against its USD trading pair since the turn of the year despite being 41.96% down from its February high of $290.
Forecasts for the remainder of the year remain uncertain due to the amount of factors affecting price action, particularly the impact of Coronavirus and the Bitcoin halving.
Reports from the UK claim that the peak of coronavirus' first wave is effectively over, which could cause a market recovery as people begin to go back to work.
The Bitcoin halving is also thought to have a bullish impact on price action as it will cause a reduction in supply, a stark contrast to what is happening with oil where a lack of demand has driven supply to unsustainable levels.
For more news, guides and cryptocurrency analysis, click here.
Ethereum was launched by Vitalik Buterin on July 30 2015. He was a researcher and programmer working on Bitcoin Magazine and he initially wrote a whitepaper in 2013 describing Ethereum.
Buterin had proposed that Bitcoin needed a scripting language. He decided to develop a new platform with a more general scripting language when he couldn't get buy-in to his proposal.
If you want to find out more information about Ethereum or cryptocurrencies in general, then use the search box at the top of this page. Please check the below article:
https://coinrivet.com/ethereum-adopts-erc-1155-as-an-official-standard/
As with any investment, it pays to do some homework before you part with your money. The prices of cryptocurrencies are volatile and go up and down quickly. This page is not recommending a particular currency or whether you should invest or not.
You may be interested in our range of cryptocurrency guides along with the latest cryptocurrency news.
Disclaimer: This is not financial advice.
Source: coinrivet.com
Author: Oliver Knight
avril 21, 2020
Play-to-earn crypto games set for rapid growth, say Ethereum devs
During a panel discussion today at the Ethereal Virtual Summit, developers of Ethereum-based games discussed the possibilities and challenges ahead, including an expectation of significant growth for the blockchain gaming industry over the next 24 months.
Moderated by Cecily Mak of ConsenSys, the panel featured a trio of active blockchain game developers: Peter Kieltyka of Horizon Blockchain Games (SkyWeaver), Ben Heidorn of Blockade Games (Neon District), and Jeffrey Zirlin (Axie Infinity).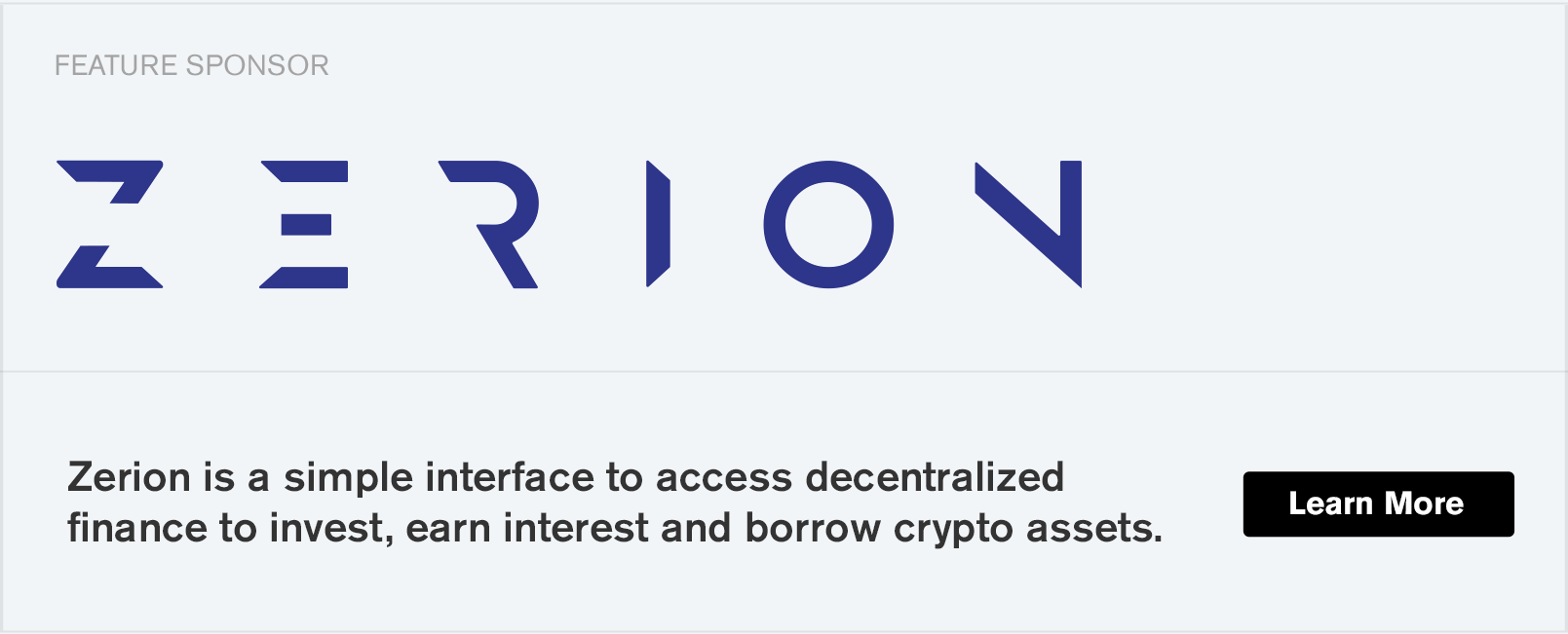 Zirlin said that it was important to highlight the "concrete benefits" of blockchain-driven games, as the technology and purposes may not be immediately obvious to the wider audience. "Recently, we've seen a big move towards this term: play-to-earn," he said, with players getting digital assets of real value by playing. He noted that some crypto companies are keen on subsidizing games by providing tokens to players, thus expanding their own user bases.
On a more abstract level, he pointed to the growth of collectible card game favorite Magic: The Gathering over the years. He recalled that card shop owners helped cultivate its popularity by evangelizing for Magic, hosting tournaments, and creating content—but there's an obvious barrier of entry with operating a physical card shop. Not so with digital assets.
"Blockchain gamers come into this space with digital property rights by default, so our players are able to basically run a digital collectibles business just straight out of their Ethereum wallet," said Zirlin. "With Ethereum, this idea of everyone being able to have their own mini digital collectibles-based business… the only thing they need is [the] Internet and an Ethereum wallet."
Heidorn chimed in, saying that when playing Magic as kids, they didn't tell friends to go beg their parents for $30 to buy a bunch of cards—they'd give away some of their own cards to bring more people into the game. There's a takeaway there for blockchain games too, he said, in terms of giving away assets to compel players to stick around and get hooked in.
The conversation continued across related topics, such as the benefits of interoperability between games and how to create a level playing field for players that isn't disrupted by whales.
Ultimately, however, they finished by discussing what will be most surprising over the next 24 months—and everyone seemed convinced that what might seem like gradual growth now will be significantly amplified two years from now.
"Even given the current growth rate, there are no silver bullets," said Zirlin. "The space is growing at a very healthy rate, and I think people will be surprised at how that compound growth over the next 24 months shows itself." He added that he believes that it will eventually seem like a "chemical reaction," or explosive growth.
Kieltyka suggested that the next two years will bring further experimentation and development in the space as companies learn from their own efforts and others—as well as how players respond to those methods. "I'm sure there will be a lot of discovery in the path, and also discovery in learning from people's behavior," he said.
Meanwhile, Heidorn acknowledged that the growth can seem very slow right now: "It feels like we're crawling along, just inching to get more support," he said.
What future awaits cryptocurrencies?
But he said that success seems imminent, and that blockchain game companies will find an audience—and some may be acquired by major game publishers. In tandem, he believes, players will be enticed by the possibility of earning real, valuable assets and help drive that growth through word of mouth.
"Within two years, we're going to be really surprised at how rapidly this grows, and how successful a lot of these companies become," Heidorn surmised.
Source: decrypt.co
Author: Decrypt / Andrew Hayward
ETH USD | Ethereum US Dollar Bibox – Investing.com NG
No results matched your search
Volume: 1,271,471
Bid/Ask: 213.63 / 213.83
Day's Range: 206.73 – 216.27
Loading
1 Day
1 Week
1 Month
3 Months
6 Months
1 Year
5 years
Max
What is your sentiment on ETH/USD?
Source: ng.investing.com
This Chart Suggests Ethereum May Be Exiting a Bullish Accumulation Phase
Ethereum has been showing some unprecedented signs of weakness in recent times. This can be seen clearly while looking towards the cryptocurrency's BTC trading pair.
It does appear that in the near-term, the crypto is at risk of seeing a sharp decline as it struggles to remain steady above the support that exists around $200.
In spite of this, analysts are noting that one technical pattern seems to suggest that the cryptocurrency could be in the process of exiting an accumulation phase as it continues struggling to hold ground against Bitcoin.
This pattern – should it be confirmed – could be one factor that helps propel ETH higher in the days and weeks ahead.
At the time of writing, Ethereum is trading down just under 3% at its current price of $205, also seeing a notable 4% decline against its Bitcoin trading pair throughout the past several days.
The cryptocurrency's recent price action has been overtly bearish, as ETH has failed to match the momentum that BTC has seen throughout the past several weeks.
It is a possibility that this lackluster bout of trading could mark an accumulation phase.
This was mused by a popular pseudonymous analyst, who explained that a similar pattern was seen in the weeks prior to the crypto's rally from the $150 region to highs of $230.
"Looking pretty similar to the last major spot of accumulation as well on ETH," he explained.
If this pattern is confirmed, the cryptocurrency could begin navigating back up to its local highs of $230.
This accumulation pattern could also be bolstered by the fact that one analyst believes ETH's macro uptrend still remains intact as long as it trades above $200.
"But until it loses its uptrend, or $200 I don't see a reason to think it's over for Eth. Especially leading into 2.0," he explained.
Although Ethereum's uptrend may still be intact, it isn't looking incredibly strong at the moment.
This could soon change, however, as one trader believes that ETH could be in a good position to push higher in the days ahead if it is able to close above $208 today.
"ETH – Stopped on my earlier long but I have since reentered. The strong reaction after a brief break of support was notable. If it stalls around here and doesn't flip $208.5 into Support, I'll consider closing," he explained.
He further went on to add that his short-term upside target sits at $222 if the crypto is able to close above the aforementioned level.
The coming hours should offer significant insight into Ethereum's mid-term outlook, as its daily candle close could be the sole factor that determines whether it pushes higher or plunges lower in the weeks ahead.
Featured image from Unplash.
Source: www.newsbtc.com
Author: Cole Petersen
Top 3 Coins Price Prediction Bitcoin, Ethereum and Ripple: BTC/USD bulls have a clear path above but are struggling to conquer the $10,000 level properly
ETH/USD and XRP/USD have one notable resistance level each at $227 and $0.2360, respectively.
BTC/USD has three healthy support levels at $9,750, $9,535 and $8,750.
Open: $10,000
Current Price: $9,986
BTC/USD is currently wildly fluctuating around the $10,000 level as the bulls and bears are engaged in a furious tug of war. If the bulls do take control, then as per the daily confluence detector, they won't face any strong resistance levels all the way to $11,300.
On the downside, there are three healthy support levels at $9,750, $9,535 and $8,750. $9750 has the one-day Fibonacci 38.2% retracement level and one-week Pivot Point resistance-one. $9,535 has the Previous week and month highs, while $8,750 has the one-month 23.6% and one-week 38.2% Fibonacci retracement levels.
Open: $212.40
Current Price: $214.30
ETH/USD has a notable resistance at $227, which has the one-day Pivot Point resistance-two, Previous week and month highs. Healthy support on the downside lies at $192, which has the one-day SMA 100, one-month Fibonacci 38.2% retracement level, one-day Pivot Point support-two and Previous week low.
Open: $0.2187
Current Price: $0.22
Source: www.fxstreet.com
Previous
Next