Bitcoin 'Halving' Coming Soon
Get ready for Bitcoin halving.
Bitcoin halving? Just what is it and what does "halving" mean?
These are questions investors are now asking with Google searches increasing, and even at times exceeding, COVID-19.
First, an education is in order here.
Bitcoin is an unregulated digital currency with no central authority in charge, such as a government or central bank. Rather, it relies on a consensus between everyone to keep it running and determine value.
Every 4 years, the Bitcoin network undergoes a momentous event known as the "halving." When the pseudonymous creator of Bitcoin, Satoshi Nakomoto, constructed the Bitcoin network and protocol, it was pre-programmed it to include an ever-decreasing rate of new Bitcoins being supplied, with the total amount capped at 21 million bitcoins. This ensures the value, and interest, in the cryptocurrency.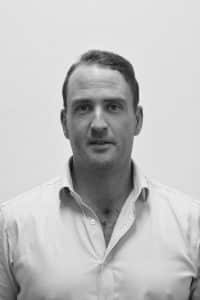 To hear Charles Hayter, Co-Founder & CEO of CryptoCompare explain it, Bitcoin relies on "miners" to maintain and secure the network, who process blocks and add them to the shared record of all transactions which form the blockchain. As a reward for this energy-intensive task, miners are compensated with bitcoins. So, every 4 years, this reward for adding a new block is cut in half. The last time this happened, in July 2016, the Bitcoin block reward was slashed from 25 to 12.5 bitcoins, and the same is due to happen this May, estimated to be on May 12, with miners set to receive only 6.25 bitcoins from then onwards.
"Bitcoin is set to reduce its block reward by half around May 12th and Google searches for "Bitcoin halving" are skyrocketing," Hayter said. "The chart below shows searches for the term over the last 5 years against the Bitcoin price. We can see how recent searches substantially eclipse the search volumes for the last halving in July 2016, pointing to increased investor interest in the event."

With bitcoin set to reduce its rate of supply at the time that central banks, namely the Federal Reserve, are injecting liquidity into every nook an cranny in the U.S. economy -presumably filtering throughout the globe – investors, traders and John Q Public are turning to crypto and Bitcoin as a hard asset, provider of alpha and store of value.
But does interest equal price?
Hayter looked at this.
"Previous halvings have heralded significant surges in the Bitcoin price around the halving event and in the months and year following," Hayter said. "Simple economics would dictate that if there is a decreasing rate of supply of an asset and demand remains the same or increases, then all things being equal, the price of the asset will go up."
What's more, he added that many Bitcoin proponents point to a model known as "Stock to Flow," to argue in favor of dramatic price rises around halving events. With Bitcoin's Stock to Flow ratio set to increase with a decrease in supply, they are expecting a surge in price following the halving.
As of May 4thth, Bitcoin is approximately valued at $9226.
Price increases are all Nigel Green sees in Bitcoin's future. The CEO of the deVere Group told Traders Magazine that he expects the price of Bitcoin will hit 'at least $10,000' even before the four-yearly 'halving' event taking place in two weeks. , predicts the CEO of one of the world's largest independent financial advisory organizations.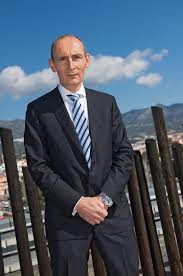 The prediction from the chief executive and founder of deVere Group, Nigel Green, comes as the price of the world's largest cryptocurrency suddenly soared by more than $1,500 last Thursday, moving it to its highest value since February. It peaked at $9,400.
"We see the cryptocurrency market already significantly picking up pace ahead of the historic event in May," Green began. "Investors are now increasing their exposure to Bitcoin as the halving – only the third in its 11-year history – will push up prices sharply due to the dramatically lower supply combined with a steady demand and increasing awareness of digital currencies."
Previous Bitcoin halving events have prompted impressive price climbs. The 2016 halving triggered a 300 per cent jump in the value of Bitcoin. But the 2020 one could be even more remarkable, Green added.
"May's event could herald Bitcoin's coming of age. It will, of course, drive prices higher – but, in my opinion, the jump could be even more impactful due to these unprecedented times,' Green continued. "Also, these unusual times have forced central banks to increase monetary supply. By printing never-seen-before amounts of money, traditional currencies are devalued and inflation fears rise. This will also drive investors towards decentralized, non-sovereign digital currencies. I believe we can expect it to hit at least $10,000 before the May event itself."
Beyond that, the deVere chieftain forecast an explosion in the price of Bitcoin due to real-world issues it addresses and increasing adoption.
But this might not be the case, Hayter and logic counter. History was been quoted as being doomed to repeat itself – but then again it doesn't have to. The fact that the crypto market in 2020 is quite different than the market in 2016 or 2012 might produce a very different result.
In other words, the market in 2020 is very different from 2016.
In 2016, the total daily Bitcoin volume on spot exchanges rarely exceeded $1 billion dollars, peaking at close to $1.5bn roughly 2 weeks before the halving. In 2020, in contrast, total daily volumes are regularly ten times this number, with daily spot volumes on top-tier exchanges hitting $21.6 bn on March 13th.
Furthermore, Hayter said it was crucial to acknowledge that in 2020 there is a much broader array of market participants, larger market players, more established exchanges and a far more developed derivatives market.
"All of this means that we may see less of a price increase in the year following the halving," Hayter said. "One of the reasons for smaller prices gains or appreciation is that crypto miners have less influence. During previous halving cycles, miner selling was a bigger determinant of the sell pressure in bitcoin markets. In 2016, miners likely had a far bigger impact on the bitcoin price, as miners selling their bitcoins represented a larger and more impactful component of bitcoin sell pressure."
But this year this might be different.
"Now however, with far higher spot and derivatives volumes, and more market participants, the drop in sell pressure from miners selling half the number of bitcoins will have less of an impact on the total sell pressure," Hayter said. "We might therefore expect less of an impact in the months following this year's May halving, and therefore less of a surge in price."
What does the options market have to say?
According to Hayter, the more mature derivatives market of 2020 gives a better picture than in 2016 of what the market thinks. Specifically, the bitcoin options market gives some insight into what the market believes will happen.
"If we look at the skew at the moment of the implied volatility for bitcoin options we can see that the market is more concerned about the downside of bitcoin dropping in price, than the potential upside," Hayter said.
In short, the options market does not expect the bitcoin price to rise much and is more concerned about the price dropping. This also currently holds for contracts expiring in June, September and even December, as we can see below for OKEx and Deribit for options expiring in September:
And what about the elephants in the room?
Hayter and Green both noted that the Covid-19 pandemic and Bitcoin's 'Black Thursday' have skewed the markets.
It is hard to ignore the impact of Covid-19 and the massive effect it has had on financial markets, Hayter said. With crypto markets by and large tracking equities throughout the financial turmoil of recent months, Bitcoin saw one of its biggest single day drops on March 12-13th, plunging over 40% to trade below $4,000 on some venues, as stock markets took a beating.
"Comparisons with previous halving cycles therefore, cannot ignore the impact of enormous macro events like the coronavirus crisis, the fact that bitcoin now seems to track equities quite closely, and that such dramatic external shocks to the bitcoin price so close to the halving may negate much of the supposed impact of these events," he said.
And receive exclusive articles on securities markets
Source: www.marketsmedia.com
Bitcoin is staging a comeback reminiscent of 2017 bubble frenzy
It's been left for dead more than once, written off as nothing but a bubble and denounced as rat poison by one of the world's most famous investors. Yet Bitcoin is once again staging a comeback reminiscent of the token's glory days, with evangelists pegging their hopes on a technical event as the new catalyst.
True believers say the gains are driven by Bitcoin's upcoming halving, when the rewards miners receive for processing transactions will be cut in half as soon as May 12. The internet is glutted with second-by-second countdown clocks and the mania is even spurring a hike in hiring by crypto firms worldwide. Bitcoin has rallied to near $9,000 in anticipation from around $6,000 just a month ago, adding more than $1.3 billion in value.
"Narratives in the world of blockchain act like the Force in Star Wars — they mysteriously move and shape the market," said George McDonaugh, co-founder of crypto and blockchain investment firm KR1. "You couldn't be blamed for getting a little excited about what's to come."
Also Read: Trump blasts Bitcoin, Facebook's Libra, demands they face banking regulations
Bitcoin halvings, which slow down the rate at which new tokens are created, happen once every four years or so. Its third such event is set to occur next week. Skeptics argue crypto prices are notoriously volatile and often difficult to pin explanations to, positing that any appreciation should be priced in ahead of time. But crypto fans cite historical precedent.
Bitcoin's undergone two prior halvings — or halvenings, as they're sometimes called — which saw its price appreciate in the aftermath. The world's largest token rose from around $12 to over $1,000 in the year following its 2012 cut in rewards, and advanced about 1,000 per cent in the wake of the 2016 halving, though that reduction happened at a time when the coin was gaining greater mainstream recognition.
The frenzy around digital currencies took it to near $20,000 the following year before it crashed, with the coin still trading about 50 per cent below 2017's all-time highs.
Also Read: This US state will soon accept taxes in Bitcoins
But Bitcoin has historically bottomed 459 days prior to the halving, risen leading into the event and exploded to the upside afterward, according to research from Pantera Capital. Post-halving rallies have averaged 446 days — should history repeat itself, Bitcoin could peak around August 2021.
Wallet growth has also spiked, rising 2 per cent in April, the largest monthly increase since at least November. To Nicholas Colas at DataTrek Research, there's two possible explanations: bored, locked-down gamblers and sports betters are finding their way into cryptocurrencies amid the coronavirus shutdown, while many are also getting excited about Bitcoin's halving, he wrote in a recent note.
To be sure, many crypto fans also point to unprecedented monetary and fiscal stimulus unleashed by central banks around the world as a catalyst for prices to advance. Whatever the reason, the recent bull-run hype has ushered in the return of sky-high price targets.
Also Read: HTC Exodus 1 is world's blockchain-based smartphone, costs 0.15 Bitcoin
Global Macro Investor's Raoul Pal projects Bitcoin could reach $1 million in the next three- to five years. Though the halving isn't the key driver behind his prediction, it could be a potential accelerant.
"It is already the best performing asset in all recorded history," Pal wrote in a recent presentation. "It was born out of the financial crisis for exactly what is about to come in this crisis. This is literally what Bitcoin was invented for."
📣 The Indian Express is now on Telegram. Click here to join our channel (@indianexpress) and stay updated with the latest headlines
For all the latest Technology News, download Indian Express App.
Source: indianexpress.com
Author: By: Bloomberg |
Published: May 6, 2020 1:48:50 pm
Gambling on Bitcoin with Trump's $1,200 corona check was a good bet
The US government recently sent $1,200 coronavirus stimulus checks to every lower-and-middle class American, but it wasn't long before cryptocurrency exchanges reported influxes of Bitcoin BTC purchases for exactly that amount.
That was in mid-April, when Bitcoin traded at around $6,600. Since then, the price of Bitcoin has risen above $9,200, which means those who bought Bitcoin with their "corona cash" are well in the green.
[Read: Democrats counter Trump's fake coronavirus news with AI that fought ISIS propaganda]
In fact, Bitcoin fans who immediately used their stimulus money to stack sats would've paid $1,200 for around 0.179 BTC.
Now, that's worth in excess of $1,650 — a value increase of more than 25%.
While "investing" with the US government's stimulus cash isn't exactly advisable, a brand-new Twitter account tracks the value of Bitcoin bought with Trump's $1,200.
Albeit only a few days old, @BitcoinStimulus tweets periodic updates on how much (or how little) that gamble has paid off.
$1575#bitcoin
What future awaits cryptocurrencies?
— $1200 Stimulus Is Now Worth (@BitcoinStimulus) May 4, 2020
$1609#bitcoin
— $1200 Stimulus Is Now Worth (@BitcoinStimulus) May 5, 2020
Americans haven't just bought cryptocurrency with their corona cash. A week after the first round of checks were delivered, Business Insider reported that recipients had spent it on video games, weed, sneakers, and sex toys, among other things.
According to data sourced from a set of insurance companies and digital banks, just 16% of spent stimulus money went towards food (including delivery and takeout), while only 9% had gone to groceries.
So, you mightn't be able to eat Bitcoin, but there's likely least a few buyers out there who've made the most of their stimulus checks, however risky.
This is not investment advice. This is for educational purposes only. Do your own research, damnit. No, really, don't buy Bitcoin because you read this article. Past performance is not indicative of future results. I'm not even qualified to tell you that. See what I mean? Do your own research. Please.
Source: thenextweb.com
Author: David Canellis
Bitcoin, Ripple & Litecoin – American Wrap: 5/5/2020
Bitcoin is stuttering at the 9K level as there seems to be a lull in the crypto market on Tuesday. The volume seems thin and the candles are doji like indecisive in nature. The price has also dipped under the 76.4% retracement zone which is very close to the 9K psychological level.
In a more positive light, the price is still above the 200 and 55 moving averages. This is considered bullish but they do seem to be closing in on each other and might cross in a bearish fashion. The relative strength index indicator is also in an extremely overbought position this could mean there might be a short term pullback but the trend is still an uptrend.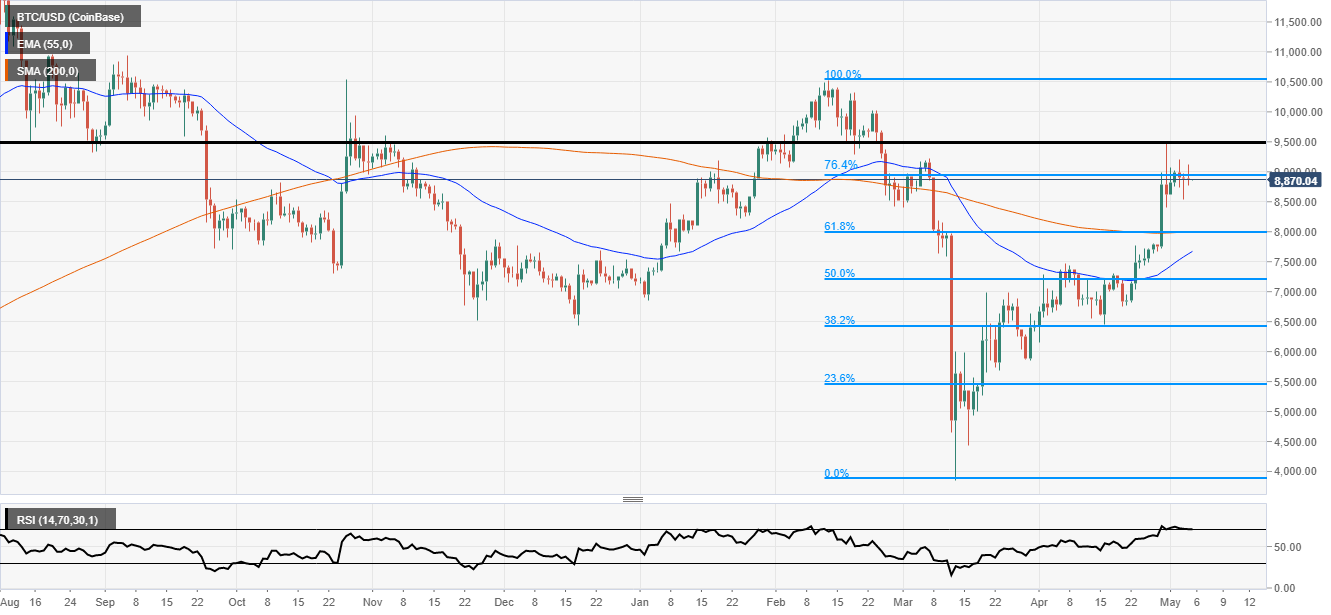 Ripple is trading lower on Tuesday but all hope is not lost as there are some key support zones in near proximity that could stem any losses. The market has made a higher low on the hourly chart below but the last time the price attacked the red trendline it failed to sustain the bullish momentum and pulled back in.
The 0.21 level is the major support zone and the price has now bounced off the level twice now. The bulls need to gather some strength and try and break 0.2225. The good news is the price is holding above 200 simple moving average but the 55 and 200 are very close together and could cross (negatively).
Litecoin is moving towards increased privacy. The lead developer of the project and the creator of the cryptocurrency Grin, David Burkett, wrote in a recent blog post that he had "built out a functional testing framework that builds valid headers, blocks, and transactions".
The project has progressed on the integration of MimbleWimble (MW) with Litecoin Codebase, which is supposed to increase the privacy of Litecoin transactions. Burkett started with ConnectBlock logic, responsible for error-free block validation and actually adding the blocks to the chain.

Image sourced from Pixabay
Source: www.benzinga.com
Author: FXStreet , Benzinga Contributor
{{following ? "Following" : "Follow"}}
Previous
Next