Bitcoin's Booming Hash Rate Ahead of Halving Signals a Serious Bull Run
In approximately 10 days as of this article's writing, Bitcoin will experience its latest block reward reduction, known as a "halving." Halvings, which take place around every four years, ensure that the number of coins issued per block gets cut in half, resulting in a 50% reduction in BTC's inflation.
Block rewards being cut in half means that the revenue of miners will be cut in half as well, but this hasn't stopped Bitcoin's hash rate — the measure of the computational power processing transactions — from hitting new heights.
According to data shared by blockchain analytics company Glassnode, Bitcoin's hash rate just today hit a new all-time high at just shy of 150 exahashes per second — 150 with 18 zeroes after it hashes every second.
This signifies that ahead of the halving, Bitcoin miners are allocating more capital and machinery to the network than ever before. Whether or not the surge is related to the launch of new mining machines, new ASICs, or Chinese regulation is not clear.
Bitcoin holders have already experienced the effects of the recent surge in hash rate, with block explorers registering 16 blocks mined in one hour just days ago, far above the six blocks per hour average.
The hash rate is over nine times higher than the hash rate was trending in December 2017, at the $20,000 peak of the crypto market, and up around 50% since the start of the year.
#Bitcoin hash rate hit a new all-time high. pic.twitter.com/XtPbZRU8wp
— glassnode (@glassnode) May 3, 2020
The uptick in hash rate bodes well for Bitcoin's price outlook.
Just six weeks ago, miners were in "capitulation," turning off their machines en-masse due to the 50% drop in the Bitcoin price from the mid-$7,000s to $3,700. The recent surge in hash rate confirms an end to this capitulation.
As digital asset manager Charles Edwards has found, each time Bitcoin has exited capitulation, strong surges have followed, with an "average gain-to-cycle-peak" of over 5,000% within a few years.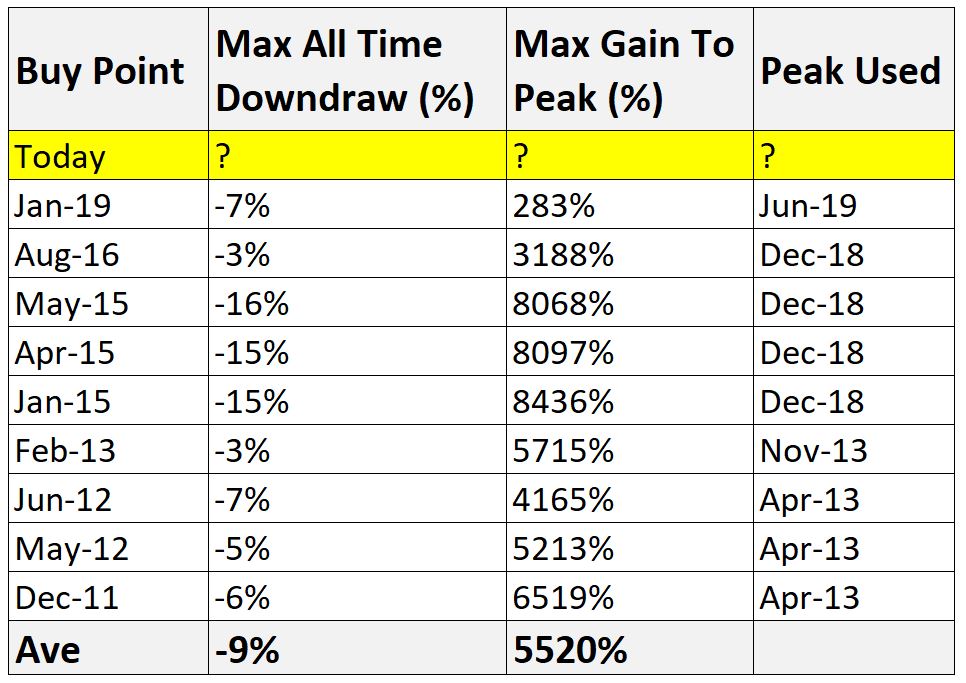 Chart from @Caprioleio (Twitter)
The booming hash rate is far from the only on-chain metric signaling an impending move back into a full-blown bull market.
Following the publishing of the hash rate chart, Glassnode shared the below image, showing a "compass" of Bitcoin's current market regimes.
The compass indicates that the cryptocurrency is currently shifting towards a "bullish" market regime due to increases in a variety of on-chain metrics, which suggest a growing number of users.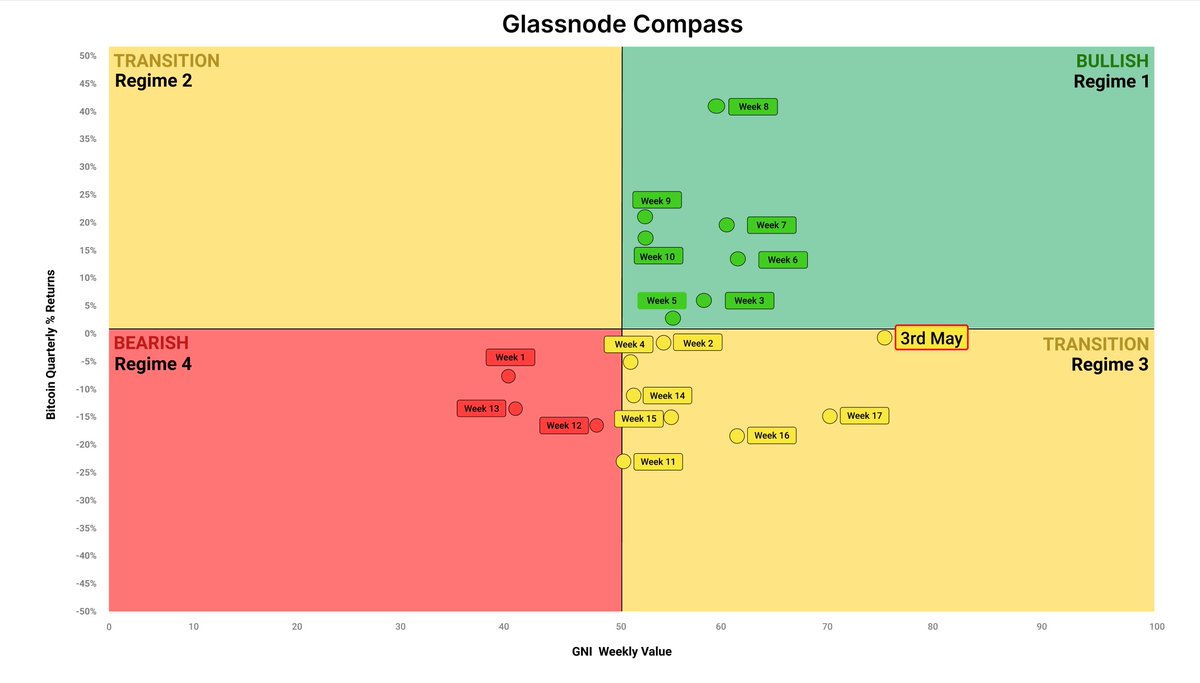 Chart from @Glassnode (Twitter)
For instance, as reported by Bitcoinist previously, the number of active addresses on the network is reaching a multi-month high, recently surmounting the sum of 840,000 addresses. Also, the number of new daily entities using the Bitcoin network recently reached 17,000 per day, where it was when 2019's rally from the $4,000s to $14,000 began.
Photo by Lison Zhao on Unsplash
Source: bitcoinist.com
Twitter's Jack Dorsey Is Dangerously Wrong About Bitcoin's Role as World Currency
Jack Dorsey's love letter to bitcoin fans isn't the 'poetry' that everyone thinks it is.
The Twitter CEO's Square Cash app stands to benefit more than the average cryptocurrency user.
Bitcoin's ridiculously high transaction fees make it an implausible candidate for an everyday global currency.
According to Twitter CEO Jack Dorsey, bitcoin is poised to become the native currency in a new global internet-based economy.
But Dorsey's latest love letter to bitcoin on a recent episode of the Lex Fridman podcast suggests he only has his own best interests at heart. And specifically, those of his Square Cash app.
Jack Dorsey recently described the bitcoin whitepaper as "poetry." The Twitter CEO joined AI researcher Lex Fridman's podcast on April 24 to discuss cryptocurrency, and his company, Square Inc.
When asked how his Square Cash app could help plug people into the global economy as consumers and merchants, Dorsey said the currency used would be key.
I believe the currency we use is a huge part of the answer. And I believe that the internet deserves and requires a native currency, and that's why I'm such a huge believer in bitcoin.
Facebook's Libra venture failed to get off the ground when it ran into the roadblocks of many national financial regulations. Dorsey appears to have learned from Libra's failure and sees bitcoin as a way of circumventing those same national regulatory hurdles.
Our biggest problem as a company right now is that we cannot act like an internet company. To open a new market we have to have a partnership with a local bank. We have to pay attention to different regulatory onboarding requirements.
Dorsey suggests dodging those requirements with bitcoin can expose Square to hundreds of new markets across the world.
By using bitcoin in conjunction with the Cash app, Dorsey can effectively pick up the Libra baton and help construct a global internet currency.
A digital currency like bitcoin takes a bunch of that away, where we can potentially launch a product in every single market around the world – because they're all using the same currency.
Dorsey has previously stated he has no intention of adding any other cryptocurrencies to Square's Cash app. It's bitcoin all the way.
Now, that might be a problem for around 99% of the world's population, given that bitcoin's fees make it utterly useless as an everyday currency.
As recently as April 30, the average transaction fee on the Bitcoin network was as high as $2.94. Data from Bitinfocharts show the steep increase in bitcoin's fees towards the end of April. Following a slight decrease, the average fee at the time of writing is $2.84.
That fee applies whether you're sending $100,000 or $10. Yes, fees can be set lower in bitcoin wallet apps, but then users run the risk of not having their transactions included in the next block.
Or even the next one! The data below from Blockchain.com show the massive backlog in Bitcoin's mempool on April 30. The mempool is a measure of the data (transactions) waiting to be processed by the blockchain's miners.
As Bitcoin's 1MB blocks get filled up, more and more users compete to get their transactions included in the next block. That means setting higher fees to entice miners to pick up their transactions.
This results in a desperate race to the top, which ends up massively inflating transaction fees on the network.
Bitcoin's developers make no secret of their intention to keep the 1MB block size in place. On April 30, there was 80MB worth of transactions waiting to be processed. Two days later, at the time of writing, that number still stands at 33MB.
This most recent spike brought about bitcoin's highest average fees since July 2019. Yet as far back as December 2017, average fees reached as high as $55.
Some users, including Bitcoin.com executive chairman Roger Ver, claimed to have paid over $1,000 for the privilege of transferring money on bitcoin.
Ver even provided the following video proof, showing examples from publicly available blockchain data after bitcoin developer, Adam Back, denied that fees were ever so high.
If bitcoin's fees make it unusable for everyday purchases, then how exactly is it going to become a global, shared currency?
At this point, what can bitcoin offer that Visa, Moneygram, Western Union, and PayPal cannot? Besides–as Dorsey reminds us–the ability to circumvent financial regulators?
Perhaps Dorsey was merely talking about a global currency for his rich Silicon Valley friends. After all, for them, $2.94 is less than pocket change. But for others, that pocket change is dinner.
Ultimately, Jack Dorsey is right when he suggests bitcoin can push Square Inc. to the forefront of a new global digital economy.
It's us who are wrong if we think the average person stands any chance of being a part of that economy.
Dorsey went on to tell listeners of Fridman's podcast:
The internet continuing to be accessible to people is number one. And then I think currency is number two.
Accessibility is indeed where it's at, Jack. And if internet service providers charged $2.94 for every web page we visited, it would quickly stop seeming so accessible.
Perhaps Dorsey should keep that in mind when masterminding Square's global takeover.
Disclaimer: The opinions expressed in this article do not necessarily reflect the views of CCN.com.
This article was edited by Sam Bourgi.
Last modified: May 2, 2020 9:21 PM UTC
Source: www.ccn.com
Author: Published: May 3, 2020 6:00 AM UTC
Crypto Analyst Who Accurately Called Bitcoin Collapse to $3,200 Says Big Move Up on the Horizon
Bitcoin is up over 135% from the March 2020 low of $3,850. The world's leading cryptocurrency is once again outperforming traditional assets amid the coronavirus pandemic. While Bitcoin is starting to show signs of short-term bullish exhaustion, a crypto trader and Elliott Wave technical analyst believes that the dominant cryptocurrency is preparing for a strong move up.
Benjamin Blunts tells his 54,600 followers on Twitter that BTC is poised for a rally to $10,000.
"BTC made 5 waves down on the smaller timeframes, ABC back up and swiftly rejected the 0.618 almost to the [dollar] and now I think we get one more leg down into low [$8,000]. [In my opinion] this will be a buy the dip opportunity in [a] strong uptrend."
The crypto strategist forecasts Bitcoin's price action using Elliott Wave Theory. The advanced technical analysis system looks at predictable wave patterns that illustrate the recurring behavior of market participants. According to Elliott Wave principles, an ABC corrective in a bull market is a brief pullback. Once the correction is over, the asset will likely resume its uptrend.
Blunts relied on his expertise in Elliott Wave analysis to predict the bottom of the Bitcoin bear market in 2018. The analyst gave his $3,200 BTC call in June 2018, which turned out to be remarkably accurate when BTC reached the low on December 15th.
Im calling a bottom at exactly 3.2k with a 200 dollar leeway either side.
Will retweet the shit outta this when it happens.
What cryptocurrency will become the main one in a year?
k thx bye 😙😙
$BTC #BEARISH
— 🍄🌲Benjamin Blunts🌲🍄 (@SmartContracter) June 23, 2018
Source: dailyhodl.com
This Odd Signal Marked Bitcoin's $3,700 Lows. Now It Says BTC Is Topping Out
It's been a strong week for Bitcoin and the rest of the cryptocurrency market.
Per data from Coin360.com, the leading cryptocurrency has gained close to 20% in the past seven days. While this is undoubtedly one of Bitcoin's best weekly performances in months, this is actually the asset's seventh week of gains in a row, signifying a strong bull trend.
Analysts are expecting a correction as an odd technical signal that marked Bitcoin's $3,700 lows is now suggesting that a reversion to a bear trend is potentially underway.
A top trader recently shared the chart below, indicating that at every Fibonacci time level was "a major shift in trend." The vertical labeled "2" marked the bottom of 2019's bear market around the high-$6,000s, while the vertical marked "2.382" marked the $3,700 bottom seen in March.
Just yesterday, Bitcoin reached the next time level at "2.618," suggesting that should history continue to rhyme, the cryptocurrency is poised to start a downtrend.
Chart from @Byzgeneral (Twitter)
This is far from the only sign suggesting an imminent trend reversal.
When the April candle closed earlier this week, many cryptocurrency traders celebrated because what they saw was a "bullish engulfing candle," when a candle reverses 100% of the losses seen over the candle prior.
As reported by NewsBTC, though, the candle formation is a misnomer, as it is actually a sign of a bearish reversal. Thomas Bulkowski, a world-renowned technical analyst that has identified the meaning of many of these trends, wrote:
"[These candles] act as a temporary reversal of a downward price trend. This is also one of the trading setups I suggest you avoid. Why? Because the primary trend is downward. The bullish engulfing candlestick reverse that trend, but only for a short time. The primary downward trend takes over and price resumes falling."
This indicates that the cryptocurrency could return lower in the months ahead.
This happened twice in the past 12 months, and unfortunately for bulls, this signal was just spotted again, indicating that BTC found a medium-term top at $9,500.
Despite the chance at a reversal in the weeks ahead, the long-term trend of the leading cryptocurrency is also starting to shape up positive.
In a research note on cryptocurrency published Thursday, David Grider — the lead digital strategist at Wall Street analysis firm Fundstrat Global Advisors — said that his firm is bullish on Bitcoin moving forward, specifically citing the halving as a positive catalyst:
"We're bullish over the next 12 months and expect prices may continue moving up into the [halving] and possibly after."
Thomas Lee, a co-founder of the analysis outlet, echoed the optimism. In a tweet, the analyst said that Bitcoin's year-to-date performance proves that it is not only benefiting from the halving, but is also acting as a "solid risk-on asset and as a hedge against calamity."
Marketwatch, which covered the note, noted that Fundstrat sees the cryptocurrency nearly doubling in the coming 12 months to $14,350.
Photo by Bryan Goff on Unsplash
Source: www.newsbtc.com
Author: Nick Chong
Why Bitcoin's Big Rally Is a Sign of Its Resilience
Economic growth figures are starting to trickle in, and, as expected, they're bad. Really bad. This past week the U.S. reported Q1 GDP growth as -4.8%. Italy's GDP fell -4.5%, Spain came in at -5.2%, and France trumped that with a whopping -5.8%. And that's just warming up – Christine Lagarde, head of the ECB, has warned that euro-area GDP could fall by as much as 15% in Q2.
And yet stock markets in the U.S. and Europe closed up on the week, in spite of the inevitability that the next quarter will be worse still.
This could be partly due to the concentration of market capitalization – nearly 25% of the S&P 500 market capitalization is from five tech companies, which arguably will do relatively well out of more people staying at and working from home.
Or, it could be because the stock market has broken all ties with the actual economy. The aforementioned concentration of the S&P 500 is intensifying, fueled by the dominance of passive investing, which means its performance does not reflect that of most of its constituents. And the "moral hazard" posed by the government's willingness to bail out companies in difficulty suspends the need to scrutinize balance sheets and evaluate viability.
But reality doesn't stay suspended forever, no matter how much we wish it would. Eventually the abrupt slowdown of economic activity will feed through to numbers that investors can't ignore, and the current P/E valuations will start to look absurd.
This is where bitcoin comes in. Its underlying technology and monetary system make it one of the few investable assets that is immune to the economic fluctuations we have ahead.
First, its P/E ratios will never look absurd because it doesn't have any earnings. Nothing to get hit there.
Second, its use will not be curtailed by lack of customer mobility – users can transact from anywhere. In fact, logistical constraints could boost interest in bitcoin transactions from those who normally hand over physical cash (although why they would want to if people aren't moving around is another question).
Third, its market valuation is not susceptible to artificial support from governments trying to keep investor (and voter) spirits up.
This does not mean that bitcoin's price will keep going up while other prices come down. We saw back in March that, when things get bad in markets, bitcoin also suffers. Its price is driven by sentiment.
But it is also driven by expectations of future adoption and demand, which are unrelated to the drivers of demand for most other investable assets.
In terms of fundamentals, bitcoin has nothing to lose in the upcoming crisis – no income, no debt, and its future adoption does not depend on happy and confident consumers. Just the opposite, in fact.
The growing awareness of this, combined with heightened media attention due to the upcoming halving, could be one of the reasons behind this week's recovery. Or perhaps it is being swept along in the wave of inexplicable optimism in traditional markets.
Should that turn south, bitcoin is likely to suffer in the sentiment-driven short term. Longer-term, however, fundamentals tend to surface, and those that drive bitcoin are radically different from those that drive traditional markets.
Talk about marching to your own beat.
Not that big a deal
One argument in favor of the bitcoin price rallying after the halving is that of supply and demand. Assuming demand is more or less constant (I know, but work with me here), when supply drops, the price should go up. Basic economics – you remember that graph from high school, right?
After the halving, there will be fewer new bitcoin entering the market every day. Since miners need to sell part of their hard-won new bitcoins to meet expenses, some of the sell pressure comes from miners. If they are selling fewer bitcoins (because they have fewer bitcoins to sell), then there is less supply meeting a constant demand, and the equilibrium price moves up.
Fine, but one part of this model is already obviously unstable – demand is not constant, not by a long stretch.
Even so, there is another overlooked weakness: the dent in sell pressure is negligible.
Post-halving, there will be 6.25 fewer new bitcoins entering circulation with every block. Assuming a new block every 10 minutes, that translates to approximately 900 fewer new bitcoins a day.
Considering that the number of bitcoins transferred on-chain in April was an average of over 270,000 per day, 900 less won't make much of a difference to the supply curve in that simple basic price equilibrium graph.
Any positive halving impact is more likely to come from increased awareness and trader interest resulting from the media attention. The juxtaposition of what is becoming known as a "quantitative hardening" against a "quantitative easing," combined with growing unease about the latter, is likely to transform this media-fueled attention into a lasting interest from investors, analysts and economists.
What is unclear is whether any price momentum from the halving would be enough to offset a hit to general sentiment from broader macro concern. As always in investing, one's individual time horizon is everything.
Anyone know what's going on yet?
In spite of a stream of bad news on employment, production and earnings, the S&P 500 had its strongest April since 1987, possibly floating on the stimulus laughing gas. European indices also had a good month, as economies started announcing tentative steps towards opening up their economies and electricity consumption started edging up.
As April turned into May, markets started to retreat, perhaps digesting the recent gains, and perhaps unnerved by a new anti-China belligerence from the U.S. and earnings warnings from tech companies. Gold continues to play the inflation game but with less enthusiasm and some profit taking – it remains to be seen how it would perform if stocks head south again. And West Texas oil had its first positive week in about a month as confidence gathered around the production cuts, although there could well be more turmoil there as the next futures expiries approach.
As you can see in the chart above, bitcoin had a particularly strong month.
The jump this week gave bitcoin its best April in years, with data suggesting that this rally is largely fueled by U.S. investors, with growth more in spot volumes than derivatives.
And a lack of foreign reserves has pushed countries such as Lebanon and Turkey towards currency crises, which remind us that a strong dollar impacts much more than just FX markets. What's happening in Lebanon, where anti-government protests have turned violent and triggered the closure of the capital's banks, will become a textbook example of the risks of centralized finance for years to come.
(Note: Nothing in this newsletter is investment advice. The author owns small amounts of bitcoin and ether.)
CHAIN LINKS
CoinDesk Research has published its first in a series of deep dives into listed crypto companies. We're starting with Hut 8, one of the largest listed bitcoin miners, and its financials and recent operational shifts reveal some of the hurdles bitcoin miners struggle with in capitalizing their business while maintaining margins.
Preston Pysh looks at investment opportunities in a market increasingly manipulated by government printing, predicting that a "break" will be triggered either by social unrest or a natural transition to a different form of money. TAKEAWAY: Preston is not a crypto enthusiast (among other things, he hosts the podcast "We Study Billionaires"), but he is bullish on bitcoin largely as an alternative to an increasingly debased dollar – this makes his take particularly interesting for those managing diversified portfolios, which should be everyone.
How many of a project's contributors have to be hit by a bus for the project to stall? Introducing the "bus factor," a new metric that measures resilience. Really. TAKEAWAY: Actually, it's a cool concept, intriguingly expanded on here by analyst Hasu. The higher the bus factor (the more widely distributed the code development), the easier a network is to replicate. The lower the bus factor (the more concentrated its control), the greater the risk. A couple of years ago Twitter woke up to a mercifully false rumor that Ethereum creator Vitalik Buterin had been killed in a car accident. (It didn't involve a bus as far as I know.) The news pushed ether's price down 15%. These days the impact would probably be different (although please be careful, Vitalik), but the anecdote shows that this is a metric worth watching.
The city of Ya'an, in China's mountainous Sichuan province, is publicly encouraging the blockchain industry to help consume excessive hydroelectricity ahead of the summer rainy season. TAKEAWAY: This highlights how excess energy from hydroelectric and natural gas plants can bring down operating costs for miners, making their sector – crucial to the maintenance of the bitcoin network – more profitable and less vulnerable to price swings and halvings.
Bitcoin futures and bitcoin options both had their most active day since the crash on March 12, according to derivatives data provider skew.com. TAKEAWAY: To be honest, I'm not sure what this means, but it feels significant.
Coin Metrics presents "free float supply," which adjusts supply measurement by taking out founding tokens and vested tokens, as well as those that are inactive, burned or probably lost. TAKEAWAY: The result is a measure of circulating tokens, a more reliable gauge of a network's size and liquidity. Bitcoin's free float supply, according to Coin Metrics, is over 4 million less (over 20% less) than the reported figure, which implies that its velocity (the transaction rate compared to the amount outstanding) is higher than many have calculated.
Blockchain analytics firm Glassnode has introduced a new metric called Glassnode On-Chain BTC Index (GNI), which aims to link price performance to network fundamentals. TAKEAWAY: Any fundamentals-tracking index is subjective, no matter how much rigor goes into selecting and quantifying the components. However, as long as the methodology is consistent, they can provide valuable information about trends and shifts, and at first glance the GNI does a good job of taking into account the principal value drivers of sentiment, liquidity and network health. The index recently turned from bearish to neutral, which is itself a bullish sign.
Large crypto investors, popularly known as "whales," seem to be accumulating bitcoin amid the ongoing price rally. TAKEAWAY: Although an imperfect indicator, this can be interpreted as bullish, as high-net worth individuals or funds appear to be adding to or taking new long positions in bitcoin, perhaps in response to the monetary turmoil in the fiat world.
Leigh Cuen spoke to severalcrypto custody and wallet providers about the uptick in activity they have seen since the beginning of the lockdown. TAKEAWAY: Growing interest in off-exchange custody solutions implies a growing interest in holding crypto assets, rather than just trading them. Some of the exchanges Leigh spoke to cater mainly to institutional clients, but others have a wider base, which implies that interest in bitcoin is spreading amongst all types of investors.
The second fund of a16z's crypto divisionhas raised $515 million, more than the original target of $450 million and considerably more than the $300 million raised by the first fund, which launched in 2018. The investments will focus on next-generation payments, decentralized finance, new monetization models and the concept of a decentralized internet. TAKEAWAY: While this is a crypto venture fund, investing in startup equity and tokens without the intention to trade, this raise is bullish for the sector as it implies a belief that at least some of the beneficiary blockchain companies will have viable businesses.
Silvergate Bankadded 46 crypto customers in the first quarter, bringing the total to 850, largely institutional investors. The number of transactions more than doubled in Q1 vs Q4, and was up more than 3x vs the same period in 2019. TAKEAWAY: One intriguing disclosure in the report was the mention of a lending service called SEN Leverage, currently in pilot mode, which will allow bank customers to obtain U.S. dollar loans collateralized by bitcoin. Crypto as collateral is a fascinating area to watch. On the one hand, the bearer status of bitcoin, its relative liquidity and its ease of transfer make it an ideal collateral from a lender's point of view. On the other hand, current legislation makes it very difficult in practice. This paper by Xavier Foccroulle Menard, posted on SSRN this week, gives a great explanation as to why. (TL;DR: it's to do with UCC definitions of collateral – guess what, bitcoin doesn't fit.)
Hangzhou-based Ebang International Holdings, one of the leading manufacturers of bitcoin mining equipment, has filed with the SEC for an IPO of up to $100 million. TAKEAWAY: There does seem to be a trend amongst Chinese companies of trying to list in the U.S., in a bid to broaden their geographical diversification. Curiously, this could encourage the shift of the epicenter of bitcoin mining away from China and towards the U.S.
CFTC commissioner Brian Quintenz, one of the organization's crypto supporters who advocated for self regulation in the crypto industry, will not seek renomination when his post ends this month, and will leave the regulatory organization by late October. TAKEAWAY: SEC commissioner Hester Peirce, who has argued in favor of bitcoin ETFs and also favors a more supportive approach to innovation, is also nearing the end of her term. As far as I know, her plans have not been made clear yet, and we don't know who will be replacing Quintenz – but this could mark a subtle change in tone at one of the most powerful securities regulators.
Source: www.coindesk.com
Author: Christine Kim
Previous
Next