Bitcoin price breaks below $8900 support: what's next?
Bitcoin price appeared to consolidate above the $8900 support on the 3rd of May. TradingAlchemist is a TradingView analyst who believed BTC will see an uptrend towards the $9400 mark right after the consolidation is complete.
Bitcoin Price Chart by TradingView
The BTC price line stood near the $9000 mark at the beginning of the 3rd of May, after which it rose across the $9200 level, where it approached a day's high of $9201.21 US Dollars. As the day proceeded, the cryptocurrency's price gradually lowered on the daily chart. After 12:00 GMT, the coin had fallen below $8900 level.
The trading value stayed above $8900 until the end of the day, after which it suddenly fell below $8700. At the time of writing, BTC traded at $8660.49 US Dollars.
The crypto analyst was of the opinion that after the completion of the consolidation period, BTC will move towards its resistance that lies near $9400.
Bitcoin Price Chart by TradingView
The analyst had stated that this idea may not directly come into play, and the coin may see a short rollback towards the support line. Currently, the trading pair has fallen below the $8900 support and trades near the $8700 mark.
The ongoing trend may be a short rollback towards the support line before the cryptocurrency moves towards the resistance, though this idea will fail if the trading pair breaks below the $8400 support.
Featured Image by mohamed Hassan.
Disclaimer: The information provided is not trading advice but an informative analysis of the price movement. Cryptopolitan.com holds no liability towards any investments based on the information provided on this page.
A media graduate and passionate media person Aroosa has a knack for digital media journalism and outreach. She has contributed content to different digital media publishers in a variety of areas including technology, health and finance.
Source: www.cryptopolitan.com
Author: Aroosa Nadeem
Yahoo
Sports
Sport1
When Willy Sagnol paced up and down on his right side, it always echoed "Wiiillyyyy" through the Olympic Stadium. Later also through the Allianz Arena. The Frenchman was a crowd favorite at Bayern, and from 2000 to 2009 the right-back played for the record champions. After his active career, he became a coach. In 2017 he signed a contract with FCB as assistant coach to Carlo Ancelotti. After his release, Sagnol took over as an interim coach, but was then no longer needed. The 43-year-old spoke in the SPORT1 interview about negotiations with Uli Hoeneß, a Zoff with Oliver Kahn, the influence of Thomas Müller – and unpacks some anecdotes.SPORT1: Mr. Sagnol, you live in beautiful Bordeaux. How are you and what are you doing right now? Willy Sagnol: I'm fine. It was quieter around me lately, but I was never the type to talk a lot and be the center of attention. I live with my family in Bordeaux, where I worked as a trainer from 2014 to 2016. I have loved this place ever since, it is perhaps the most beautiful city in France. Especially if you have children because there is security here. The weather is great and you can be on the beach in 30 minutes. And in two hours you will be in the mountains. Bordeaux also has this wonderful Spanish culture. It's a nice mix of everything. It is really a great city to live in. Willy Sagnol: "Ancelotti is a grenade as a human being" SPORT1: You don't have a job at the moment? Sagnol: No. I still had a contract with FC Bayern until 2019. After that I wanted to stay in Bordeaux because my youngest son had a genetic illness. Now everything is fine and I will focus on a new project again in the next few months. It can be a trainer, but also a sports director, it depends on what I have to offer. With Bordeaux I had a great first year as a coach, we got the best out of our squad with our coaching staff and qualified for the Europa League. Unfortunately, the second year was more complicated because some of our best players were sold and the experience was lacking. After that I went to Bavaria and worked with Carlo Ancelotti. He is a great guy. A grenade as a human. I learned a lot from him. And soon I want to be on the grass again. Order the current FC Bayern jersey now – go to the shop! | DISPLAY SPORT1: Are you still in contact with him? Sagnol: Yes. In the few months at Bavaria, we have established a warm connection. Working with him was very good for me.SPORT1: How do you think about your active time in Munich? Sagnol: Only positive. It was a wonderful time. And very successful. It was awesome that I could play in this club for so long. The club has only changed a bit compared to my time.SPORT1: What do you mean? Sagnol: In my time, the club was very familiar. It's no longer like that today, I have the feeling. Back then, it wasn't nearly as big as it is today. The relationships between the individual departments were closer, as there were not around 600 employees. It was a great time back then. "Wasn't FC Bayern I knew anymore" SPORT1: Who are you still in contact with? Sagnol: I kept on talking to Uli Hoeneß. Of course there is also contact with Giovane Elber, Roque Santa Cruz and Bixente Lizarazu. But also to former employees. I still have a lot of friends there.SPORT1 Your farewell to Bayern in autumn 2017 was not so nice. You were an interim coach after Ancelotti's dismissal for a game (2-2 at Hertha BSC), then Jupp Heynckes came and you should fill another position in the club, which you refused. As a result, they were upset, Sagnol said: I was sad and irritated. If you work at Bayern as Carlo's assistant, you hope for a long relationship. That didn `t work. The situation at Bayern was difficult and it is still difficult for me to talk about it. How it went was no longer the FC Bayern I knew. A separation in this club was always in style, but unfortunately that wasn't the case with me. But I'm not angry about it, I'm still a huge Bayern fan and I'm still sitting on the sofa and keeping my fingers crossed for my ex-club. Bavaria was and is still my heart club.SPORT1: What was your craziest Bavaria experience in all the years? Sagnol: A sporty one. I like to think back to the last day of my first Bayern season, when we played 1-1 at Hamburger SV and surprisingly became champions. We won the Champions League just four days later. That was amazing! "Thomas Müller is FC Bayern" SPORT1: In your career you were one of the best right-backs in the world. Who is the measure of all things for you in the back right? Sagnol: In football there is a cycle with four or five strong right-backs per generation and sometimes you just have less. It's hard to find top right-backs nowadays who are both defensive and offensive. Trent Alexander-Arnold from Liverpool FC is clearly the best in this position for me.SPORT1: You used to be one of the crowd favorites at Bayern. How did they reach people's hearts? Sagnol: I gave everything and tried to get on with the Munich mentality quickly. An example: I often put on my lederhosen, even though it wasn't an Oktoberfest. This identification with the club and the city stood above everything for me. It is generally important that you totally identify with something. I never scored many goals, but the passion stood for me. And the goal templates. And I went to the fans after every game and showed them my respect. That was important. SPORT1: When you ran your side up and down, a "Willyyyy" echoed through the stadium. Who is the new Willy today? Sagnol: What is important for me to become a crowd favorite is identification with the club. If someone identifies with FC Bayern and the city of Munich, then they have a great chance of becoming a favorite with the public. Sometimes there's no reason why it works between fans and a player, it's just a feeling. Munich loves people who are honest and do not hide behind the club or other people. You just want to see an honest player who gives everything.SPORT1: Sounds like Thomas Müller.Sagnol: Yeah, but he's a Bavarian. That is another case. (laughs) He has to stay with Bayern until his last day of his career and afterwards. Thomas Müller is FC Bayern. "Football has become too important" SPORT1: You once said that you used to smoke countless butts after playing in the toilet. How did you manage to run the line up and down in your career despite smoking? Sagnol: (laughs) I didn't smoke two boxes a day. What should I say today? I always wanted to have my cigarette after the game. It was just like that and I knew it was not a good thing. It is not meant to be an example for the young professionals out there. But football was different in my time. There was much more acceptance between individuals than today. Today something negative is always wanted for a player or coach. Only that is picked out, which could be problematic. Society is too negative. It seems to me that it is not so important how a player plays, but how he talks. It wasn't like that back then. If you always gave everything, then you were forgiven for making a mistake. Football has become too important, but it's just a sport. But first you have to have fun in your sport.SPORT1: Did Ottmar Hitzfeld know when you were gone to smoke? Sagnol: Yes. He accepted that because he knew that I gave my all on the court beforehand. That was the most important thing. SPORT1: As a child, you wanted to be a commissioner. Are you a fanatic of justice? Sagnol: I love it when things are fair. I hate lies and when people say something and do the opposite. If we all want to live together, then we need basic discipline and social behavior. If everyone does what they want, there can be no cooperation. Everyone should always respect each other. Maybe that's why I wanted to be a commissioner. When I was a little boy, I used to watch films on TV and I was always the Commissioner's friend. I thought it was cool that he always followed the rules. Today I know that it is difficult to respect the rules.SPORT1: Uli Hoeneß had a high opinion of you. He called you in principle and found that you could philosophize with you. Sagnol: I think that philosophizing is very important because you always do it with another person. The best moments in my life are when I sit with my wife or friends, we drink a good glass of wine and talk about life. It's important to me. Blablabla brings me nothing. Unfortunately there is too much blah blah these days. "Hoeneß is a kind of father figure" SPORT1: Do you miss the profound conversations with Uli Hoeneß? Sagnol: We haven't seen each other in almost two years and of course I miss him and the conversations with him. We met not only in Munich to philosophize, but also elsewhere. Uli was and still is a kind of father figure.SPORT1: Hoeneß also said that you were sometimes very stubborn. Have you ever had a really loud zoff? What was the strangest story you ever had with him? Sagnol: Stubbornness is a quality for me, but of course with limits. But for me stubborn means you have to defend your opinion and your ideas. You can't always say "yes" or "no, no". Your opinion is part of your personality. If you do something even though you don't like or think it is the wrong way for me, it doesn't result in success. It is important to defend your own opinion.SPORT1: It is said that you once negotiated a new contract with Hoeneß yourself without a consultant.Sagnol: I met often with Uli, I think that was in 2005 when I signed my contract Bavaria renegotiated. That was the last year of my current contract and I was considering going somewhere else. We went to eat once a week and ended up staying. Our negotiations were kind of a game. (laughs) My relationship with Uli and Kalle was very good and if that's the case, then I don't need a consultant to negotiate a contract. Kalle and Uli were no friends now, but our relationship was good enough to talk honestly with each other and back then they were discussions between men.SPORT1: Speaking of men: Roque Santa Cruz said last in the SPORT1 interview that he was respectful and even a little scared before Oliver Kahn had. You actually dared to go public with the Titan after a game against Chelsea. Sagnol: I always had a huge respect for Oli. I can remember that in the game against the blues I flanked an opponent and then scored a goal. This left us out of the Champions League. When Oli had blundered against Real Madrid a year earlier, nobody said anything, but after the game against Chelsea, Oli hit me hard, I didn't put up with that. He was probably the world's best goalkeeper for me, but it was a matter of respect. Back then I thought 'if you turn me on, you have to be clean'. But that was 15 or 20 years ago. Oli and I are still well connected. I wish that he will make it as Bayern boss. "Kahn is a real guy" SPORT1: How was Kahn in the cabin? Unapproachable, dogged or maybe even funny? Is there a story you should have heard of? Sagnol: Back then we never knew what Oli's reaction could be after a game. I remember a game in Rostock when he scored a goal by hand. I think it was a Mehmet Scholl free kick in the last minute. Oli stormed into the box and scored the goal with his hand. Of course he got red for it and afterwards we thought in the cabin that he would totally freak out. But when he came in, everyone started laughing because it was just weird that he made the gate with his hands. But there was another action from Oli … SPORT1: Go ahead. Sagnol: That was during the game against Hertha in Berlin, when he just grabbed one of these big tons in the cabin and threw it away. That was just Oli. He always gave everything for Bavaria. Like me. He is a real guy.SPORT1: Mehmet Scholl once said: "The moments when it's really worth being a football professional are when you watch Oliver Kahn lather up". Do you share his opinion? Sagnol: (laughs) Mehmet was always funny, I liked him because he often told funny stuff and had a good opinion. And he was a creative player and therefore something special. He knew that. He was also an absolute crowd favorite. Mehmet is simply Mehmet. He is a huge guy, it only got a little more difficult with him in September.SPORT1: Why? Sagnol: Well, he was often at the Oktoberfest. (laughs) "My head is clear again" SPORT1: Scholl once told a funny story about her. It's about a game in Stuttgart and referee Markus Merk. Can you remember that? Sagnol: Oh yes, Mehmet laughed a lot about this situation. The game was in Stuttgart and Mr. Merk, who was actually the best referee in Germany and maybe also in Europe, made some mistakes that day. I then said to him at some point 'change now' and he turned to the bench and then back to me and said 'no'. I then said to him 'No, they have to change now, we change you'. I got a yellow card and Mehmet laughed limply.SPORT1: After Kahn's career ended, they were treated as a possible Bayern captain and also publicly threw their hats in the ring. Then why did Mark van Bommel become the first foreign FCB captain, even though they said they were promised the office? Sagnol: I was really disappointed. The captain's office was also one of the reasons why I extended my contract. I thought I deserved it too. But it was a decision by the trainer and I accepted that. The coach's name was Ottmar Hitzfeld and he is one of the best coaches in the world with whom I have worked. He was always in a good mood and never showed when he was stressed. Now I am a trainer myself and I respect Ottmar even more for what he has achieved.SPORT1: Critics say that you yourself had already failed as a trainer. Are you right? Sagnol: What does failure mean? So far, I have only had the chance to prove myself as a head coach in a club. That was in Bordeaux. And the first year was very successful, for example we won against the five big clubs (Paris, Lyon, Marseille, Monaco, Saint Etienne). In the second year it was a little more difficult and I made a few mistakes too. But I'm still a young coach. I also worked successfully as a sports director for the association between 2011 and 2014. The 2018 World Champion title recognizes the entire work of the association and the development process that we initiated at the time. It's been two years since I left Munich. My son is better now. For this reason, I am now free in my head and can therefore concentrate 100 percent on a new challenge. I want to get started again.
Source: de.yahoo.com
Weiss Ratings: IOTA displaces Ripple (XRP) from #3, Bitcoin still #1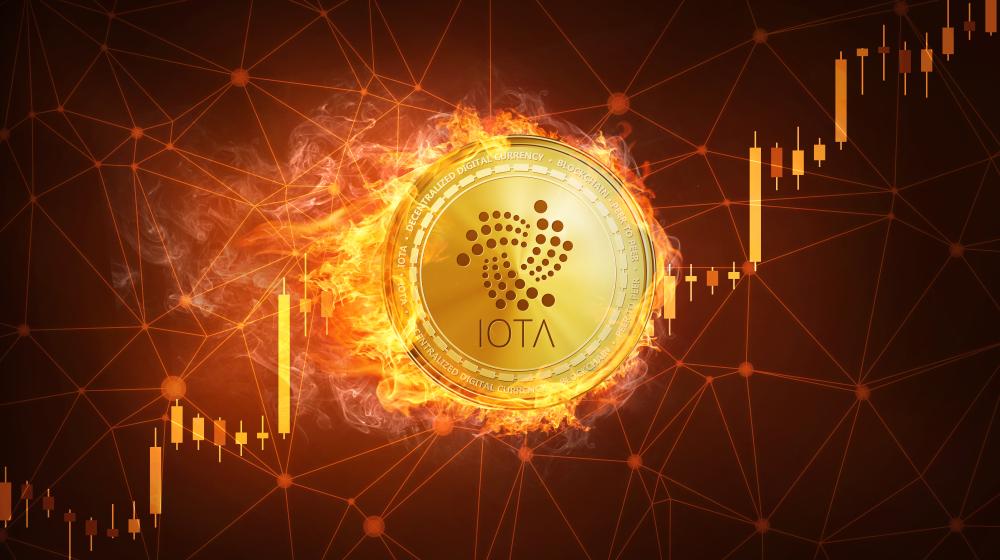 The rating agency Weiss Ratings has updated its crypto ranking, with IOTA moving up to third place. Bitcoin and Ethereum continue to rank 1 and 2.
IOTA received a "B+" rating in the field of "technology and adaptation grade", but only a "D-" for "market performance".
The controversial rating agency Weiss Ratings, which rates not only cryptocurrencies but also shares, ETFs, investment funds, insurance companies and banks, has updated its crypto rating. The biggest winner of the new ranking is IOTA. In the overall ranking of "Top Coins", IOTA ranks third after the two leading cryptocurrencies by marketcap, Bitcoin (BTC) and Ethereum (ETH).

With a rating of "B", IOTA is just behind Bitcoin and Ethereum, both of which receive a "B+". In particular the rating in the field of "technology and adaptation grade" is very positive for IOTA with a "B+". As well as Ripple (XRP), however, IOTA only receives a "D-" in the field of "market performance" by the rating agency.
Both cryptocurrencies share the common fact that they were able to write numerous positive headlines about the past year. However, the price of both, IOTA and XRP, did not follow suit to the same extent. In terms of technology, Tezos and Cardano are still ahead, followed by Cosmos, Fantom and Ethereum. IOTA does not appear in the top 5.
For a long time IOTA flew under the radar of Weiss Ratings. This changed in early April 2019 when the rating agency contacted the IOTA Foundation, whereupon Weiss Ratings completely changed its assessment and issued a statement equating the quality and commitment of the development team with Cardano.
What cryptocurrency will become the main one in a year?
Shout out to the #IOTA foundation and a big thanks for the wonderful discussion yesterday. IOTA is one of those projects anyone serious about crypto cannot afford to ignore!
In our view, #IOTA is up there with #ADA in terms of the quality of the dev team and commitment to their vision. IOTA is much more ambitious which may be detrimental to their success. Cardano is more pragmatic in working with existing blockchain-based systems.
In contrast to other cryptocurrencies, IOTA bears a significant difference. The main focus of the IOTA Foundation is to develop a protocol for the Internet of Things, which is intended to serve as a basis for the use in a machine economy. Although value transactions in the form of IOTA (MIOTA) play a role in this context, the Tangle technology also offers the possibility to send "only" data transactions.
Therefore, the IOTA token does not necessarily have to play a decisive role for the success of IOTA technology, even though it can be used, for example, to pay for services between two machines. This can be a deterrent to investors and may have influenced the performance of the IOTA token in the past.
However, it should also be noted that Bosch, for example, has already received a patent in October 2019 to develop a digital payment system based on IOTA.In this respect, the IOTA Foundation's focus on real use cases, even beyond the token, need not be a shortcoming at all. Bosch wrote back then, in the part of the document that specifically referred to IOTA:
An execution of the invention is based on the distributed database "Tangle", which forms the core of the new cryptocurrency IOTA. Similar to a blockchain, it can be assumed that none of the IOTA tokens will be issued twice or that a possible attacker can manipulate account balances in any other way.
Source: www.crypto-news-flash.com
Author: Jake Simmons
Bitcoin Halving: Investors Worried About a Possible Dump
As the Bitcoin halving approaches, investors expect Bitcoin to reach ATHs. Bitcoin will probably hit a high of over USD10, 000 before the event takes place as many crypto communities have predicted and expected. This certainly implies that Bitcoin is certainly setting up for one of its biggest rallies in 2020.
Even though the news of how significant and essential the halving would be is simple to sell, stakeholders aren't quite so sure what to do after halving, because Having experienced a bitcoin leap of around 15 percent last week, it didn't take much convincing to bring investors on board.
Although most of the new uptrend is attributed to halving, others believe post bitcoin halving, and there would be a major sell-off as institutional investors leave and make money.
Bitcoin jumped from USD seven thousand seven hundred to USD 9,400 in only two days. It is important to note that Bitcoin closed last week strong after gaining more than USD 1,000 in less than 24 hours. The Cryptocurrency community was quick to find out that this is only the start. Moving into the coming week, Bitcoin is projected to exceed its current peak and hit USD 10,000.
Heading out of the week, Bitcoin is aiming to challenge the USD 9,300 barriers that have gone to USD nine thousand. If the mentioned amount is reached, the digital commodity can easily pass its recent peak of USD 9,400 before eventually hitting a higher resistance of USD nine thousand eight hundred.
Stakeholders are well conscious that sales will rapidly turn nasty with bitcoin instantly heading to nose dive. This has angered a few investors who believe those investing right now are speculators merely interested in making money when the bitcoin halving curve hits its peak in the weeks ahead.
Eric Choe's a prominent trader believes that the sell-off will be so violent that the asset will take a dump below USD 3,000 by the end of May. He also has gone as far as suggesting that the asset will drop as low as USD one thousand after the bitcoin halving.
Market leader Michael Novogratz believes that Bitcoin will remain stable; this speculation could mean that Mr. Choe could, however, be alone on his theory of a bitcoin dump.
Although several observers have reported that they anticipate a bitcoin dump as investors reap profits, Novogratz claims that existing traders should embrace and retain.
Ifeanyi Egede is an experienced and versatile freelance writer and researcher on the blockchain space and related matters with published works online and in the print media. He has close to a decade of writing experience. When he is not writing, he spends time with his lovely wife and kids.
Source: www.cryptopolitan.com
Author: Ifeanyi Egede
This Crypto Just Posted a Historic Breakout, Opening the Gates for a 50% Rally
Stellar (XLM) has seen some notable underperformance of Bitcoin and the aggregated crypto market throughout 2019 and even 2020, largely being caught within an extended bout of sideways trading.
Analysts are now noting that the crypto just broke above an important technical level that it has been caught beneath for many years, with the movement past this level being a notable development that could mean major upside is imminent.
Other traders are taking note of Stellar's growing technical strength, as some are explaining that it could now target an upside movement as large as 50% in the days and weeks ahead.
The entire crypto market has been building greater strength throughout the past several weeks, primarily being led higher by Bitcoin's notable climb from its mid-March lows of $3,800.
Stellar is one such crypto that has seen some notable upside during the course of this recent uptrend, although it has been lagging slightly behind BTC and many of its other peers.
It now appears that its technical strength is beginning to reach a boiling point, however, as it was just able to break above its Kumo cloud.
This marks the first break of this level that the cryptocurrency has seen since 2018, with this being a notable technical development that could mean it is about to see a parabolic uptrend.
Crypto analyst Josh Olszewicz spoke about this breakout in a recent tweet, saying:
"2D XLM (USD) first kumo breakout since 2018."
This isn't the only positive technical factor currently playing to XLM's favor, as analysts have also been pointing to the crypto's overt strength seen against its BTC trading pair as a reason for why it may climb higher in the near term.
"Not many charts looking as good as XLM vs BTC right now," another analyst noted.
As for how high this technical strength could lead the crypto, one popular trader is explaining that he is now targeting a 50% upside movement in the days and weeks ahead.
His reasoning behind this is that XLM has been caught within a year-long accumulation pattern, with the potential resolution to this pattern being enough to catapult it higher.
"XLM Accumulation. Has been trading sideways for almost a year. Once this breaks to the upside, this thing will run fast and hard. First target is +50% away from the range high," he said.
How the crypto trends in the days ahead should offer significant insight into its mid-term trend, and it is a strong possibility that Bitcoin's reaction to its current resistance will have heavy influence over that of Stellar.
Featured image from Unplash.
Source: www.newsbtc.com
Author: Cole Petersen
This week in crypto: Hundreds of millions lost and raised in lockdown
This week in crypto, Telegram pledges to return over $1 billion to investors; Andreessen Horowitz raises $515 million; and Roger Ver gives up on flattening the curve. All in a week in crypto, eh!
According to a letter to investors, the messenger app Telegram will return investors' money amid delays to the launch of its upcoming blockchain network, the Telegram Open Network.
Specifically, Telegram promises to return up to 72% of each investors' stake from the $1.7 billion 2018 token sale for the platform's native currency, Grams. Telegram is also offering investors "an alternative option to receive 110% of your original investment by April 30, 2021, which is 53% higher than the Termination Amount."
TON's launch has been deadlocked since October 2019 by a court case with the SEC. The SEC alleges that Telegram's token sale was an unregistered securities sale, and thus illegal. Telegram disputes this: because the token sale operated through something called a SAFT, investors were simply buying the rights to receive Grams at a later date. This was supposed to circumvent securities laws.
The SEC isn't convinced, and, apparently, neither is the court. Judge P. Kevin Castel, of the New York Southern District Court, wrote in a letter last month that the SEC "has shown a substantial likelihood of success in proving that Telegram's present plan to distribute Grams is an offering of securities." Castel has upheld temporary injunctions against TON's launch.
But Telegram is charging on. It reportedly told investors that it is "continuing to engage in discussions with the relevant authorities" and that investors could be entitled to "Grams or potentially another cryptocurrency on the same terms as those in their original Purchase Agreements."
But for how much longer? TON was created to monetize Telegram, the 400 million-strong messenger app. Currently, Telegram doesn't run advertisements and relies on the cash of its billionaire founders, Pavel and Nikolai Durov, who made their money setting up the Russian version of Facebook, VKontakte.
Without TON, that money is running out. Without a sustainable business model, how long can the privacy-first messaging app stay afloat?
Silicon Valley venture firm Andreessen Horowitz on Thursday announced that it had raised $515 million for a blockchain and crypto venture capital fund. The money will be used to debut several new blockchains.
"It's very rare that major, new computing paradigms come along, and we think this is on the scale of cloud and mobile for the Internet," Chris Dixon, the Andreessen Horowitz partner who's co-managing the crypto fund along with colleague Katie Haun, told Fortune.
The pair wrote in a blog post that they're "excited" about a raft of different crypto projects, such as payments systems, digital stores of value, decentralized finance, Web3, and new ways for creators to make money.
"We think it's important to keep investing in the long-term development of the internet to address the needs of the coming decades."
They added, "In the same way that it wasn't obvious in 2007 how applications on top of mobile phones would change so many aspects of the ways in which we move, consume, travel, communicate, and even date, it's hard to imagine what the very best apps and use cases will be for blockchain-based computing platforms."
The firm's first crypto-fund raised $300 million. Among companies it invested in are decentralized stablecoin producer MakerDAO, lending protocol Compound and crypto exchange Coinbase. The firm also helped Ethereum competitor DFinity raise $163 million in two funding rounds.
Roger Ver—'Bitcoin Jesus,' Bitcoin investor, owner of Bitcoin.com, and er, Bitcoin Cash promoter—is sick of (but not because of) the lockdown.
"The lockdown is a disaster," Ver told Decrypt. "It is one of the worst things to happen to the US in a long long time. Arguably worse than 9-11."
Forcing people to stay inside to flatten the curve is "both morally and legally wrong," according to the staunch libertarian.
Ver's own company, Bitcoin.com, has laid off 10% of its staff in the past 12 months, he said in April. The cuts follow a drop in the price of Bitcoin Cash, which fell 71% in March. Ver declared that Bitcoin.com has become "a leaner more guerrilla team."
At Virtual Blockchain Week, Ver doubled down on his perceived attack against free will. "With coronavirus, they are literally telling people at what price they can or can't sell their toilet paper for," said Ver during the conference. With Bitcoin, you can sell toilet paper for as much as you like while avoiding the purview of the government.
"Anybody who studies economics knows that any time you have price control, that leads to shortages. You need to have the prices transmit the information as to what people want and what people don't want, and if you block those prices that need to change, you block that information to the economy."
Ver is from California, one of the US states hit hardest by the coronavirus pandemic.
Source: decrypt.co
Author: Decrypt / Robert Stevens
Previous
Next