Bitcoin Price Analysis: BTC/USD edges higher above $9,000
Bitcoin looks to close the week above $9,000.
Next technical resistance for BTC/USD aligns at $9,200.
After spending the first half of the day moving sideways near the $8,800 area, Bitcoin (BTC/USD) gained traction in the US afternoon. As of writing, the pair was up 2.05% on a daily basis at $9,005. If Bitcoin clings to its gains, it will post its first weekly close above $9,000 for the first time since mid-February and will extend its weekly winning streak to seven.
The RSI indicator on the daily chart is staying above the 70 handle for the third straight day on Saturday, suggesting that the pair could stage a technical correction before extending its rally. On the upside, $9,200 (Mar. 7 high) could be seen as the first technical resistance ahead of $9,480 (Apr. 30 high) and critical $10,000 (psychological level).
The initial support, on the other hand, is located at $8,400 (Apr. 30 low, static level). Below that level, strong $8,000 (psychological level, 100-day SMA, 200-day SMA) area is likely to keep the pair's losses limited there.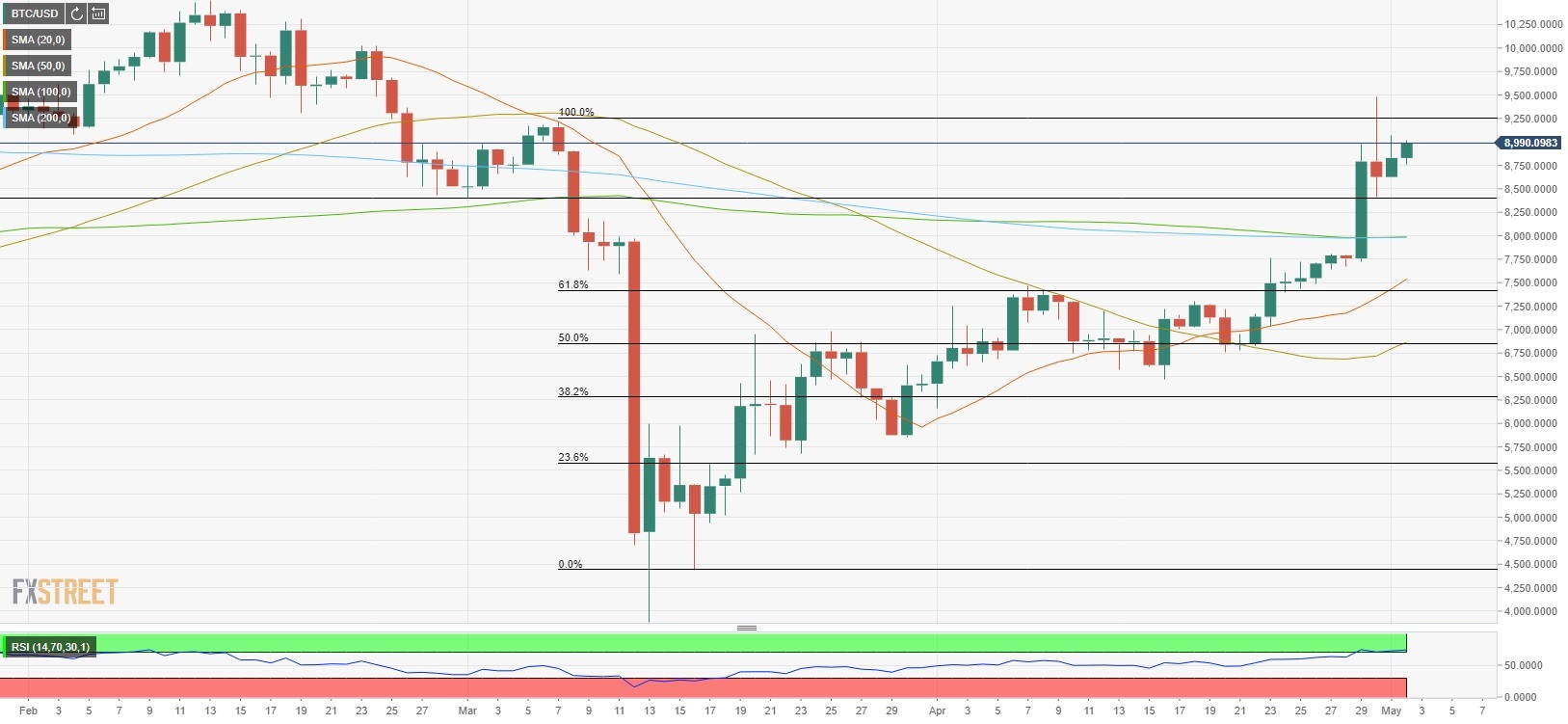 Source: www.fxstreet.com
Bitcoin's Halving: Stars are Aligning for Next Big Bull-Run
Could it ever be a good thing to have your salary cut in half? Ask a Bitcoin (BTC) miner and your answer might well be a resounding 'yes'.
The spotlight is on Bitcoin once again as people, traders and investors look to see how the asset will be perceived and move in the coming months during this global health crisis. Every four years the amount of BTC that's rewarded to miners is automatically halved. Satoshi Nakamoto baked this into the very heart of the protocol, starting at fifty bitcoins per block for the first 210,000 blocks. However, having passed through two halving events, the reward is down to BTC 12.5 per block and, on May 12, the Bitcoin reward will halve again to BTC 6.25 per block.
This means Bitcoin miners are literally about to have their income slashed by 50%.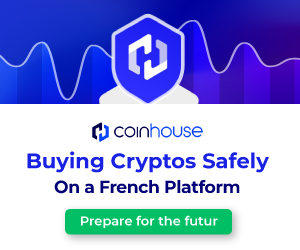 On the face of it, this looks bad for Bitcoin. Less money flowing through the system potentially means less miners can stay afloat, and that means less computing power securing the system. But Satoshi was brilliant in understanding that, while less Bitcoin was going into the hands of the miners, BTC would also become more scarce. If there's less bitcoin as an available asset on the market to satisfy the demand, the price of BTC will go up, potentially offsetting the reduction in rewards.
So far, it's all gone to plan, as with each of the two previous halving events the price of Bitcoin has risen significantly after the initial shock to the market subsided.
At the first halving the price went from USD 11 to over USD 1,100 a coin a year later. Then in 2016, BTC went from USD 600 to over USD 20,000 by the end of 2017. Is it the only catalyst that pushes the price in this direction? Certainly not, but is it a major factor? The rules of supply and demand would suggest it is.
It is also important to consider the psychological factors at play here. Miners know the halving is coming, so they can squirrel away funds to help them survive through meagre times, only to re-emerge into the promised land of the USD 100,000 per bitcoin price level only one or two years later. Then there are the expectations of the wider market itself, could the halving be a self-fulfilling prophecy prompting everyone to pile in expecting the giddy heights of six digits? Narratives in the world of blockchain act like the Force in Star Wars, they mysteriously move and shape the market and in terms of the halving, the Force is strong with this one.
There are those however that suggest the event is 'priced in' as it's known so far in advance and the market can prepare for it, as if the market were akin to some kind of well organized military parade. Let's not give the market more respect than it's due, especially considering some of the coins propping up the top ten list should have disappeared long ago.
They shall stay nameless here, but there are at least three coins that I'd say were either simply clones of other people's hard work, entirely centralized or hailed from such fraudulent beginnings that they should be consigned to a far lower rung on the index ladder. Further, even if the market were perfectly in sync with future events, it says nothing about bitcoin's ability to still appreciate in value, lest we forget how early we still are in terms of adoption.
What is different about the market this time around however is the ability to short the asset on new institutional grade exchanges that have far greater liquidity available than ever before. This could provide a counterbalance to the frothy heights of a bull run getting carried away with itself and potentially reduce the possible peaks where miners would be looking to offload reserves to keep the lights on. However in terms of actual supply and demand, a robust derivatives market does nothing to affect this, if there are more people entering the market, the price will still go up.
So, in the short term, you couldn't be blamed for getting a little excited about what's to come. Many will be keeping their eyes firmly on the charts as we approach three to six months after the halving. Will we see a third parabolic rise in price?
It's almost as if the Bitcoin protocol knows it has to find a higher price floor in order to keep supplying its miners with expensive enough bitcoin to keep the lights on and continue keeping the Bitcoin network secure.
But this does beg the question, what if it doesn't? Could the halving mechanism be the protocol's Achilles heel?
Certainly, there are many in the "inflationary protocol" camp that believe to have a thriving mining community the protocol should reward miners indefinitely without halving the supply every 4 years. Alas, to know which camp is correct will take decades to play out, so, for now, it will be swept under the carpet and instead everyone will simply start placing their bets on bitcoin's next move.
Source: cryptonews.com
Author: By George McDonaugh
Can Bitcoin Price Eclipse $10k Before Halving? Here's What Analysts Think Will Happen ⋆ ZyCrypto
Bitcoin on April 29, reached the $8,000 mark for the first time since Mid-March and a vital factor behind the surge is attributed to the incoming halving event. The Bitcoin halving event has a proven track record of spiking the price value of the digital coin pre and post-event as Bitcoin has seen unprecedented rises in days leading to the event as well as afterward.
Bitcoin has achieved gains for seven consecutive days, a feat which was last achieved in June last year, which saw the price of the digital coin rise to $13,000, last year's high. Bitcoin started the year strongly and saw an increase of over 40% in its value the next month as its price smashed through the $10,000 barrier, the first time in over five months.
Its looming halving event was still attracting investors as most of them were looking to make gains off the wave. The increase of investors saw its price rise further to $10,127 within days before starting to dwindle.
With just a few days to the much-anticipated event, it seems the momentum has kicked in as Bitcoin's price has picked itself up and looks set to explode. Bitcoin climbed above $9,000 in the early hours of Thursday and hit $9,400 before falling to its current price of $8,827. The sudden jump in the price of the digital coin which has seen an increase of over $1,500 suggests that the price is finally ready to make use of the momentum around its halving.
Now the question investors and experts are asking is whether Bitcoin can reach the $10,000 mark before the halving event. Reports from many crypto analysts state that the number of "actual participants or investors in the Bitcoin market is also reaching new highs, all in preparation for the halving event. Earlier last month, data from Google trend showed that the interest in this years' halving event had risen by 16% as compared to the last event in 2016.
What future awaits cryptocurrencies?
This year's Bitcoin halving couldn't have happened at a better time with regards to the current global economic woes. The rate of uncertainty in the world of finance, especially traditional finance entities and assets, positions Bitcoin at a better place.
Many economies are in decline as well as currencies such as the US dollar. With the global pandemic not stopping soon and fears of inflation gripping most countries, people would be forced to switch from traditional assets to cryptocurrencies and what other cryptocurrency is there to invest in other than Bitcoin, with the incoming halving event garnishing its status.
With current events unfolding, sentiments from market pundits, analysts, and industry leaders suggest the price of Bitcoin will likely retest the $10,000 level before the said date of its halving event.
Get Daily Crypto News On Facebook | Twitter | Telegram | Instagram
The views expressed in the article are wholly those of the author and do not represent those of, nor should they be attributed to, ZyCrypto. This article is not meant to give financial advice. Please carry out your own research before investing in any of the various cryptocurrencies available.
Source: zycrypto.com
Author: Mr OakCryptocurrency Fanatic And Skilled Writer.
Contact: Oppong.Ansah [at] zycrypto.com
Bitcoin, Cryptocurrency, Finance & Global News – May 3rd 2020
Опубликовано: 2 мая 2020 г.
Bitcoin, Cryptocurrency, Finance & Global News – May 3rd 2020
In this week's market update we cover all the latest headlines from Australia, US, China, Europe & other global markets. Including coronavirus update, stocks, gold, silver, oil, bonds, real estate & currencies. The financial world & macro economic policy is now well intertwined with Bitcoin & cryptocurrency markets. We also look at all the latest cryptocurrency & blockchain news headlines for Bitcoin, Ethereum & major Altcoins. With so much debt globally & rising inequality, we are now witnessing another global financial crisis & economic collapse could be approaching. We believe central banks will unleash more fiscal spending, MMT, QE & negative interest rates to drive asset prices higher & inflate away the debt. Gold, Silver, Bitcoin, Ethereum & cryptocurrency are our best chance at a new fairer system & protecting your wealth. #Bitcoin #Finance #Economics
TIMESTAMPS:
0:00 (To be posted soon)
🎓 Free education & resources: https://nuggetsnews.com.au/
FTX
Thanks to our sponsorship partner FTX, you can double your discount on trading fees by using our link. With FTX you can access the best range of currencies & crypto trading products built by former wall street quant traders.
FTX Discount Fees: https://ftx.com/#a=Nugget
FTX Tutorial: https://youtu.be/1v5dnHJ6LL8
New Brighton Capital
Thanks to our sponsorship partner New Brighton Capital, get no fees for a month (valued at $140) when you set up a Crypto SMSF & use the code: NUGGET. New Brighton Capital is the easiest way to access gold, silver, bitcoin & cryptocurrencies in your self managed super fund. https://newbrightoncapital.com/nugget
Discount On Marin's Research (Load in incognito mode if not working): https://subscribers.katusaresearch.co…
How To Invest In Gold & Silver: https://nuggetsnews.com.au/resources/…
Join Our Community: https://nuggetsnews.com.au/nuggets-cr…
🔔 Did you enjoy this video? SUBSCRIBE for more: https://www.youtube.com/c/nuggetsnews…
📹 For more Resources & Content: https://nuggetsnews.com.au
🎙 Always on the go? Tune in on your favourite Podcast app: https://lnk.to/nuggetsnews
#️⃣ Connect with us:
Twitter: https://twitter.com/NuggetsNewsAU
Facebook: https://www.facebook.com/nuggetsnews
LinkedIn: https://www.linkedin.com/company/nugg…
Instagram: https://www.instagram.com/nuggetsnewsaus
Reddit: https://www.reddit.com/user/nugget_alex
_________
❗ DISCLAIMER ❗
Alex Saunders is not a Financial Adviser. All opinions expressed by Alex Saunders or his guests in this video are for informational purposes only and should not be treated as investment or financial advice of any kind.
Any information provided during the video is general in nature and does not take into account the viewers specific circumstances. Nugget's News and its individual team members are not liable to the viewer or any other party, for the viewer's use of, or reliance on, any information received, directly or indirectly, from the video in any circumstances.
The viewer should always:
1. Conduct their own research,
2. Never invest more than they are willing to lose,
3. Obtain independent legal, financial, taxation and/or other professional advice in respect of any decision made in connection with this video.
Source: www.youtube.com
Ethereum 2.0 launch and Bitcoin halving are 2 perfect catalysts for a bull run
Both Bitcoin and Ethereum have seen stellar performances from their 2020 lows, both gaining 140 percent since the "Black Thursday" crash seen on Mar. 12 and 13.
While impressive, top analysts expect for these two leading cryptocurrencies to head even higher in the months and years ahead, citing the imminence of two of the most important events ever in the calendars of Bitcoin and Ethereum holders.
According to David Hoffman — COO at tokenized real estate platform RealT and the co-head of the Bankless podcast and newsletter — there are two fundamental events in the coming months that will act in tandem to be a perfect bull market catalyst: the Bitcoin block reward halving and the introduction of Ethereum 2.0 in the summer.
Hoffman was so convinced of this that he wrote that "if that's not a catalyst for a bull market, then nothing is."
Ethereum 2.0 phase 0 expected end of summer.
Staking goes live.
ETH 2 execution risk significant reduction.
Meanwhile, Bitcoin halvening in 2 weeks.
If that's not a catalyst for a bull market, then nothing is.
— DavidHoffman.eth (@TrustlessState) April 30, 2020
Other analysts would agree.
In approximately 10 days as of this article's writing, Bitcoin will see its inflation rate instantly cut in half by a halving, when the number of coins per block is cut in half by the protocol.
It's an event that a top quantitative analyst with the moniker of "PlanB" found will give Bitcoin a fair value of around $288,000, over 3,000 percent higher than the current market price. This high value was derived by finding that BTC's market capitalization can be derived by analyzing its inflation rate.
Adding to the bull trend, in a few months, Ethereum developers will roll out Ethereum 2.0. It's an upgrade that will move the cryptocurrency awake from a mining consensus mechanism to staking, which incentivizes dedicated holders to stake their coins in exchange for rewards.
As Hoffman explained in a recent episode of Bankless, the introduction of staking will strongly decrease the amount of ETH on the open market, resulting in a supply shock that will favor price appreciation.
This was echoed by Adam Cochran, partner at MetaCartel Ventures, who wrote that the introduction of ETH 2.0 will create a massive societal economic shift.
Adding to these fundamental trends, analysts have observed that the macroeconomic backdrop is starting to favor decentralized cryptocurrency more and more.
As reported by CryptoSlate on an earlier date, Raoul Pal — an ex-Goldman Sachs executive and former hedge fund manager — suggested in a research note that he sees a genuine chance that there is a risk of "the failure of our very system of money" or at least a collapse of the "current financial architecture."
This comment was made in reference to the fact that central banks are starting to debase their currencies at a record rate while there's a growing chance that some of the $250 trillion worth of global debt starts to unwind. Add potential deflation into the mix, Pal wrote, and you have a potential for fiat money to come under pressure.
According to the prominent investor, that's where crypto comes in. On Bitcoin, in particular, Pal said:
"It is an entire trusted, verified, secure, financial and accounting system of digital value. […] It is nothing short of the future of our entire medium of exchange system, and of money itself and the platform on which it operates."
Cover Photo by San Fermin Pamplona – Navarra on Unsplash
Get our daily newsletter containing the top blockchain stories and crypto analysis straight to your inbox.
A decentralist at heart, Nick has shown interest in Bitcoin and cryptocurrencies since 2013. He has since joined this industry as a full-time content creator, focusing on written content and visuals. Aside from working with other leading trade publications, Nick is a part-time creative at HTC's Bitcoin division, EXODUS. He is based in Canada, where there is an apparent lack of industry events.
Commitment to Transparency: The author of this article is invested and/or has an interest in one or more assets discussed in this post. CryptoSlate does not endorse any project or asset that may be mentioned or linked to in this article. Please take that into consideration when evaluating the content within this article.
Disclaimer: Our writers' opinions are solely their own and do not reflect the opinion of CryptoSlate. None of the information you read on CryptoSlate should be taken as investment advice, nor does CryptoSlate endorse any project that may be mentioned or linked to in this article. Buying and trading cryptocurrencies should be considered a high-risk activity. Please do your own due diligence before taking any action related to content within this article. Finally, CryptoSlate takes no responsibility should you lose money trading cryptocurrencies.
Source: cryptoslate.com
Author: AuthorNick Chong Twitter LinkedIn Analyst @ CryptoSlate
Previous
Next