Bitcoin (BTC) Price to Target $10,000 if it Breaks Monthly Resistance: Top Analyst
Yuri Molchan
Bitcoin remains in the $7,700 area, trying to break through the resistance. A top analyst and trader reveals one condition under which BTC could skyrocket toward $10,000
The flagship cryptocurrency has been trading above the low $7,000 area for a few days now. On April 24, it managed to make an abrupt rise from $7,087 to $7,465. Then the ascent continued to the current value of $7,746, where BTC is testing a resistance.
A cryptocurrency trader and analyst with an impressive amount of followers (153,800) says that he may long his 'disbelief with a $10,000 target' if the following happens.
He tweets:
Back in March, trader @IamCryptoWolf shared a video on TradingView, suggesting that BTC was likely heading for the $10,000 level. The video is dated March 13, which was the second day of the Bitcoin blood bath.
Now, the trader has retweeted a screenshot, saying: "Yes, I believe it is still in play."
He has also spoken his mind on those looking forward to shorting Bitcoin when it reaches the $8,000 zone or comes close to it.
Trader 'Smokey', who works with the Ichimoku cloud system is also bullish on upcoming Bitcoin moves.
Yuri is a journalist interested in technology and technical innovations. He has been in crypto since 2017. Believes that blockchain and cryptocurrencies have a potential to transform the world in the future. 'Hodls' cryptocurrencies. Has written for several crypto media. Currently is a news writer at U.Today, can be contacted at [email protected]
Source: u.today
Author: Tue, 04/28/2020 – 12:55
Bitcoin Adoption High Amid Bitcoin Halving, No. of Bitcoin (BTC) Wallets Holding At Least 0.1 BTC Hit ATH
Over 3 million Bitcoin wallets hold at least 0.1 BTC for the first time in history.
Does the increase in account wallets signal a possible bullish run heading into Bitcoin's halving?
The number of Bitcoin wallet addresses holding at least 0.1 BTC (~$770 USD) hit an all-time high (ATH) on April 28, 2020. The total number of wallets holding this at least 0.1 BTC has skyrocketed in the past few months to reach 3,011,525 wallet addresses at the time of writing. Is the soar in the number of BTC addresses holding small amounts an indication of retail buyers flocking into the market?
Could this spike in retail users of the top crypto signal a possible bullish run in BTC's market as we approach the third halving in May?
Bitcoin wallets holding at least 0.1 BTC at its highest point yet as retail adoption rates spike heading into Bitcoin's block reward halving. The total number of BTC addresses holding between 0.1 BTC and 1 BTC currently stands at 2,189,582 addresses – the largest share in the pool. The next band of HODLers wallets holding between 1 and 10 BTC stands at 657,211; 10-100 BTC at 138,648 addresses and 100-1,000 BTC at 13,976.
Large Bitcoin wallets, holding above 1,000 BTC are yet to cross the 3,000 thresholds with 2000 wallets holding between 1,000 BTC and 10,000 BTC; and 108 wallet addresses holding 10,000-100,000 BTC.
Topping the list is three huge wallet addresses owned by the top crypto exchanges – Huobi, Bitfinex, and Binance. Huobi exchange currently holds around 255,502 BTC or $1.9 billion worth of BTC.
Bitcoin newbies and retailers are getting into the bandwagon quickly as seen by data collected on Glassnode. The total number of addresses holding at least 0.1 BTC has shot up by 16.1% since last year April. This growth however is not an uncommon fundamental advantage of Bitcoin as the wallets have been increasing since the "2018 user capitulation" in March.
After hitting a yearly low of 2.31 million BTC addresses in Mar 2018, interest from retail customers (who hold less than 1 BTC) shot up reaching a peak of 2.8 million addresses on October 24th, 2019, representing a mammoth 23% increase in 18 months.
Despite Bitcoin prices falling below $3,800 in March this year, the growth of BTC addresses soared even further boosted by 6% from the end of February to today's all-time highs. The rising number of addresses accumulating greater amounts of BTC is a sign that the adoption of BTC as a store of value is increasing.
Do you think the increasing retail wallets offer a bullish signal for BTC heading to its halving?
Summary
Article Name
Bitcoin (BTC) Addresses Holding At Least 0.1 BTC Hit ATH, Bullish Signals For BTC?
Description
Author
Publisher Name
Publisher Logo
To get the daily price analysis, Follow us on TradingView
Been in the field since 2015 and he still love everything blockchain and crypto! FC Barcelona fan. Author and journalist. Follow him at @lujanodera.
Source: coingape.com
S2F Bitcoin Price Model's Author Strikes Again With USD 288K Target
A new twist of the popular bitcoin (BTC) stock-to-flow (S2F) model has recently been published by the model's pseudonymous creator Plan B. And judging from the updated model, S2F believers may now hope that BTC will hit almost USD 300 in a few years.
The updated price model, dubbed the Bitcoin S2F Cross Asset Model (S2FX), takes into account not only bitcoin, but two other assets with similar stock-to-flow properties in the sense that they are all mined and held by investors, namely gold and silver.
By dividing bitcoin's history into separate price clusters based on the dominant "narrative" at the time for what bitcoin really is, the S2F creator came up with the conclusion that bitcoin over time has been widely seen as:
"Proof of concept"
"Payments"
"E-Gold"
What future awaits cryptocurrencies?
"Financial asset"
Calculating market value and stock-to-flow for bitcoin during these periods, while also doing the same for gold and silver, gave a model of the four bitcoin clusters and gold and silver, which together formed a near-perfect line on the chart, Plan B explained.
According to the author, the model can also be used to estimate the market value of bitcoin during the next narrative phase – or price cluster in the model – for the period between 2020 and 2024. Given a bitcoin stock-to-flow of 56 in 2020-2024, Plan B calculated bitcoin's market capitalization to be USD 5.5 trillion for this period, compared to a little more than USD 142 billion today.
"This translates into a BTC price (given 19M BTC in 2020–2024) of USD 288K," the analyst wrote, while pointing out that this is "significantly higher than [the] USD 55K in the original study."
Last year, Plan B said that "before Christmas 2021 bitcoin should be, or should have been, above USD 100 K; if not, then all bets are off and [the S2F modele] probably breaks down."
In conclusion, Plan B now wrote that S2FX model serves to "solidify the basis of the current S2F model by removing time and adding other assets (silver and gold) to the model," while adding that the "phase transitions" used in the model introduce a new way of thinking about bitcoin as it transitions into its fifth phase.
The new work was cheered by some on Twitter, including prominent investors like Real Vision founder Raoul Pal, who noted that the model has great potential for valuing not only bitcoin, but also other similar assets:
This is what I saw in @100trillionUSD model when he first revealed it. It gives a great valuation for not only bitc… https://t.co/OPKMWcn2OL
Pal himself recently said that BTC price might reach USD 1 million within the next few years.
Plan B's work has, however, been met with skepticism by members of the community, with for example the well-known Bitfinex trader J0E007 writing on Twitter that "Plan B made a step in the right direction," although the new model still needs to be confirmed with even more assets before it has his full support.
Previously, Eric Wall, Chief Investment Officer at crypto asset management firm Arcane Assets, has also expressed doubts about the model, claiming that the S2F model is based on flawed logic that "almost no one understands."
At pixel time (12:54 UTC), BTC trades at c. USD 7,752, and is unchanged in a day. The price is up by 27% in a month and 48% in a year.
Source: cryptonews.com
Author: By Fredrik Vold
Bitcoin (BTC) Price Enters 'Hope Zone,' Signaling Start of Another Bull Market
Alex Dovbnya
On-chain data shows that Bitcoin (BTC) could be on the brink of another massive bull run
On-chain data provider Glassnode has noticed that Bitcoin has entered a so-called 'hope zone' in the run-up to the May 12 halving.
Bitcoin made investors hopeful in early 2020 with a 50 percent rally to its yearly high of $10,500. However, this was followed by a massive capitulation in March when COVID-19 fears came to a head.
The new gleam of hope comes just 13 days before the next Bitcoin (BTC) halving, which is widely expected to kickstart another bullish cycle. Dutch analyst Plan B predicted that the BTC price could reach a staggering $288,000 before its fourth reward cut in 2024 based on his new S2F model.
Alex Dovbnya (aka AlexMorris) is a cryptocurrency expert, trader and journalist with extensive experience of covering everything related to the burgeoning industry — from price analysis to Blockchain disruption. Alex authored more than 1,000 stories for U.Today, CryptoComes and other fintech media outlets. He's particularly interested in regulatory trends around the globe that are shaping the future of digital assets, can be contacted at [email protected]
Source: u.today
Author: Tue, 04/28/2020 – 19:32
We Are Now 99% of the Way to Bitcoin's Next Halving
The long-awaited halving event is so close. As of the latest block, we are 99% of the way there.
Bitcoin Block Bot (@BTCBlockBot) had a fun announcement to make recently. As of block 627,900, we are 99% of the way through until Bitcoin's halving event. As of now, the halving is expected to take place on May 12.

However, there has been much debate over how the price of Bitcoin will respond to its halving this time around. Strangely enough, Bitcoin's RSI has never been this weak before a halving event. This has led some to caution that Bitcoin's halving may be 'priced in' and that it may end up being a non-event compared to 2016. Nonetheless, there has been some indication that institutional investors are eyeing the leading cryptocurrency on the eve of its halving.
Analysts at Morgan Creek Digital and elsewhere have maintained that Bitcoin will sink lower as we approach the halving—only to explode to an all-time high by September. This prediction, however, remains far bolder than most have put forward.
One interesting detail about the upcoming halving event is that Bitcoin's inflation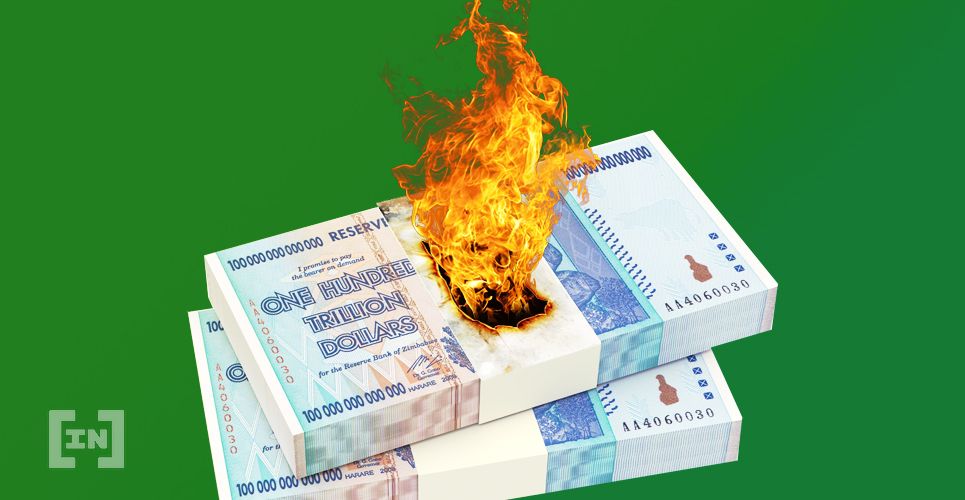 Most people who know anything about the economy have heard the word inflation. It is usually thrown around as a… More will be significantly lower than fiat currencies.
As analyst Mati Greenspan recently pointed out, Bitcoin's annual inflation rate will be 1.8% after the halving. The average inflation rate for fiat currencies globally is 3.41% by comparison. This, in and of itself, will make Bitcoin a more attractive asset.
However, we are currently amid a deflationary crisis. So, the verdict is still out on whether this low inflation rate will prove attractive to investors in the short-term. However, it is commonly said that inflationary pressures tend to rise after periods of high deflation—so Bitcoin's long-term prospects remain strong.
Source: beincrypto.com
Author: Illustrations by A. Gnetova and G. Phan
Bullish for Bitcoin: Data Shows "Regulation Sensitive" Institutions are Long
As Bitcoin's mining rewards halving fast approaches it appears that some notable investors are taking notice
Data suggests that large regulation-sensitive institutions are going long on BTC
This comes in tandem with a massive spike in accumulation rates from Bitcoin whales, signaling that investors across the board are anticipating some bull-favoring volatility
Bitcoin's highly anticipated mining rewards halving event is less than two weeks away, and cryptocurrency investors are on the edge of their seats as they closely watch to see how it may impact the crypto's price.
The assumption that this event will help propel Bitcoin higher hinges solely on the notion that it is not currently being priced in by investors. This seems rather unlikely, meaning that it may lead to great disappointment.
Data shows that some large investors are expecting BTC to see upside in the mid-term, although this bullishness may not stem from the halving.
Bitcoin's uptrend in the time following its capitulatory decline to lows of $3,800 has boosted investor sentiment, signaling to many that this price may mark a long-term bottom that is followed by significant upside.
It appears that small investors aren't the only ones who are expecting the benchmark cryptocurrency to climb higher in the days and weeks ahead, as data seems to suggest that large institutional investors are also going long on BTC.
One respected pseudonymous crypto analyst on Twitter spoke about this data in a recent tweet, explaining that CME futures are currently trading at a notable 1% premium against futures on crypto-native platforms.
"Front month CME futures have lifted to a 1% premium vs. BTC spot while crypto-native platform futures lag at par. Regulation-sensitive Western institutionals and older brokerage clients signaling more optimism into halving than other participants," he explained.
Institutions aren't the only notable investors going long on Bitcoin, as the cryptocurrency's so-called whales have also been accumulating heavily in recent times.
Data from research and analytics platform Glassnode elucidated this trend in a tweet from earlier this month, showing that this accumulation is a historically bullish sign.
"The number of $BTC whales continues to grow, hitting 2-year highs – the last time we saw this many during an accumulation phase was in 2016. This becomes interesting when we compare it with the last Bitcoin halving," they noted.
The halving is certainly a bullish event from a long-term perspective, but its short-term bullishness is questionable.
With that being said, the cryptocurrency's technical and fundamental strength on its own – regardless of the halving – could be the reason why investors are growing so bullish on Bitcoin.
Featured image from Unsplash.
Source: bitcoinist.com
Previous
Next