Bitcoin Buyers Lose Control, But 2 Key Technicals Show One Last Rally is Imminent
Bitcoin is struggling to surpass the $7,800 resistance area against the US Dollar. It seems like BTC price could dip towards $7,600 or $7,400 before a fresh rally towards $8,000.
Bitcoin made two attempts to clear the $7,800 hurdle against the US Dollar, but it failed.
The price is showing a few bearish signs and it could correct towards $7,600 or $7,400.
It is testing a major bullish trend line with support near $7,700 on the hourly chart of the BTC/USD pair (data feed from Kraken).
The pair could correct a few points, but a run towards the $8,000 resistance is still on the cards.
In the past two sessions, bitcoin made two attempts to clear the $7,800 hurdle against the US Dollar. However, BTC price seems to be losing bullish momentum above $7,700 and it could correct lower in the near term.
The recent high was formed near $7,796 and the price is currently moving lower. It declined below the 23.6% Fib retracement level of the upward move from the $7,485 swing low to $7,796 high.
Bitcoin price is now testing a major bullish trend line with support near $7,700 on the hourly chart of the BTC/USD pair. If there is a successful close below the trend line support and $7,700, there is a risk of more downsides.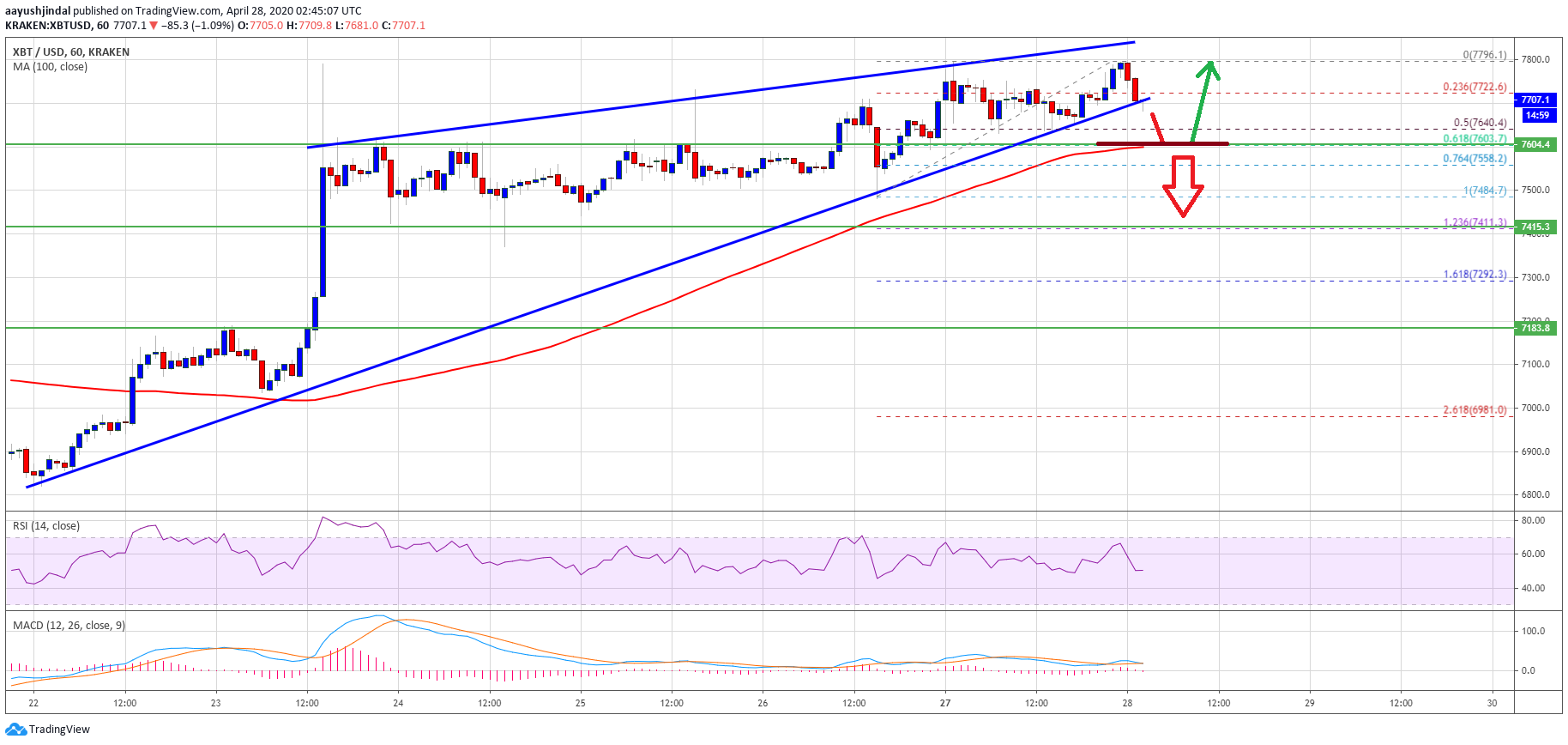 The next support is near the $7,640 level. It represents the 50% Fib retracement level of the upward move from the $7,485 swing low to $7,796 high. The main support is near the $7,600 level and the 100 hourly simple moving average.
If the bulls fail to protect the $7,600 support area (the recent breakout zone), there could be an extended decline. In the mentioned case, the price is likely to continue lower towards the next major support at $7,400.
In the near term, an upside thrust towards the $8,000 level is possible. If bitcoin price stays above the $7,600 support or the $7,400 uptrend pivot, there are chances of a run towards the $8,000 level.
Any further gains are likely to be limited, considering a major near the $8,000 level (as discussed in one of the previous analyses using the daily chart).
Technical indicators:
Hourly MACD – The MACD is now moving in the bearish zone.
Hourly RSI (Relative Strength Index) – The RSI for BTC/USD is currently declining and it is just below the 50 level.
Major Support Levels – $7,600 followed by $7,400.
Major Resistance Levels – $7,800, $8,000 and $8,080.
Source: www.newsbtc.com
Author: Aayush Jindal
Crypto Whale Controlling Massive $525,000,000 Bitcoin (BTC) Fortune Attains New Status As Long-Term Holder
A truly gigantic Bitcoin whale holding 68,000 BTC worth $525,000,000 is now officially a long-term holder of the cryptocurrency fortune.
According to Coin Metrics, the investor in question has not moved a single Bitcoin since April of 2015, suggesting he, she or they is in it for the long haul.
Crypto data firms closely track how much Bitcoin is on the move in order to assess the health of the network and gauge the level of interest among investors. The higher the number of long-term holders, the more scarce the asset becomes as the network slowly creeps toward its total supply of 21 million coins.
Coin Metrics reports that the whale's new status caused a noticeable shift in the research firm's active supply band indicator.
"A large Bitcoin whale just graduated to a 5 year HODLer. Last week 68,000 BTC moved out of the 5 year active supply band, indicating that the last time they moved on-chain was in April 2015."
In addition to simply holding onto the BTC as a long-term investment, there's another factor that could explain why the whale's cryptocurrency has remained in place for so long.
According to the blockchain data analytics firm Chainalysis, between 2.3 and 3.7 million BTC are likely lost forever, meaning that the owner has lost the private keys required to access their holdings.
The high end of that estimate represents about one-fifth of Bitcoin's market capitalization. Chainalysis calculates the figure, in part, by assuming that wallets containing BTC that have been at a standstill since before 2014 will forever be inaccessible.
Source: dailyhodl.com
INSANE CHART!!! BITCOIN HALVING NOW PARABOLIC ON GOOGLE!! BTC BREAKOUT IMMINENT!!!?
Опубликовано: 27 апр. 2020 г.
SUBSCRIBE!! Bitcoin Technical Analysis & Bitcoin News Today: I'll use technical analysis on the Bitcoin price to make a Bitcoin price prediction. Watch the video to learn more!
Top 3 Bitcoin Trading Platforms:
🥇Bybit: http://bit.ly/MoonBybit $1,500 BONUS
🥈Phemex: http://bit.ly/MoonPhemex $112 BONUS
🥉PrimeXBT: http://bit.ly/MoonPrimeXBT
DISCLAIMER: Trading Bitcoin is VERY risky, and 80% of traders don't make money. Make sure that you understand these risks if you are a beginner. I only recommend crypto trading to already experienced traders!
🔻 AFFILIATE LINKS BELOW 🔻
Best Bitcoin Books: https://amzn.to/2XvdTvv
💛 Bybit $1,500 Bonus: https://www.bybit.com/app/register?re…
First deposit ≥0.5BTC for Up To $1,500
💙 Phemex $112: http://bit.ly/MoonPhemex
First deposit ≥0.2BTC for Up To $112
🌙 BITCOIN TRADING:
⭕️ Bybit $90 Bonus: http://bit.ly/MoonBybit
⭕️ Phemex $112: http://bit.ly/MoonPhemex
⭕️ PrimeXBT $100 Bonus: http://bit.ly/MoonPrimeXBT
⭕️ BitMEX [WARNING]: https://www.bitmex.com/register/NJu3r0
⭕️ 3Commas 10% OFF: https://3commas.io/?c=tc170590
🌙 BUY BITCOIN WITH FIAT ($ €):
⭕️Kraken: https://r.kraken.com/vkqa3
⭕️Coinbase: http://bit.ly/MoonCoinbase10FREE
🌙 EVERY BITCOIN INVESTOR NEEDS:
⭕️ Binance 20%: https://www.binance.com/en/register?r…
⭕️ BlockFi: https://blockfi.mxuy67.net/kKVDn
⭕️ NordVPN 70% OFF: http://bit.ly/TheMoonNordVPN
⭕️ Tradingview: https://tradingview.go2cloud.org/SH2gX
⭕️ Brave Browser: https://brave.com/the406
⭕️ Ledger Wallet: https://www.ledger.com?r=f988
⭕️ Unstoppable Domains: https://unstoppabledomains.com/r/3bcd…
🔺 AFFILIATE LINKS ABOVE 🔺
I don't do sponsorships, so I have these affiliate links above for products I personally use, to keep this channel profitable. Also, I don't accept donations, use that money to invest in yourself or buy Bitcoin! If you want to support me, use any of the affiliate links above and leave a like & subscribe! THANK YOU!
🧢Follow me on Twitter: https://twitter.com/themooncarl
🔥Watch THESE Videos! 🔥
📺 https://www.youtube.com/watch?v=4dnID…
📺 https://www.youtube.com/watch?v=n2brs…
#Bitcoin #BTC #BitcoinNews
Carl Eric Martin (The Moon)
Source: www.youtube.com
Bitcoin Price: 5 Things to Know for Crypto Markets This Week (4/27)
Bitcoin (BTC) has consolidated gains nearer $8,000 — but does the coming week have in store for the asset leaving stocks in the dust?
After jumping 10% in a day last week, BTC/USD has managed to keep hold of its gains over the weekend. Cointelegraph considers the major factors which traders should keep an eye on to avoid a nasty surprise.
Stocks continue to move higher, and Bitcoin continues to move in line with stock market sentiment.
While reducing its correlation in recent weeks, Bitcoin still remains sensitive to major moves on Wall Street. This week, prices there continue to trend upwards, but all is not what it seems, analysts warn.
"Sharp declines in market breadth in the past have often signaled large market drawdowns," Bloomberg quoted strategists at Goldman Sachs as saying on April 27.
Narrow breadth can last for extended periods, but past episodes have signaled below-average market returns and eventual momentum reversals.
Bitcoin versus S&P 500 3-month chart. Source: Skew
The warning that current swift gains could turn to losses capitalizes on existing concerns about the paradoxical status quo on markets. Despite millions of newly unemployed, small business implosions and trillions of dollars of money printing, stocks keep improving.
Oil is steaming ahead with its protracted sell-off. In Asian morning trading on Monday, WTI plunged by almost 10%, while Brent slumped 3.2% to near $20 a barrel.
No respite seems in sight for a market hammered by unprecedented negative prices last week — demand is unlikely to pick up for several months, while storage facilities have all but run out.
A previous effort by OPEC+ countries to cut production was not enough, commentators have said.
Bitcoin is overall impacted less by oil's issues than those of other markets.
Central banks continue to pump more worthless cash into the stricken and increasingly "neo-feudal" economy.
On Monday, it was the Bank of Japan's turn to announce a flood of paper, signaling it would buy unlimited bonds in order to incentivize borrowing.
Questions remain over whether the United States Federal Reserve and European Central Bank will follow suit, the former having already inflated its balance sheet to a record $6.6 trillion.
For Bitcoin network participants, meanwhile, the picture is increasingly — and verifiably — positive.
Hash rate has recovered well since it dipped following the March price crash, consolidating at around 115 quintillion hashes per second (h/s). According to estimates from Blockchain, this is just 7 quintillion h/s below all-time highs seen earlier last month.
Mining difficulty is also set for a healthy uptick of 3.2% at the next adjustment in around eight days' time. This follows a larger 8.5% boost that Cointelegraph reported on previously.
Overall implied volatility, monitoring resource Skew notes, is now also almost back at early March levels.
It is now just over two weeks until the third Bitcoin block reward halving. At that point, Bitcoin's block subsidy will drop from 12.5 BTC to 6.25 BTC per block.
This reduces miner income significantly, while also drives up Bitcoin's stock-to-flow ratio, as there will be fewer "new" Bitcoins created relative to the existing supply.
Some analysts have become worried that the drop in revenue will spark problems for miners, but the creator of the seminal stock-to-flow price model for Bitcoin now believes otherwise.
"2012&2016 halving data shows that difficulty will NOT adjust downward, but will keep rising post halving," a tweet from PlanB on Friday reads.
Miners have ALREADY invested in new hw and are prepared for -50% revenue.
Source: cointelegraph.com
Author: William Suberg
Cardano founder Charles Hoskinson: Bitcoin (BTC) is an example of low development velocity
Charles Hoskinson, the CEO of Cardano (ADA) parent IOHK, went to YouTube to answer questions regarding the recent launch of the Daedalus wallet and the current state of the Cardano network. Hoskinson said that Daedalus has been a tremendous success, the only issues due to sync times happening to users with older Windows operating systems. The recent audit by company Root9B will be one of many audits of Cardano's code, with other companies selected for the role in the future.
The launch of the Daedalus mainnet wallet version 1.0.0 has been a tremendous success both for IOHK as a company and Cardano as a network. These are the words of Charles Hoskinson, the CEO of IOHK and founder of Cardano, who took to YouTube to answer some of the questions regarding the current state of Cardano.
In the AMA, Hoskinson said that Daedalus had shipped with very little issues. Almost all of the issues users reported were about instant crashes and extremely long sync times, which received a significant amount of press despite being minuscule in the grand scheme of things.
According to Hoskinson, a good deal of those cases came from users that have downloaded the wallet on operating systems that aren't supported by the code. Those running Windows 8 or lower were most likely the ones that have experienced the majority of the issues, which is why IOHK is looking into blacklisting these operating systems in the near future.
Hoskinson said the decision to do so was very reasonable, especially considering the fact that Microsoft itself has discontinued support for operating systems lower than Windows 8.
Aside from the crashes, some users have also complained about lengthy sync times. This, Hoskinson said, is an anomaly as most users are reporting sync times between 50 minutes and two hours. Nonetheless, IOHK is looking into the problem and suspects that a rare configuration caused the delays. This is often the case when building products for Windows, Hoskinson said, which is why IOHK wrote the Daedalus code for the most common configuration.
One of the most prevailing questions regarding the current state of Cardano was the issue of the Cardano treasury. Set up as a fund to be used to further Cardano's development when IOHK's mandate runs out, the treasury is endowed partly with newly minted ADA) and transaction fees.
Hoskinson said that the Shelley Incentivized Testnet (ITN) was set up so that there was inflation at every slot, which then got divided into two buckets—one for the rewards and one for the treasury. When Shelley is finally activated, all of the rewards from the ITN will get moved to the mainnet, including the treasury.
However, the transaction fees on the Cardano have not gone to the treasury as originally planned. Instead, all of the fees on the mainnet were burned. Hoskinson noted that this has not affected ADA's price or volume, as only about $50,000 worth of fees has been burned in Cardano's entire lifetime.
The question of the treasury led to a discussion about Cardano's future as a decentralized system. Some viewers were wondering how new code will be released when Cardano emerges as a fully decentralized system and is completely governed by its users.
This isn't something IOHK isn't thinking about extensively, Hoskinson said. Huge efforts are being made both within IOHK and the Cardano Foundation to create a system that will enable users to manage software updates after the Shelley and Goguen eras. There are two main problems to be solved with this—maintaining a developer velocity and creating a meritocratic, egalitarian system.
Hoskinson cited Bitcoin as an example of what happens when there's no development velocity and only a small number of people actually participate in its maintenance.
Cardano most likely won't have these problems in the future, thanks in part to the Cardano Improvement Proposals (CIPs). All Cardano updates in the post-Shelley and Goguen eras will be looked at as a collection of CIPs, which will be voted on by the community.
And while there's still a lot to figure out along the way, Hoskinson said that the CIP Committee will make a presentation at the upcoming Cardano virtual summit on how the collaborative process might work when fully decentralized.
But, until decentralization comes, the code upon which Cardano is being built needs to be rock solid. IOHK has put in great efforts to do so, with its in-house audits, extensive use of formal methods, and relentless testing of every phase of Cardano's release.
However, it wasn't until the latest third-party audit into Cardano that the community really began to take interest in the matter. The latest audit, which is available online to the public, was conducted by a company called Root9B. Hoskinson said that the company and some of its employees were criticized by members of the Cardano community, which he believes was unfair.
Root9B has been selected as the best candidate for the latest audit due to the company's history of working with military and government contracts. Usually tasked with looking for incredibly difficult exploits which are light years away from most cryptographic systems used today, IOHK felt that Root9B will be up to the task of auditing Cardano.
"They wanted to get into the blockchain space so this seemed like a natural fit," Hoskinson said.
And while he further defended IOHK's choice of Root9B, Hoskinson said that they won't be the first nor the last company hired to audit Cardano. IOHK plans on rotating several different auditors, as it believes it is the best practice in the industry. All of the future audits will most likely be done on a regular cadence, either bi-annually or quarterly, Hoskinson said, adding that this will ensure a high level of scrutiny into IOHK's work. However, the frequency of these audits will ultimately be decided on by the Cardano community if IOHK doesn't get its contract to run the network renewed.
Until then, IOHK will continue to put in immense work into making Cardano a commercially viable product. One of the steps that will lead the company in that direction is the launch of Cardano.org, which is set to be the first major deliverable from the McCann advertising company working on the brand refresh. The website, filled with new documentation and with a refreshed look, will most likely roll out in May or June, while other brand-related improvements will come in the following months, Hoskinson said.
Cover Photo by Pascal van de Vendel on Unsplash
Source: cryptoslate.com
Author: AuthorPriyeshu Garg Twitter Analyst @ CryptoSlate
Previous
Next