Coin24: Trade And Swap 50+ Cryptocurrencies Instantly Without Registration On Crypto Exchanges
Over the past few months, the cryptocurrency field has seen an increase in new investors in the field – both institutional and retail – as we head into Bitcoin's third halving. As the field grows, centralized exchanges are increasing compliance measures and Know-Your-Customer details the platforms scaring off some of the users who need to trade anonymously.
Furthermore, some customers only need to make quick crypto exchanges without the need to go through the tiresome process of registration on centralized exchanges. Coin24 app is a crypto exchange that offers such users a platform to trade 'anonymously', instantly and securely without giving up an email address or creating an account across the multiple centralized crypto exchanges such as Binance, OKEx, Bitfinex, and Kraken.
Over the past few years, the crypto market has heavily been focused as a differentiation asset on investor's portfolios. At the launch of Bitcoin a decade ago, the purpose of crypto was set to give users freedom on their assets over centralized authority or institutions. However, this has changed recently as centralized exchanges focus on regulatory compliance beating the purpose of cryptocurrencies.
Coin24 however allows the fast and instant exchange of these cryptocurrencies offering convenience and ease of use to the user. Users want these fast and instant features offered on exchanges but without the responsibility of giving up their details to the centralized exchange. Here's where Coin 24 app comes in – to solve the centralized exchange dilemma.
As mentioned before, Coin 24 will allow users to enjoy both sides of the trade on a secure, private, and non-custodial exchange. Notwithstanding, the platform aims to allow over 50 crypto pairs to trade on the platform.
In the following sections we focus on the overview of the Coin24 app, the different types of crypto pairs to trade, exchanges supported,q and how to use the instant crypto swap platform.
Coin24 is an instant cryptocurrency swap platform that aggregates prices from top exchanges, gives the best trading prices, and connects traders to swap these cryptocurrencies seamlessly. The site also permits you to compare the fees on other exchanges to get the best price and to track how your order is executed in real-time. It has over 45,000 crypto pairs on its platform so far.
The swap platform trades over 50 cryptocurrencies on the platform including big-cap cryptos such as Bitcoin (BTC), Ethereum (ETH), Ripple (XRP), Bitcoin Cash (BCH) and Binance Coin (BNB); medium cap coins including Monero (XMR), Chainlink (LINK), Dash (DASH) and Tron (TRX); and even smaller cap coins such as Ziliqa (ZIL), Polymath (POLY), Qtum (QTUM).
Stable coins including Tether (USDT), USD Coin (USDC) and True USD (TUSD) are also offered on the exchange.
The platform supports any wallet from exchanges trading any of the 50+ cryptocurrencies accepted on the platform.
Once you have opened your account on Coin 24, these are the steps you can follow to make swap cryptocurrencies o the platform:
Select the crypto pair you wish to swap e.g. Bitcoin and Litecoin pair (BTC/LTC).
Enter the amount of BTC or LTC you want to exchange;
Check the exchange rate on the tabs provided (shown above) and if satisfied, enter the receiving wallet address in the tab provided. This is the address where the BTC will be credited.
The exchange also offers a recovery wallet address where the coins will be sent if it failed on the first address. Enter the refund address to recover your LTC back. Remember, sending coins to wrong wallet addresses will not be refunded.
Confirm the addresses.
Click on "Start Transaction";
An ETH deposit address and QR code will be generated by Coin24. Click start transaction.
Send your LTC from your wallet;
Wait for the transfer to be complete. Simple!
Easy to use
Easily create your account and choose the preferred crypto you wish to trade, deposit, input your receiving address (make sure you countercheck), and instantly send your funds.
Simple User Interface
Coin 24 exchange offers a very simplified interface for anyone to use whether a crypto expert or a new investor in the field. The platform does away with the complex trading UI employed on most exchanges offering a simplified one-click platform to swap crypto.
Low trading fees
Coin 24 also charges relatively low fees on the crypto swap applying a fee of 0% – 0.49% for each trade made on the platform. The rate changes depending on the type of crypto swap and fees charged by respective centralized exchanges in the swap.
Quick and secure
The non-custodial exchange ensures that it does not store any of the users' funds preventing a huge loss of funds if hacked. This also ensures that the swap is quickly completed on the platform.
24-hours customer support
The Coin24 team also ensures the customers' queries and problems on the platform are quickly solved with a 24-hour support team. The team provides quick, accurate support for all supported cryptocurrency exchanges and transactions.
The exchange also offers users an affiliate program for additional users invited on the platform. The platform offers 100% of the total commission to users. The payouts are done on a daily basis from 15:00 to 20:00 (UTC + 11:00).
Can the rates change during the transaction?
Unlike ordinary money, cryptocurrency prices are highly volatile, so the rate may fluctuate. It may happen that the altcoin exchange rate which you see before the transaction is different (high or low) after the transaction gets completed.
Does Coin24 have a maximum amount to swap?
No. The exchange allows any amounts to swap but users will need to cover the cost of the transaction first, so if the amount is too small, it may not be completed. Moreover, some exchanges offer restrictions on the amount you can withdraw. This is not an issue from Coin24 but the specific exchanges.
What is Blockchen?
Coin24's Blockchen is a Bitcoin blockchain explorer allowing users to search for any transaction and wallet on Bitcoin.
For more information on the Coin24 app and how you can gain maximum benefits from the affiliate program you can reach out at [email protected] or give them a call at +82 070-4647-3033. You can reach them on social media too on Facebook and Twitter.
Summary
Article Name
Coin24: Trade And Swap 50+ Cryptocurrencies Instantly Without Registration On Crypto Exchanges
Description
Trade over 50 pairs of cryptocurrency seamlessly, cheaply and without long registration processes on an instant crypto swap platform.
Author
Publisher Name
Publisher Logo
I am an associate content producer for the news section of Coingape. I have previously worked as a freelancer for numerous sites and have covered a dynamic range of topics from sports, finance to economics and politics.
Source: coingape.com
A Brief Journey into the CoinMarketCap
If you are keen on starting your career in the Cryptocurrency sphere, then you are supposed to analyze coins' price and meticulously explore the market capitalization and its trading volume to pave the path toward success. More often than not, users in cryptocurrency firmament come up in search results is CoinMarketCap.
CoinMarketCap is a website / platform to get an overview of the cryptocurrency market capitalizations. coinmarketcap.com isn't an exchange or trading platform. It is just a tool and resource website that provides data on Cryptocurrency price, supply, trading volume, exchange platforms and many other information regarding digital assets.
CoinMarketCap is one of the most widely used and the biggest resource website to research Cryptocurrencies that provides up-to-date information about the Cryptocurrency market. This website offers a wide range of tools, data, graphs for both beginners and expert traders.
CoinMarketCap is a comprehensive and useful website that summarizes the cryptocurrency market in an all-embracing package. We will go through this site and elaborate the main approaches briefly to make you more familiar with the basic concepts of cryptocurrency market. This cryptocurrency site allows you to compare cryptocurrencies and trading prices.
Once you go through CoinMarketCap the first thing that you'll notice is the table with the list of top 100 cryptocurrencies which are ranked in accordance to market capitalizations. The table depicts the name of the coin / token, its market cap, price, volume, 24-hour change and the price graph of the coin for the past 7 days.
For each cryptocurrency, you can view its:
Market cap
Price
Volume (24 hours)
Circulating Supply
Change (over last 24 hours)
and Price Graph
This website by default ranks coins and tokens based on its market capitalization and also uses USD to evaluate Cryptocurrencies.
Market Cap is the total value of a crypto and this is one of the most important units to consider when evaluating Cryptocurrencies.
Circulating Supply is the best approximation of the number of coins that are circulating in the market and in the general public\'s hands.
Total Supply is the total amount of coins in existence right now (minus any coins that have been verifiably burned).
Max Supply is the best approximation of the maximum amount of coins that will ever exist in the lifetime of the cryptocurrency.
Volume is an important metric that will help you to determine how much of the cryptocurrency is being traded on exchanges, something that you should keep in mind if you are looking to trade or invest in a cryptocurrency.
A cryptocurrency exchange is a business that allows users to trade cryptocurrencies. There are fiat-to-crypto exchanges, and crypto-to-crypto exchanges. On CoinMarketCap, you can find a list of cryptocurrency exchanges operating around the world, which we also rank based on the volume that they process each day.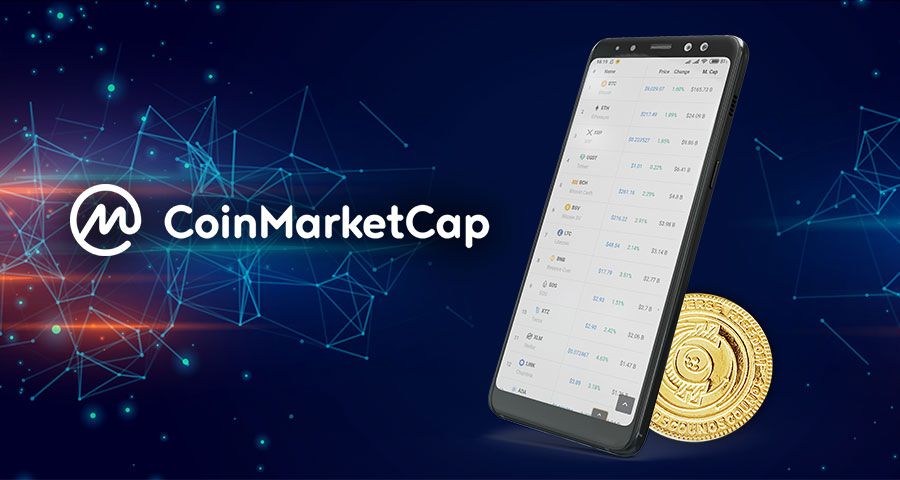 Counos Coin is based on the Litecoin source code and operates within a completely independent network. The coin uses a SCRYPT-based algorithm which is similar to that of Litecoin. The proof of the Counos Coin functionality is created via "Proof-of-work" technology in the form of a peer-to-peer network.
The goal of Counos Coin is to provide the highest standards from a reliability perspective for financial transactions and payments worldwide. The unit can reportedly be used to purchase gold from sellers online. In addition, the users are reportedly able to purchase and receive Counos Coin from the community, agencies, or exchange services.
In the following graph you can see the latest statistics related to counos coins. For further analysis and exploring the latest prices you can search through CoinMarketCap.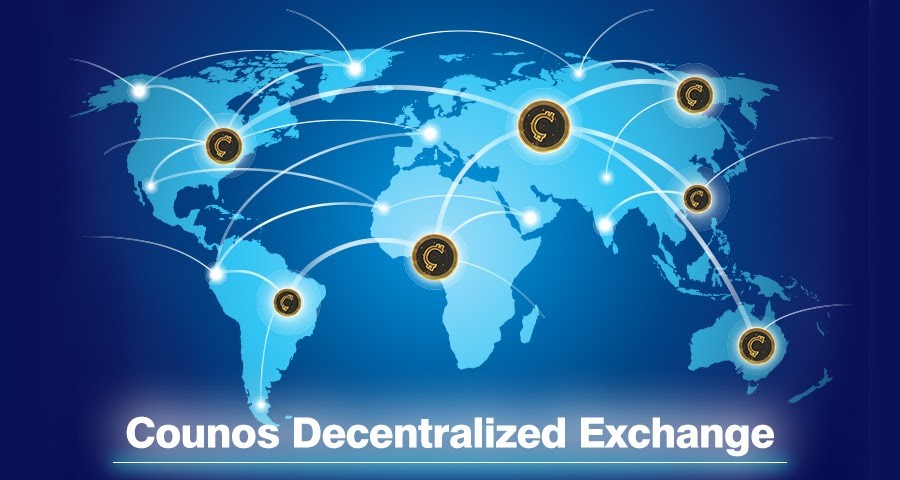 Launched on 01/10/2019, Counos DEX is a decentralized exchange based in Laki tn 14a, 10621 Tallinn, Estonia. Counos Decentralized exchange describes itself as a peer to peer and community-based decentralized exchange that aims to empower users to do cryptocurrency trades in a secure and free environment. Credible cryptocurrencies of the world, such as Bitcoin, Counos Coin, and Ethereum, will be supported at Counos Exchange. Counos Decentralized exchange enables its users to exchange cryptocurrencies with fiat money (i.e. dollar, Euro, et.)
There is no limitation at Counos decentralized exchange to create different sale offers or enter the trades to buy them. Using Escrow, Counos decentralized exchange will not give the final verification until the final verification is announced on the part of two trading parties. Applying MultiSig service in Blockchain technology, the final verification will be preceded by the buyer and seller's agreement.
Counos decentralized Exchange is an all-in-one platform for trading cryptocurrencies. The users can sell a wide variety of their cryptocurrencies or take measure in buying directly from other different users via Offer board at Counos decentralized exchange
The trades are very much easy and secure at Counos decentralized exchange. Using Counos integrated and secured Single Sign-On (SSO) service, you can employ all the services of the Counos all-in-one platform. In addition to making trades through cryptocurrencies, at Counos decentralized exchange, fiat currencies such as USD, CAD, Swiss franc, and Euro can be used for selling or buying in the trades.
Source: www.counos.io
Author: Posted by CounosEditor
Bitcoin Exchange | BTC Exchange | Crypto Exchange | Cryptocurrency Exchange
Buy, sell, and manage cryptocurrencies in minutes.
Popular Tokens
New Tokens
24h Ranking
Name
Price
Change
Chart
Trade
Name
Price
Change
24h Vol
Trade
Name
Price
Change
24h Vol
Trade
The Most Trusted Cryptocurrency Exchange
Secure Wallet Technology
Cold and hot wallet technology developed by the world's top security team. Coin loss has never occurred.
Full Range of Products
Supports spot and derivatives trading, onchain wallets, mining pools. Your entry into the world of cryptocurrencies.
Worldwide Customer Base
Full range of cryptocurrency services for users from over 130 countries around the world.
One-Stop Cryptocurrency Platform
Buy Crypto
Trade
Tools
Academy
Convert over 30 local currencies to crypto in minutes via Visa, Mastercard, and other convenient payment methods.
Expand your trading portfolio with a variety of crypto pairs and derivative trading instruments.
Choose advanced tools for crypto mining, wallet management, and crypto holdings.
Sharpen your OKEx trading skills and learn expert tips through quick video walkthroughs.
Trade. Anywhere
Fully compatible with iOS, Android, Mac & Windows
Always By Your Side
24/7 Support
Need help? Get your requests solved quickly via our support team.
Community
Join the conversations on our worldwide OKEx communities.
Academy
Learn blockchain and crypto for free.
Press Room
News and updates from the world's leading cryptocurrency exchange.
Source: www.okex.com
Bitfinex: The Crisis Tested Liquid Exchange King for Bitcoin and Ethereum Trading
An Exclusive Interview with Paolo Ardoino, Chief Technology Officer, Bitfinex
Bitfinex is one of the most successful cryptocurrency exchanges globally and is owned and operated by iFinex Inc. A favourite of experienced online traders due to its advanced trading tools, Bitfinex is accustomed to handling some of the largest trading volumes in the industry.
During the March 12 stock market crash instigated by the coronavirus pandemic's disruption to the world economy, cryptocurrency exchanges experienced a massive sell-off of Bitcoin and Ethereum. When the liquidation panic finally settled down, Bitfinex emerged as one of the few exchanges that had been able to take the extreme volatility in stride.
One of the men at the helm of this goliath of the crypto space is Paolo Ardoino, the Chief Technology Officer for Bitfinex. Ardoino is also the CTO for Tether, the world's most utilized stablecoin.
In this exclusive interview with Blockchain.News, Ardoino discusses his journey, the resilience and future of Bitfinex, stablecoins and Bitcoin's safe haven status.
Journey Through the Crypto Sphere
Ardoino started in the Bitcoin crypto space between 2012 – 2013. He had been working in the traditional financial sector in London. He had his own start up at the time with a focus on building highly scalable applications as a part of computing and distributed systems.
With a background in finance and scalable applications, Ardoino was a perfect match for Bitcoin, he said, "As soon as I started reading about Bitcoin, I fell in love."
After conducting his own experiments with the pioneer cryptocurrency, Ardoino was presented with the opportunity to join Bitfinex at the end of 2014. He said, "They had a problem with the matching engine. Given my expertise, I offered my help to build the matching engine to be more scalable." With Ardoino onboard, "We were able to achieve 1,000 times the previous number of transactions per second."
Ardoino soon began to grow bored of his own company in London which was mired in traditional finance. He said, "The old, outdated protocols were no longer interesting and I wanted to do something that was related to Bitcoin and the crypto space. I saw this as a huge opportunity to do something that would matter in the long run — to help change the financial system itself and leverage the groundbreaking technologies based on blockchain."
In mid-2016 Ardoino became the CTO of Bitfinex and to this day remains hands on at the core of the platform's technology. He said,"I worked hard to bring the platform to what is today. The beautiful interface, carefully designed and really robust, the matching engine and APIs were all a priority, as well as making it all highly scalable. This is basically still my role today. Apart from managing my team, I keep working on the core of the platform."
Tethered In
In 2017, Ardoino was appointed CTO for Tether, the biggest stablecoin by market capitalization. A huge fan of the project he said, "It's really one of the most amazing ideas in this sector. Everyone today talks about Tether, but it was really created by a group of visionaries and Bitcoin lovers in 2014. They had this great idea to solve the problem of arbitrage, especially efficient arbitrage across cryptocurrency exchanges."
Ardoino explained, "The arbitrage opportunities were really big, but the problem is that to exploit those, you have to move wires around different exchanges. It was really painful and really slow — it could take days! Tether was the solution for that and worked out beautifully."
Bitfinex Remains Liquid During COVID Markets Sell-off
Bitfinex is leveraging its position as a one-stop-shop for crypto trading, offering a variety of services, including spot trading and peer-to-peer financing with up to 5x leverage.
The platform also offers users access to a separate, perpetual swap contract offering 100x leverage through its affiliate, iFinex Financial Technologies Limited. Ardoino highlighted, "One such perpetual swap pair is the Tether Gold/Tether pair (XAUTF0/USTF0) which we launched last month."
During the March 12 and 13 crashes, Bitfinex was handling up to $11.8 million worth of trades per minute. Ardoino said, "This was possible as Bitfinex is the most liquid exchange for Bitcoin and Ethereum, having such high liquidity, we are able to provide traders with tighter spreads and lower slippage." He continued, "In most other crypto exchanges, volume can be made by market makers that all quote small sizes near the top of the book. Liquidity is much more precious and harder to replicate. In this regard, Bitfinex is king."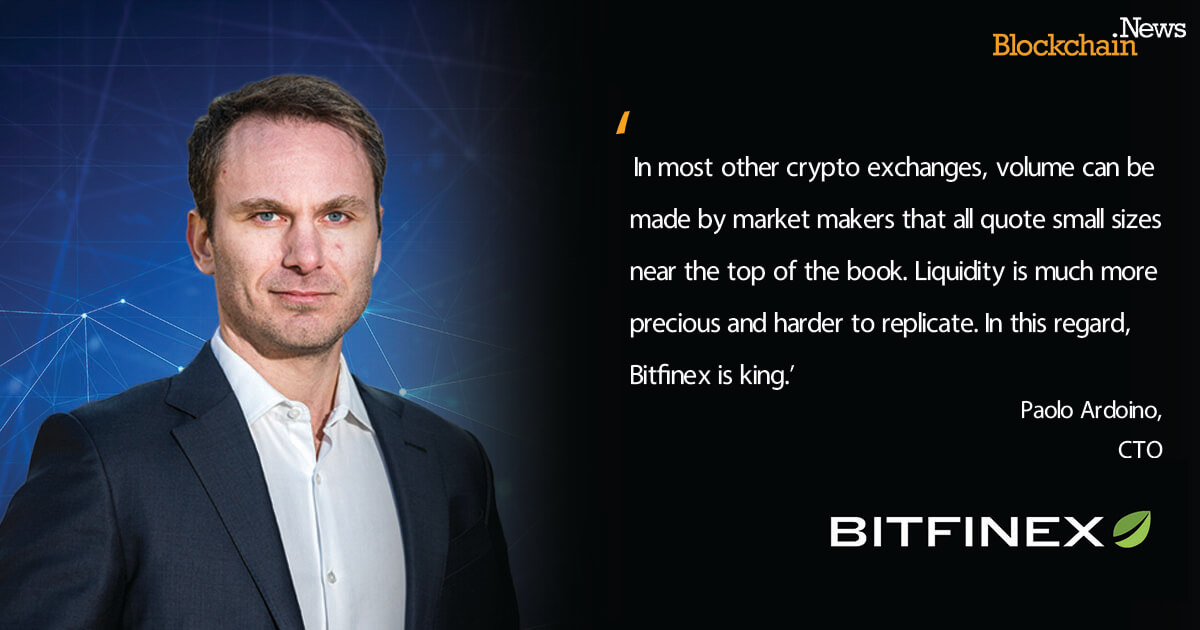 The Bitcoin and Ethereum sell off was so extreme it prompted another popular exchange, Huobi Global to install a circuit breaker as a precautionary mechanism. Ardoino said that there are no plans to make similar updates to the Bitfinex platform. He explained, "Circuit breakers have the potential to damage our user base by summarily shutting down the exchange. Circuit breakers work in traditional financial markets as exchanges have a duty to implement them. In a nascent and fragmented sector like ours, they can be dangerous. At the same time, we believe it is important that our customers know the risks of trading in cryptocurrencies. We believe we have communicated this through our risk disclosures and our terms of service."
So what does Bitfinex plan to upgrade in 2020. Ardoino revealed, "Bitfinex is planning on an important expansion into additional business models, as well as implementing more features and products from the UNUS SED LEO whitepaper."
Notably, in the next few months, Ardoino said, "Bitfinex will add additional social features to its platform and new order types. iFinex Financial Technologies Limited is also considering new derivatives products, and are looking at sports / political events betting through a regulated site."
Tether, Stablecoin Volume and Chain Interoperability
Tether (USDT) is the largest stablecoin by market capitalization due to its cross-chain interoperability. Ardoino said, "We believe it is important for Tether to be innovative and to try and serve as many communities as possible, such as the Ethereum and EOS blockchains. We also support other blockchains like Algorand, Liquid, and Tron. We understand that a stablecoin needs to be the common ground of different blockchains to be complete and really useful."
As the coronavirus pandemic continues to seriously disrupt the global economy, there has been an incredible surge in stablecoin activity on-chain, up over 800% since 2019. The build up of stablecoin activity usually precedes periods of crypto market inflation, but Ardoino believes the explanation is much simpler.
Ardoino shared how he views the amassing stablecoins, he said, "With the increasing volatility in both crypto and traditional financial markets due to the Covid-19 pandemic, stablecoins may provide easier access to personal wealth and a relatively stable store of value."
Recently announced, the Financial Stability Board (FSB) will present ten recommendations on the regulations of stablecoins before an audience of G20 countries, referencing major stablecoins, including USDT, USDC, TUSD, PAX, and DAI.
Ardoino seemed please at the new regulatory oversight, he stated, "We welcome the Financial Stability Board's recognition of the role of stablecoins in the global economy, and its consideration of financial technology innovation in the digital asset space."
Tether Gold
As people turn to safe havens amid the economic downturn, the discussion on Gold and Bitcoin as stores of value has reached a fever pitch.
Tether Gold (XAU₮) is the physically backed gold stablecoin from Tether. One XAU₮ token represents one troy fine ounce of gold on a London Good Delivery gold bar.
Explaining the impetus, Ardoino said, "Tether Gold meets the growing interest in a digital asset that provides exposure to the world's most enduring asset. Tether Gold will enable customers to obtain exposure to an asset traditionally regarded as a safe haven. Tether Gold provides the combined benefits of both physical and digital assets, removing the drawbacks of holding gold in more traditional ways, such as high storage costs and restricted access."
While the underlying physical gold remains in the custodian's vaults, Ardoino said, "Tether Gold facilitates certain key economic qualities of gold – such as ownership and value – to flow seamlessly around the world."
Bitcoin Safe Haven and Crypto Hedging
Before the completion of our interview, we asked Ardoino to add his two cents to the Bitcoin as a safe haven narrative, as well as his expectations for the upcoming bitcoin halving.
He responded, "Neither Bitfinex nor I will make any pre or post halving predictions."
On Bitcoin's asset class he divulged, "Bitcoin is not necessarily a safe haven. I firmly believe in the future, that Bitcoin represents a truly decentralized and resilient medium of exchange. But the current market capitalization of Bitcoin may make it still subject to traditional finance trends."
Next on the horizon for Bitfinex is a project called Dazaar, Ardoino explained, "It is a super scalable, data stream network that gives people the option of creating data streams. This new technology allows people to send real-time data streams in an expedited manner faster than anything available currently, while optionally supporting agnostic micro-payments, which can be in any form of cryptocurrency."
He concluded, "We will release it fully open-source. Everyone will be able to have it, expanding the support for additional cryptocurrencies or other means of payment. We wanted to give back to our community by creating a product that will help the industry grow."
Source: blockchain.news
Author: Lucas Cacioli
Bittrex
Source: gkminibustravel.co.uk
Previous
Next