Bitcoin Hits Highest Level Since Black Thursday Amid Halving Buzz
Bitcoin's rally is gathering pace with the mining reward halving now just 14 days away.
The top cryptocurrency by market value rose to $7,800 early on Monday to hit its highest level since March 12 – dubbed "Black Thursday" – when prices fell from $7,950 to $4,700 as the coronavirus pandemic crashed most markets.
At press time, bitcoin is changing hands near $7,700, representing a 100 percent gain on the low of $3,867 registered on March 13.
While the major part of the recovery rally could be associated with the uptick in the S&P 500 and the global stock markets, the recent move from the April 21 low of $6,800 to $7,800 looks to have been fueled by factors other than moves in equities.
That's evident from the fact that bitcoin rose 8 percent last week, while the S&P 500 suffered a 1.3 percent loss and oil markets cratered on oversupply concerns.
Bitcoin will undergo the halving process on May 12, after which the reward per block mined will drop to 6.25 BTC from the current 12.50 BTC.
A popular narrative is that halving creates a supply deficit and, thus, bodes well for bitcoin's price. Some observers are of the opinion that the bull markets seen in 2017 and 2013 were the result of the halvings in 2016 and 2012, respectively.
"Look for prices to attempt the $10,000 level on speculative buzz leading into the halving," Chu added. Meanwhile, Marcus Swanepoel, CEO of cryptocurrency platform Luno, said, "History tells us that we should expect an uplift in bitcoin's price as we get closer to the halving in just a few weeks' time. We've seen an increase in the price of bitcoin in previous halvings."
Past data shows the cryptocurrency tends to hit a new market cycle top (the highest point from the preceding bear market low) in the calendar year of a halving – but before the event, according to analyst Rekt Capital.
If the historical pattern repeats, we could see a rise to levels above $13,880 (2019 high) before the third halving, due in two weeks.
While that target looks far-fetched, a convincing break above $8,000 cannot be ruled out, as on-chain data shows a significant improvement in network activity.
For example, the seven-day average of the number of active bitcoin entities recently rose above 260,000 for the first time since June 2019, signaling an influx of new investors into the market, according to blockchain intelligence firm Glassnode.
The active entities metric counts clusters of bitcoin addresses controlled by the same network entity. It shows the number of individuals or businesses using the network, in effect.
Further, bitcoin balances on exchanges continue to drop ahead of reward halving – a sign users are withdrawing their assets for longer-term holding. The metric appears to reflect bullish expectations tied to the halving.
What's more, institutions and macro traders are returning to the crypto markets after last month's crash, as suggested by the rise in open interest, or open positions, in bitcoin futures listed on the Chicago Mercantile Exchange (CME) – widely considered to be synonymous with institutional activity.
However, while on-chain activity and derivatives data suggest scope for further gains, the equity markets are calling for caution.
As of Friday, the S&P 500 was up nearly 30 percent from the low of 2,192 reached on March 24 and down 17 percent from record highs. While the recovery rally looks impressive on the surface, the breadth of the move has been quite narrow, meaning the rally has been fueled by an uptick in few heavyweight stocks.
"The S&P 500 now trades just 17 percent below its all-time high, however, the median S&P 500 constituent trades 28 percent below its record high," said Goldman Sachs' chief equity strategist David Kostin.
Such rallies are often short-lived. If equities begin falling again, cash may again become a safe haven. In that case, bitcoin may come under pressure, too.
Disclosure: The author holds no cryptocurrency at the time of writing.
Source: www.coindesk.com
Author: Christine Kim
Bitcoin Is The Story Of The Next Decade
Picking the right asset in a big theme could generate astonishing returns for investors over time. Figure 1 shows us the 5 greatest picks in each of the past 5 decades: we first had gold in the 1970s due to the unexpected sudden rise in inflation coming from the oil shocks, then came the Japanese stocks in the 1980s with Japan's economic miracle, then the US boom in the 1990s led to a titanic performance in US growth stocks, then the double-digit growth in China led to an outperformance of consumer staples in the 2000s, and then the prominent growth of new Internet companies led to a strong performance in Tech stocks in the past decade. If we look at the cumulative returns of each asset in the past 50 years, a person who invested $100 would have accumulated over USD 1.3 million of wealth, averaging 22.2% in annual return for a volatility of 25.3% (Sharpe ratio of 0.88).
Even though this chart looks very appealing, we cannot extract anything from the past except the fact that it is important to choose the right asset in the right narrative. What is the big theme of the next decade?
We think that cryptos (especially Bitcoin (BTC-USD)) could be the right pick for the next 10 years, compounding significant returns for investors who are 'ready' to stomach an elevated volatility.
Figure 1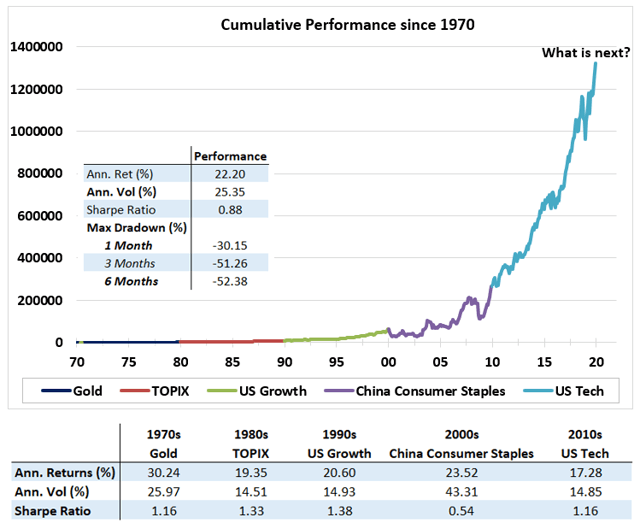 Source: Eikon Reuters, RR calculations
Asset prices should all equal expected discounted cash flows. According to the Fundamental Theorem of Asset Pricing (FTAP), the value of any asset should be equal to the sum of the fundamental value and the terminal value (both discounted), which could be written as the following (in discrete terms):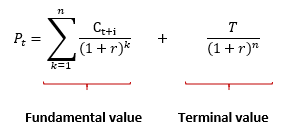 Where Pt represents the price of the asset at time t, C(t+i) are the expected cash flows, r is the discount rate and T is the Terminal value.
As opposed to equities or bonds, Bitcoin carries no fundamental value such as a variety of alternative investments (gold, paintings or wine) and therefore violates the classical Financial Theory. Hence, investors have been skeptical about the outlook of cryptos and Bitcoin in particular: is it a Tulip or is it the start of something bigger?
Since it reached its high of $20,000 in the end of December 2017, Bitcoin has failed to rebound significantly in the past two years, struggled to break through some resistances and trade back above the psychological $10,000 level. Opinions are currently very divided, with some analysts expecting the price of a unit to reach $100K and others simply stating that it is a bubble that is about to burst. Bearish investors have used a popular chart that overlays the dynamics of Bitcoin prices with the previous historical bubbles (figure 2) and concluded that it is only a matter of time before the price of Bitcoin collapses to zero.
Figure 2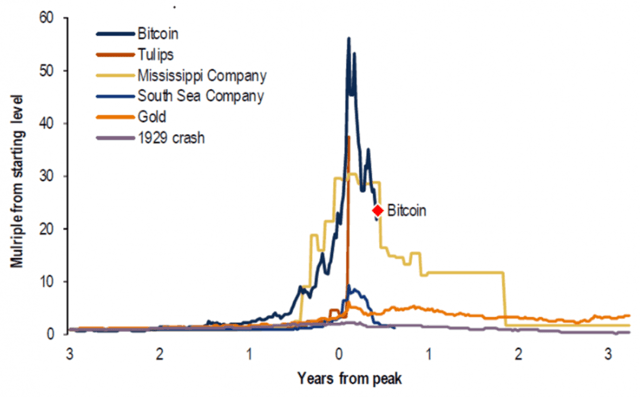 Source: BoA
We actually disagree with that statement and think that the crypto market can experience a significant growth in the next decade, with Bitcoin gaining the status of the 'currency of the last resort'.
Many investors have been surprised by the little impact that the titanic growth of central banks' total assets has had on inflation in the past decade. In early 2010, a lot of smart money managers were convinced that the US was going to experience a double-digit inflation, which was going to lead to a significant appreciation in gold prices (up to $5,000 an ounce). One thing we can learn from this experience is that 'it is never that obvious', and it is crucial in finance to constantly challenge your views and reassess the probabilities that you attribute to each scenario.
However, we think that this time is different, and that the combination of both monetary and fiscal stimuli will be inflationary in the medium term. We saw that gold has already been trending higher against all currencies, and we do expect the trend to start in the crypto market as well. In fact, we think that Bitcoin will eventually capture 3 to 5 percent of the gold market share in the medium to long term. With approximately 190K tons of gold available above ground, the total market cap of gold is USD 10.5 trillion (for a spot price of $1,730 per ounce). Hence, with the total number of mined bitcoins at 18.3 million, a 3 to 5 percent of the total gold market cap would price a unit of Bitcoin between $17,240 and $28,740. This may not impress a lot of investors as Bitcoin was trading at $20,000 in the end of December 2017, but it is 2.5 to 4 times higher than the current price. We think it is a very valuable investment in the medium to long term if individuals are ready to stomach high volatility.
In addition, there is a high probability that gold surges to higher levels in the coming 12 to 18 months amid elevated political uncertainty and rising inflationary pressures. If we look at Bitcoin as a leverage play on gold, the 'fair' value could actually be significantly higher.
Figure 3 shows the dynamics of gold price with Bitcoin in the past few years and the results of a simple OLS regression of daily changes in Bitcoin prices on changes in gold prices. Even though the coefficient on gold is significant but lower than 1, we would expect it to become greater than 1 in the coming two years, implying that Bitcoin will become a 'high-beta gold stock'.
Figure 3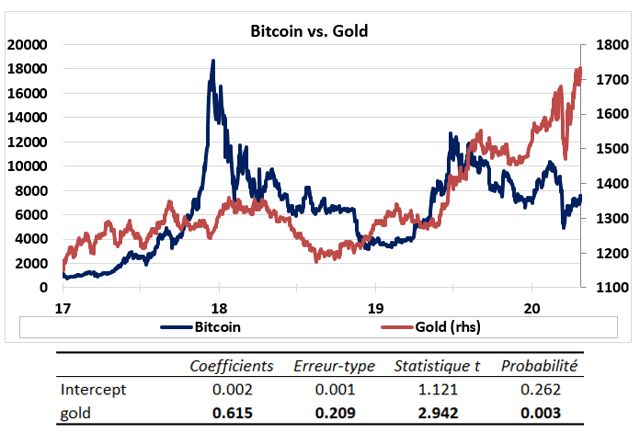 Source: Eikon Reuters
Based on the mathematical tautology, Metcalfe's law states that the value of a network is proportional to the square of the number of connected users: M = A * n (n-1)/2 where A is the proportionality factor relevant to the network under review. In recent years, we saw that a significant number of practitioners have used Metcalfe's law to value the price of Bitcoin, particularly since 2018.
In this part, we extend the work of Peterson (2019) who uses the Gompertz sigmoid as a decay factor to compute the value of a unit of Bitcoin (the Gompertz function has been used for decades to model viral infection, bacterial growth, and mobile phone proliferation). The Gompertz growth model is expressed as the following: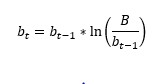 Where bt represents the number of bitcoins mined at time t and B is the total number of bitcoins that will be mined (21 million). Peterson proposes the following model:

Where n is determined by the number of wallets and A is a constant, expressed in terms of dollars per transaction (we chose A=1).
Looking at quarterly data since 2012, we calculate all the variables and the value of Bitcoin for each period. Results are shown in figure 4 and 5.
Prior to the first half of 2018, empirical research has found that Bitcoin price was following Metcalfe's law with an R_square above 80 percent. However, the two times series have significantly diverged in the past 20 months, with Bitcoin currently being 32% undervalued relative to its fundamental value. Even though the use of Metcalfe's law to estimate the fair value of Bitcoin is still questionable, and we have learned from the FX market that a currency could remain significantly undervalued for a while, this model is also pricing in further appreciation in the cryptocurrency in the medium term.
Figure 4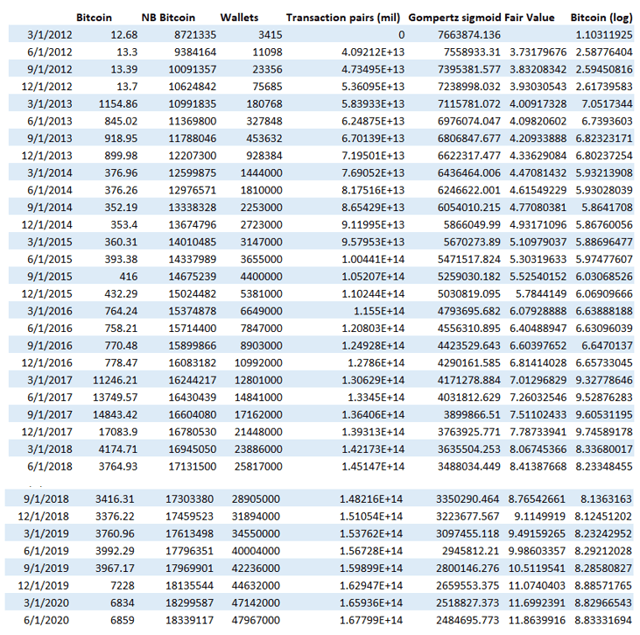 Source: Eikon Reuters, RR calculations, Peterson (2019)
Figure 5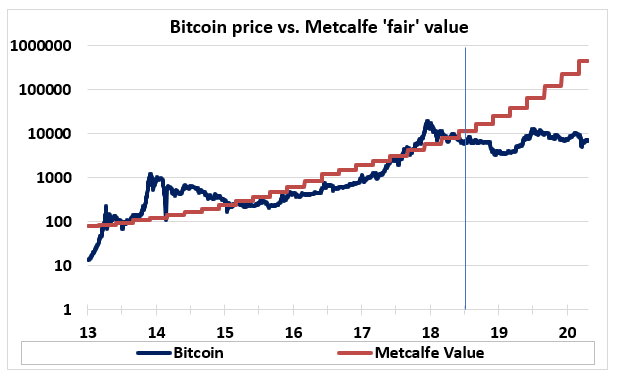 Source: Eikon Reuters, RR calculations, Peterson (2019)
The main risk in the long run is that unlike other alternative assets such as gold, Bitcoin has not experienced a dramatic 50% plunge in equities and therefore investors are questioning the robustness of cryptocurrencies in the coming 12 to 18 months. While we saw previously that gold has historically performed well in periods of market selloff, we do not have enough data to see if Bitcoin tends to perform well in periods of elevated price volatility. Figure 6 shows the resilience of gold during periods of market stress; gold is also defined as a zero-beta asset and has remained strong during the Q4 2018 and Q1 2020 selloffs.
Figure 6

Source: Eikon Reuters, RR Calculations
If we look at recent daily data, we can notice a strong co-movement between BTC and one of our favorite assets, the Japanese yen (FXY). Figure 7 (left frame) shows that positive trends in Bitcoin prices have been associated with a stronger FXY since January 2017. Even though we find this chart interesting, we would expect the relationship to break in the long run as our main LT scenario favors higher equities, cheaper yen and stronger Bitcoin.
We can also overlay prices of Bitcoin with US equities in the past two years and notice that there are periods of significant co-movement between the two time series. Figure 7 (right frame) shows that Bitcoin was also sold aggressively this year during the equity rout in March. Should we expect bigger downside correlations between equities and cryptocurrencies in the future?
Figure 7

Source: Eikon Reuters
Although we cannot look at the historical behavior of Bitcoin in periods of market stress and in periods of accelerating and decelerating prices, we do think that cryptos will generally trend higher if inflation starts to rise suddenly in the next 12 to 18 months. Investors who are bullish on gold in the long run should also consider allocating some of their wealth in Bitcoin, as we believe that it will trade as a high beta 'gold stock' in the future and capture 3 to 5 percent of the gold market cap.
Figure 8 shows a strong support line at 3,088, which corresponds to the December 2018 lows, and there is also an upward trending support line that shows that Bitcoin should receive significant bids at around $5,000 if we see a sudden selloff in the short run. We think that $5,000 represents a great entry level on the asset for long-term investors; this would imply that LT investors will quadruple or quintuple their money if the price of Bitcoin settles between $20K and $25K in the long run.
Figure 8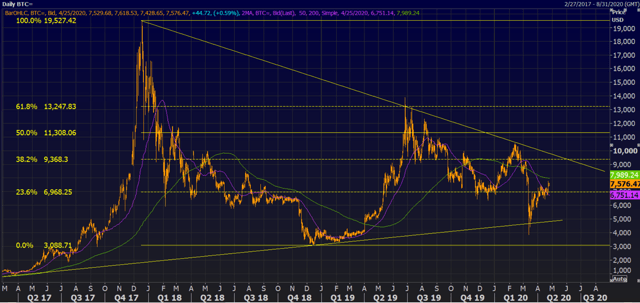 Source: Eikon Reuters
Did you like this?
Please click the "Follow" button at the top of the article to receive notifications.
Disclosure: I/we have no positions in any stocks mentioned, but may initiate a long position in USDJPY over the next 72 hours. I wrote this article myself, and it expresses my own opinions. I am not receiving compensation for it (other than from Seeking Alpha). I have no business relationship with any company whose stock is mentioned in this article.
Source: seekingalpha.com
Author: Rothko Research
How Oil Going Negative Could Open the Door for Bitcoin ETFs
Photo by Moritz Kindler, Unsplash
This will always be remembered as the week when oil went negative.
The economic repercussions of this are staggering and will take months to fully comprehend – but, more short term, one of the most fascinating aspects is how it knocks universally accepted truths about markets right into the oil can.
Also compelling is what this says about biases in the bitcoin market.
It turns out commodity prices don't have a floor. Who knew. To be fair, this is not the first time a commodity has traded below zero – natural gas prices have gone negative in the past as logistical problems make it hard to get to buyers, and many refineries see it as a waste byproduct of oil production. Outside the energy sector, dairy farmers across the U.S. are currently dumping excess milk rather than pay consumers to take it away.
What does this have to do with bitcoin? It sheds light on the nature of the asset itself, and on products built on top of it.
According to the Commodity Futures Trading Commission (CFTC) and other regulators, bitcoin is a commodity. Technically, it falls into the category of financial commodities, which include currencies and indices. These do have a floor. They can go to zero, but not below – once at the minimum, they have neither a use nor a carry cost, so investors can write off their value and, after some gnashing of teeth, forget about them.
But what if a financial commodity's value was based on an underlying commodity that traded at negative prices? USO is the largest exchange-traded fund (ETF) in the energy sector and holds near-dated WTI futures. This week those futures were trading below zero, since they involve physical delivery of oil that no one knows where to store. But the ETF is a financial commodity, and cannot trade below zero – therefore, it cannot reflect its underlying assets.
This week, USO scrambled to save its listing. It announced a reverse share split to push its price back above the Nasdaq minimum requirement, and it changed its investment strategy to focus on slightly longer-term futures. It also applied for authorization to issue more shares, since money is pouring in, reportedly from retail investors who hope to ride the recovery all the way up.
So, here you have an ETF whose value does not necessarily reflect the underlying asset, maneuvering to be able to sell more shares to retail investors in a dislocated market that is one of the most blatantly manipulated in the world. And yet, bitcoin ETF proposals are rejected as being too risky, opaque and manipulable.
A bitcoin ETF would be based on a financial commodity that runs on a global network accessible to all. Most of the main exchanges have market surveillance, and improvements in market liquidity should enable the ETF price to closely track the market value of the underlying asset, giving investors reassuring clarity and transparency. The same cannot be said of the most liquid listed bitcoin-tracking instruments today,* which have lock-in periods during which investors cannot sell and which trade at a significant premium to bitcoin. This is largely a result of the U.S. Securities and Exchange Commission's reluctance to approve liquid and easily redeemable investment vehicles suitable for all types of investors.
Any change in SEC policy regarding bitcoin ETFs is unlikely in the short term because there are no current proposals under consideration. But the disconnect between the reasons given for rejection and the glaringly public characteristics of many approved ETFs that also don't meet the quoted criteria could encourage the regulator to overcome its instinctive reluctance.
Anyone know what's going on yet?
There is no such thing as a boring week in the crypto asset sector (unfortunately – a boring week would be nice every now and then), but this week was particularly intense, with the price ranging 12 percent from low to high (data from the CoinDesk BPI).
According to my colleague Zack Voell, the sharp jump upwards may have been motivated by the futures expiry on Friday, as well as by investor sentiment primed for a move after the recent consolidation. And maybe – just maybe – it has something to do with mounting excitement over the upcoming bitcoin halving, expected in just over two weeks. (Download our recent report on the bitcoin halving for analysis of its potential impact.)
In the news, new crypto asset products keep flowing thick and fast, while increasing attention is being paid to enterprise applications including the handling of data in a post-COVID-19 world as well as central bank digital currencies. And DeFi continues its process of growing up.
Outside the crypto space, things are getting even weirder as disinfectant manufacturers plead with us not to inject their products, and traders eye their bathtubs and kitchen pots for possible oil storage. Tensions are rising in Europe as Italy, the European Union's third-largest economy, has been pity-spared a drop to junk bond status. Asian markets are dealing with the suspense over North Korean leader Kim Jong-Un's health and the unrelated threat of a second wave of contagion. Markets are reeling between relief things aren't even worse and fear they will be, with a dose of denial thrown in.
Bitcoin has outperformed the S&P 500 so far this week, month and year to date, although gold and long-term government bonds have done significantly better so far this year.
Next week will see a slew of economic indicators that will most likely be shockingly awful, but this week the futures actually went up on the news that more than four million people applied for benefits, because it seems confirmation of bad news is somewhat reassuring. You do have to wonder when the penny will drop that indices suspended from reality don't stay afloat forever. On the other hand, some economies are tentatively eyeing a re-opening of some sort, which will bring a welcome if tentative respite to restive animal spirits.
Chain links
The Economist magazine dives into the options available to governments trying to figure out how to guide their economies out of this crisis. The options, none of which look good, include following the "financial repression" policies of the post-war economies of the previous century, which could take the form of capital controls, fixed exchange rates, rationed bank lending and caps on interest rates. It acknowledges such changes would be "politically demanding," but that these are politically demanding times. "But if governments did enact such changes," it goes on, "they would spur responses unavailable to investors of the 1950s and 1960s, such as investment in cryptocurrencies and other immaterial products." TAKEAWAY: Exactly. The modern economy has gone through hardship before that required ideological sacrifices, but not at a time when there were alternatives to central bank currencies, and not at a time when it was possible to move wealth without using the established system. Does that make governments weaker at the expense of empowered citizens? Or could the governments use cryptocurrencies to become empowered themselves?
I've mentioned in this newsletter before that I worry about a sustained uptick in inflation once we have emerged from the worst of this crisis, and how that could be good for bitcoin's value given its limited supply. But what if I'm wrong and we enter a world of deflation? Does that mean bitcoin will underperform? Not necessarily. The resulting boost in its purchasing power and its parallels to gold, which has traditionally done well in times of deflation, could give it fuel to outperform. TAKEAWAY: Bitcoin was born during the last financial crisis, so its reactions and correlations have not been tested. We do not know under which scenario it will perform best, and economic theory can justify swings either way.
Crypto asset platform Coinbase describes the current stablecoin landscape, with a focus on use cases. TAKEAWAY: The power of stablecoins to encourage liquidity, facilitate transactions and act as collateral is just beginning to be understood. The growth this year is likely to continue to be staggering, driven largely by both transaction demand and a surging global demand for dollars, of which stablecoins are a relatively convenient and liquid representation. (For more on this topic, see Michael Casey's newsletter, "Money Reimagined," from last week.)
A research paper funded by University of California Berkeley's Haas Blockchain Initiative concludes stablecoin issuances do not push up the price of cryptocurrencies. TAKEAWAY: This contradicts a controversial paper from last year that aimed to prove tether manipulated the bitcoin market. The new paper separates tether in circulation from tether held in treasury, and shows the stablecoin's premium to the dollar depends largely on the market volatility.
More nuance on last week's news that Renaissance Technologies has submitted regulatory filings showing its flagship fund Medallion can invest in bitcoin derivatives – as we hinted last week, it's not as bullish as the media initially painted it. TAKEAWAY: My colleague Ian Allison asked several industry insiders for their take on the news. All agree Renaissance is not necessarily going "long bitcoin." The story and the potential are not what drives their decisions; those are based on algorithmically generated numbers.
Starbucks and McDonald's are reportedly among 19 restaurants and retail shops that will be involved in testing China's central bank digital currency in the country's Xiong'An new district. TAKEAWAY: Why is this potentially relevant for portfolios? Because mandated change is usually more powerful in overcoming resistance to new habits than the pull of innovation on its own. A national digital currency would get people comfortable with the idea of digital wallets, for instance, and from there it's a relatively short step to incorporating other tokens and services. This is potentially significant because of its indirect relevance to the adoption of crypto assets in one of the largest economies, in which almost one billion people have a smartphone.
Wolfie Zhao walks us through changes to the bitcoin mining industry in China over the past year, going into the impact of the coronavirus, how the March crash shifted sentiment, and the outlook for the new machines hitting the market. TAKEAWAY: As we talked about in our Halving Report, the bitcoin mining industry is not only fascinating, it's fundamental for the health of the network. Shifts in technology, economic conditions and political environment determine profitability which in turn impacts the protocol's resilience. For more on this intriguing sector, at the intersection between business priorities, technological innovation and ideology, check out Christine Kim's podcast series on miner economics.
The CFTC has given crypto startup Bitnomial Exchange approval to offer physically settled futures and options contracts. TAKEAWAY: Not that long ago a lot of us got excited about the pending launch of physically delivered derivatives on Bakkt, which ended up having a disappointing launch and an even more disappointing trading record. Bitnomial's fee and margin structure might end up being more attractive to investors and traders, but, unlike Bakkt, for now it lacks the blue-chip backing of a market incumbent.
Crypto asset and blockchain data provider Amberdata lays out a detailed explanation of the stock-to-flow (S2F) model that predicts a bitcoin price of $100,000 by the middle of 2021. TAKEAWAY: The S2F model has adherents and skeptics – it seems to hold historically, but that's not generally a good basis for forward investing, especially in these strange times. Check out our Halving Report for a look at some competing theses. The bottom line is the bitcoin market is so different now than during the previous halvings that no one knows what features or developments will carry more weight in price impact.
Vishal Shah, founder of bitcoin derivatives exchange Alpha5, points out that, with 100x leverage available on some exchanges with relatively light oversight, bitcoin won't interest "traditional" capital, especially in these uncertain times. TAKEAWAY: It's unlikely that 100x leverage is actually used by most traders, however – the few brave souls that do so are likely to get wiped out pretty soon, leaving the more sensible traders who push the boat out to maybe 35x, if that. "100x leverage" is more a worrisome marketing gimmick than a wealth accumulation strategy.
Security token platform Openfinance has asked its users for revised terms to defray costs in a bid to avoid having to suspend trading. TAKEAWAY: After intensifying in 2018, interest in security tokens has been muted over the past year or so because investor demand failed to materialize and contract frictions set back some high-profile projects. This development is an extension of the damped enthusiasm but should not be taken to mean that the concept has no merit. It's early, the advantages so far have not been enough to overcome inertia and the fact that traditional markets are more liquid and have greater regulatory assurances. Given the recent market stress exposing a range of fault lines, though, we might – once things start to settle down a bit – start to see a renewed interest in an alternative capital markets system.
Source: www.coindesk.com
Author: Christine Kim
Previous
Next