Bitcoin (BTC) Price Prediction: Short Squeeze as Reason for Decrease to $7,000?
Denys Serhiichuk
How long is the current upswing for Bitcoin (BTC) gonna last?
This weekend has been quite positive for the cryptocurrency market. All of the top 10 coins have come back into the green. Tezos (XTZ) has had the largest gains, rising about 4% since yesterday.
The recent growth of Bitcoin (BTC) and other coins has had a positive effect on the total market capitalization, which has increased by more than $10 billion since the last week. Currently, it is sitting at $215.3 billion.
Below is the relevant data for Bitcoin (BTC) and how it is looking today:
Name: Bitcoin
Ticker: BTC
Market Cap: $139,938,939,116
Price: $7,627.66
Volume (24H): $31,577,347,614
Change (24H): 1.39%
Our last Bitcoin (BTC) price prediction has come true as the main crypto continued to rise after squeezing to almost $7,800. The growth over the course of the week has constituted 5.74%.
Bitcoin (BTC) has confirmed short-term growth after 2 pumps to almost $7,740 and $7,800, respectively. This rise is accompanied by a high trading volume.
Furthermore, the Moving Average Convergence/Divergence (MACD) has just entered the bullish territory, which means that the rising potential is not yet finished. To sum it up, traders might expect an update of the recent high at $7,800 and possible growth towards $8,000.
In case our first prediction comes true, the crucial mark of $8,000 will be a resistance level that might not be easy to break at once. Moreover, there is no liquidity at this zone as Bitcoin (BTC) is about to be overbought, which is based on the Relative Strength Index (RSI). In this regard, there is high probability of a fall from $8,000 to its first important support level at $7,760.
At press time, Bitcoin (BTC) was trading at $7,666.
Source: u.today
Author: Sun, 04/26/2020 – 15:17
Bitcoin Gearing For Lift-Off to $8,000: Rally Isn't Over Yet
Bitcoin is trading in a bullish zone above the $7,450 and $7,400 support levels against the US Dollar. BTC might dip a few points, but it remains well bid for a rally to $8,000.
Bitcoin is showing a lot of positive signs above the $7,400 and $7,200 support levels.
A clear break above the $7,650 resistance could open the doors for a fresh rally.
There is a short term contracting triangle forming with resistance near $7,625 on the 4-hours chart of the BTC/USD pair (data feed from Kraken).
The pair could correct a few points, but the bulls are likely to protect the $7,400 support
This past week, bitcoin started a strong rise from the $7,028 swing low against the US Dollar. BTC price gained bullish momentum and broke the key $7,200 resistance level.
It opened the doors for a decent increase above the $7,400 resistance and the 100 simple moving average (4-hours). The price even climbed above the $7,500 hurdle and traded to a new weekly high at $7,788.
Recently, there was a downside correction below the $7,600 level. Bitcoin traded below the 23.6% Fib retracement level of the recent rise from the $7,028 swing low to $7,788 high.
On the downside, the $7,400 support area is acting as a strong buy zone (the previous breakout zone). The 50% Fib retracement level of the recent rise from the $7,028 swing low to $7,788 high is also near $7,408 and acting as a decent support base.
It seems like the price is currently consolidating above the $7,400 support. More importantly, there is a short term contracting triangle forming with resistance near $7,625 on the 4-hours chart of the BTC/USD pair.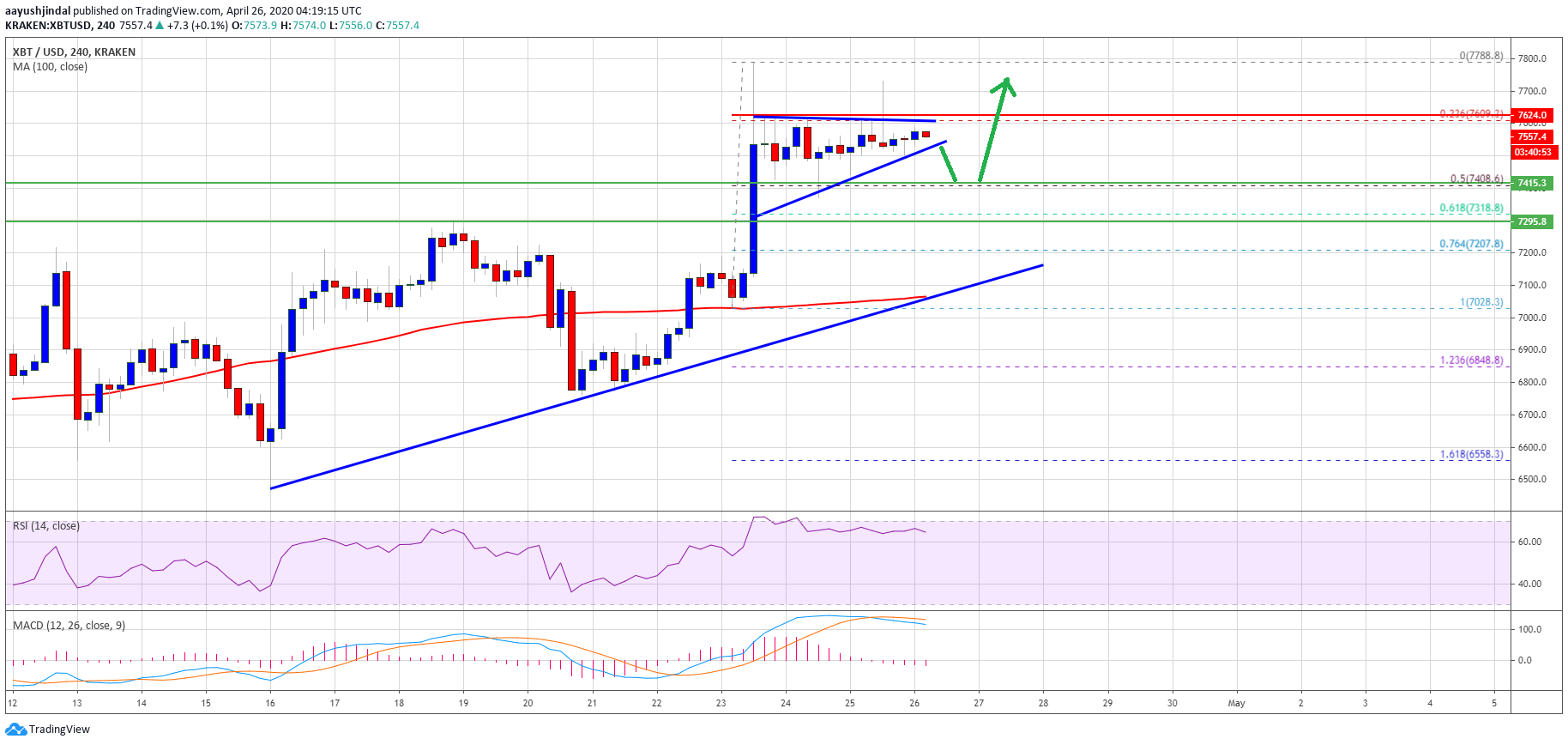 If there is an upside break above the $7,625 and $7,650 resistance levels, the price is likely to resume its uptrend. An initial resistance is near the $7,800 level, above which it could test the key $8,000 resistance area.
If bitcoin fails to continue above the $7,650 resistance level, it could extend its correction. The first major support is near the $7,400 level, where the bulls are likely to emerge.
Any further losses may perhaps lead the price towards the next key support at $7,200 or a connecting bullish trend line on the same chart.
Technical indicators
4 hours MACD – The MACD for BTC/USD is slowly losing pace in the bullish zone.
4 hours RSI (Relative Strength Index) – The RSI for BTC/USD is currently correcting lower from the 65 level.
Major Support Level – $7,400
Major Resistance Level – $7,800
Take advantage of the trading opportunities with Plus500
Risk disclaimer: 76.4% of retail CFD accounts lose money.
Source: www.newsbtc.com
Author: Aayush Jindal
Bitcoin Miner Maker Ebang Files for a $100M US IPO
Ebang International Holdings, one of the leading manufacturers of bitcoin mining equipment, is taking another stab at going public, this time farther from home and with a smaller fundraising target.
The Hangzhou, China-based firm aims to raise up to $100 million from an initial public offering (IPO) in the U.S., according to an April 24 filing with the U.S. Securities and Exchange Commission (SEC). The Chinese firm would be listed under the ticker symbol EBON on the New York Stock Exchange or Nasdaq. Loop Capital Markets in Chicago and AMTD Global Markets in Hong Kong are the underwriters on the deal.
This is Ebang's second attempt to go public after it failed to do so on the Hong Kong Stock Exchange (HKEX) in June 2018. The target proceeds from that would-be IPO were estimated to be $1 billion.
Founded in 2010, Ebang is among the earliest China-based hardware companies, such as Bitmain and Canaan Creative, to make application-specific integrated circuit (ASIC) chips and fabless integrated circuits (ICs) for bitcoin mining machines. Chinese miners contribute over 65 percent of the computing power on the Bitcoin network.
Ebang generates over 82 percent of its revenue from making bitcoin miners. It raked in $109 million in revenue last year, down nearly 66 percent from 2018. Its net loss for 2019 more than tripled to $41.1 million, according to the filing.

The firm confidentially filed for the IPO in February without disclosing pricing terms, according to Renaissance Capital.
Second chances
Ebang is one of several crypto companies that failed to launch an IPO in Hong Kong and later came to the U.S. for another shot.
Rival bitcoin miner makers Bitmain and Canaan Creative tried to go public on HKEX but their plans fell through because local regulators were reluctant to allow any crypto-related company listings.
Canaan later managed to launch its IPO on Nasdaq last December.
Huobi Group, one of the top crypto exchanges by volume, acquired a Hong Kong-based electronics manufacturer last year in a bid to get listed through a reverse takeover.
However, the process has been put on hold due to strict mergers-and-acquisitions regulations.
Risk factors
While Ebang is unsure of what impact the upcoming halving in May would have on bitcoin's price, the firm sees ever-changing regulations in China, potential sharp drops in the price and the COVID-19 pandemic as substantial risk factors for its revenue streams, according to the filing.
"The significant drop in the Bitcoin price is expected to have a negative effect on the value of our bitcoin mining machine inventory and incentivize us to increase credit sales," the firm said in the filing, referring to the March market crash.
The Chinese government once planned to phase out crypto mining businesses and did not change the provision until several months ago. Varying policies from different provinces also pose a challenge for bitcoin miners.
For example, Xinjiang, an autonomous region in northwest China, one of the main areas that offer cheap electricity for mining farms, warned local mining enterprises that were operating illegally to close their operations before Aug. 30, 2018. Many small miners that did not register with the local government were considered illegal at the time.
The coronavirus outbreak in China has delayed the delivery of mining machines from almost all the manufacturers to their clients.
"The outbreak of coronavirus COVID-19 in China has resulted in a severe disruption of social and economic activities in China," according to the filing.
Source: www.coindesk.com
Author: Daniel Cawrey
Bitcoin's biggest ally could surprisingly be central banks: analysis
To most, Bitcoin's rally from literal irrelevance to being one of the most valuable assets in the world is hard to explain. After all, a digital coin that was once given away for free through "faucets" is now worth over $7,000 a pop.
A new analysis, though, has weighed in on one of the potential trends behind BTC's macro movements. And this analysis suggests that the cryptocurrency is likely on the verge of its biggest rally yet, one that will take it past its $20,000 all-time high.
While central banks are unlikely to ever outright buy Bitcoin as they do with bonds and other asset classes, the cryptocurrency could benefit greatly from these centralized monetary authorities, new analysis has found.
Teddy Vallee — founder and CEO of Pervalle Global, a global macro hedge fund — recently published the chart seen below.
Highest conviction view over the next 1-3 yrs is that CB balance sheets are going in one direction – up. Given this premise, it seems the best form of expression is via $BTCUSD. While the chart below will need to prove itself, it holds weight both empirically and intuitively. pic.twitter.com/GIjOa15hJ4
— Teddy Vallee (@TeddyVallee) April 23, 2020
Although the investor was hesitant to call the chart perfect, he explained that there's a potential correlation between the total amount of assets the world's central banks (Federal Reserve, Bank of Japan, etc.) and the value of Bitcoin on a logarithmic scale.
For instance, when central bank balance sheets started to plunged in early-2018, so did the crypto market. It didn't happen on the same date, but the tops line up from a long-term perspective.
So why does it matter today?
Well, ever since the coronavirus crisis began, central banks have gone into overdrive, printing trillions of dollars in an attempt to save the economy. The Federal Reserve's balance sheet alone has gone up by $2 trillion in the past two months.
The trend the chart depicts holding, even loosely, means that Bitcoin is highly likely to surpass its all-time high above $20,000 in the coming years, with the value of central bank balance sheets topping its last high set when the crypto market top.
Kevin Kelly, the co-founder of crypto research firm Delphi Digital, backed up this sentiment with the below chart, writing that the reacceleration in the growth of balance sheets is "bullish [for] Bitcoin."
As a note, some did argue that the correlation between these two metrics may be spurious rather than truly cointegrated.
But, analysts say that fundamentally, central bank asset buying, especially in the quantities we're currently seeing, is decisively positive for Bitcoin, whether or not the abovementioned correlation exists.
Per previous reports from CryptoSlate, Dan Morehead — a Wall Street trader-turned-head of one of the first crypto funds, Pantera Capital — explained in a recent newsletter:
"As governments increase the quantity of paper money, it takes more pieces of paper money to buy things that have fixed quantities, like stocks and real estate, above where they would settle absent an increase in the amount of money. The corollary is they'll also inflate the price of other things, like gold, bitcoin, and other cryptocurrencies."
Michael Novogratz, CEO of Galaxy Digital, corroborated this. He said to Bloomberg that he thinks BTC has become a "macro weapon" due to its potential to weather the impending economic crisis as an asset that is scarce, much unlike fiat money.
Get our daily newsletter containing the top blockchain stories and crypto analysis straight to your inbox.
A decentralist at heart, Nick has shown interest in Bitcoin and cryptocurrencies since 2013. He has since joined this industry as a full-time content creator, focusing on written content and visuals. Aside from working with other leading trade publications, Nick is a part-time creative at HTC's Bitcoin division, EXODUS. He is based in Canada, where there is an apparent lack of industry events.
Commitment to Transparency: The author of this article is invested and/or has an interest in one or more assets discussed in this post. CryptoSlate does not endorse any project or asset that may be mentioned or linked to in this article. Please take that into consideration when evaluating the content within this article.
Disclaimer: Our writers' opinions are solely their own and do not reflect the opinion of CryptoSlate. None of the information you read on CryptoSlate should be taken as investment advice, nor does CryptoSlate endorse any project that may be mentioned or linked to in this article. Buying and trading cryptocurrencies should be considered a high-risk activity. Please do your own due diligence before taking any action related to content within this article. Finally, CryptoSlate takes no responsibility should you lose money trading cryptocurrencies.
Source: cryptoslate.com
Author: AuthorNick Chong Twitter LinkedIn Analyst @ CryptoSlate
Previous
Next