Deal with the devil: Ethereum DeFi protocol negotiates with hacker of $25 million
It's been a crazy past 24 hours for users of decentralized finance, also known as "DeFi."
Over this time, devious Ethereum users managed to steal over $25 million worth of cryptocurrency from two separate protocols. The second hack, which accounts for the $25 million, is what this article will be focusing on.
As it stands, no one knows who the hacker is or what their intent is — the address that perpetrated the "crime" was created just hours before the hack took place, and no one has been able to tie the address to a person's identity through exchange data just yet.
But, this hasn't stopped people from reaching out, attempting to make negotiations with the hacker, or, better put, they're trying to make a deal with the devil.
On the evening of Apr. 18, users on Twitter began to notice that Lendf.me, the decentralized lending protocol operated by Chinese DeFi upstart dForce, was losing funds at a rapid clip, much higher than what normally would be deemed safe.fan
Data indicated that within the span of a few hours, the protocol had lost 57 percent of its locked value. Simultaneously, Lendf.me's website threw up a banner in both Chinese Mandarin and English saying that users should not deposit funds into the protocol.
But, it was too late. By the time the error had been caught, the protocol was empty; the $25 million worth of Ethereum, Tether's USDT, and other leading tokens were gone, withdrawn primarily to this address.
As you can include messages in Ethereum transactions, many began to reach out to the address of the hacker.
Some asked for their money back. Others joked around with the hacker. But dForce's administrator address began negotiations, sharing their email with the hacker, which the hacker sent a message to.
The details of the ongoing negotiation aren't public, but some have proposed a legal agreement should be set up where the hacker gets to walk away with legal immunity, but only with a portion of the funds.
CryptoSlate will update readers as the story develops.
Since the attack, the website of Lendf.me has gone offline and the Twitter account of the startup has fallen silent, but the company just minutes ago as of the time of this article's writing has issued a statement.
Dated Apr. 19 and penned by the CEO, Mindao Yang, the note published to Medium explained that the vector of attack the hacker utilized is related to imBTC, a tokenized version of Bitcoin on the Ethereum blockchain. The issue: an exploit in the ERC-777 standard that imBTC was based on, which allowed the hacker to basically credit his account with more capital than he actually held.
The note also confirmed that negotiations have begun, or at least messages have been exchanged, between dForce and the attacker. Mindao also claimed his team is in contact with exchanges and law enforcement agencies.
This attack came hours after another address (could have been the same individual) used a similar vector to drain a Uniswap pool (market) out of $300,000 in imBTC and Ethereum, estimates suggest.
The details of these attacks are complicated, but more information can be found by this unofficial post-mortem by crypto-centric cybersecurity firm SlowMist.
Over the past few months, DeFi has been branded as a killer use case of Ethereum and other smart contract blockchains.
The idea goes that with billions underbanked or not banked at all and with interest rates near 0 percent, a blockchain-based ecosystem of finance, where theoretically anyone can gain access to services a "real" bank would offer, should gain mass adoption.
But, with this hack taking place that wiped hundreds or even thousands of users out of $25 million, many are suggesting DeFi isn't ready to go mainstream.
Not to mention, this hack is the latest in a series of exploits and shortcomings in the budding DeFi ecosystem.
As pointed out by Camila Russo, a crypto journalist focusing on Ethereum, these attacks have been occurring monthly for the past three months.
👹DeFi exploits:
June 2019: Synthetix 37m sETH
Feb. 2020: bZx $900k
Mar 2020: iEarn ~$280k
April 2020: LendfMe $25m
It's not just one project's problem. DeFi needs better security standards or we'll continue seeing the downside of that composability double-edged sword.
— Camila Russo (@CamiRusso) April 19, 2020
Source: cryptoslate.com
Author: AuthorNick Chong Twitter LinkedIn Analyst @ CryptoSlate
▷ BTC/USD (Bitcoin / US-Dollar) NEWS
Advertising advice:
BaFin's approval of the base prospectus should not be understood as its approval of the securities offered. We recommend that prospective and prospective investors read the base prospectus and final terms before making an investment decision in order to obtain as much information as possible, in particular about the potential risks and opportunities of the security. You are about to purchase a product that is not easy and can be difficult to understand.
Help free advertising app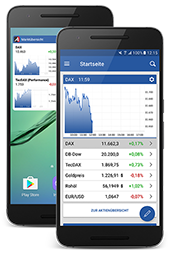 Source: www.ariva.de
Bitcoin (BTC) Price 'Looks Fine,' but $6,500 Is Still Possible: Top Crypto Trader
Alex Dovbnya
The Bitcoin (BTC) price is readying for a pump to the $7,500 level, according to trader Scott Melker
Well-known crypto trader Scott Melker says that the Bitcoin (BTC) "looks fine," but he doesn't rule out a possible drop below the $6,500 level.
At the time of writing, the benchmark cryptocurrency is up by a modest 0.60 percent over the last 24 hours, changing hands at $7,172 on the Bitstamp exchange.
According to Melker, the BTC price has managed to flip a key level after breaking out of a local descending wedge, which is usually treated as a reversal pattern during downtrends.
The chartist says is currently in a dip-buying mode, with $7,500 being his next target. It is worth noting that the bulls already came close to touching this level on Apr. 7 before the price plunged back below $6,500 on Apr. 17.
Melker says that it is possible that BTC could revisit this local low.
Meanwhile, trader and crypto analyst Christopher Jaszczynski has spotted a "textbook" bump-and-run reversal bottom. After a humongous bump in March, the leading cryptocurrency is consolidating before an uphill run.
Jaszczynski predicts that Bitcoin could reach $10,500 in case of a breakout.
Alex Dovbnya (aka AlexMorris) is a cryptocurrency expert, trader and journalist with extensive experience of covering everything related to the burgeoning industry — from price analysis to Blockchain disruption. Alex authored more than 1,000 stories for U.Today, CryptoComes and other fintech media outlets. He's particularly interested in regulatory trends around the globe that are shaping the future of digital assets, can be contacted at [email protected]
Source: u.today
Author: Mon, 04/20/2020 – 05:59
This One Chart Confirms Crypto Bottomed During March's "Black Thursday" Crash
Despite Bitcoin continuing to consolidate above $7,000 as other crypto assets have shown signs of strength, analysts have still been stewing over the prospects that cryptocurrency didn't bottom last month during "Black Thursday."
Primarily, those that fall into this bucket of belief cite the stock market, remarking that there are signs that the S&P 500 and other leading indices are reading to turn over. For instance, Scott Minerd, CIO of financial services and investment firm Guggenheim Investments, remarked in a note published early this month:
"We need to see the other shoe drop. When the markets start to see some of the data on unemployment rising and economic growth and corporate earnings contracting, there will be another level of panic in the market."
But, more and more evidence continues to mount that the crypto market has decisively bottomed.
Crypto trader Wolf recently shared the below image, showing that the inverse of Bitcoin's chart shows a clear sign that the bottom is in.
He found that you can connect nearly all of Bitcoin's macro bottoms over the past years but the drop to $3,100 in December on the logarithmic chart. Per him, this confirms "one more time that the crypto bottom is in," remarking how the trendline matches the chart "almost perfectly."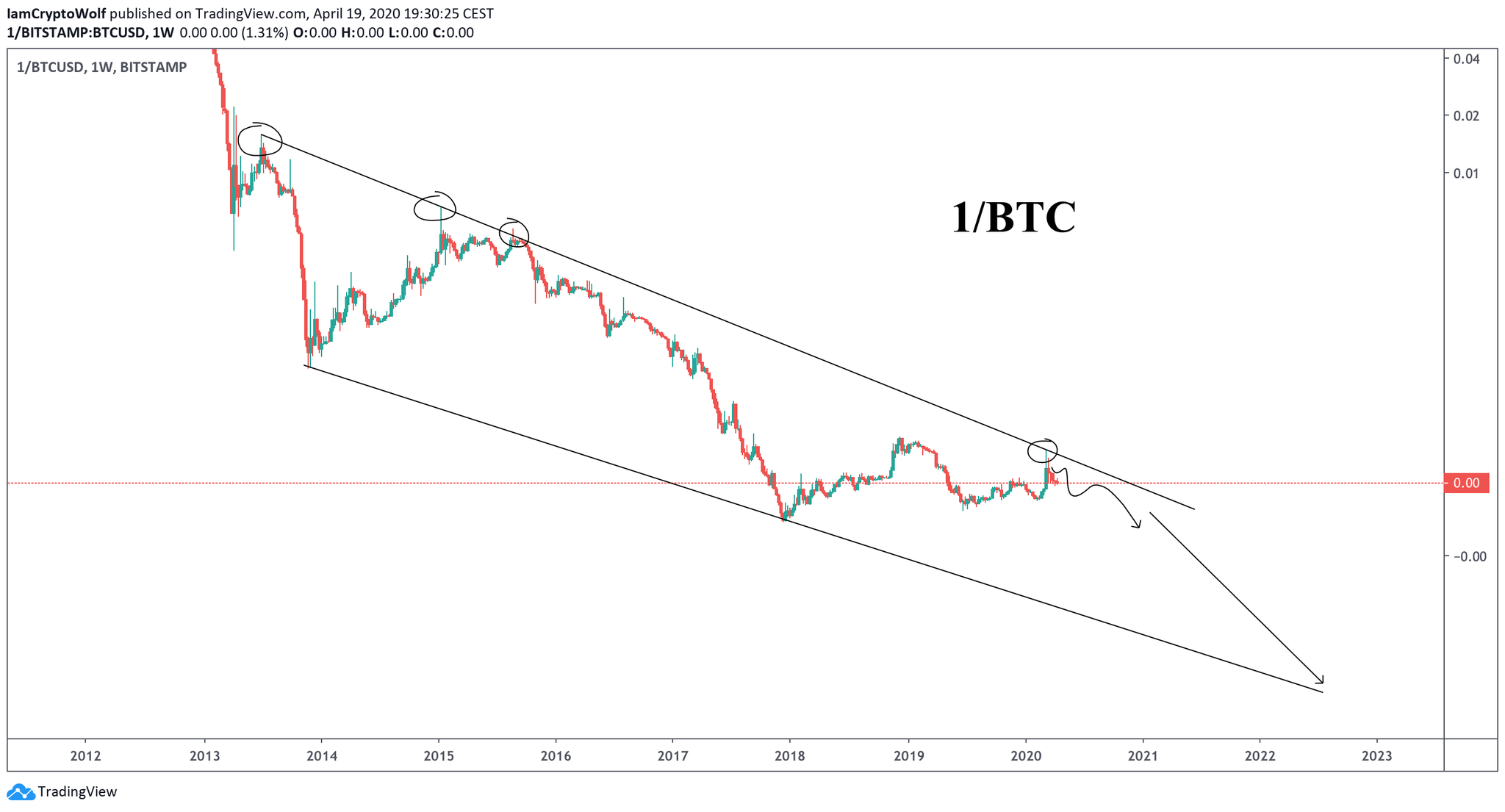 It isn't only this. Per previous reports from NewsBTC, according to Mohit Sorout — partner at crypto exchange Bitazu Capital — the spike in volumes seen during the March crash was similar to that seen during every single macro top and bottom for the asset over the past 2.5 years.
Furthermore, Glassnode observed that one of its proprietary indicators, which tracks the profitability of short-term BTC holders, is on the verge of entering a territory that has historically coincided with the end of bear trends and the start of full-blown bull markets.
It's important not to count out a retest of the $3,000 though.
In the April edition of "Crypto Trader's Digest," BitMEX CEO Arthur Hayes suggested that despite the recent performance, he could see Bitcoin retest $3,000, calling the chance this happens "absolutely [likely …] if the S&P 500 rolls over and tests 2,000."
Chris Burniske followed suit, with the Placeholder Capital partner explaining that if we see another "sell everything" moment in the global markets, "Bitcoin will not be spared," then "there are any number of lows in the $5000s, $4000s and $3000s that BTC could reach."
Importantly, though, gold bottomed prior to stocks during the 2008 Great Recession, suggesting the same could happen this time around, but with gold and BTC leading the pack if the cryptocurrency lives up to the moniker of "digital gold."
Photo by Anders Jildén on Unsplash
Source: www.newsbtc.com
Author: Nick Chong
Cryptocurrency News Roundup for April 19, 2020
However, the likelier explanation perhaps would be that the stock markets did relatively well last week, which is probably why Bitcoin also stayed green over the weekend.
At the time fo publishing, the BTC price is hovering around $7,200 as it kicks off the new week.
Meanwhile, in other important news:
With Bitcoin's next halving barely three weeks away, it looks like there is a growing influx of institutional investors diving into the asset class. Mega hedge fund Medallion of Renaissance Technologies is the latest to flock to trading Bitcoin.
Renaissance is a major New York-based hedge fund with some $75 billion in assets under management.
On a related note, Grayscale Investments recently published its Q1 Digital Asset Investment Report. The firm, often touted as one of the most trusted authority on cryptocurrency investing and digital asset management, revealed that it currently oversees $2.2 billion in AUM.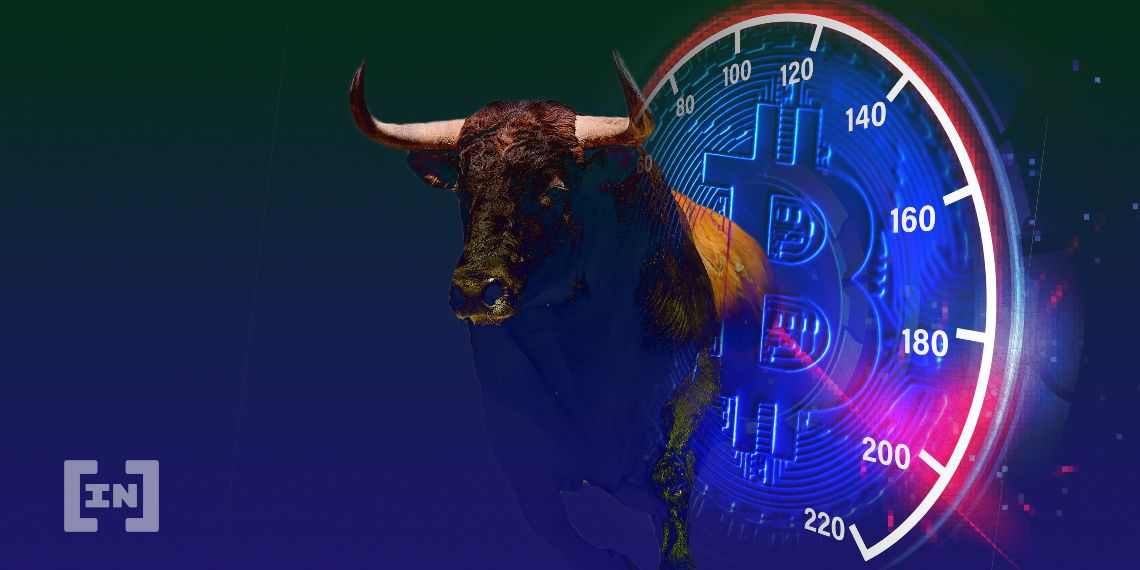 Partner at Metacartel Ventures, Adam Cochran, has taken a deep dive into the economic potential of Ethereum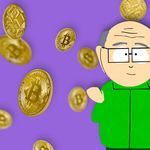 Blockchain is a digital ledger that's used for storing data on several servers across the world in a decentralized, trustless… More and how the next iteration of the platform could be a game-changer.
According to Cochran, if large quantities of ETH are purchased to make similar or better returns on staking, then the supply shock would drive up prices.
Since the beginning of the year, the USDT market cap has increased by a whopping 56%, This dwarfs that of Bitcoin, which only gained 2.3% in terms of market cap over the same period.
Amid all that, cryptocurrency analytics tracker, Skew, has reported that Tether's market capitalization has reached $7 billion, now commands 3% of the total cryptocurrency market cap.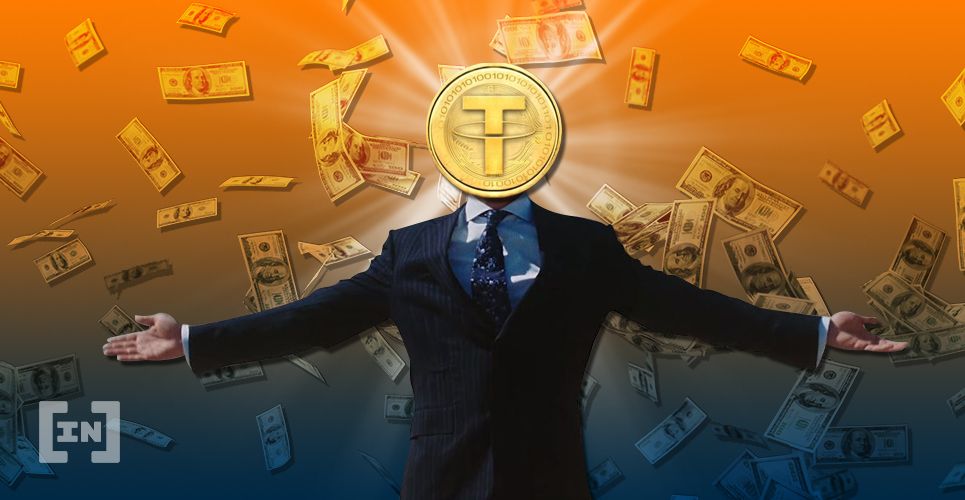 Purse.io was one of the first companies pushing for consumer-based adoption of Bitcoin. It offered Amazon shoppers a means to make purchases with BTC for a discount. Despite being a 'first mover' in this sector, the company is calling it quits as profitability for Purse.io was sorely lacking.
The company assured users that it will continue to allow withdrawals and support for a limited period.
During a discussion panel hosted by the Aspen Institute, FBI Deputy Assistant Director Tonya Ugoretz said that cybercrime has exploded since the COVID-19 pandemic began.
Meanwhile, in other related news, Revenue generated by ransomware attack payments mysteriously and dramatically fell in March as COVID-19 lockdown measures spread around the world.
Source: beincrypto.com
Author: Illustrations by A. Gnetova and G. Phan
Previous
Next